I just renewed Noah's PWD ID. Yep in our country, Persons with Disabilities (PWD) are given an ID which allows them or the family to claim on behalf of the PWD, 20 percent discounts for food, groceries (although there is a 1,500 weekly limit), cinema, transportation (yes even airfare), to most importantly medical expenses. When Noah was always being admitted for Pneumonia before we always used the ID to claim the discount and if we have to have medical procedures for our bugoy, the discount is a really big help.
The Magna Carta for Disabled Persons covers all the benefits due to a PWDs. It's a comprehensive act. It even covers the extra tax exemption primary caregivers/guardians can avail of PWDs. Also, sections 39, 40 and 41 actually protect PWDs from acts of ridicule and vilification. So yes PWDs are provided for and protected by our government. The only thing that's missing (as with all our other laws) is the enforcement. There are still so many establishments that do not have a clue as to how to honor the PWD ID. One of my pet peeves is a huge drugstore chain whose policy differs per store. We had one incident where the pharmacist even told us "Di po namin inaaccept yan" and he was referring to Noah's ID.  This drugstore has a store near our house where everytime I use the ID, the supervisor always has to check a booklet of their policy and then for some reason I can only go to a particular cashier who has to fill out manually a slip with all the details in the ID.  Iisang register lang nila ang merong slip na yun.
For PWDs being served by this huge chain, I feel your pain. Grabe. That's why we prefer going to another chain, where the discounts for IDs are automated.
But I digress, what I just want to say is if you're going to use the ID, be prepared to know your child's rights and to insist on the discount and benefits that's properly due to them under the law.
I claimed Noah's first ID at the Quezon City Hall when he was 4 months old. He needed an ID picture so we just propped him up against a white pillow and took his pic 🙂 This is the old ID. The new ID is after the cut (just click on "continue reading")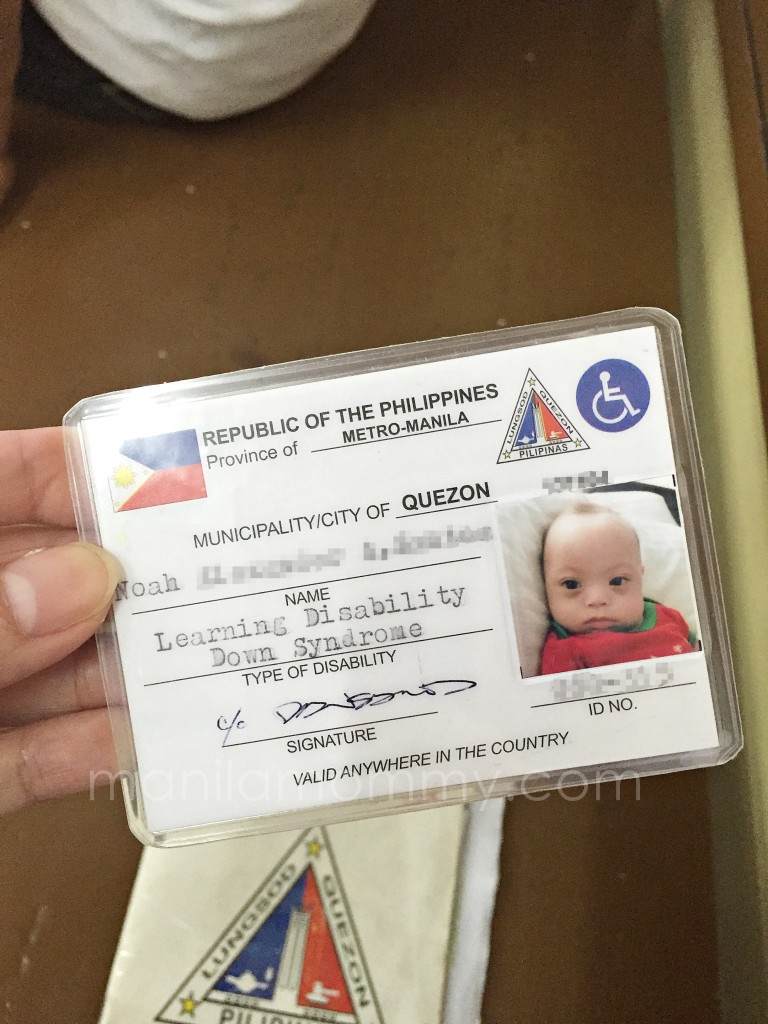 To get an ID you need the following:
Medical Abstract/Certificate – In Noah's case I brought a copy of his karyotype results and a certification from his pedia of Noah's diagnosis. The certification was signed and stamped with our doctor's PRC ID. Bring a few copies with you in case they need to retain some for their records (they did not retain ours) but if you forget to copy, there are a few photocopying stalls outside of the social services department.
 Barangay Certificate – this is just to certify the residence of the PWD.
2X2 ID picture
Signature/Thumb mark – you can do this in advance and have your child's thumbmark on a clean piece of paper. They will use the thumbmark in the ID as the signature.
You need to also fill out the PWD ID form.  I've uploaded a copy here that you can download. Just scroll to the end of the post and then click on the image twice and then you can download it na 🙂
Once you get the ID, you also get a Purchase Slip Booklet. Some cities give out 2 booklets, one for medicines and one for all other expenses. For QC we only get one. What I LOVE about the QC booklet is that it lists down the DTI regulations that cover the discounts plus all the categories for which you can avail of the discount. So, if someone tells you the PWD ID will not be honored, just show them the regulation and the list so they'll understand and be clear about what you are requesting.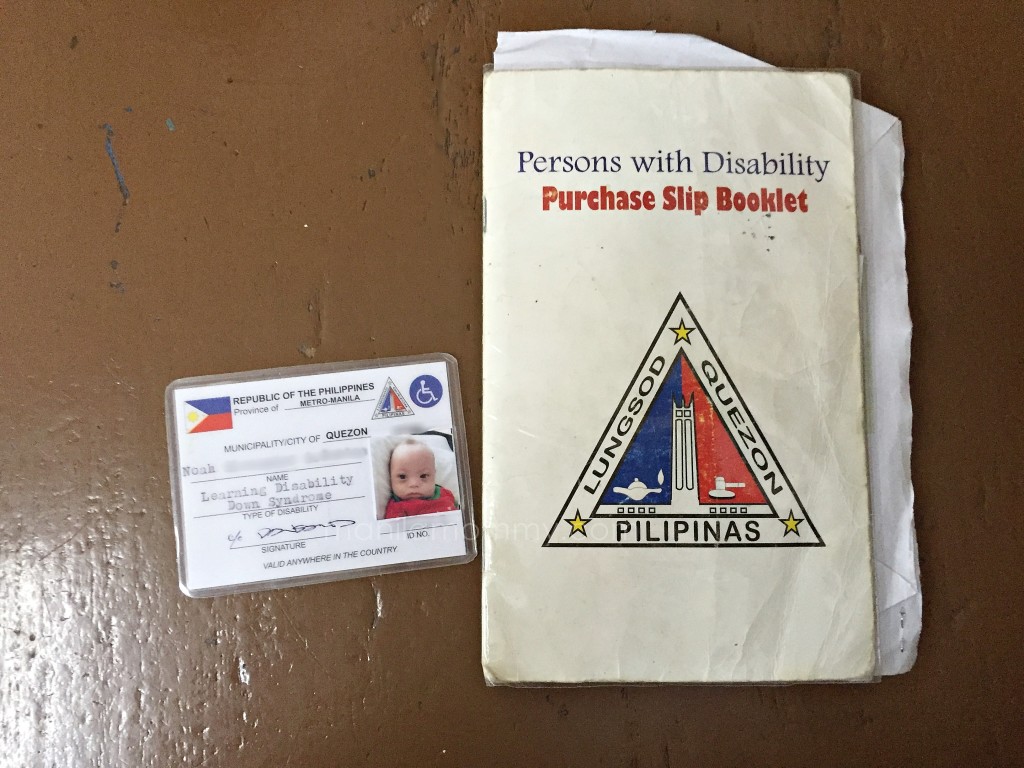 Now where will you apply for the ID? Just click on "continue reading" to find out more.
When I applied for a renewal, I just brought Noah's old ID, his old booklet, his medical abstract and clearance.   If you're at the Quezon City Hall, just look for the Social Services Development Department. If you're in a car, just enter the main entrance of City Hall, turn right at the parking lot, then turn left and go straight until you exit into a small road. Just turn left and look for the small yellow and blue building to your right.
UPDATE 2 April 2016: The application, renewal and claiming of the PWD ID  has transferred to the  Person with Disability Affairs Office (PDAO) at the lobby of the main building.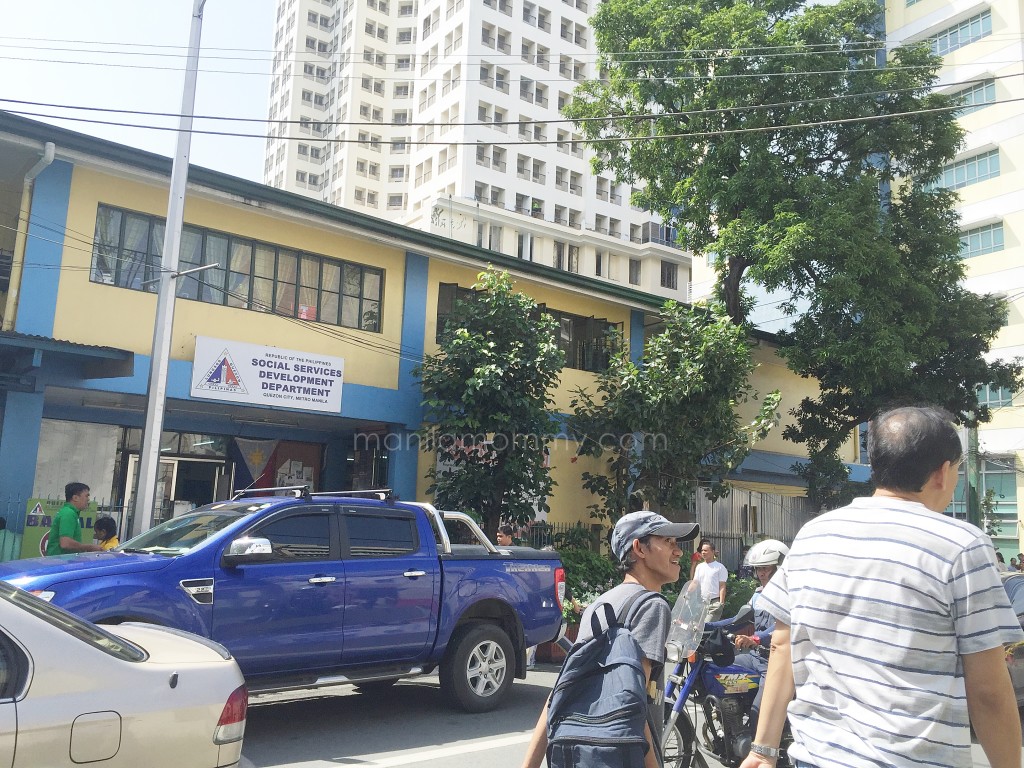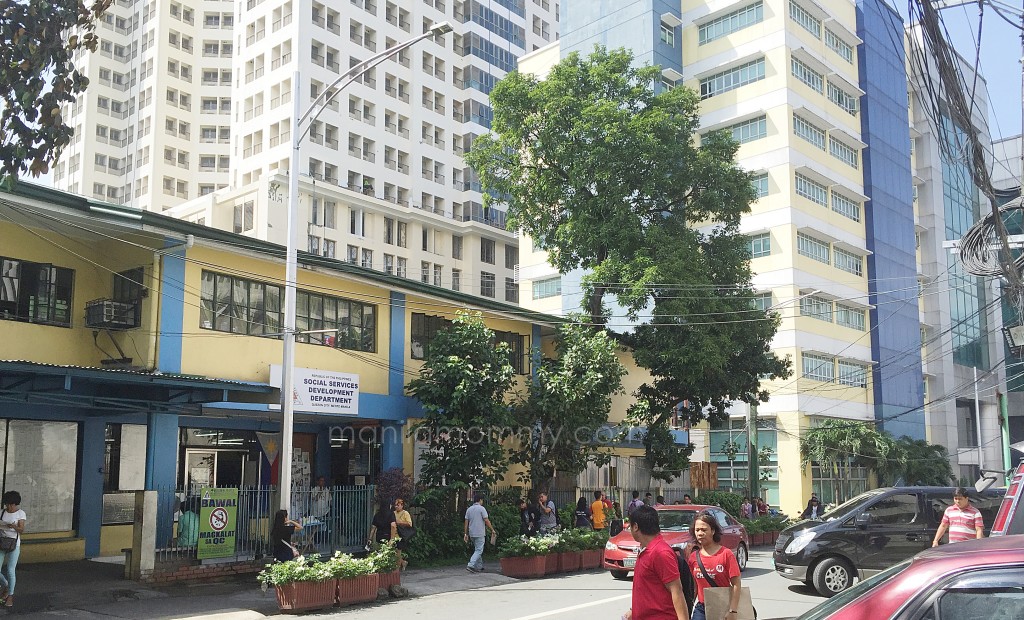 Once you get in, turn right and turn left at the end.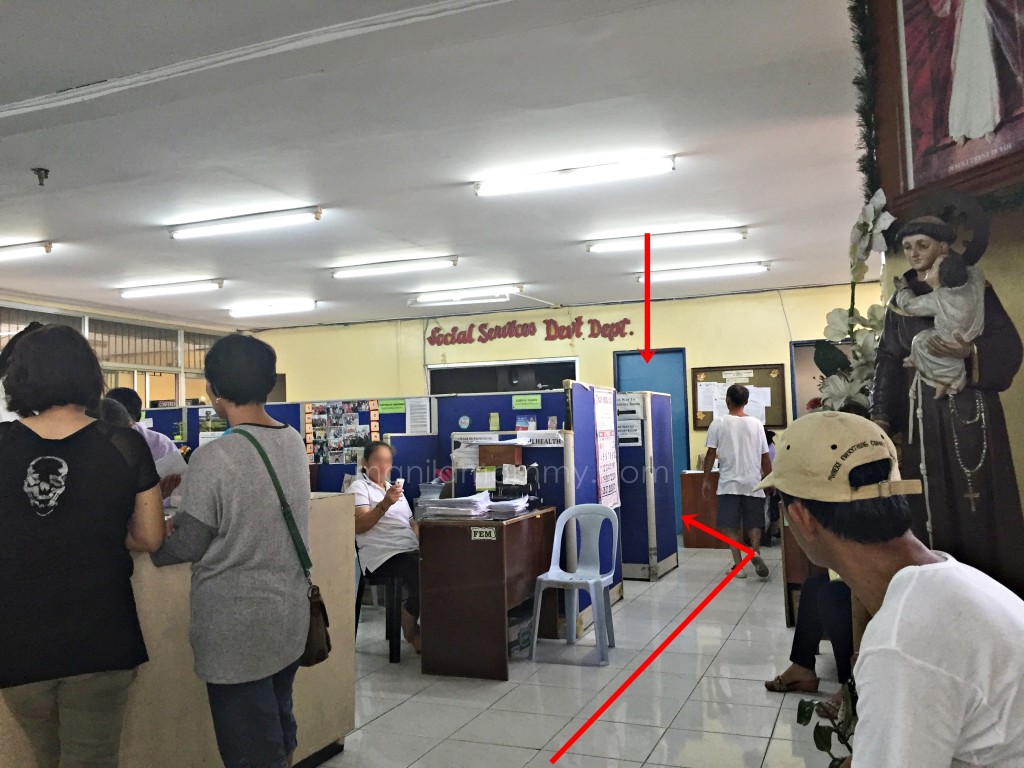 Then look for this guy. I forgot to ask him his name but he was the same guy who gave me Noah's first ID. He is a PWD too (cheers QC government!) He is super friendly, really helpful, engaging and amiable. He knows a lot about the process and he will guide you with your application. Just tell him you're applying for a PWD ID, he will give you a number and he will call you when it's your turn.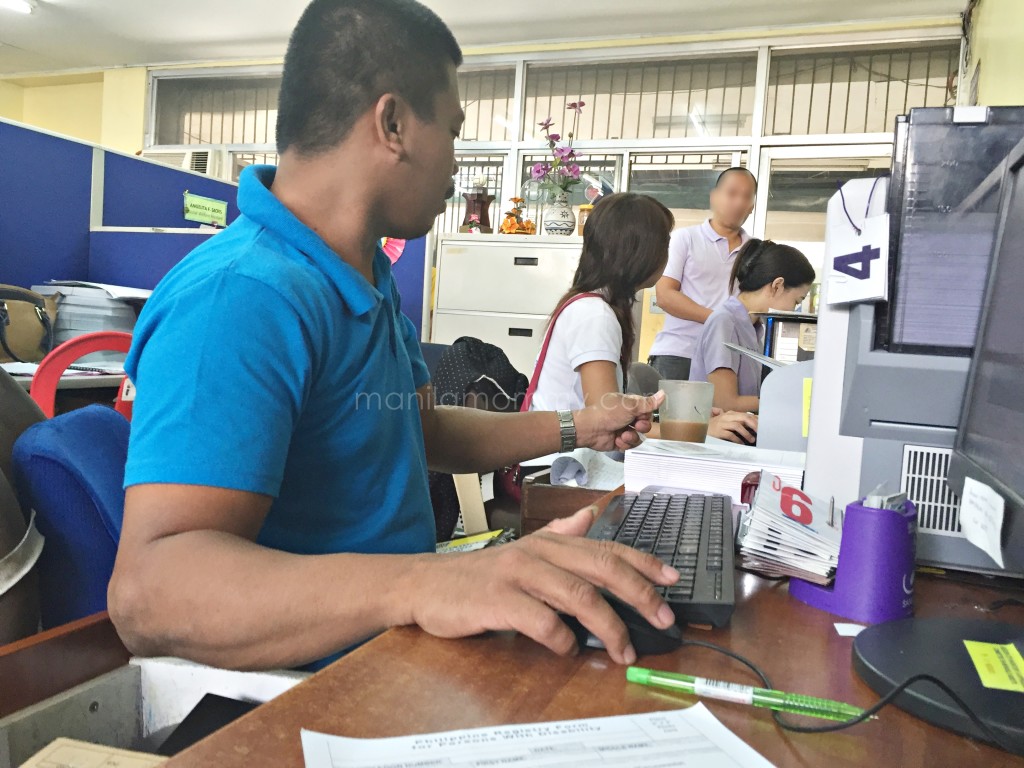 When I went to renew Noah's ID, there wasn't a queue so I was called right away. The whole process including waiting was only 20 minutes. It was fast and easy and FREE! There are no ID fees to pay for this service.
Here's Noah's ID. Bagong bago! He also got a new booklet din.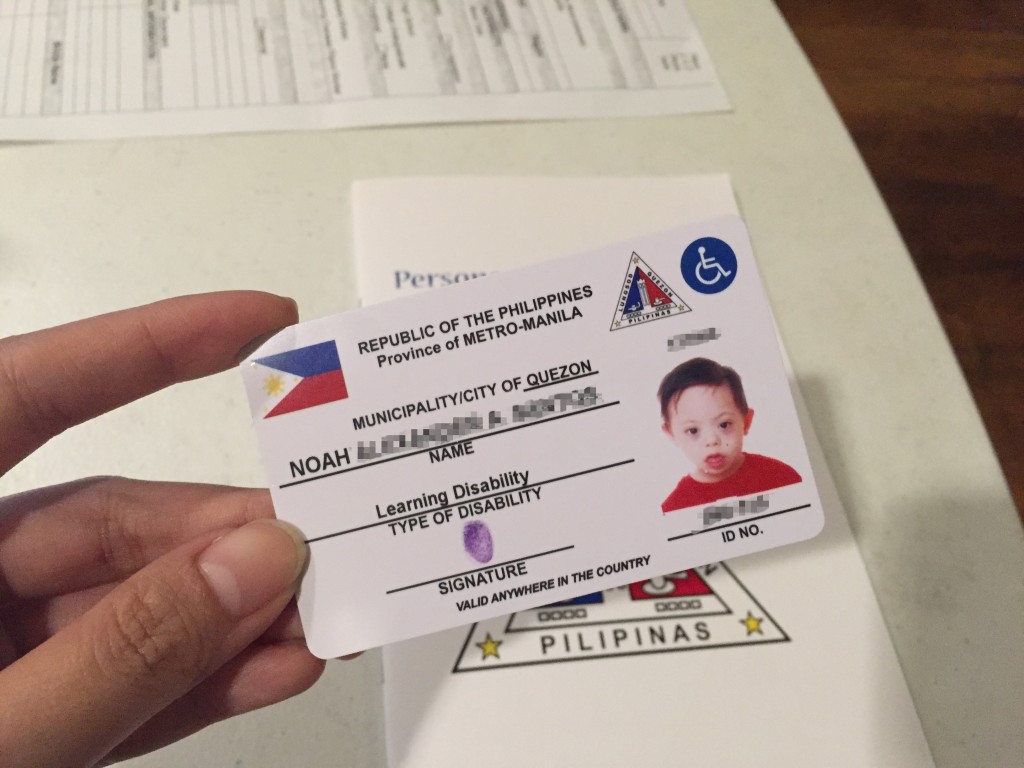 If you have any questions, you can call the Social Services Development Department at these numbers (caution lang, I didn't test these, I just went straight to QC Hall kasi)
Tel No: 927-1588, 924-1412, 924-1440,  988-4242
Here's the downloadable PWD Form, just click on it twice to enlarge and then right click save as 🙂