I have to say that I only know MERALCO as the harbinger of electricity bills. That orange and white bill tacked on our refrigerator door has unfortunately reflected increasing power hikes. So when I attended a lunch that MERALCO hosted recently, I listened intently. I was with other SoMoms and we all wanted to know why there is a power hike and what we can do to conserve energy or at least be efficient in our usage.
First things first:
The Philippines has the most expensive electricity in the whole of Asia. We even surpassed Singapore and Japan. Aray diba and here are the reasons:
Thin supply and few producers. Simple supply and demand means that with high demand and a few suppliers = high charges.

Us consumers pay the highest per kilowatt hour because most costs from producing, to distribution and taxes are all passed on to us.

The power sector is privatized, ergo no state subsidy.

The biggest and most volatile component of our monthly electric bill is the Generation Charge. This accounts for almost 60 percent of our power bill.  The Generation Charge accordting to the Meralco website is "the cost associated with Meralco's purchase of power, from its suppliers – the NPC, Independent Power Producers (IPPs) and the Wholesale Electricity Spot Market (WESM)."
Those are just some of the FAQs that Meralco presented. They also said that as the face of the power industry they bear the brunt of complaints of consumers and that's why they are working doubly hard to inform consumers of their rights as well as offer tips on how to use energy efficiently and how to conserve as well (magkaiba pala sila, I didn't know that!)
Energy Conservation vs Energy Efficiency
Energy conservation is cutting usage for a few hours. Energy efficiency is using energy wisely, which means that you use less energy but maximing the usage.
HOW?
For us, energy conservation takes the form of not using the aircon at night. Yep we sleep only with our electric fan and open windows. It not only saves energy but Dan and I realized that the kids do not get the sniffles that often when we stopped using the aircon. However, our parents love keeping their room cold but the things is their split-type aircon is too expensive to run and maintain. So they replaced it with an inverter aircon. This machine is quiet and it cools their room fast.
OTHER TIPS:
Phantom energy is true!!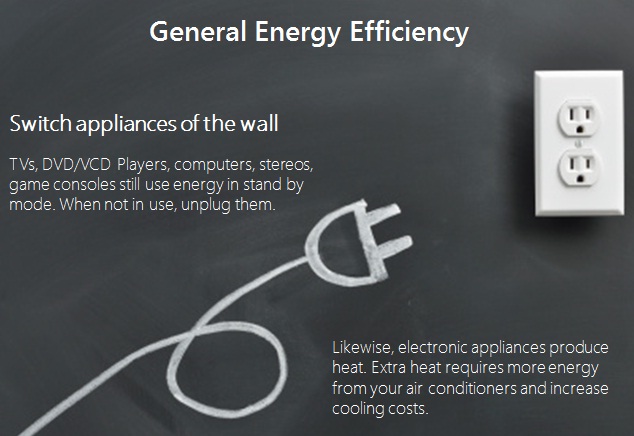 Power Tip: Use a power strip/power board. Those long extension cords that light up when turned on? We have those and we it off and then we unplug the entire thing. Phantom energy is true! Bampira sila sumisipsip ng kuryente! haha