September is Baby Safety Month and to celebrate this event, head on over to Spaces at Babyland Shaw on Sept. 13, 2014, Wednesday,  to attend Safety Zone!
They say that being a parent means having an extension of your heart outside of yourself. So true! Aside from all your other roles and responsibilities, you as a parent worry about your child's diet, skin care, physical health, social and mental development… and the list goes on!
With so many other things to be concerned about, it helps to be knowledgeable on the everyday dangers that your child may be exposed to, and how to protect them. Educating yourself can help you make informed choices for the benefit of your little one.   After all, knowledge is power and ignorance is not an excuse!
"Safety Zone" is a community charity event brought to you by Babyland Baby Stores and Halo SleepSack Philippines.  In celebration of Baby Safety Month this September, "Safety Zone" brings together all the trusted brands that help safeguard your child. This charity event aims to educate guests on what every parent must know to keep your child safe, while raising funds in support of Children's Hour.
Expect an afternoon filled with "aha" moments as experts talk about the latest recommendations on baby proofing, safe sleeping, feeding safety, bath and skin care safety, healthy living and environmental safety. Enjoy great savings on a private sale of pre-selected brands that are certified safe and eco-friendly. Healthy snacks, games, raffle prizes and loot bags worth over P10,000 will be given away!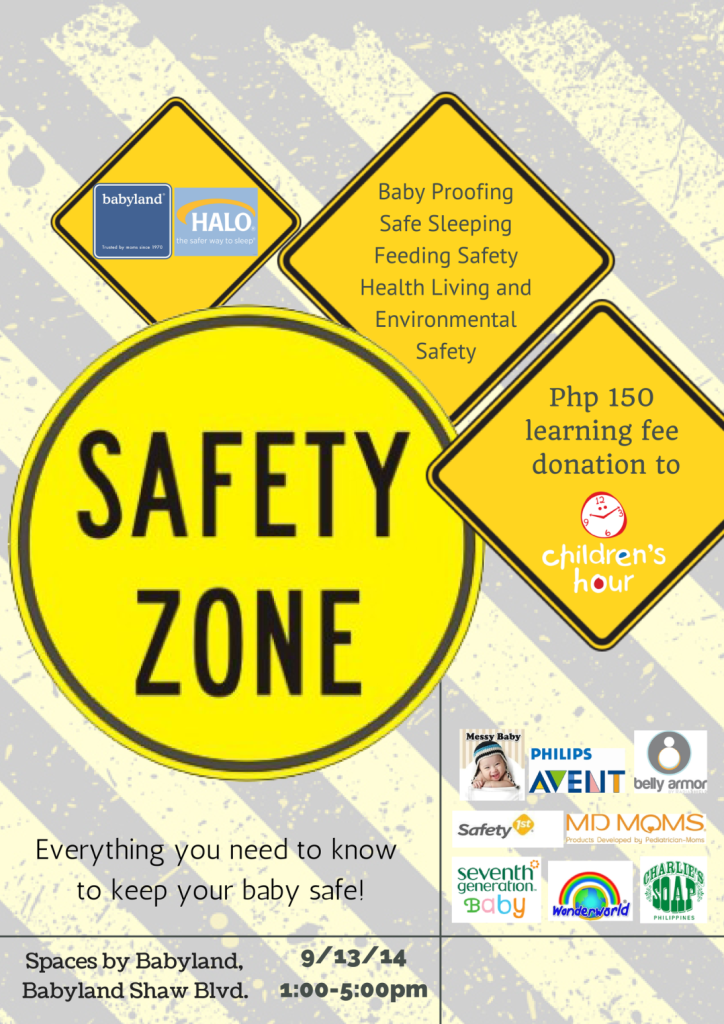 The learning fee is only P150 per person, and 100% of the proceeds will be donated to Children's Hour. 
You can also score free tickets to this event! Halo Philippines, distributor of the award-winning and doctor-recommended Halo SleepSack wearable blankets, will make a donation on your behalf for any purchase from their official website  www.halophilippines.com. This donation entitles you to one free event ticket. Just indicate "Safety Zone" under the comments section when you check out. This offer is valid for orders paid from now until Sept 10, 2014.
Register for the event at www.tinyurl.com/SafeyZoneEvent . If you're on mobile click on this link instead: www.tinyurl.com/SafetyZoneEventMobile.   This event is brought to you by Halo Philippines