Before anyone congratulates me haha, no, I'm not pregnant! But the post about Manila Workshop's First Time Parent's Workshop includes a talk on pregnancy nutrition and it got me to thinking about the differences and similarities of how I ate during my pregnancies with Noah and David. With David, I just ate. As in. I thought being pregnant gave me the permission to just go wild with my diet. I was 100 lbs when I found out I was pregnant with David and I figured that I could lose the baby weight easily (HAH!) Little did I know that all that eating and drinking translated to an additional 5o lbs. So yep, I gave birth to David, all 7.9 lbs of him and I was rolling along St. Luke's in my over weight glory. Now with Noah, I didn't even know I was pregnant until the TVS confirmed that I was 13 weeks along. I was THIN beginning of last year and it wasn't the good kind of payat. It was haggard, stressed out, burned out from work kind. And so, I had to catch up with my weight gain and it came to a point that I was put on bed rest and on a high protein diet.
It was yin and yang to say the least but there was one thing that remained constant and it was my daily glass of Anmum. It became two glasses when I was put on a high protein diet with my second pregnancy. I was happy with the vanilla flavor and I was at peace knowing that I was doing what I can to help keep myself and my babies healthy and strong.
On a side note, my sister-in-law Ginger, who also blogs at MommyGinger.com didn't even take supplements during her pregnancy. Her OB prescribed Anmum for her and she drank three glasse religiously every day.
Of course, there are still foods that preggos need to avoid. I referred to the Mayo Clinic's complete list here  I still don't eat sushi actually just because I'm still expressing milk for Noah and I'm wary of the mercury content in seafood.
Last March, Anmum launched its App that serves as a handy guide to figure out if what you're eating meets your daily nutrition requirement  (among other things). You can download the app via Itunes here.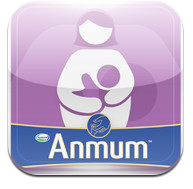 But nothing will ever beat the expertise of the OB GYNE and a mom's experience and instinct when it comes to taking care of ourselves while we're pregnant. I have my OB's number as part of my favorites list in my phone so that she's just a text away whenever I need to confirm something with her.
I'm really glad that Anmum was a part of my two pregnancies. However different they may both be from each other, I took comfort in a a cold glass of Anmum milk. That picture of the high protein breakfast up there looks too good ha. Maulit nga….
 Manilamommy.com is a partner blogger of Anmum Materna