I was part of Philip Avent's recently concluded From Pregnancy to Playground as one of their featured moms (Thank you Mommy Mundo and Creative Juice for the honor!) I wasn't really sure what the program entailed when I signed up though so imagine my surprise when Kris, the marketing associate, who was handling the event emailed me to ask if I wanted a belly cast! I was told that it would be a cast of my belly in plaster which will be done by artist Mimsy Jundis. I still had no idea what that meant but I've always trusted Mommy Mundo and Creative Juice events so I knew I was in for a wonderful experience!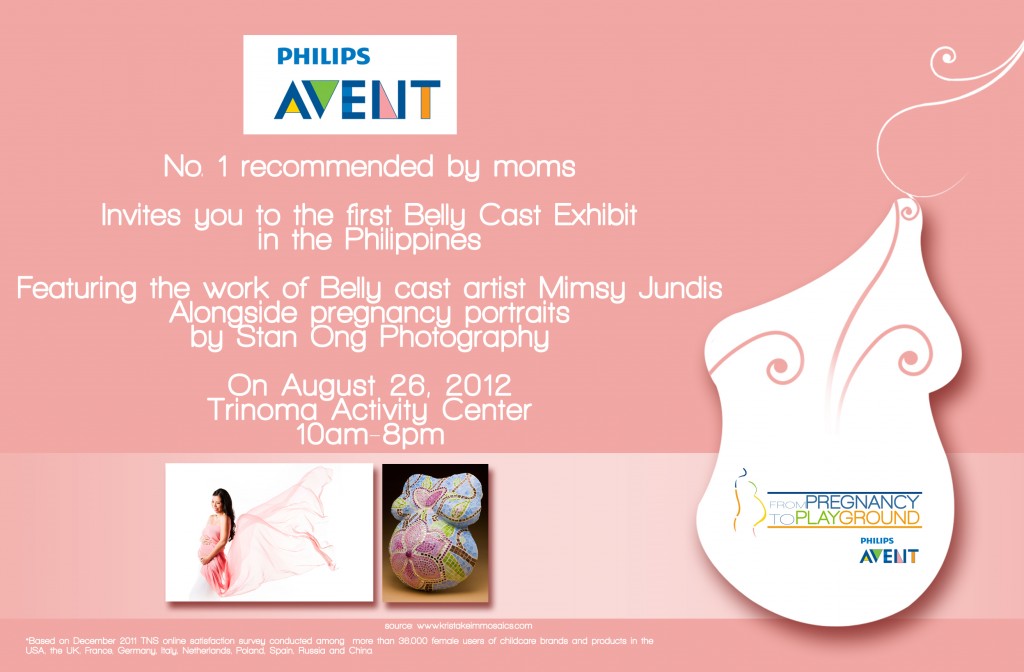 A few days before the casting, Mimsy called me to hear out my concerns and to talk me through the belly casting process. Mimsy was warm and reassuring. I also told her that I have skin asthma and I was worried if the plaster could irritate my skin. She assured me that the materials she uses are medical-grade AND she has used them on herself. She has sensitive skin too just like me and she didn't experience any irritation at all. So, we agreed on the time and the place (she came to our house). At that point, my initial hesitation gave way to giddy excitement!
On the day of the casting, Mimsy came to our house. We spent about an hour talking about her experience when she cast her own belly when she was pregnant with her first kid (she has two now). Aside from the creative process involved, she is also deeply in touch with the spiritual process of the experience. She talked about the goals of the casting experience with me and from our conversation I gathered the following:
• To Bond – The casting is meant to be done with the husband and/or the mom's support group. It is meant to be a bonding experience for the mom, the baby and her significant others.
• To Celebrate – It's a celebration of the mom's journey and the life growing inside of her. It's definitely a great idea for a baby shower if you want to break away from the usual cupcakes and pastel-colored treats.
• To Create – The casting has two parts, the actual cast and the decoration of the belly. The casting is quick and easy and takes about 30 minutes or so. It's the decorating that everyone gets to be creative, inventive and collaborative.
So we started the casting!  Baring a belly to a stranger for no medical purpose is surreal. I've bared my body to strangers pero sa hospital naman yun and it's understandable. Mimsy took her time explaining to me the whole process and showed me pics of other belly casts as well as her own experience when she cast her own belly.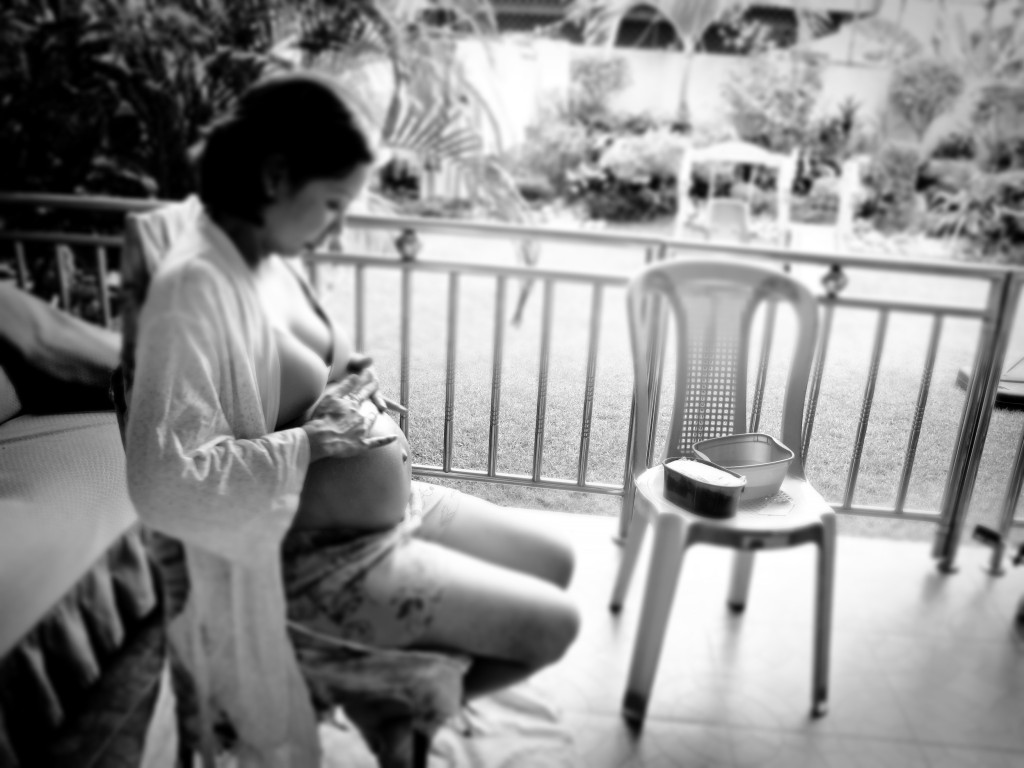 I wore a robe but had short shorts and an old bra underneath. You can just choose to have only your belly cast but I chose to include my boobs so that the cast would look more complete. Mimsy then applied Palmer's cocoa butter on my belly plus a little bit of petroleum jelly. Petroleum Jelly was also applied on the top of my bra. This helps the plaster to come off easily. Then, strips of plaster were placed on my belly. It was a very careful process but the plaster dried quickly.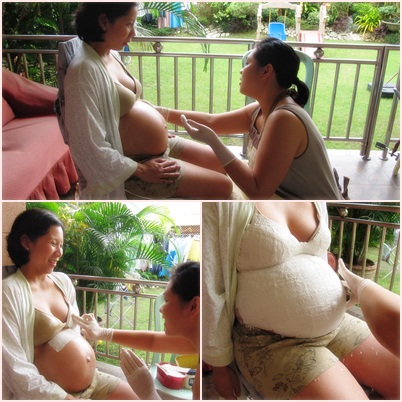 After 15 or so minutes, I felt the plaster warming up and the cast hardening. 30 minutes passed and the cast popped off. I wriggled a little bit to help with the removal.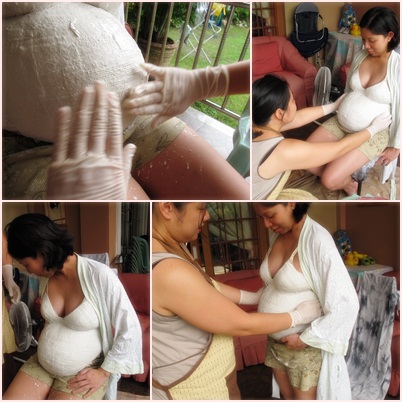 Voila! My boobs (well my bra) and belly! All ready to be decorated!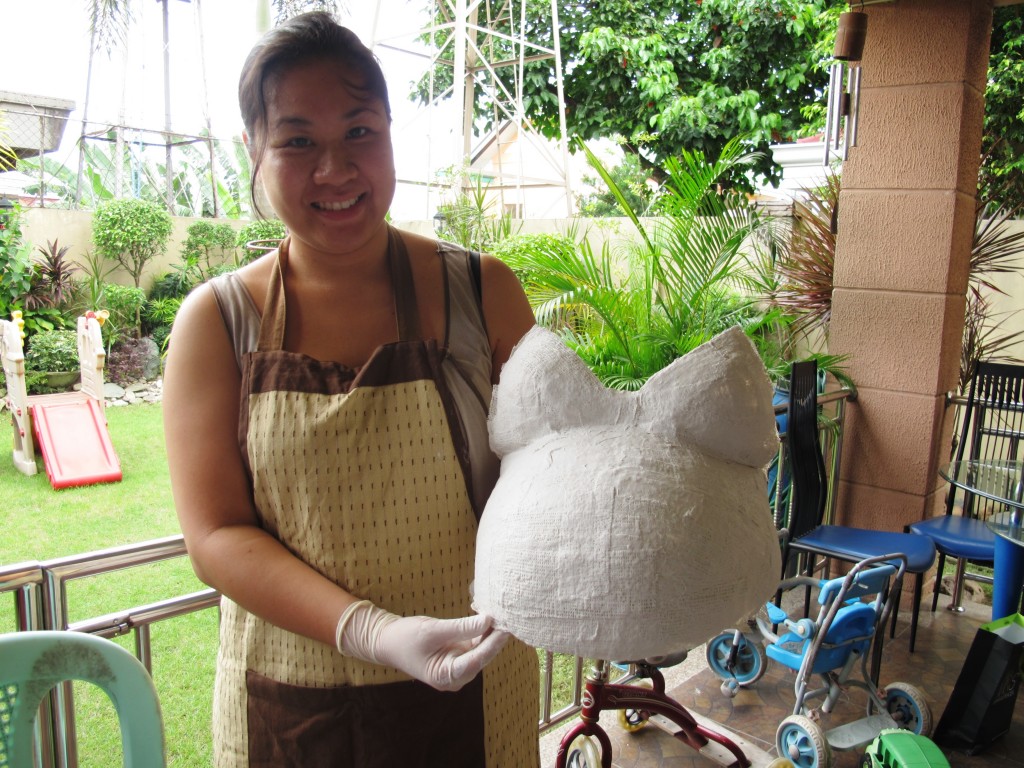 It was weird seeing part of my body captured this way. DW was also watching while the casting was going on and he was weirded out even shouting at one point "don't do that to mommy!" BDW also watched and Mimsy invited him to place plaster on my belly. He politely begged off but continued to stare 😛
I felt excited though all throughout the process. A cast is definitely a great and unique way of  capturing my growing belly and my 2nd kid. The cast took a few more minutes to dry but it was almost ready for painting. I didn't have time to do the next step so Mimsy took home the cast. In my next post, I'll talk about how we painted the cast 😀
If you're interested about doing your own casting, you can contact Mimsy at 0917.811.8923 or via email at mamasteart@gmail.com Mimsy has just launched her business, Mamaste Art and you can like the facebook page here.
Watch out for Part 2 when we paint the belly cast. The post will be up tomorrow 🙂