Guys I have always said how such a klutz I am how I am all thumbs when it comes to crafting. So when I attended the Oreo Bento Together Workshop last Aug 25, I was a little bit skeptical of my Bento capabilities. I went to the workshop with David because I know he'll have a fun time. Hello, we'll be playing with food no, it's a kid's dream haha 😀 And it was a holiday too so I took advantage of it and attended a SoMoms event, which is always fun and full of chika.
The famous and fabulous BentoMommas where our teachers that afternoon. I really have to commend Kaye, April and Moneigh for being such wonderful and encouraging teachers and for making the art of Bento so fun and "doable" . These moms wake up at 4 or 4:30 in the morning to create their kid's bento lunches! Di pa gising diwa ko nun….di pa ako gising period! Haha 😀
So salute to these moms who wake up, prepare their bentos, bring their kids to school and then go to work! Whew!
The Bento Mommas also brought with them lots of bento tools that everyone went gaga over. I bought Star Wars sandwich cutters and a few other tools for home. You can also buy these at the BentoMommas facebook page.
Of course the afternoon would not have been possible if not for Oreo! The event was sponsored by Oreo which meant that we were swimming in Oreo cookies. David was just so happy eating the cookies and the ingredients of our Bento boxes! Bugoy talaga 😛 But I do cherish the times I spend with Kuya and having the opportunity to do just that while learning how to make his baon so much more fun had the makings of a perfect day 🙂 When we went around introducing ourselves to the other participants, I was really happy because it was a holiday and I was doing something fun with David and I got to spend time with good friends too 🙂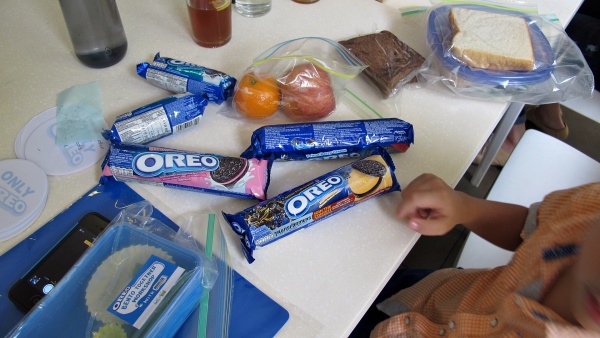 So, on to the Bento!
Here's what the Bento Mommas brought and prepared for each of the groups (we were around 5 I think) Everything was so clean and organized. We had gloves and the proper tools to create the best Bentos. (Little trivia: Bento is a single-portion takeout or home-packed meal that is common with the Japanese. A traditional bento has rice, fish, eat, with pickled or cooked vegetables, usually in a box-shaped container)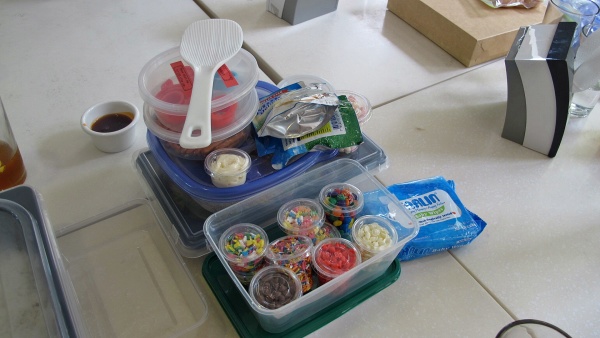 One of the coolest tools I used during the session, a small cutter that we used to carve apples!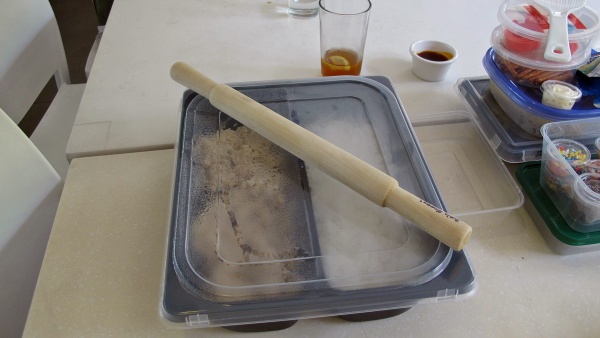 Kaye was very patient and taught us how to make a teddy bear bento with a checkered apple. The Bento Mommas went to each table to teach the moms how to do the bear and the apple. I was all thumbs remember but I did it! This box was mine!!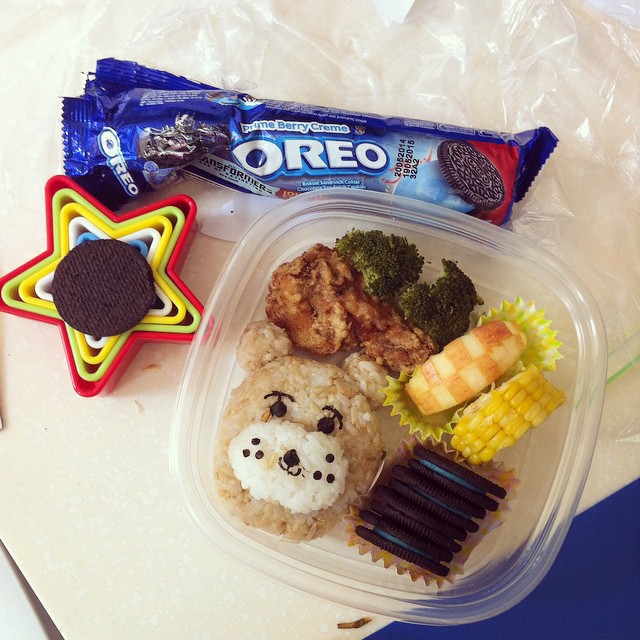 I took a quick snap and uploaded this pic to instagram before David ate the cookies 😛 But c'mon guys if I can do this, you can definitely do it too. For sure mas level up ang bears nyo!
All you need is just rice and zip-lock bag. Put about a scoop of rice in the zip lock bag and use it to create a ball for the bear. A big ball for the head, smaller balls for the ears and snout. You can choose to use brown rice to add a bit of color. The details are all punched out sheets of Nori (roasted seaweed). I used the small knife to cut out the apples, it was really just scoring the skin of the apple and not actually carving. I finished the box in about 20 minutes. I also love that the box is a very healthy meal with rice, veggies, chicken, apples and corn. The cookies are a sweet treat for the kid. Bentos can really help with a picky eater because the presentation makes the food appetizing. The Bento Mommas also emphasized healthy meals and to provide a variety for the kids always too.
After the bear bento, the Bento Mommas showed us how to make a mouse out of bread and Oreos! Here's my take on the mouse: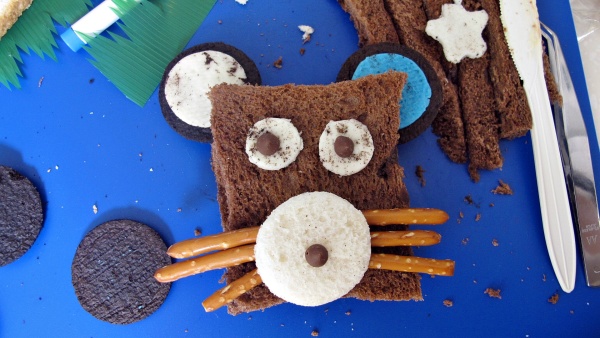 So diba ang mouse cute pero dugyotin?  I NAILED IT.  I'll show you how to do the mouse in another post promise. The other mommas made other creatures they copied from pics passed around by the Bento Mommas. Here are some of their creations.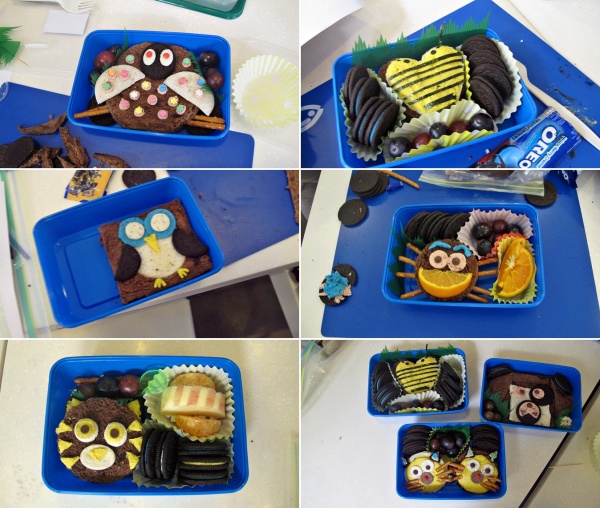 Ang galing diba?! Feel na feel ko na row 4 ang mouse ko haha 😀 This was actually a contest and the best creation took home a new Bento making book.
I know what you're thinking and I thought about it too, TIME. When will I ever find the time to make cutie baon for my cutie babies? I get you mommas and I found my peace in knowing that I will do the bento when I find the time! It will be a sweet surprise for David (and Noah soon) that on some days he will have his regular baon of rice, ulam and fruits and some times there will be R2-D2 staring back at him when he opens his lunch box 😀 It's like the little love notes I leave in his lunch box every now and then. I leave strips of paper just telling him to have a good day or how much I love him.
It's this face that I love seeing every time he sees something new and a bento box, no matter how haphazardly it's been done will definitely bring out the smiles 😀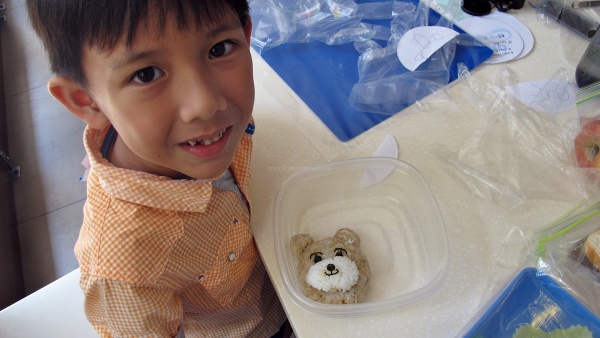 Before you go, check out Cai and Jackie's posts on their own Oreo Bento Better Together Experience and see their own bento creations!
Jackie at Go Jackie Go: Better Me Better Together Bento Making With Oreo
Cai at Apples and Dumplings: Woof Woof Says My Oreo Dog Bento