In our busy lives as moms (either stay at home or working) we always get sucked into thinking about our own problems. For me, my big worry is that DW's not taking enough milk. He's been eating solids for two months now and his intake has gone down. I'm planning an operation "Fatso" for him and was fiddling with other ideas when I saw this picture at Chuvaness on Fabella.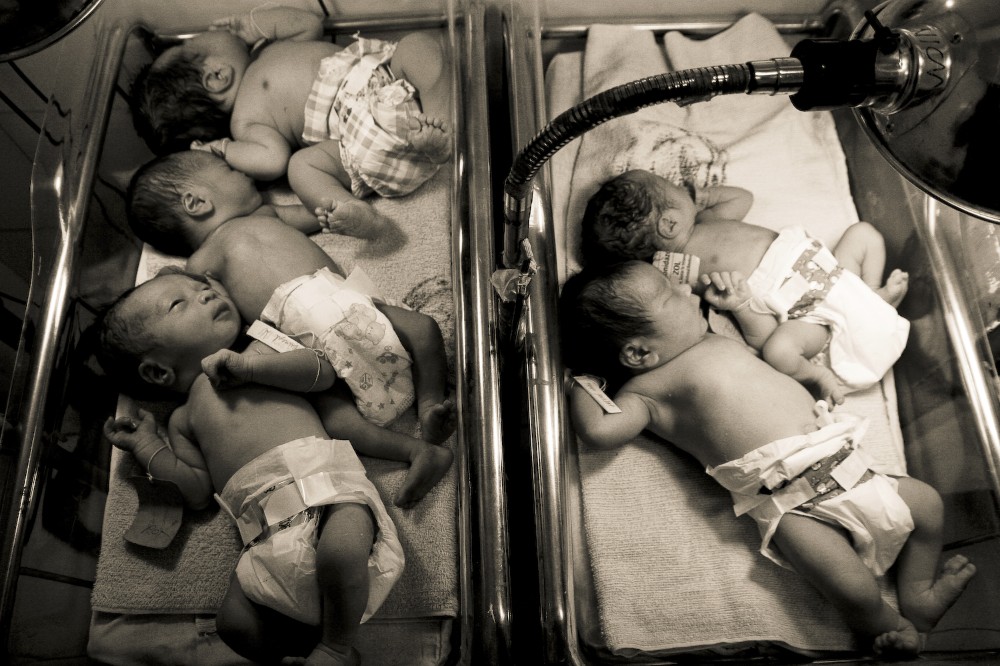 My heart broke into pieces. I felt utterly selfish. I had no right to complain as there are so many of our fellow Pinoys out there who live hand to mouth everyday. 
From Wikipedia:
Fabella Hospital is a newborn and tertiary hospital in Sta. Cruz Manila. The Dr. Jose Fabella Memorial Hospital started as a six-bed capacity clinic called the "Maternity House" on November 9, 1920. This clinic, which was founded by then Chairman of Public Welfare Board, Dr. Jose Fabella, was originally located at Sampaloc, Manila. In 1922, the clinic added a pediatric section and a school of midwifery. In 1931, the control of the clinic was shifted to the Bureau of Health and again to the Bureau of Hospitals in 1947. It was in 1951 when the clinic was transferred to its present location in Santa Cruz, Manila. Unlike other Philippine government hospitals, there were no legislative act that permitted the creation of the hospital. Its present location was only legitimized by Administrative Order no. 140 ,which was issued by President Manue L. Quezon on February19, 1941. The Administrative Order recommended that the Bilibid Hospital will be used as a maternity hospital. On June 15, 1968 when the Maternity and Children's Hospital was renamed as Dr. Jose Fabella Memorial Hospital in honor of the hospital's founder. To date, it has an authorized bed capacity of 700.
700 is clearly not enough. Everyday, 88 babies are born here.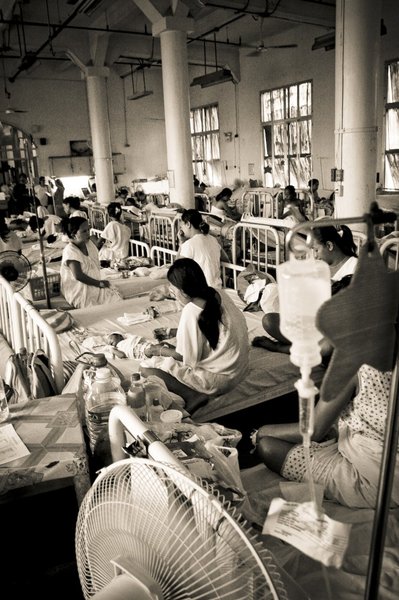 MomsforMoms has brought this cause to light. Sheila Juan-Catilo visited the hospital and took pictures. She  had this to say:
Everyday, mothers flock to this place to give birth because it's the only place they can go to. Due to the sheer volume of women giving birth each day, some have to go home a few hours after delivery while others who can't share a tandem bed with 2-3 others to be able to rest. According to a social worker we talked to, some of them don't even want to leave. To them, it's a roof over their heads, a soft bed and regular meals. For their children, it's a far better environment to survive in for their first few days of life.
Sheila's whole story and heart wrenching pictures of her visit to Fabella can be found here. I was viewing the pictures and imagining what the moms at Fabella must be feeling and thinking. I was a nervous wreck during my first month with DW. I would always cry because I was overwhelmed with so much worry.  Looking at the pics of the moms at Fabella, I prayed for their strength and calm.
I donated via Paypal at Chuvaness and I forwarded the emails to my egroups. I am happy that my family has decided to donate equipment. I have gotten in touch with Sheila informed me that although bassinets are obviously needed, there really is no room anymore in the hospital's nursery. According to her, the hospital needs the following:
glucometer
digital weighing scale
blood transfusion kits
droplights
Diapers are needed as well as linens. Handy Dandy diapers has pledged to donate one pack for every 10 they sell.
Every little help and most especially our prayers count and would definitely go a long way (let's pray for our government leaders na rin siguro shall we??).  The problem is bigger than Fabella obviously because our health care system is seriously flawed. Ideally, funding and support must be given to barangay health care centers which provide a midwife-based model of care for moms and babies. 
But the call is urgent and there is a way for us to help. Let's participate in the fundraisings, go to the MomsforMoms site or spread the word about Fabella or a hospital or health center that you know is in dire need of help.
Let's all do our share.  Thank you so much!
Here are the links again:
Chuvaness fundraiser is here | MomsforMoms |HandyDandy diapers