Haaay for a person like me who is very low maintenance, I really spend a lot of time testing out skincare products. My skin dries out and breaks out easily and I always develop rashes when I use cleansers and soaps that even have a hint of fragrance (but I still try them out haha!)
But always, after my round of trials, I always switch back to Cetaphil to restore my skin. It has been my go-to cleanser since high school. I have a Clarisonic at home which I use with it. Its one of my favorite trusted brands because simply, it works for me and it has never failed.
And now as a mom, I always make sure that the kids use the mildest and gentlest for their skin. None of them has skin allergies and dermatitis thankfully but I always make sure that their skin care essentials are mild and non-drying. Syempre it helps if they smell good too!
So I was thrilled that Cetaphil now has a Baby line called Cetaphil Baby!! I received a huge basket of Cetaphil Baby products to try out and I am happy to report that they are gentle and amazing on the boys' skin.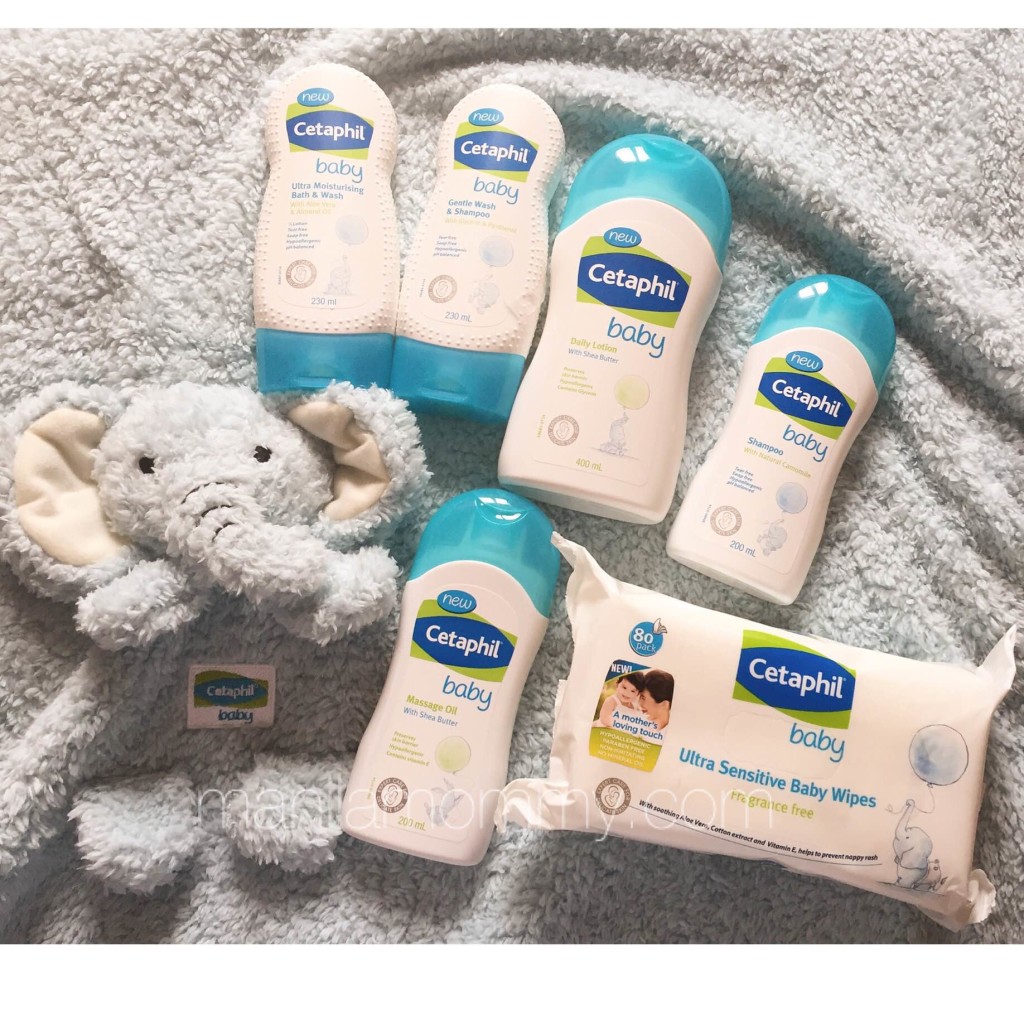 Cetaphil Baby's skincare line consists of the Gentle Wash & Shampoo, Ultra-moisturizing Bath & Wash, Massage Oil, Daily Lotion, Shampoo and Ultra Sensitive Baby wipes. If there's one thing that I noticed with this line is that it really moisturizes and it leaves the skin supple. The line also has a fresh clean scent that moms like me will surely love on their little ones.
We tried the Gentle Wash and Shampoo, Ultra Moisturizing Bath and Wash, Lotion and the Baby Wipes and here's the verdict:
Cetaphil Baby Gentle Wash and Shampoo
The one thing that I always look out for in a shampoo is if it's Tear Free. Noah is super likot during bath time that it really is inevitable that he will get shampoo in his eyes. Although this product is both a wash and shampoo, I used it just as a shampoo for Noah. I love that Cetaphil Baby is tear free and has the fresh baby scent I really like. Noah has fine hair and I want to keep it soft and easy to manage. Cetaphil Baby Gentle Wash was gentle to Noah's hair and kept it fresh smelling even after a whole day of running around.
Ultra Moisturizing Bath and Wash
"Ultra Moisturizing" really is the perfect name for this product. It has aloe vera, almond oil, and 1/3 lotion. You only need a small amount to use per bath time. Its really easy to apply and it lathers like a soap although is actually soap-free! It really left Noah's skin super soft and SUPER BANGO!! It's also hypoallergenic and PH balanced.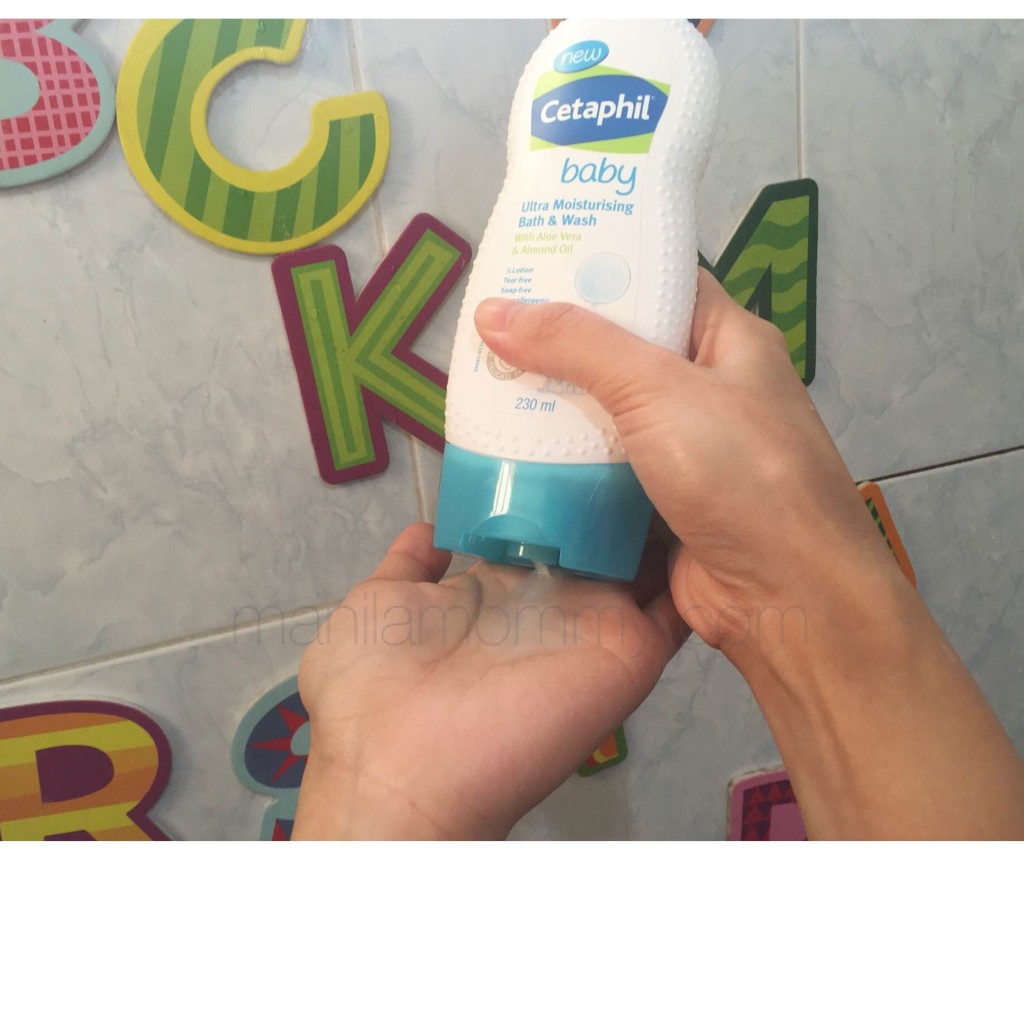 Here's Noah during bath time using the Gentle Wash and Shampoo. You know what's great about this line too? The bottles are so easy to handle! They're curved and textured on the outside so that it's so easy to grip them so bath time is easier for me and Noah!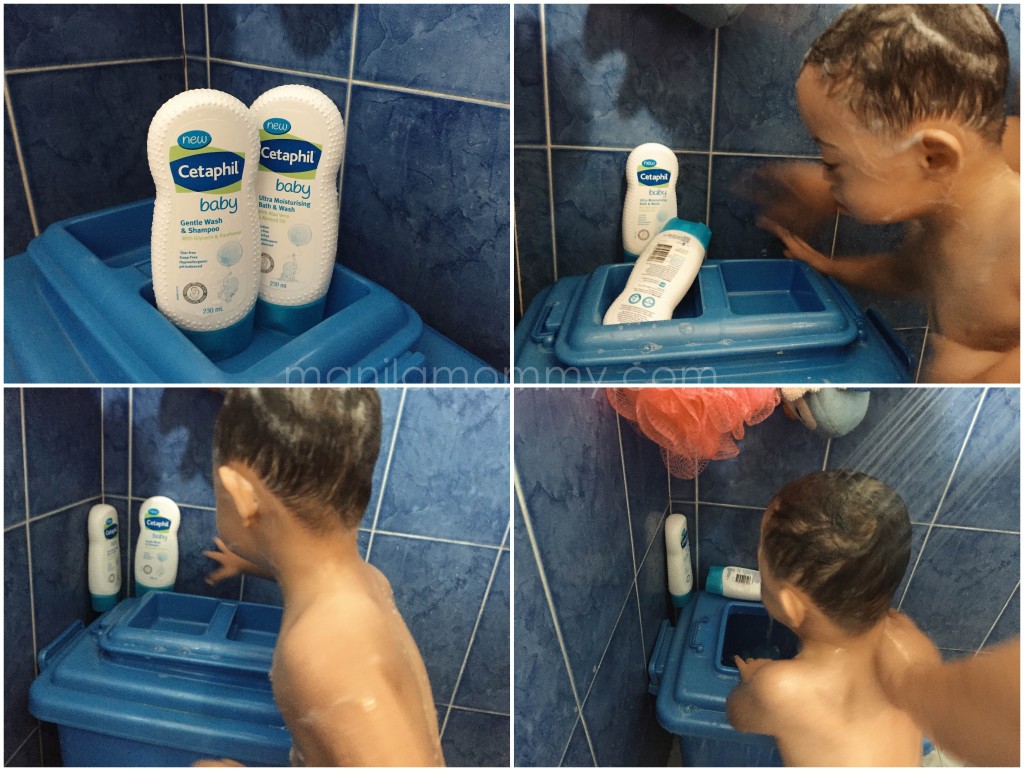 I also used this on myself and… I want to hoard it!! Its just so yummy on the skin and left is soft and moisturized.
Next up is the Cetaphil Baby Daily Lotion!
I always tell Ann, Noah's super yaya to apply lotion on Noah. It's also part of his daily massage therapy and sensory integration exercises. Cetaphil's Baby Daily Lotion has shea butter which really delivers the moisture! I used it on myself to test and it was really good on the skin.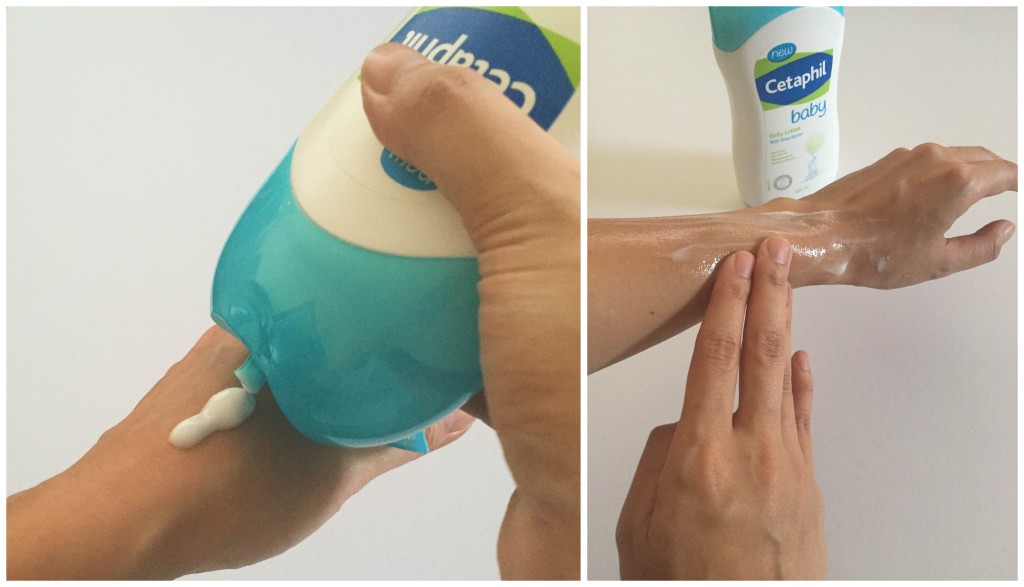 And here's Noah, enjoying his post bath time ritual J It kept his skin soft and gentle smelling the whole day. Even if it was super moisturizing, it was very light on his skin and it was definitely not sticky at all. The lotion is easy to apply, in fact a little bit can go a long way already.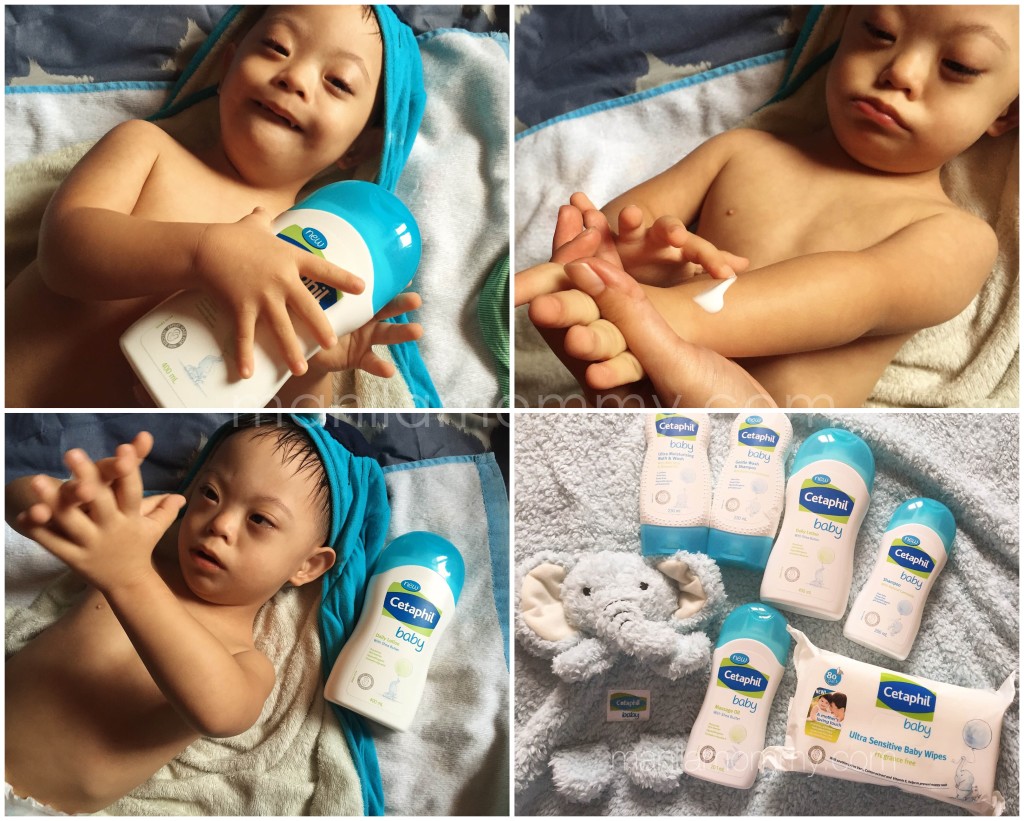 The last one that we tested is the Cetaphil Ultra Sensitive Baby Wipes

In our household, the baby wipes is the one that's used up right away! We use it not just for changing nappies but to clean up the kids, wash their face and hands when we're out.
Cetaphil Ultra Sensitive Baby Wipes certainly meets our standards and needs. It comes in a pack that can easily be opened and closed. The actual wipes are actually thinner than I expected. The sheets are soft BUT they're really strong, which is perfect for those times when our little ones have really nasty poopy days. As with all the Cetaphil Baby items we tested, the wipes also had a moisturizing barrier. It has Aloe and Vitamin to protect our baby's skin. I actually use Cetaphil's Skin Cleansing Cloths (I even did a giveaway at my Instagram) and it's great that they also have a line for babies.
I really love the Cetaphil Baby line, not just for the kids but for myself as well. It's another great product for us moms to choose and pick when we do our groceries. Word of caution lang mommies, this line has fragrance ha so if your baby has sensitive skin make sure to use the Cetaphil Gentle Skin Cleanser and Lotion instead. And always always do a spot test with the kiddos (and yourself) to ensure that there are no adverse reactions.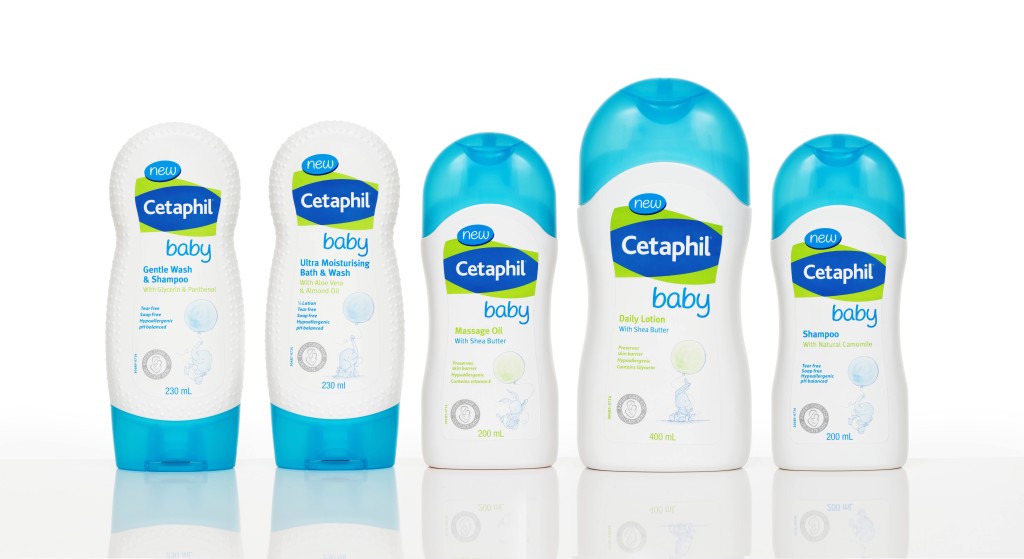 The price range for the big packs is around 250-300. If you want to know more about the products, like the Cetaphil Facebook page here. Cetaphil Baby also has an ongoing online campaign where moms share their #MothersLovingTouch moments. I shared mine when I was on a recent business trip to Singapore. I was eating breakfast and just missing the kids terribly. It's comforting to know though that what I have left for them even if it's just a simple bottle of shampoo is a reminder that mom is there with them at home.
Check out the entire line at these fine stores: SM Hypermarket, Supermarket, Shopwise, South Star Drug, St, Joseph Drug, and Baby Company. Don't forget to add them to your grocery list!