We are actively looking for a new family car that hopefully we can get to purchase next year (budget willing!).  Our current war car is older than both of my kids and longer than my marriage, COMBINED! The maintenance costs have skyrocketed the past few months na rin. We've replaced our war car's alternator, aircon fans, starter, and there is a bump at the back of the car that I have not had fixed since….2007. Yown.
Anyway, we're looking at models from the usual dealers and brands and have looked at used car lots too.  Dan is still hopeful that he could find his dream family car in a used car lot (a white mini-van) hehehe.  So when I found out that the SoMoms will get the opportunity to test drive a Chevy, I figured that it would be a great opportunity to test a brand that wasn't even in our radar.  When we were choosing between models that we could borrow, we took note of the Captiva right away because we felt that this model had all the elements we were looking for.  We didn't really consider SUVs because they were a bit too pricey and lacked the space we needed.  Compact cars were out of the question just because we had to fit 7 people plus all our stuff.  The Captiva, on paper, appeared to be perfect for our needs.
The Captiva was delivered on Sept 13, a Friday. Over the weekend, our goal was to use the car as we went about our usual weekend errands.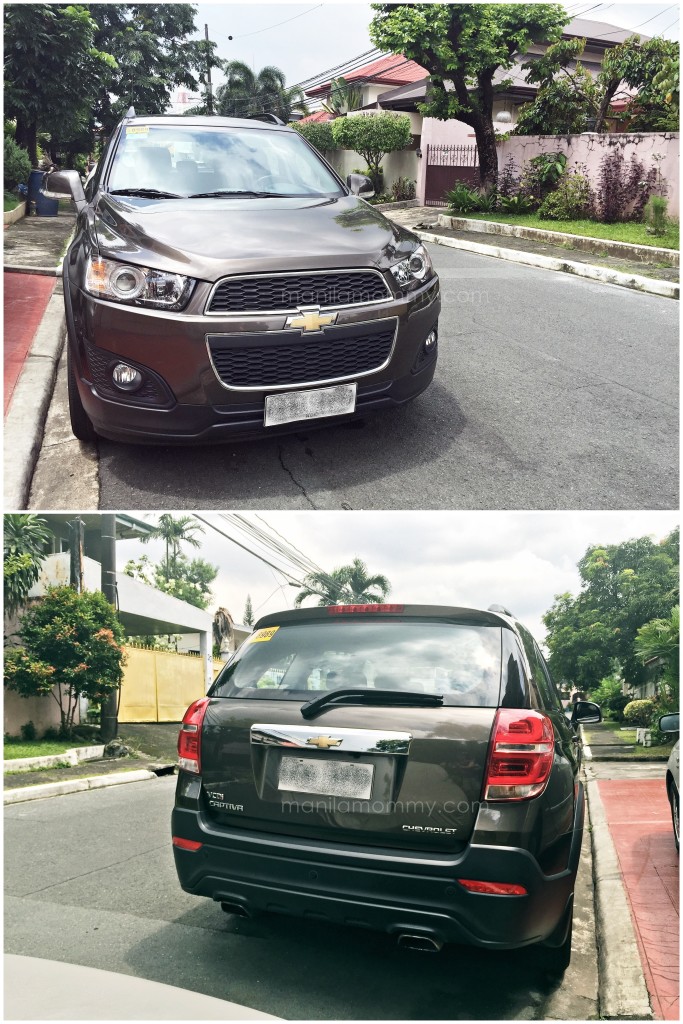 So on Saturday, we all piled into the Captiva. Driver, two yayas and us (Dan, David, Noah and me). All fit inside the car with lots of leg room to spare.  Hindi pilit ang spacing!
This is all of us without Mang Jun, umuwi na sya haha 😛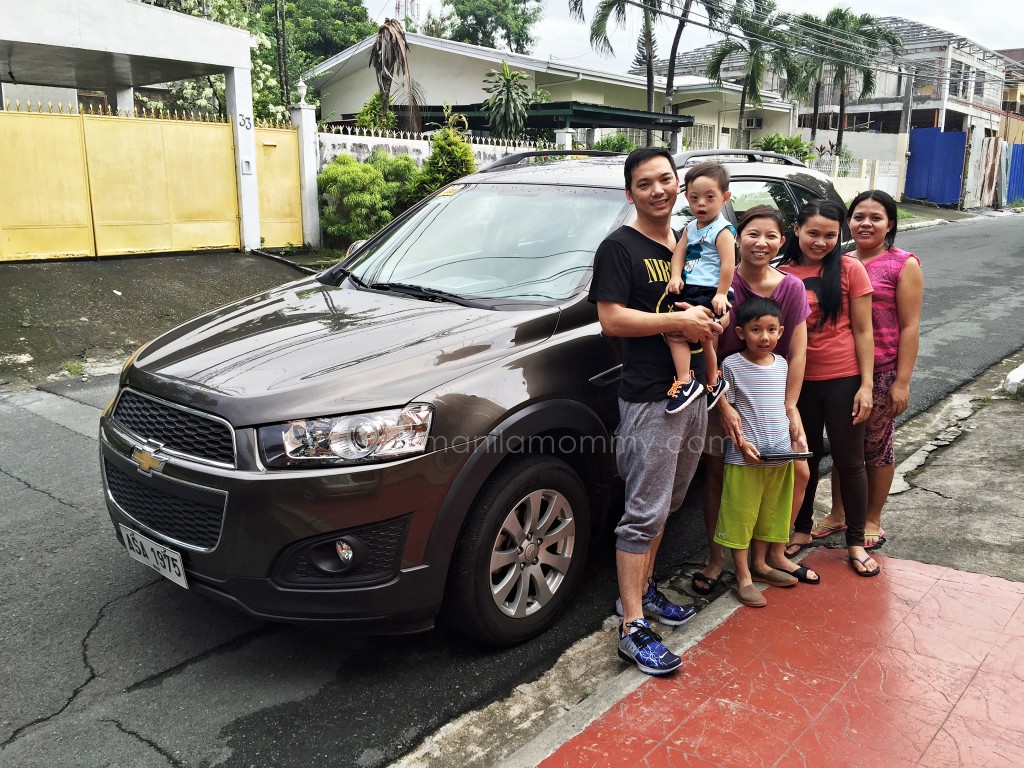 Si Kuya and Dan muna 🙂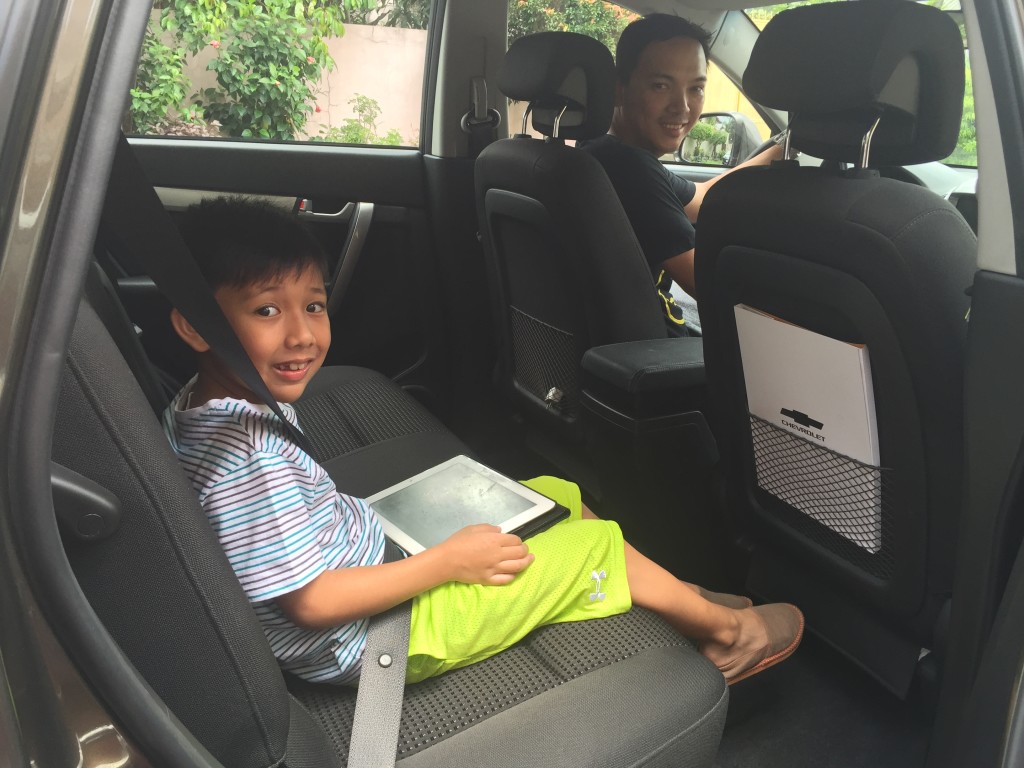 The third and second rows recline to a flat surface and individually at that.  This provides a lot of flexibility with space (you can just use half of the third row and the strollers would fit, or you can fold both second and third rows to haul in luggges, balikbayan boxes, even furniture!) Even if we used the third row (where Ate Ann and Ate Mai are seated) there was still enough space for our groceries.  For families like us who really value space, the Captiva is an awesome choice!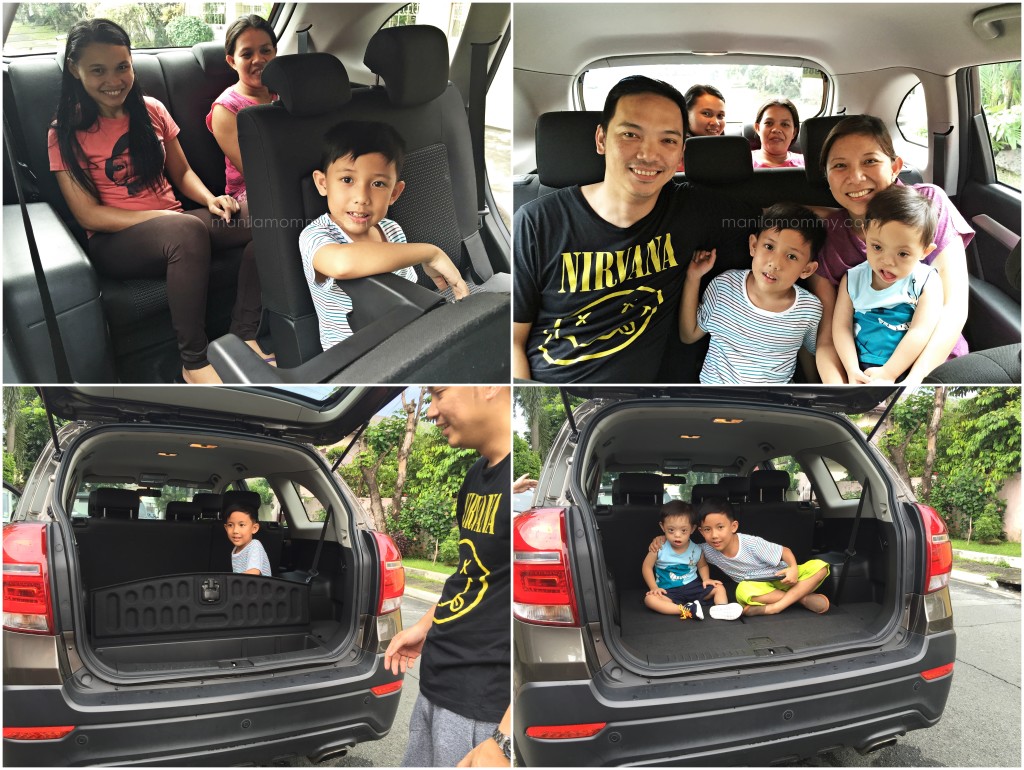 We love the touch screen monitors and how the console was designed. I connected my phone via bluetooth which meant I can receive my calls and play my music wirelessly. The middle and glove compartments also has ample room for a lot of stuff we all need to have inside the car. We also noticed that there were a lot of cup holders inside the Captiva! Dan and I always go to drive-thrus for quick meals or quick snacks so having cup holders for all passengers in the car are a big deal for us hehe.  We used the navigation system and it was an awesome alternative to Waze. We loved how clear and big the monitor is so the maps are easy to read while you're on the road.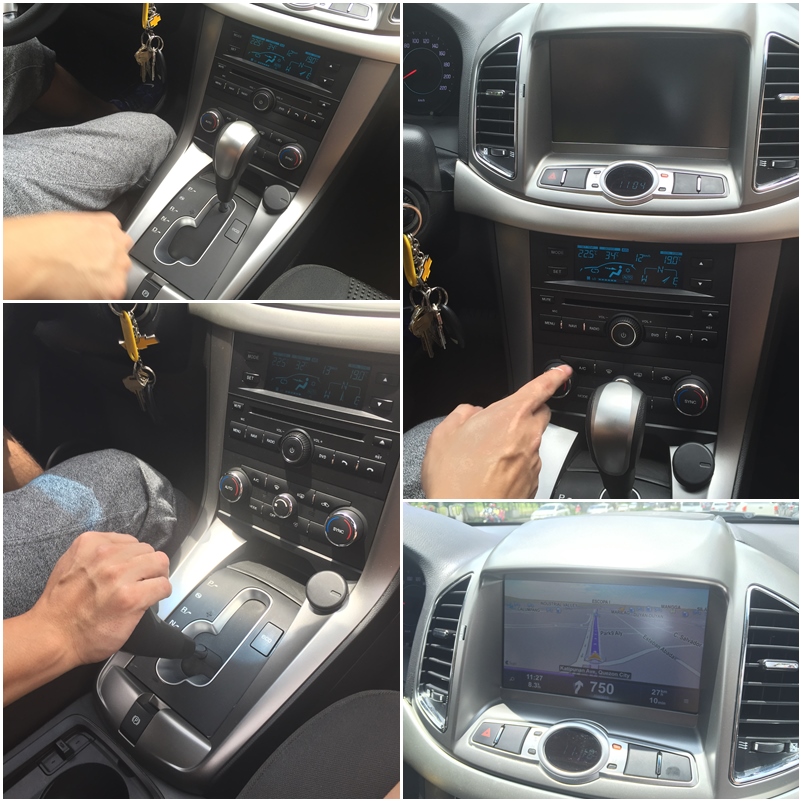 The  steering wheel also has controls for the console which is a great safety feature so that the driver has everything in sight and would have no distractions.

 The Captiva handled like a sedan.  Dan commented that he didn't feel like he was driving an AUV or SUV.  It felt "solid" and sturdy and for us passengers hindi matagtag!! From our war car to the Captiva, I really felt that this car was light years away from what we are using now. The kids were comfortable, our two ates, were seated comfortably at the third row and we didn't have to worry about space. Our groceries and strollers all fit inside with room to spare pa (sayang wala ng extra budget for extra shopping that weekend haha).
 We all really LOVED the Captiva and this car has moved to the top of our wish list.  We never realized this was our dream car and we were so happy we go to try it. This is one car that you all must consider if you're looking for a family car. To us, it's the perfect combination of style, function and safety. We really could not ask for more!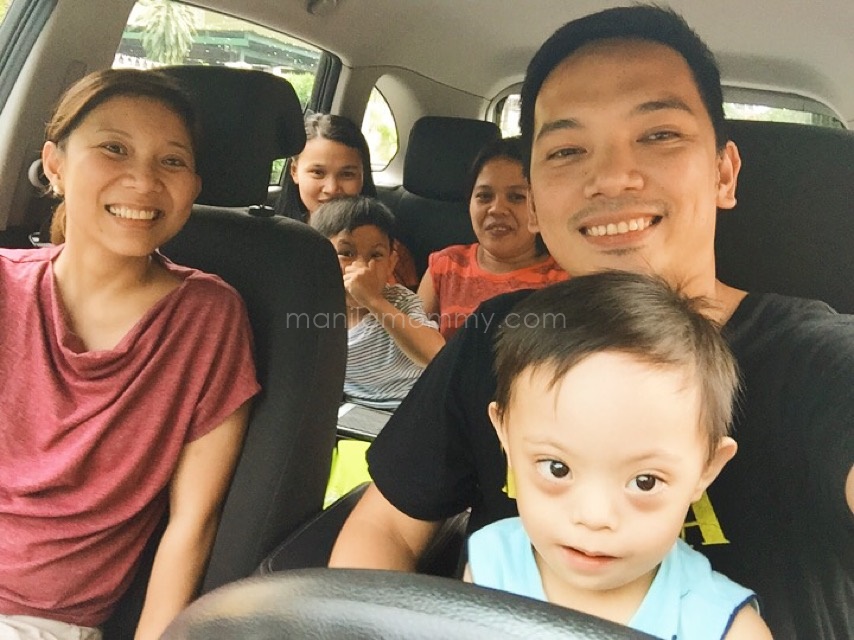 If you want to know more about the Chevrolet Captiva go to
http://chevrolet.com.ph/cars/captiva/
The 2.4L GAS LS FWD Gas 6-speed AT is Php 1.31 million and the 2.0L FWD DSL LS 6-speed AT is Php1.41 million.