Edit: We have a winner!! Congratulations Mommy Rocel Villasis!! Please email me at manilamommy(at)gmail(dot)com your shipping address!!

Here's her  answer to the promo question "How do you make ordinary moments extra special?"

Rocel A. Villasis says:

Ordinary moments become special when you do them with all your heart. Whether it is preparing a birthday spread or an ordinary meal, when you do it with love, it becomes special not only to the doer but also the recipient.
We are not a family that plans trips,picnics or vacations. When weekend hits, our priority is Noah's schedule – going to Alres, going to the doctors, doing his lab procedures. Then when the afternoon is free, we take Noah home to rest and we have an afternoon with David (although sometimes if it's just therapy in the morning, we take Noah along too)  Our little kuya tags along to all of Noah's sessions. He gets bored sometimes so we make it a point to have something for him in the afternoon.
Sometimes though after a long and tiring morning, we prefer to just stay home and hang out. In those rare occasions I try my best to do something in the kitchen. Be it pancakes, grilled cheese sandwiches, cakes or cupcakes, I make sure that David is in for the experiment. He loves helping out in the kitchen . One Saturday I decided to bust out the Del Monte merienda pack and some ground beef.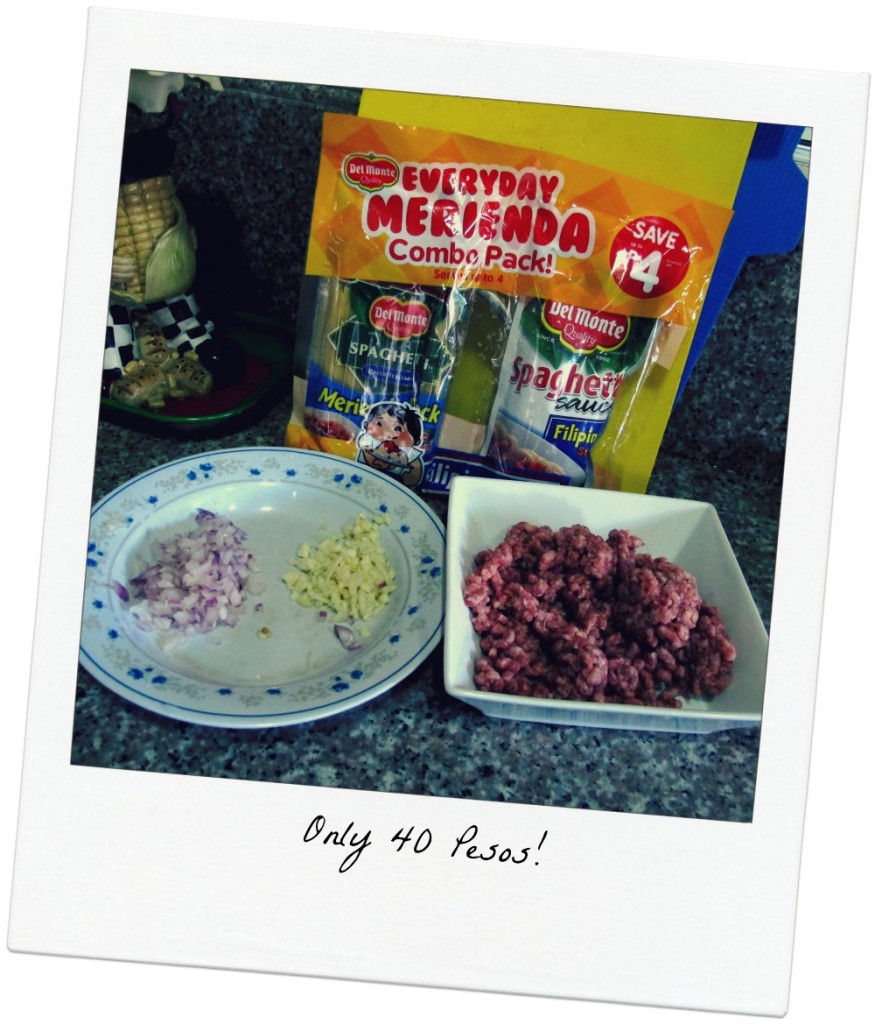 Spaghetti Bolognese  is such an easy foolproof dish! David and I had some fun with the prep work: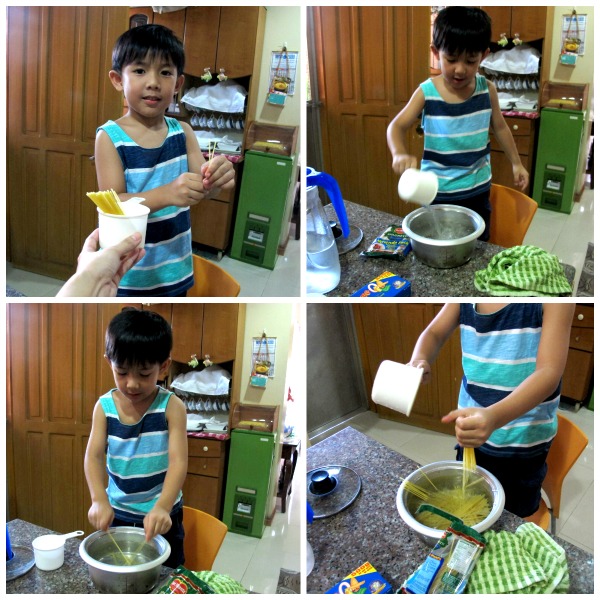 After the prep, I busted out my mini cookie cutters. Yes, cookie cutters!
Cookie Cutters + Cheese =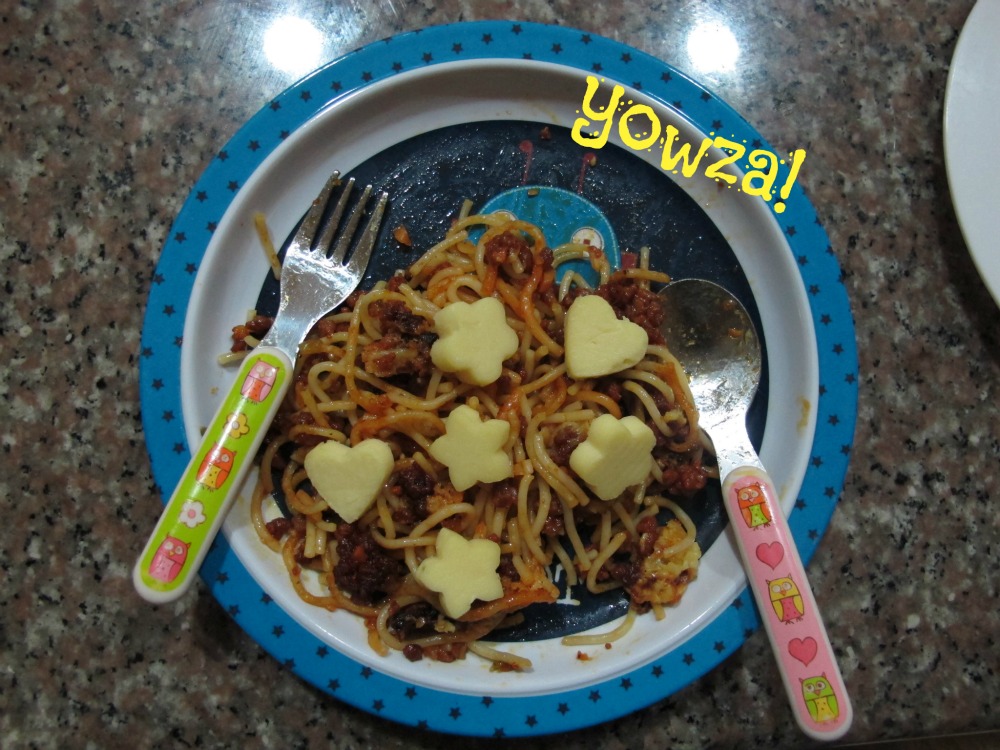 Spaghetti Bolognese Surprise ala Manilamommy! Haha!!
Happy naman si bugoy 🙂 And he loved the chunky cheese!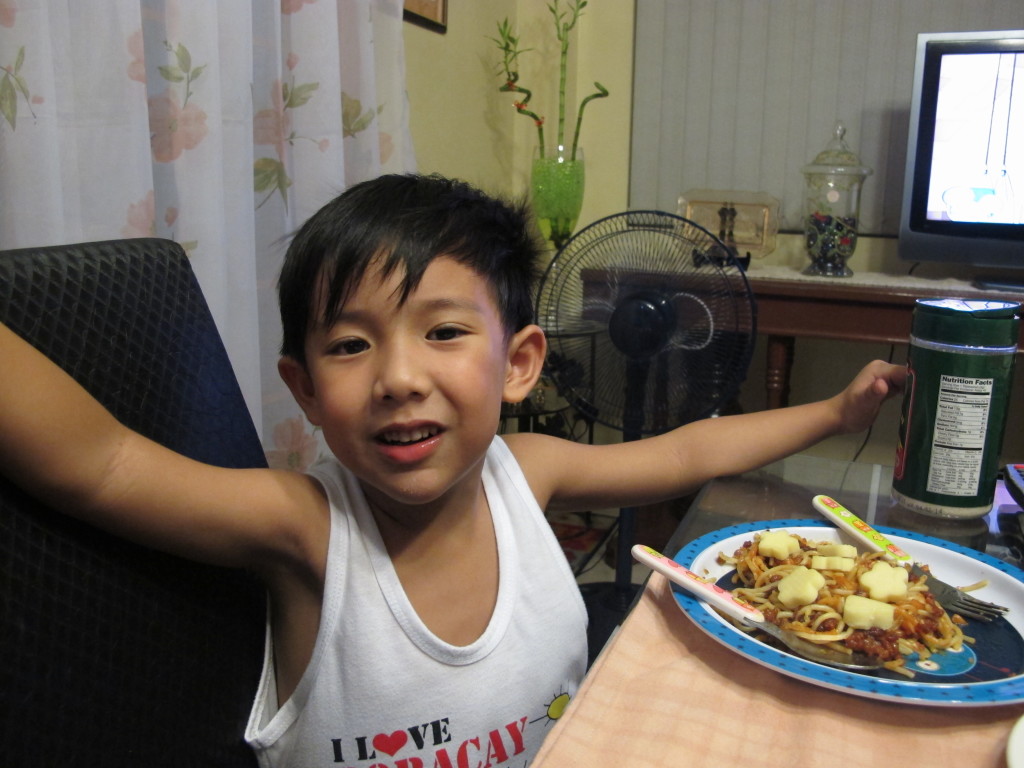 So Mommies, if you made it to this end  of the post, I have a question for you, how do you make ordinary moments special?
Enter using the rafflecopter widget  and get to win an Activity Gift Pack from Del Monte!
Thanks for joining!! Good luck!!