Last Sunday, Dan and I talked and shared about our family in front of new parents of children with Down Syndrome at the Early Intervention Seminar of the Down Syndrome Association of the Philippines. The last time I went to the EIS was last year on the anniversary of our attendance. Nov. 11, 2012 will always be a special day for me and Dan because that's when we really kicked off our "new normal". That was the day that we found new friends and a new community who warmly welcomed us into the fold. It's still a very emotional occasion for me. Noah will be turning two this September and he has gone a long way. I am always amazed at how much he has grown from a 3.3 lb baby to the bugoy that he is now. Whenever I look back though, I can still feel the heaviness and the sadness. Two feelings that I regret having. I wish I knew then what I know now, that things will be ok. It's really all I wanted to hear when I went to the EIS.
We ended our talk on positive note and I would like to share it here as well. 

3 Things Noah Has Taught Us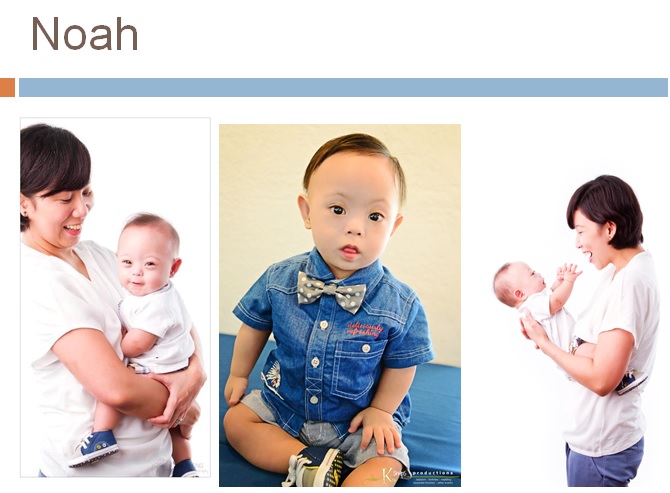 We Are Not Alone
When Noah was born, I felt alone and I felt lost. I didn't know where to start and I didn't know how to process all the emotions I felt. Joining DSAPI changed all that. On November 11, 2012, Dan and I attended the Early Intervention Seminar and it kicked off our "new normal" . We listened to other fellow parents who perfectly understood our situation and who were on the same path as we were.  It is truly a blessing to be in a community who "gets" us and who will always advocate for our children. I think my aunt said it best when she told us that, we have always been loved but Noah allowed them to show how much we are really loved and supported. Noah opened us to new friendships and a new family.  (Thank you Noah!)
The hopes and dreams that we had before we knew Noah has Down syndrome are still the same hopes and dreams that we have for him
We want Noah to be happy, healthy and to live a life that fulfills his passions. Just as we will help Kuya David to be the best that he can be, so we will help Noah.
But just in case you need examples of how awesome our children can be here you go:
Have you dreamed about your kids having dinner at the White House?
Brina Maxino did.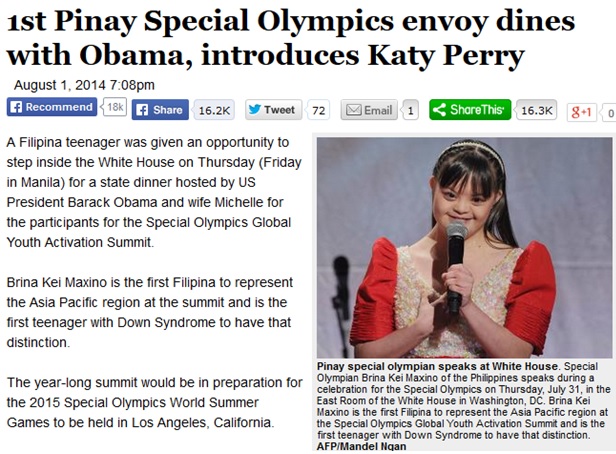 Brina is the first Filipino to represent Special Olympics Asia Pacific. She is also the first individual with Down Syndrome to have this distinction. Way to go Brina!!
Have you dreamed of your daughter being a very talented painter?
Clarissa Tiongson Ortiz  is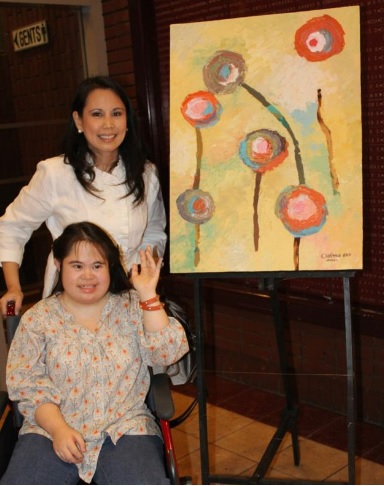 Clarissa paints with her mom and has had exhibits all over the Philippines and Hong Kong.  Her mom Malu is the author of Embracing God's Purpose for My Child with Special Needs.
Have you ever wished that your child can serve in church?
Jeremy does and then he plays golf after!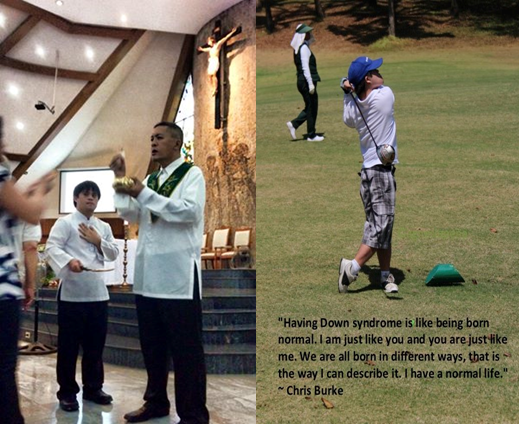 How about owning his own restaurant?
Tim Harris does. He runs Tim's Place, a restaurant in Albuquerque, New Mexico that serves good food and lotsa hugs!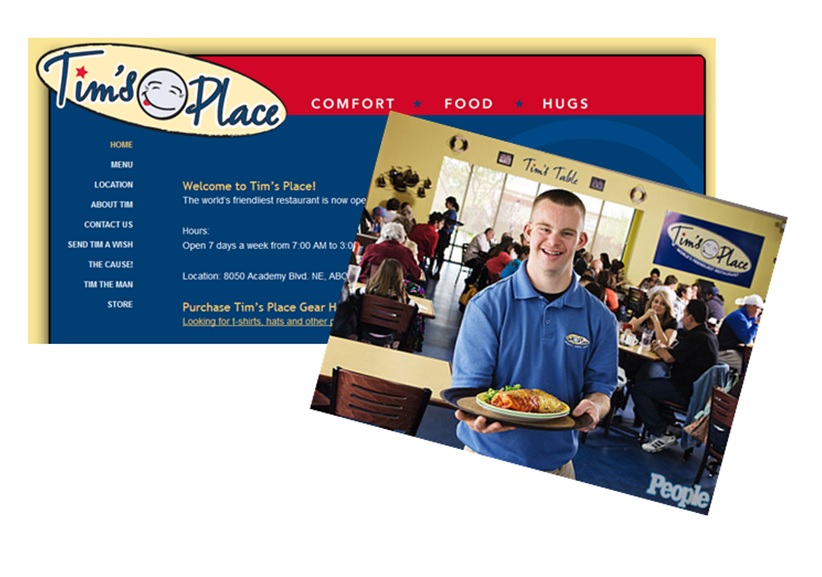 Just like any child, provide your child with challenges and they will rise to that challenge. Build on their strengths and most importantly throw away the milestone charts!
Everything Will Be Ok
All that fear and sadness will be replaced by something much more wonderful — love and joy. You will be proud of your child and she/he will be celebrated. Your child will give you strength. Your child will teach you how to be happy and how to take things one day at a time.   Take pride in your child. She/He will amaze you!
So last Sunday, we stood in front of them as parents who have gone through what they have. We have been over the hump so to speak and we were there just to let them know that all the worries, all the fears and all the hesitations are ok and are just part of parenthood. But what will empower and encourage them to move forward is their child. Their child will just be amazing and will give them all the assurance they need that everything will be alright 🙂 I do hope that we made sense last Sunday and that we were able to let the parents feel that things will work out and that after a year, they will look back at how worried they were and they will just laugh about it hehe. For the record, I did not cry, which was a milestone for me haha 😀 Dan was a bit teary-eyed, kailangan lang siguro ng practice 😉
You may contact DSAPI at:
2nd Floor, 6372 Agrifina Building, Camia corner Meleguas Streets, Guadalupe Viejo, Makati City, Philippines
Tel. Nos.: + 63 (2) 895-36-06 or Tel/Fax No.: + 63 (2) 895-96-42
E-mail: dsapi@hotmail.com