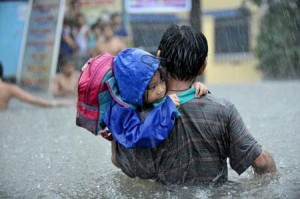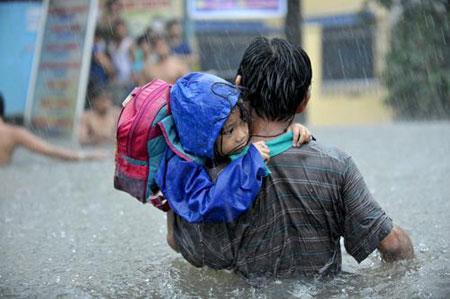 Stocking up your house with the essentials to survive is  key but what if you need to evacuate? Here's how to build a "Go Bag" for the family.
Ondoy has come and gone and right on its tail is Pepeng.  Never have I been so paranoid at rain before. However if there's one thing that Ondoy taught us is that we should never take safety and being prepared for granted.
To be honest, I never thought I would ever need to prepare for a typhoon. We live in a relatively secure place in QC (high and dry) but when a good friend sent me a pic of their house in San Francisco Del Monte with their first floor completely submerged, that was it. I told myself that disaster will happen to anyone at anytime and you can only be spared when you are prepared.
But how do you prepare?  How do you start? The power of social media and the internet more particularly twitter has produced valuable links and discussions (in 140 charaters or less haha) on disaster preparedness.  The lists point out what one has to have in their house for a disaster but my question is what if you need to go?  A basic Go-Bag is the solution.
The Go-Bag is a family member's  own disaster survival kit. For our little family I'm planning a bag for me and the hubby and a bag for the bugoy.
72hours.org lists the following that must be in a "Go-Bag"
Flashlight
Radio – battery operated
Batteries
Whistle
Dust mask
Pocket knife
Emergency cash in small denominations and quarters for phone calls
Sturdy shoes, a change of clothes, and a warm hat
Local map
Some water and food
Permanent marker, paper and tape
Photos of family members and pets for re-identification purposes
List of emergency point-of -contact phone numbers
List of allergies to any drug (especially antibiotics) or food
Copy of health insurance, identification cards, passports in a ziploc bag
Extra prescription eye glasses, hearing aid or other vital personal items
Prescription medications and first aid supplies
Toothbrush and toothpaste
Extra keys to your house and vehicle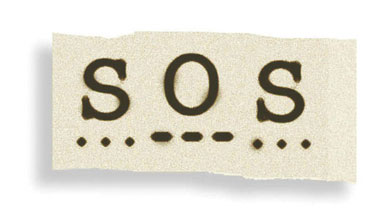 Whistle –  you're probably familiar with Nokia's standard message alert tone, that's actually the Morse Code Distress Signal for SOS( · · · — — — · · ·). This is also doable by flashlight, three short flashes, three long ones, three short.
Batteries -be sure to know the types and kinds of batteries that your flashlights and radios need. Buy branded if you can and not the cheap ones from Divi and China, they don't last.
Medicines – pack the following in formulations for kids and adults: paracetamol, phenylpropranolomine, ibuprofen, loperamide, aspirin, special medicines for specific conditions (asthma medications case in point)
Antiseptic – Iodine antiseptic solution
Mosquito Repellent – consider being stuck around stagnant water, dengue galore!
ID – in my UP days, our professors would always tell us that if we're going to a rally that the only thing we bring is our ID. Gets?
First Aid Kit – sterile gauze, different sized sterile bandages, medical tape, antibiotic ointment, scissors, cotton pads. OR buy Pre-assembled first aid kits are available in hardware stores and drugstores like the ones made by Philusa (Mediplast)
Safety Pins – I always carry a bunch with me in case something rips or a button pop out or you just need to put two materials together but you don't have time to sew.
Rubbing Alcohol
Sanitary Napkins, Disposable Undies – relief operations for Ondoy are requesting these two along with toiletry kits.  Last I heard Johnson & Johnson donated 1,000 boxes of sanitary napkins for the evacuees.
Bottled Water
It would probably make sense to pack these in a waterproof bag or to at least pack the essentials in a ziploc bags such as government documents and ID cards. Make sure to pack them in air tight bags and not sandwich bags as the latter is breathable and therefore not waterproof.
Do you have any more suggestions? Please leave some in the comments section 🙂