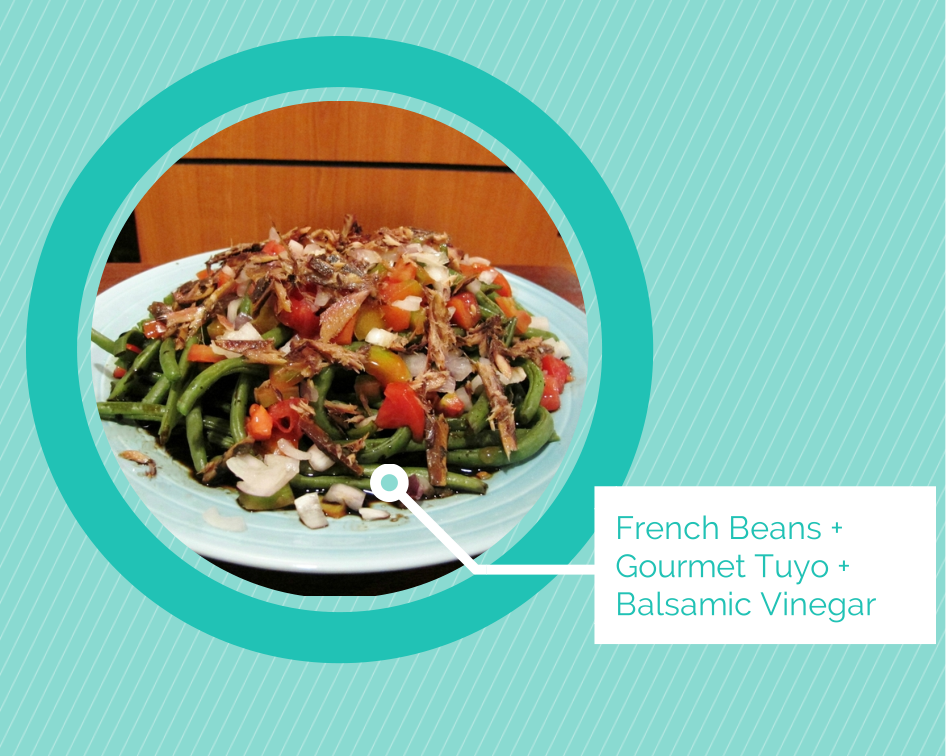 This is my ultimate favorite salad ever! This is a recipe of my Tita Merly who generously shared this recipe to my mom. I  can finish a whole plate of this dish just by myself. I'm not sure if this is healthy given the generous servings of tuyo but it does have veggies and according to this article, balsamic vinegar helps in weight loss, improves blood circulation and immunity, regulates blood sugar and it aids in digestion. So… pwede bang inumin ang balsamic vinegar kung ganon? Hehehe
Not that I'm a health nut. I love my junk and fast food but fortunately I also love veggies and good salad to me is heaven!  I love this salad because it's easy to assemble and you don't need to make a fancy dressing, just pour the balsamic and you're ready to go. It goes great with steaks and/or fish or if you're like me I can eat this on its own.
What you need to do: 
Blanch the french beans – This just means dumping and cooking the beans in boiling water and then dumping them into ice water. Make sure to use lots of water and to boil the beans without the pan's lid cover so that they won't turn limp.  You'll know they're cooked once they've turned bright green. Transferring them to ice water stops the cooking process and it keeps the crunch of the beans.
Cut the onions and tomatoes into cubes
Open a bottle of gourmet tuyo – We use either Connie's Kitchen or Maga's Kitchen.  Use a fork to get the tuyo fillets and chop them into smaller pieces. Remind yourself not to eat one or two (or three) pieces.
Pour the balsamic vinegar – use your judgment as to how many spoons or cup to use. We usually use about half a cup for a plate and then we just add more as we spoon the salad into our own plates.
Assemble everything onto a pretty plate
Eat.
Enjoy.
Give yourself a pat on the back.
Do not share the recipe if your friends ask you. Tell them to visit this blog hahaha.
Happy Eating Friends!