If I say team Noah, I would always refer to his team of doctors and therapists. It would also mean us, his family, including his Yaya Temya. It's a relatively small group who are all tasked to take care of our precious little boy. Last Feb. 24 though, this team dissolved and melded and merged with a few more teams. Families, barangays and loved ones all came together for the DSAPI's Annual Happy Walk 2013. It was the association's 21st year. 21 is a magical number in our community. The chromosome pair which is affected in people with Down syndrome is chromosome pair 21.  The extra copy of the chromosome in that pair results in a trisomy and so Down syndrome is also known as Trisomy 21.
The day started early. We left the house at around 8 and had  a quick breakfast at McDo. I read a message on my phone from my friend Anna who was meeting us at the SM Sky Dome. I made a beeline to the McDo Toy Bazaar to look for a toy for her little boy who will be marching with David front and center.
There were a few people at that McDonald's. In front of us was an elderly couple who were quietly having breakfast. They smiled at us, this haphazardly assembled collection of a mom, dad and two young kids. Their gaze would sometimes go our way and then to Noah and I wonder, do they know? I always think about this — if people do know, if they can tell.  When Noah was still in the NICU, it was the shape of his eyes that led me to believe that he has DS even if his karyotype results were a month away from actually confirming it.
It's a thought that I have to quiet down right away. But it's always replaced with a yearning for people to see Noah for who  he is and not for what he has. It's a sad thought for any parent to bear really.  I brush this thought aside and cooed at our little boy and gave David a thumbs up for eating his pancakes and hash brown with so much gusto. Noah IS cute after all. How can people not stare?!
Then off we went to SM North. The parking lot near the bridgeway going to the Block had a lot of cars already. We parked and saw a family on their way to the bridge. One of them was carrying a little boy in glasses. We walked behind them and we exchanged hellos. I talked to the little boy who was a bit sick that day. He was so shy and was in no mood to talk but his family was all smiles. They were on their way to Happy Walk.
I saw the crowd gathered for Happy Walk. I had to hold back tears. ANG DAMI. ANG DAMI DAMING TAO. There was a swell of love, pride and celebration that day. The air was charged with a lot of positive vibes. It was surreal, this gathering of families, this new community that we've been welcomed into all because of an extra chromosome.  As my friend A said, there was so much fierce love and support in the community that it's hard not to be affected.
Then I saw these placards, posters and tarpaulins. Screaming in bold letters were the words DOWN SYNDROME and right next to them, are pics of kids, teens and adults with Down syndrome.  One placard translated into words what I was felt when I was drinking coffee at McDonalds. The placard read:
People who don't know say, Mongoloid

People who know say, Down Syndrome

People who care say my name, Brina
People were walking not only because of love, pride and support. I realized that we were all walking for recognition, for inclusion and for respect.  Our kids are not invisible.
As we geared up for our march around SM North Edsa, I met Team Gellibean who was in full force that day.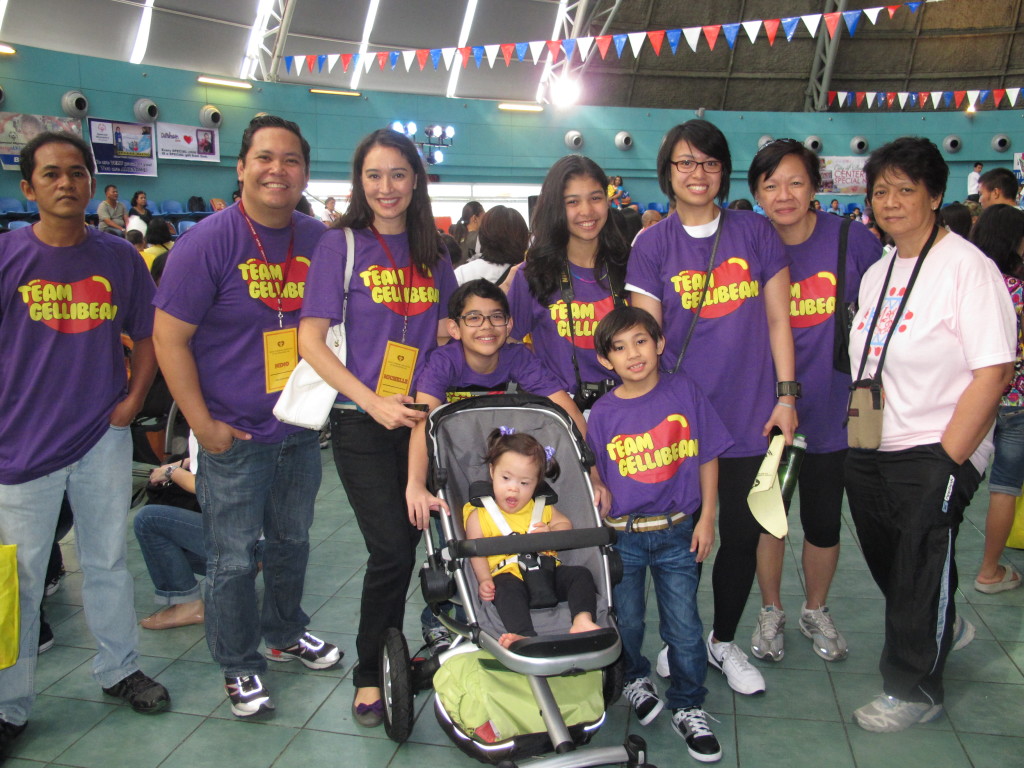 Gelli and Noah met that day too. I almost melted when I took the pic below. Gelli is super sweet but her big sister Gia told me that Gelli didn't want to wear her shoes and was being makulit that day! Heeeheee!!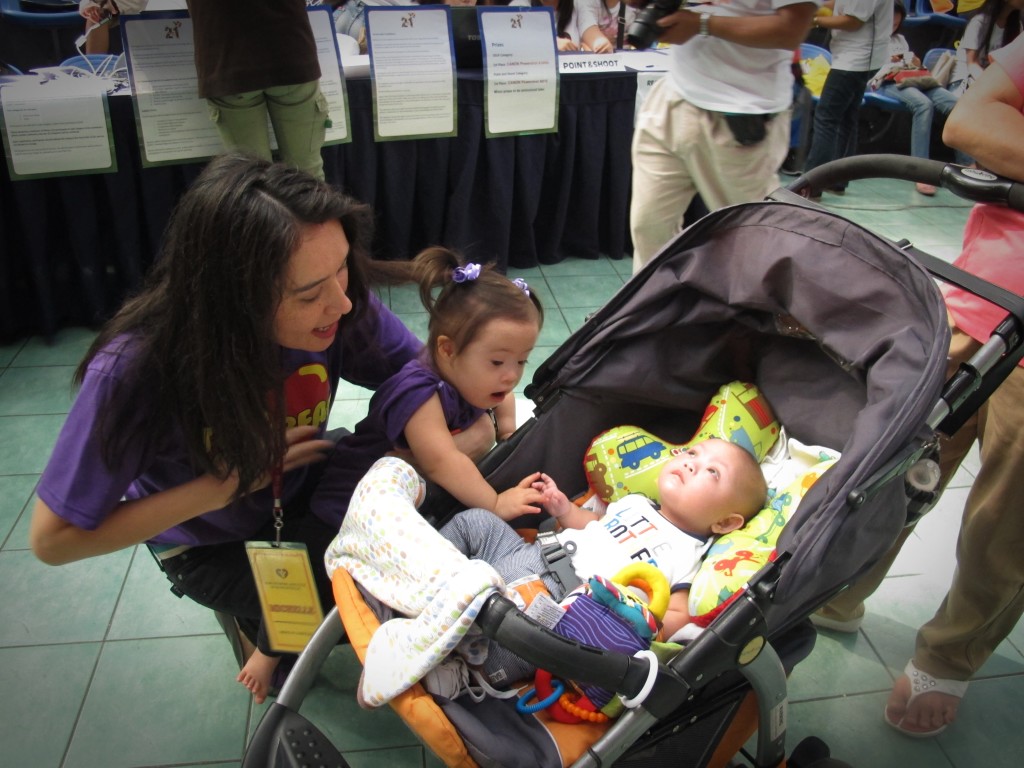 We were joined by my dear friend A and her family. Even her parents and sister joined. I didn't know how they would react but I was so thankful that they chose to be with us on a Sunday morning to walk with our family.  (My friend A also blogs and wrote about Happy Walk here)
Happy Walk was another milestone in our journey and I walked with such a  proud and grateful heart that morning.  As we were walking, a woman stopped us and asked us if she could take a picture of Noah. She kept gushing how cute Noah is and how adorable our darling is.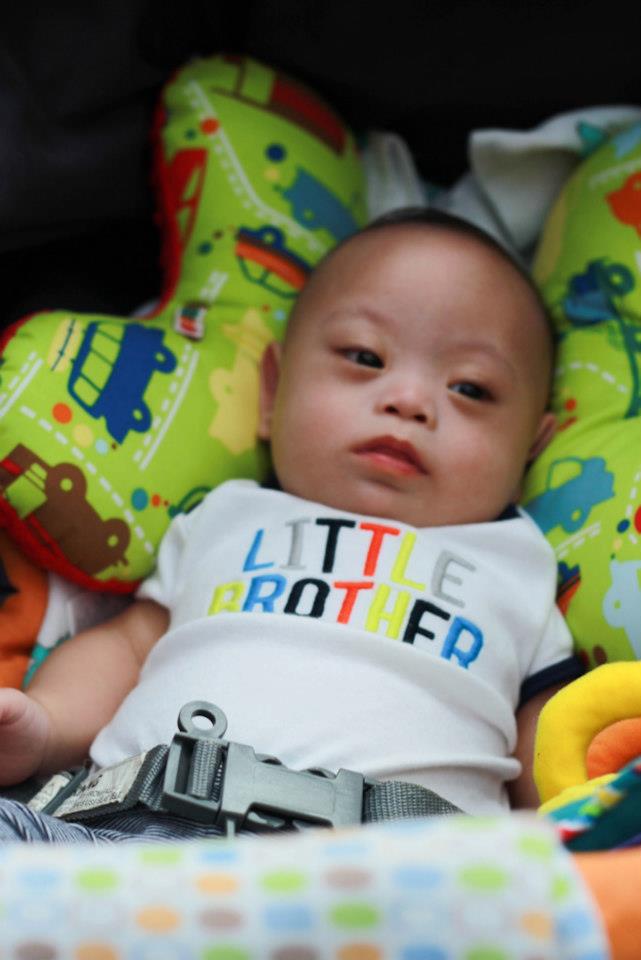 Dan turned to me and said how amazing that was. I asked him why and he said, he was touched because the woman saw Noah as how we saw him, an adorable, darling baby boy. And for him we will always walk proud.