May aaminin ako, whenever I hear homeschooling, I think about the DECS Home Study Program. I found about this from…That's Entertaiment! Whenever Kuya Germs would ask his proteges if they're still studying they would always answer "DECS Home Study" and ayun #alamna hahaha
But fast forward to now and the homeschooling movement here in the Philippines has gone from strength to strength. Fellow bloggers like Cris of MyMommyJourney and Joy Mendoza of Teach With Joyhave shown me that homeschooling is such a happy, rewarding and at the same time challenging layer to add to the already complicated role of motherhood. I applaud these ladies and it makes me happy that kids nowadays have so  many options to be educated.
So if you're curious about homeschooling, this workshop is right up your alley: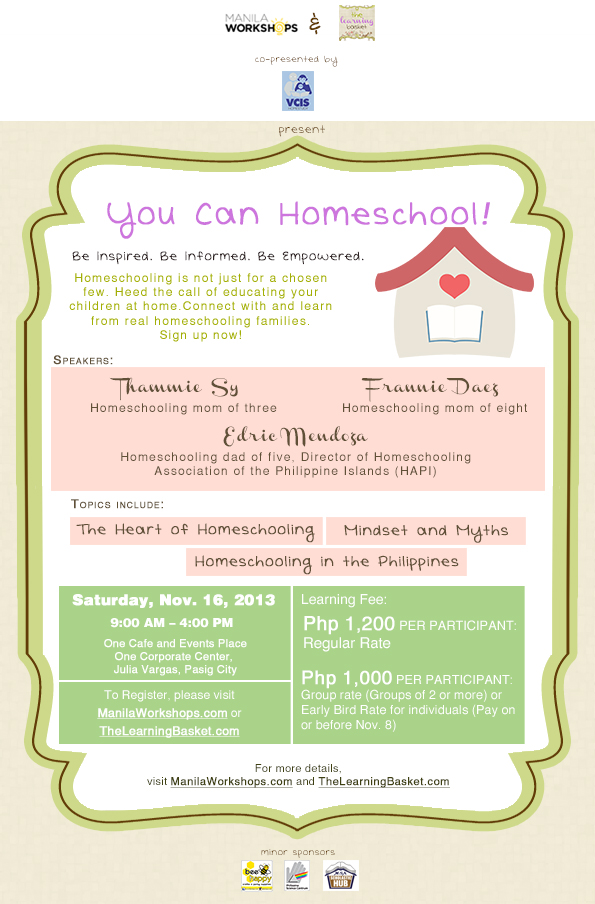 Fellow SoMom Thammie Sy is also a speaker at the seminar!
If you want to sign up you can do so at the Manila Workshops website here. The workshop is also brought to you by The Learning Basket.
I'll be doing a giveaway soon to promote the workshop so stay tuned!