Karyotyping is a laboratory technique used to analyze chromosomes in order to look for any major chromosomal anomaly which may cause a genetic condition.  It is also the test used to determine trisomies or translocations. For kids with Down syndrome, this test confirms what type they have. Noah has full Trisomy 21, which is the most common. With this type of Ds, the 21st pair of chromosomes in the baby's body fails to separate so the extra chromosome is carried as the baby develops. This happens prior to or at conception.  The second and third types are called Mosaicism and Translocation. A good explanation of three types of Ds is found found here.
In the Philippines, Karyotyping is done in two institutions, the UP Manila, National Institutes of Health and at St Luke's Research and Biotechnology Department.  I called both centers two days ago just to get an idea how much the tests cost nowadays and how long the results are released.
The DSAPI FB page gets a lot of questions from new parents on the test and so I shared the info there. I am also sharing it here because I get a lot of visitors from Google who land in this page using keywords like "Down Syndrome Philippines"  (Welcome po sa inyo!! Please check out my posts on Down Syndrome here)
So here's the info as of February 2016.
UP Manila, National Institutes of Health
Contact Number: 526-1725 / 526-4266 / 5264349
Website:  http://nih.upm.edu.ph
Email: nih@post.upm.edu.ph
Cost: Php4,750
Results Available in 3 weeks
St. Luke's Research and Biotechnology Department
Contact Number: 723 01-01 (local 4202)
Website: http://www.stluke.com.ph/aboutus/researchandbiotechnology
Cost: Php 6,381 (16% discount for outpatient)
Results Available in 3-4 weeks
Here's a shareable image as well: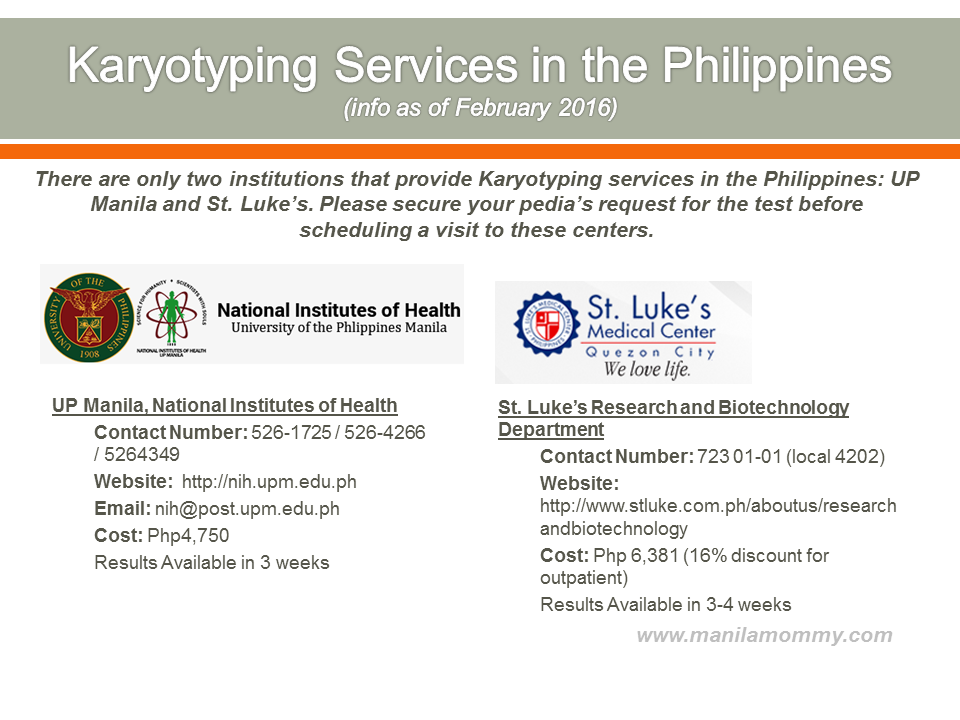 If you have additional information on similar services in the Philippines or how families can get discounts on these procedures please share them in the comments section! Thank you!!