When I was in grade school, my mom had a brief stint working in a travel agency in Makati. She had Saturday work which ended at lunch time so my dad, two brothers and I would all pick her up and have lunch together. We would always go to a small Korean restaurant, which was actually a house wherein the first story was converted into the dining area. It's there that I discovered japchae, bibimbap, beef stew and a whole lot more. Korean cuisine is comfort food for me because of this core memory and the Korean restaurants I've dined in always had this "homey" set up, with the grills working overtime so the diners can eat their sumptuous samgyeopsal.
So when I got the invite to try out Kiwa Korean Grill Dining, I knew I was in for a yummy afternoon. I was expecting delicious Korean food in a wonderful ambiance – the resto is in Solaire after all. But I never really expected how truly gorgeous Kiwa is! The restaurant is the most beautiful I have ever been to in Manila. "Kiwa" is actually the name of the traditional roof tile used for Korean homes and the design firm from Korea embraced this to create a comfortable, relaxing environment.
I loved the wooden lattice work that crisscrossed the restaurant. There was even a small stream that ran through the middle of it Although all angles of Kiwa are so photogenic, the best seats in the resto are the ones by the windows with a great view of Manila Bay.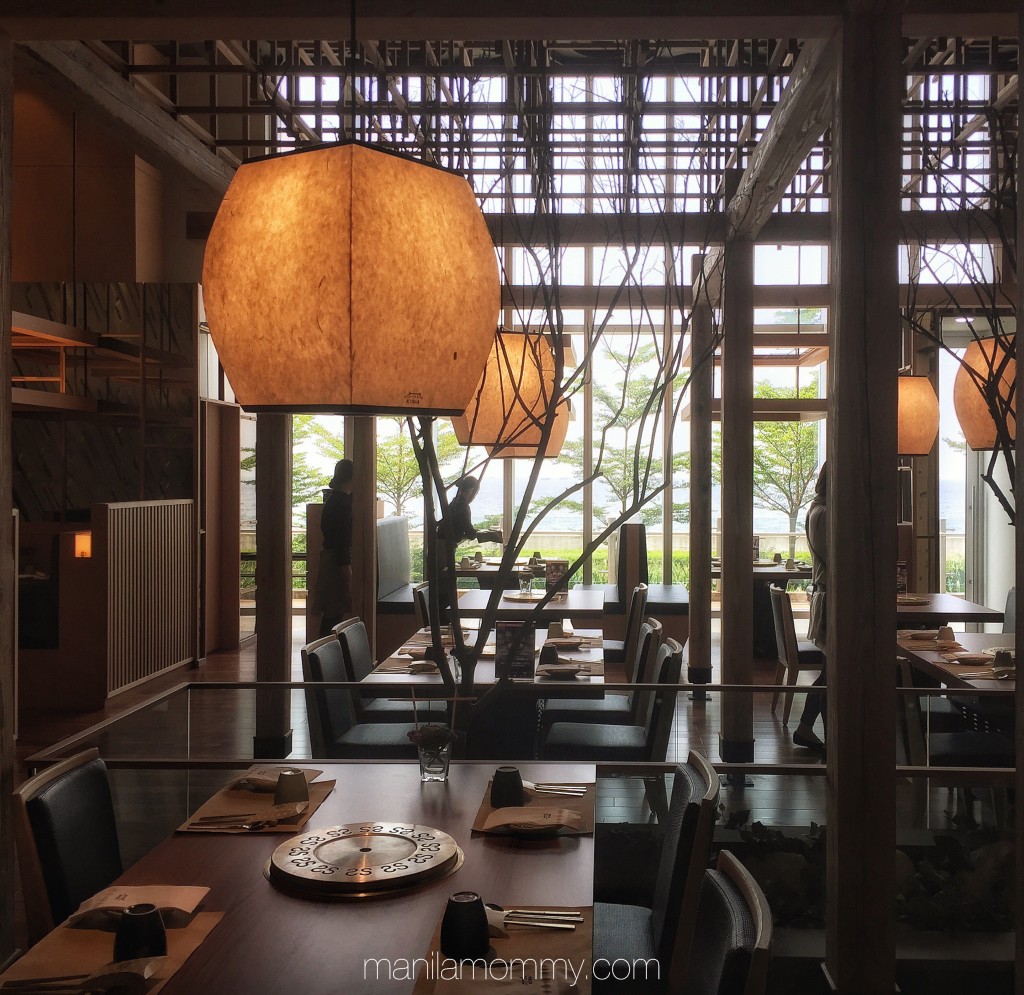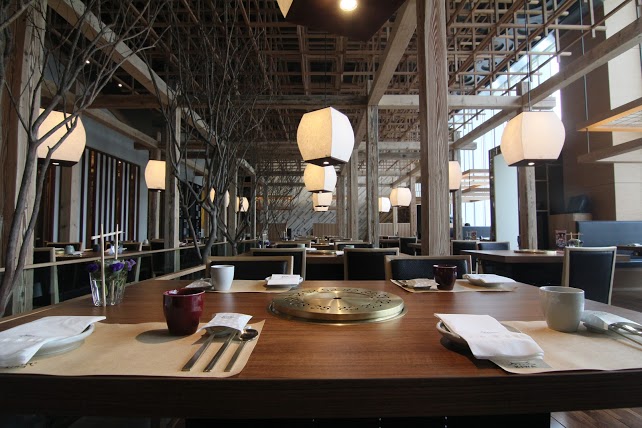 Get the booth if you can. The view of Manila Bay is so relaxing 🙂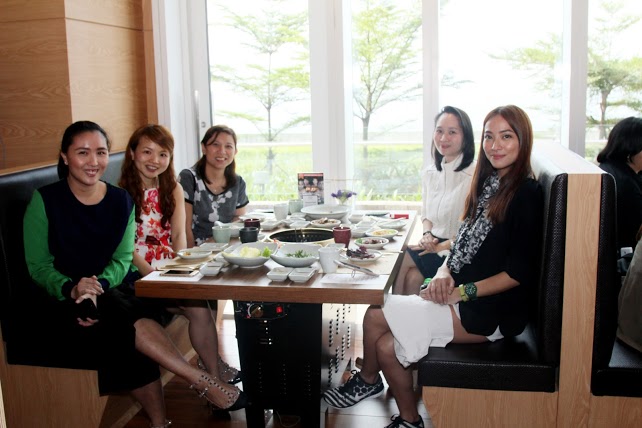 Kiwa's breathtaking interiors are of course matched by the amazing food and dishes in its extensive menu. The ingredients used are all premium quality and fresh. The food is beautifully presented and oh so instagram-worthy haha! Here's some of the dishes we sampled during the bloggers lunch:
Gobachi – platter of scallops sashimi, steamed shrimp, salmon sashimi, steamed octopus and marinated tomato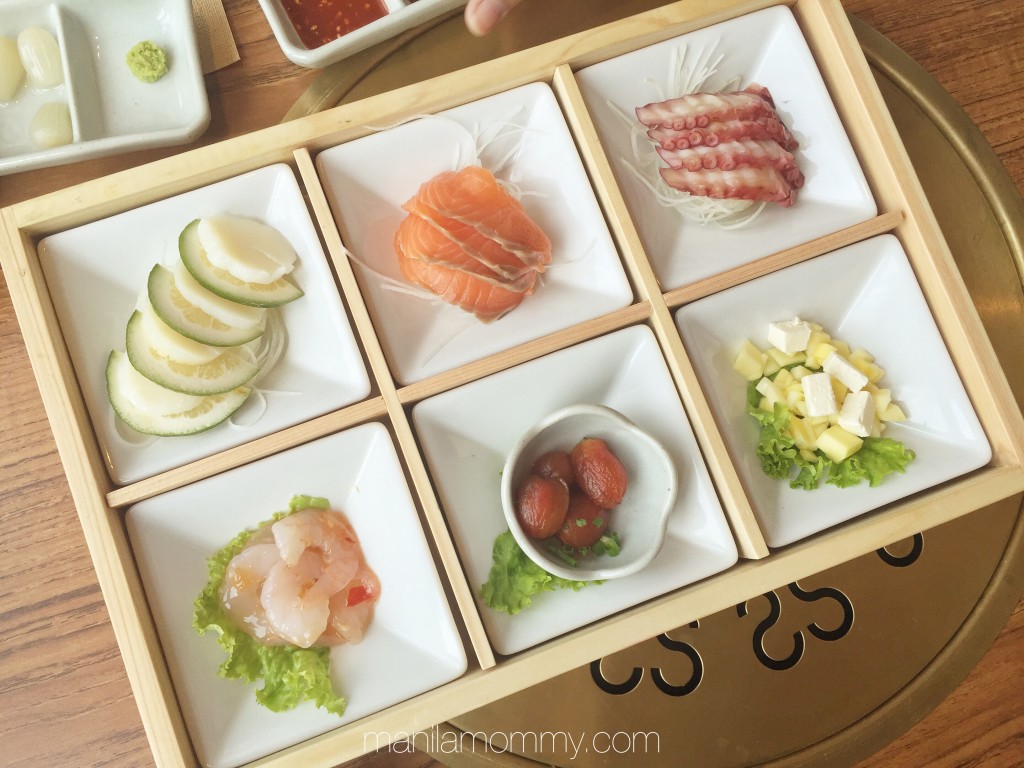 Steamed octopus from the Gobachi. It's so light, delicate and fresh.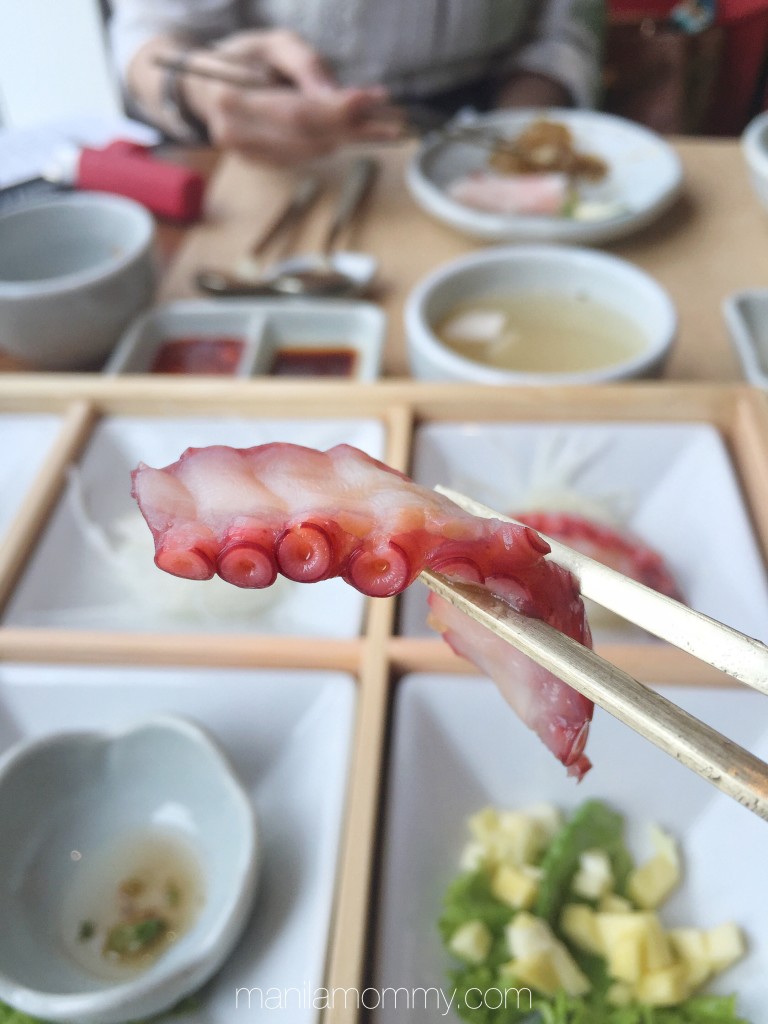 Tomato-Yangsangchu salad –seasoned seafood in a whole tomato salad (Php600) – is one of their best sellers.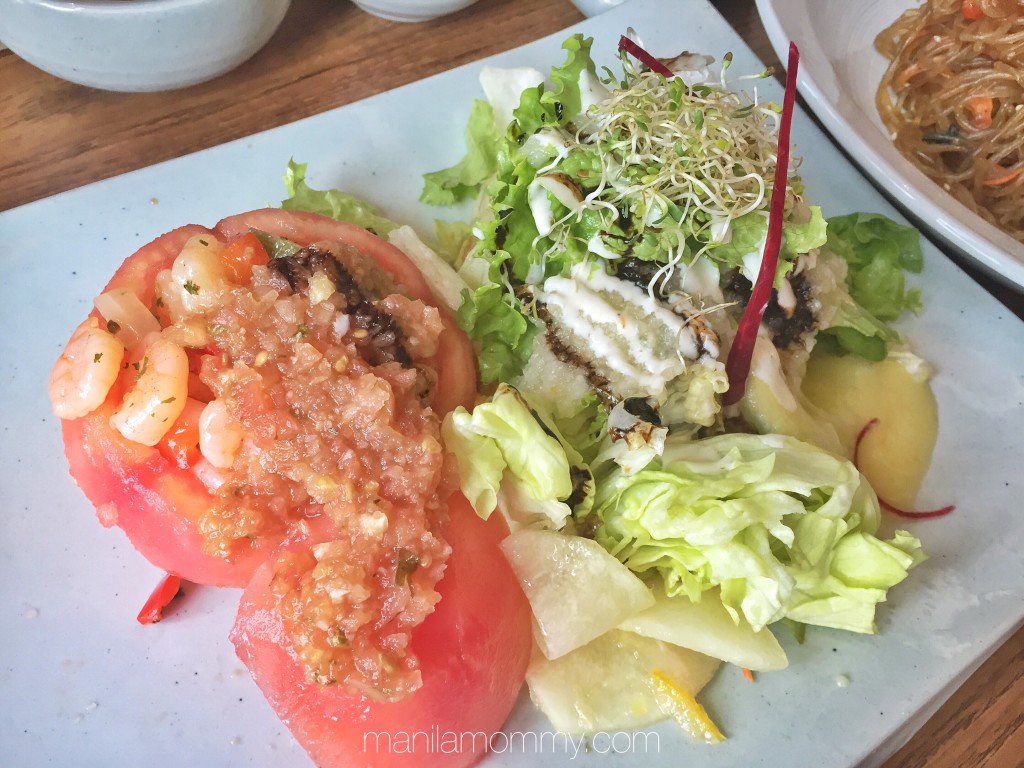 Pumpkin salad (mashed pumpkin mixed with assorted nuts and assorted seasonal vegetables with sesame seed dressing. We all loved this dish! We couldn't stop eating it! Who knew pumpkin would actually make such a delicious salad?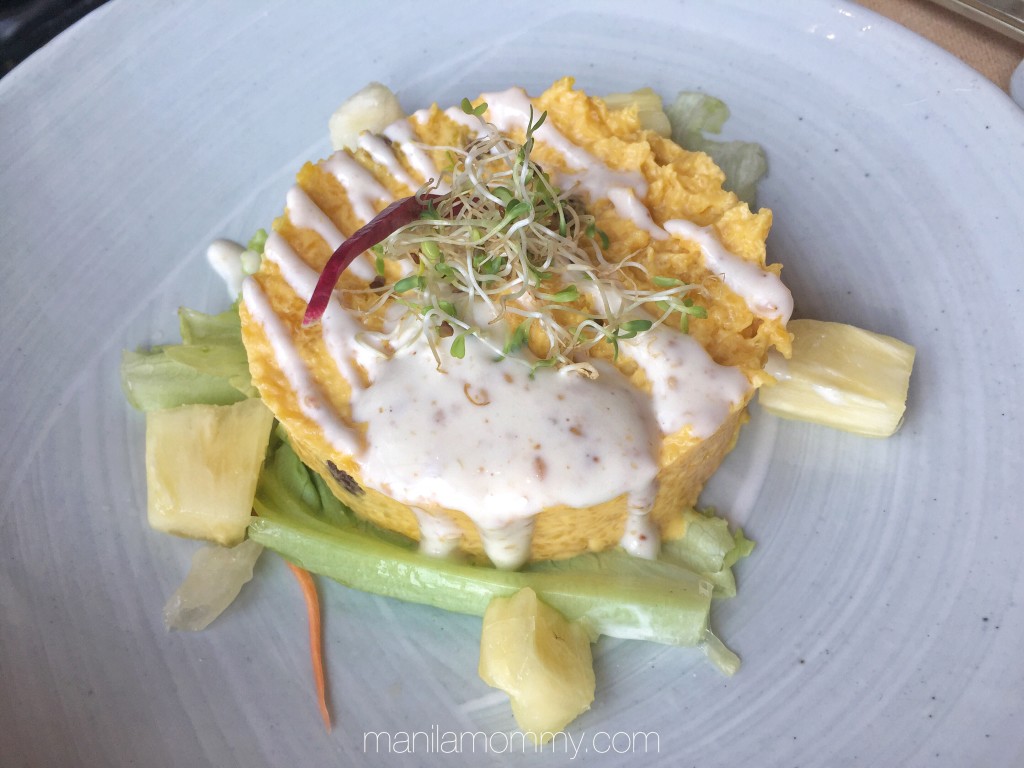 Pyunchae Mari —Thinly sliced sweet and sour radish roll with beef or seafood and assorted vegetables (Php500)
It's so pretty isn't it? You really do feast with your eyes first.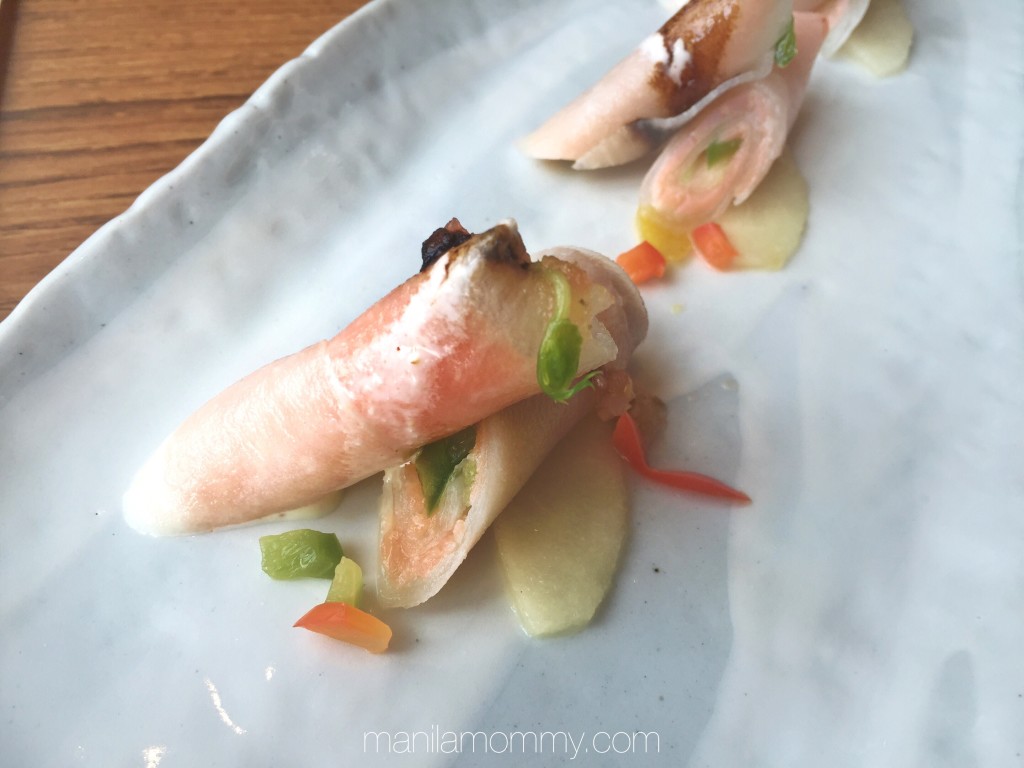 Samgyeopsal – grilled seasoned pork belly (Php2,000 / 150 grams) – YEEEES!!!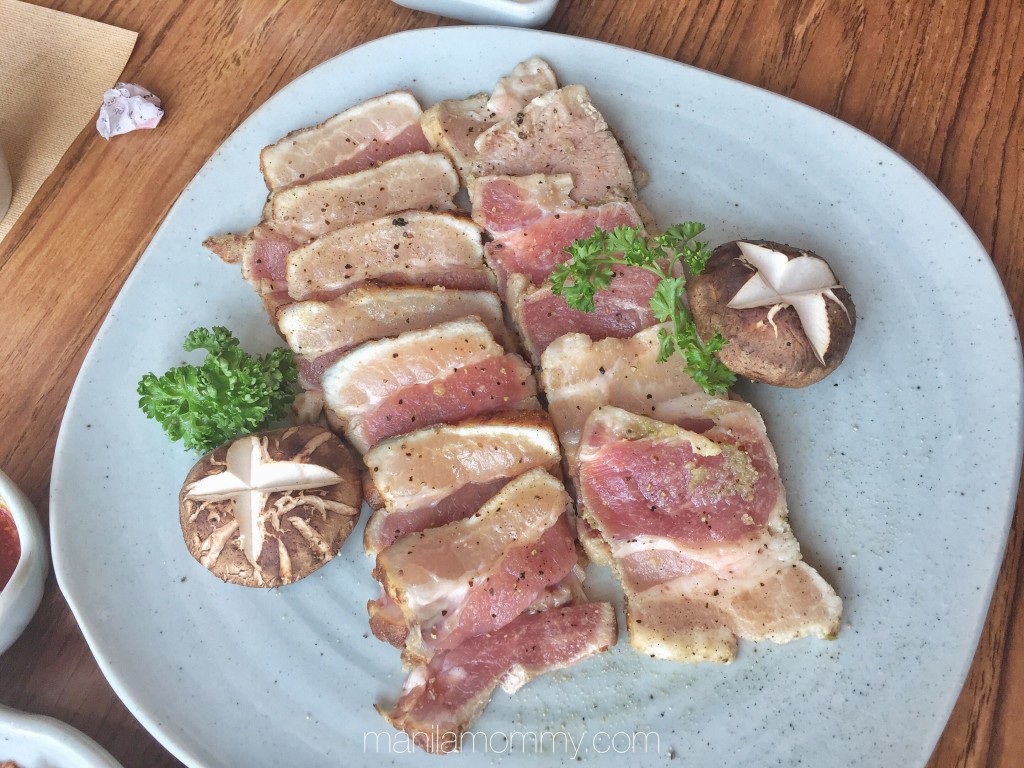 One more thing to LOVE about Kiwa is that their grills have strong ventilation that sucks in the exhaust to the sides and bottom of the grill. See those holes below? The smoke went through them. Everyone leaves Kiwa still smelling fresh hehehe!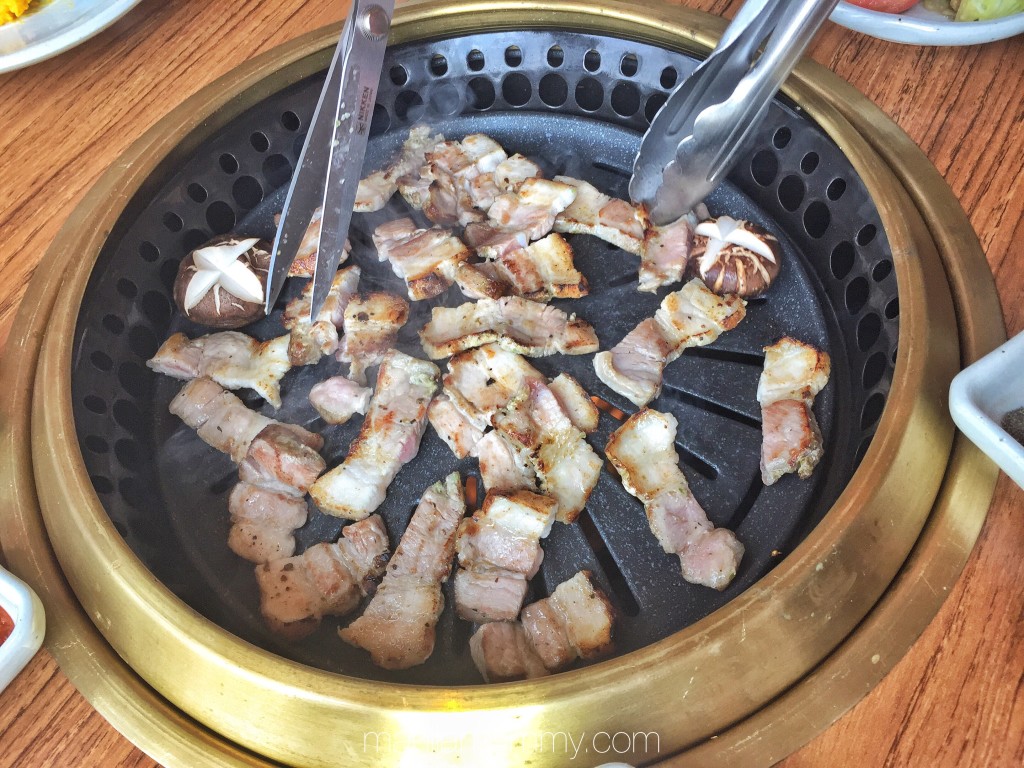 Yum yum yuuuum! How do you eat your samgyeopsal?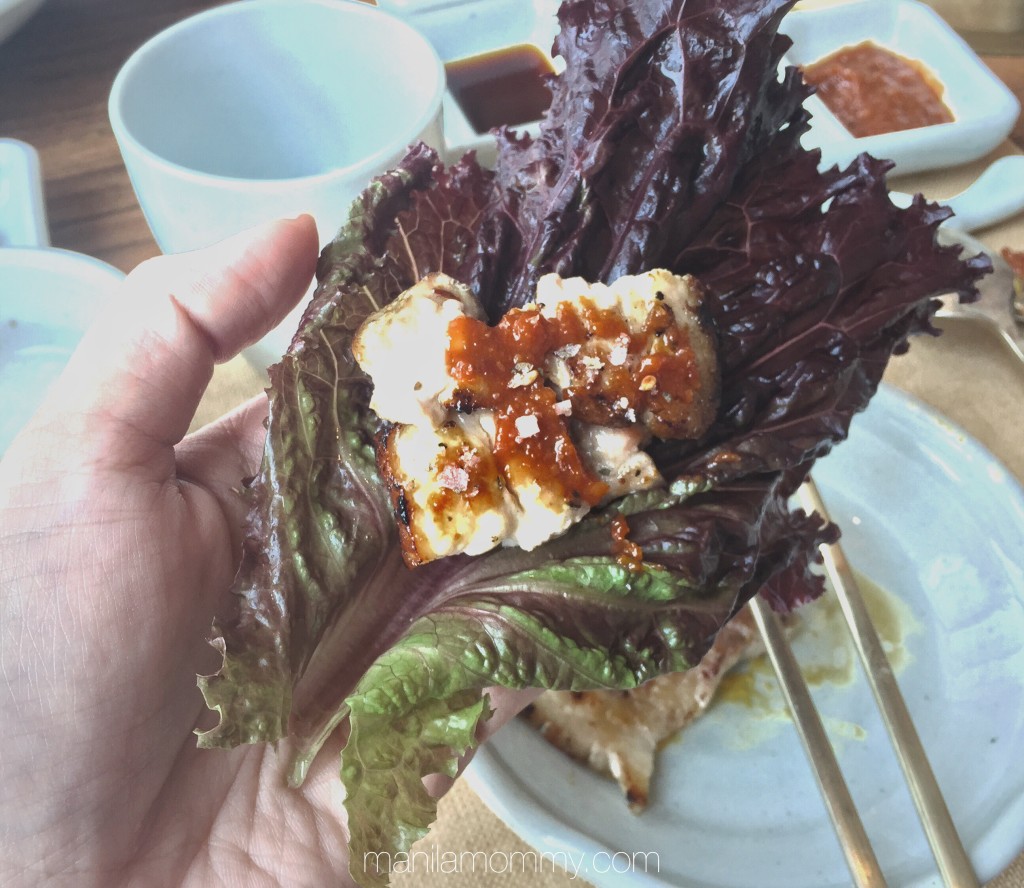 Yangnyumgalbi – Beef ribs seasoned with special sweet soy sauce (Php3,000/200g)
The beef ribs are flavorful, succulent and so tender. My mouth is watering just typing this!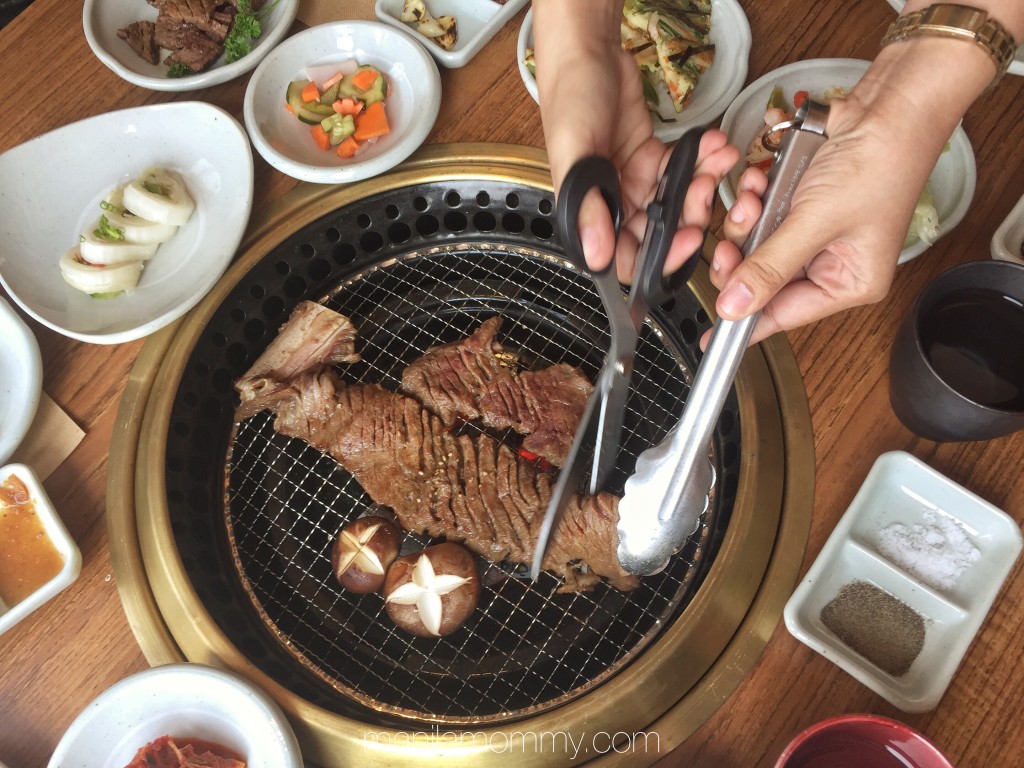 We capped off this amazing meal with plum tea and bingsu. Its loaded with red beans! Love!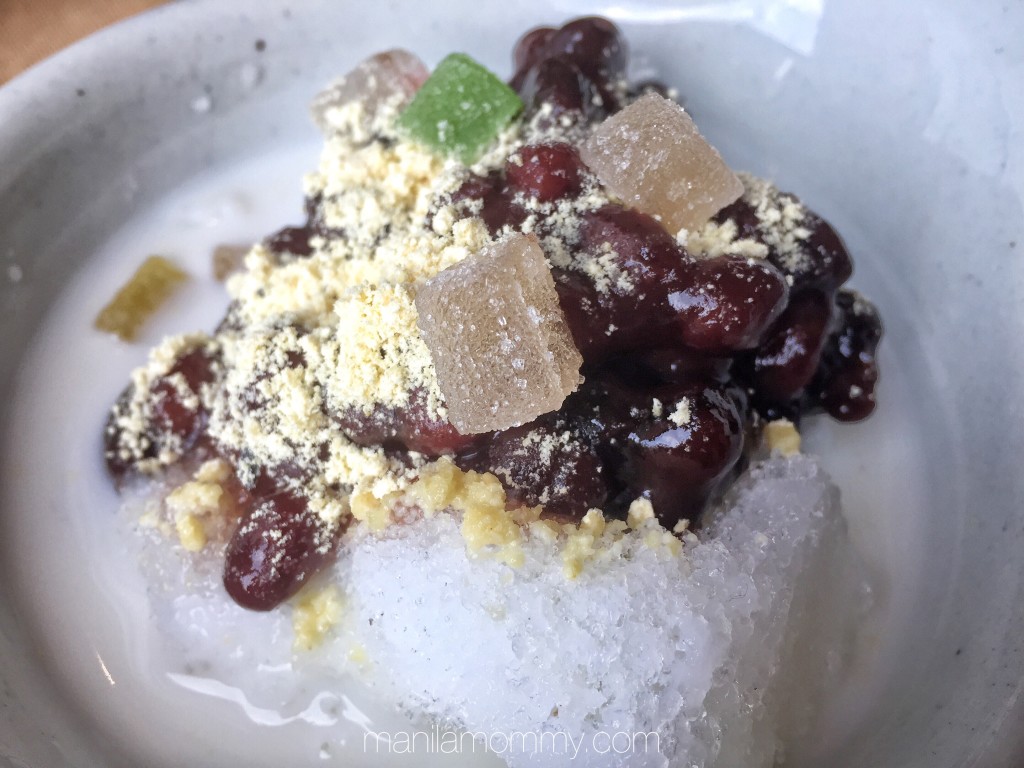 All throughout the lunch, I noticed how flawless the service was. You actually don't grill your own pork and beef, the servers do (but I think they will give you the tongs if you insist haha) I then learned that the staff and the service crew were all trained by a team who flew in from Korea. Several of their staff members are also Korean to ensure that the service stays true to how meals are served in Korea. Kiwa's attention to detail and ensuring that diners experience a truly authentic Korean dining experience is really impressive.
A full course menu at Kiwa is priced at around Php3,000 and is available for a minimum of 2 persons. This already includes an appetizer, sashimi & appetizer assortment, the grilled main course, pancake, stir-fried glass noodles, vegetables, rice, soybean paste stew or taster cold noodles plus dessert . Regular lunch sets start at Php1,500 and rice sets go from Php800 up. The serving sizes are generous.
I'm really thrilled that Southeast Asia's first fine dining Korean barbecue grill is right here in Manila! If you're feeling indulgent or if you want to celebrate a special occasion with a loved one, Kiwa is a great place to consider. The prices may be a bit steep but the ambiance and of course the food are all worth it 🙂
Kiwa Korean Grill
Solaire, Resort & Casino, 1 Aseana Avenue, Paranaque City
9am – 12 mn Monday to Friday
9am – 2am weekends
For reservations: + 63 2 888 8888
www.kiwa.com.ph