I used to be in a team where our peak seasons for producing research reports fell during our summer months. This meant that for the last 12 years, I spent Holy Week in the office with my team trying to send out 100 or so research reports to our clients so that at least I can take Good Friday off (magagalit na ang Dyos!!)  The end of our season was always in June e hello tag-ulan na yun diba 😛 I really felt the impact when I had David. We really couldn't plan a proper Summer vacation with him because of work.  So when the opportunity came I moved out of our team and in to a new one that had a more forgiving schedule for moms like me.
So ano nga ba kinalaman nito sa La Finca?? Haha! Anyway, to cut the story short, I was soooo happy that on March 24 (Maundy Thursday), me, Dan,  David, Noah, Ate Mai and Ate Temia were actually in our van on our way to Batangas for some much needed R&R and bonding time with family. Dan and I were just so happy that we were out along with many other families on the road doing what typical families do when summer rolls around.
So off we went to La Finca. The trip was planned and organized by Dan's youngest sister, Jill. She actually just told us that she booked 4 rooms (actually small houses) at La Finca and we all just said yes haha. Jill loves planning trips anyway and so we trusted her with this one too. Her only caveat is that we need to bring our own food and cooking gear because the place has no restaurant. Also, given that it was Holy Week there would be no open malls or restaurants that we can go to for our meals. Dan and I were worried at first because we might not have enough food to bring/cook but we all planned our meals in advance so we kinda timed when we needed to cook. Dan's mom, Jill and the caretaker also went to the market on Holy Thursday to buy fish and pork that we can grill and cook for our 2nd day at the resort.  Our family naman was in charge of breakfast so we went to SnR to buy all our essentials (which I will share in a separate post because we looooved our SnR finds!).
So when you stay  La Finca, you rent a "room" which is really a small house with a living room with one toilet and bath and a bedroom. We chose room number 7 which had  a queen sized bed and an extra mattress for the nannies (we actually got one more mattress from another room na di naman gagamitin so they'd have two large mattresses to sleep on). The room is fully air conditioned and our unit was working well. Unfortunately the other rooms had older air conditioning units so some of our relatives had to stay in the bedroom area na lang to conserve the cold air. The rooms though were clean and the furniture were simple.  There was a TV set but it had no cable. Some of the rooms have two single beds so just choose the room that would best fit your group.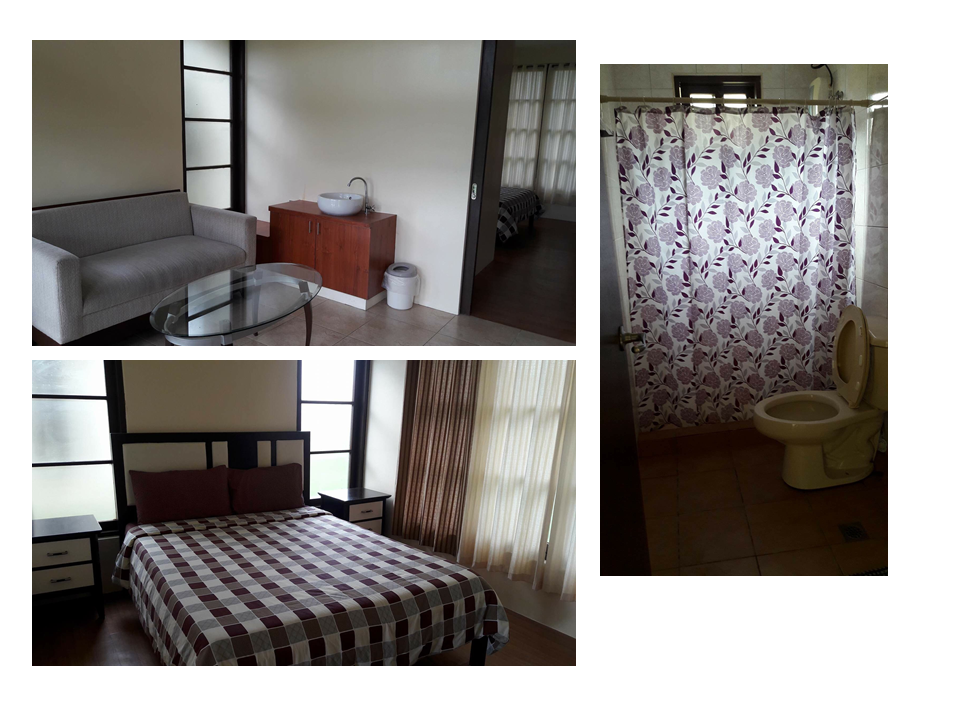 The common area was large and it allowed a lot of room for the kids to run around and play.  The common area was also the dining area and it was just big enough for our family of 16. Good thing we had the whole place to ourselves too because it would have been awkward trying to figure our meal and cooking times with other families.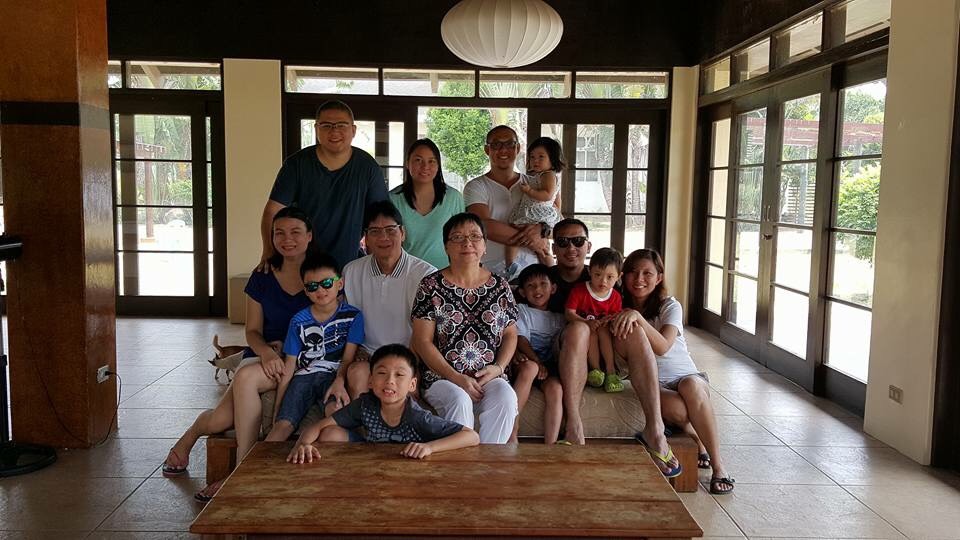 We also spent a lot of time at the garden playing and running around after the kids. One thing I noticed though is that the property had no fences, so best to keep an eye out on the kids lest they wander into neighboring lots where cows are grazing heeheee ( the cows are all tied too so there is no chance of the cows running after them) We played badminton, David rode his scooter and him and his cousins also played their pretend Minecraft games. Noah was able to run and walk around hanggang mapagod kaming lahat kakasunod sa kanya. He also did finger painting too and was happily busy making a really colorful mess hehehe!
(Finger painting is great sensory play for kids and I was thrilled that Noah took to this activity right away. He almost always avoids new textures so it was awesome that he dipped his fingers into the pots and started painting with so much gusto! I love you Noaaah!)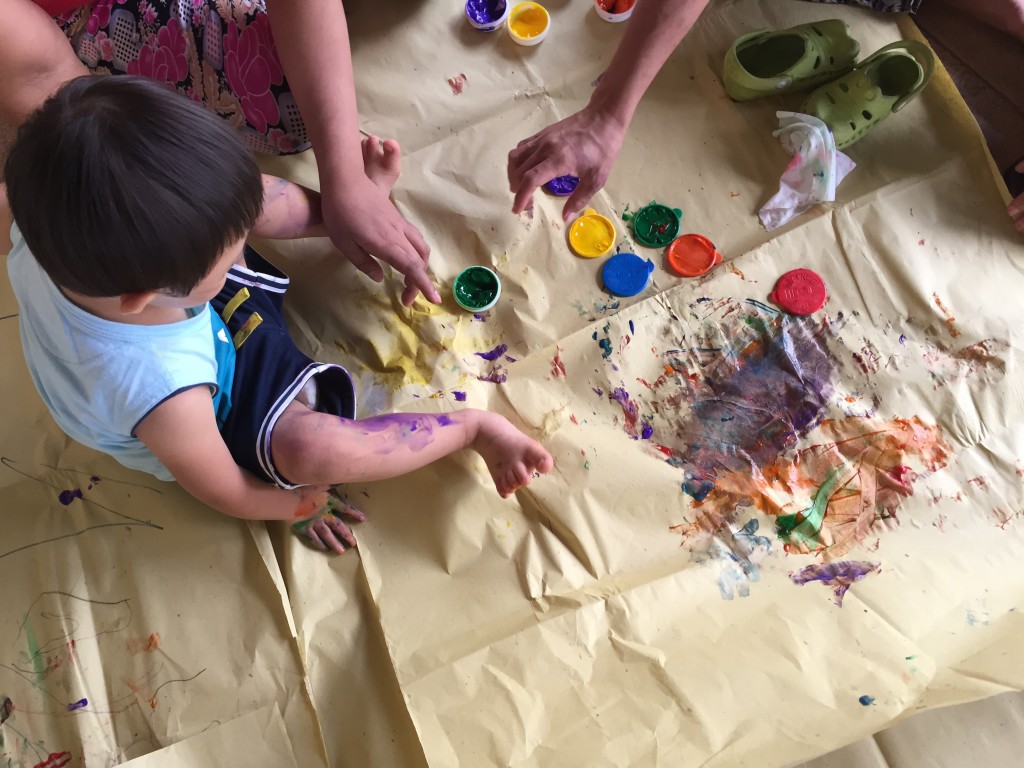 The resort has a small kitchen with a working gas range. They also have an oven toaster and a refrigerator. We kept all our food in the ref and did all our cooking and grilling at the kitchen. It was just a few steps lang din from the common area.
We went to the clubhouse to swim and to our surprise, we had the pool all to ourselves!! One to sawa ang swimming! The showers and toilets at the clubhouse are all clean and were well-maintained. (Pics below are from real estate websites hehe)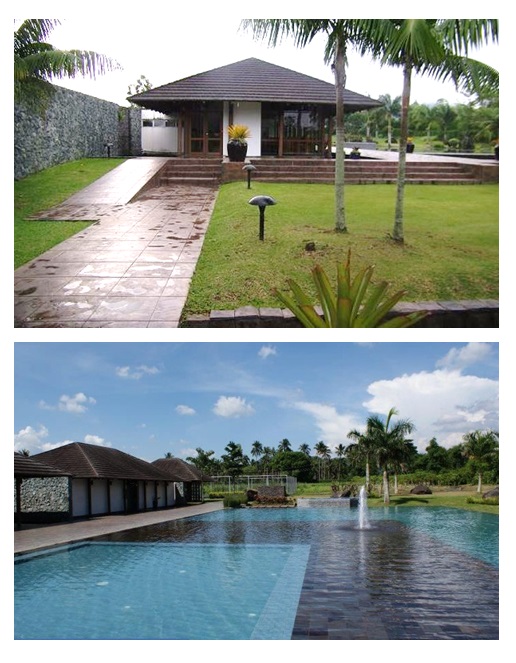 We stayed for 3 days 2 nights pero I think an overnight stay is enough. An SM Mall is also nearby so on other days when you don't want to cook, its easy to just go to the mall and dine out.  Each night was just Php2,500. Yes 2,500 a night per room! No other extra payments na for extra persons so for our room, it was just Php2,500 for 4 adults and 2 kids below 8.  The rooms, common area and the grounds are clean and well-maintained. Some areas have seen better days though pero sulit na talaga ang Php2,500 a night.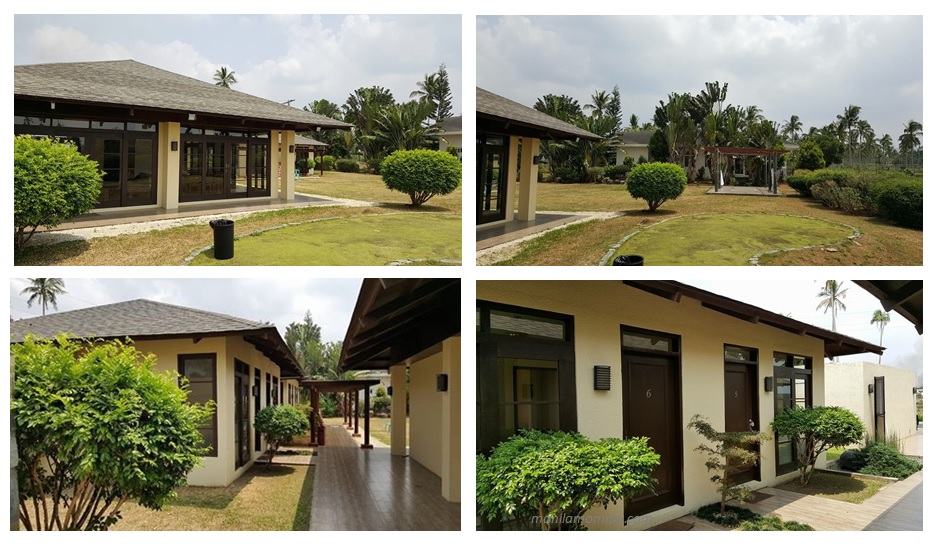 So, to summarize, here are my reminders on what you should check and bring if you want to book La Finca:
Check your room's air conditioning. Palipat kayo agad kay Ate Carol, the kind caretaker if you're not ok with how the aircon is working.
Some rooms have two single beds, some have one queen sized bed, just choose which you'd be ok with.
Bring your own food and cooking utensils. Bring food you can easily grill and prepare so that the official cooks of the group won't spend their entire holiday cooking naman no!
Bring own entertainment (TV only had basic channels) which also means board games, cards, scooter (for the kids) etc
The sheets are a bit worn but they were clean and usable. If you need your sheets changed just ask Ate Carol, the caretaker. She will also provide you with towels, just ask lang 🙂
The La Finca Farm and Country Club is great for quick getaways with the kids but you have to be mindful of all the extra work you need to do because it does not have the amenities nor the conveniences of a hotel or of most resorts. There is only one staff, the caretaker, Ate Carol who is really kind and helpful. She can also go with you to the market for any extra things you need to buy. We gave her a tip when we left because she also helped make sure that we were all settled in and are all ok with our rooms.  The resort is also in a gated village and there are roving guards at night so the area is safe.
La Finca Farm & Country Club
Dagatan, Lipa City, Batangas
Tel 09153123252
www.mylafinca.com