Last night I sent out this tweet:

I don't know the last time I attended a social event at night. When I became a mom, my friends and I meet up for dinner and dessert (no drinks as most of us are still breastfeeding) and we're done by 10pm. But last night was different. I was out with the #Somoms because of Make Your Own Havaianas 2013!  I really made sure that I could go because 1) I'm a big fan of  Havaianas and 2) I have never EVER attended an MYOH. I've always wanted to but the crowds and the lines made it impossible for me. I know of people who fall in line before 8am so they'd get first dibs at the event. It's like registration during my student days in UP. Hardcore!
I have 4 Havaianas flip flops in rotation currently. My meager collection includes a black pair of Havaianas slippers that has a slight wedge which has been with me for more than 7 years. I wore that pair last night.  I am living proof that these flip flops last forever. As I told my friend Eli, "ayaw nila mapudpod" haha And so it was that last night I wore an old pair to buy a new pair of special flip flops for me and Dan.
Along with the launch of Make Your Own Havaianas, last night also saw the first ever collaboration between the brand and a Pinoy artist. Well renowned Illustrator and graphic artist Dan Matutina created a glow-in-the-dark limited edition design featuring spacemen with space markers. It was just too cool so I snatched a pair for myself and Dan.  This design will only be available during the MYOH event.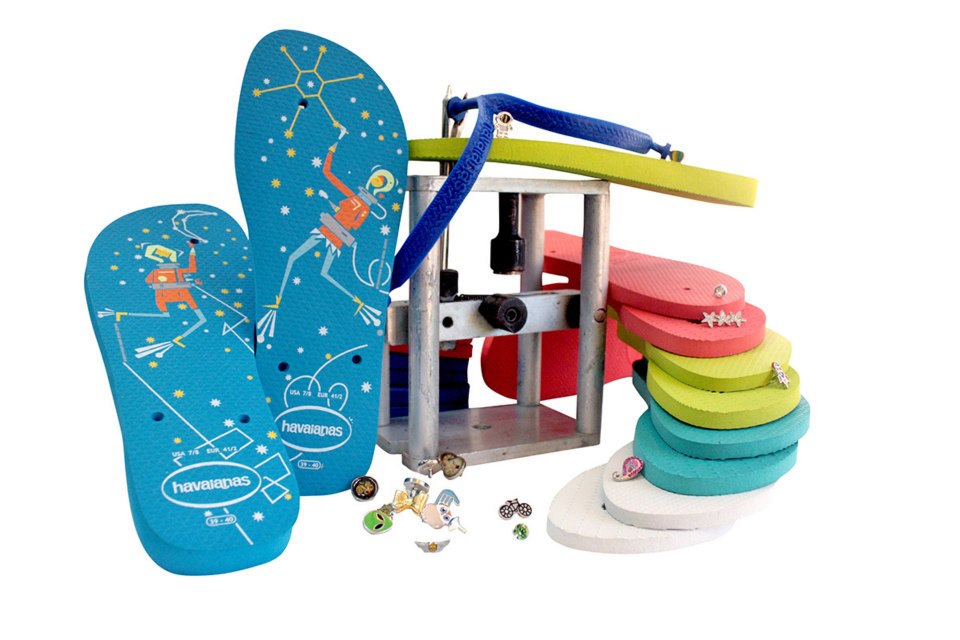 Using my menu card, I chose Dan Matutina's design and chose ruby red straps for both our pairs and these pins (because personalization doesn't just end with cool color combos!)
It was a really fun process to do. I WANTED MORE. I now understand the craze because creating your own pair is another expression of one's creativity and personality.  Of course, the pins are also soooo cute. The combinations are endless. Nakakaloka talaga. It's also just plain fun. But my mommy clock started to kick in as if to tell me "Huy, late na uwi ka na" So as soon as my charming assembler Hazel handed me my pairs, I went to the cashier and got together for some Pho with some of the other SoMoms who finished earlier.
If you're like me and the upcoming MYOH on May 2-5 is your first, here are tips to make sure you enjoy the event:
Bring food and water.
Bring  a fan or a mister (I've seen the waiting areas and they're not air conditioned. Although the tent inside has air conditioning, the sheer number of people that come in during MYOH coupled with the fact that we're having one of the hottest summer ever might still laeve you sweating)
Decide on your designs while in line and fill out the cards given to you properly. This will really help your assembler and it can shave minutes off your waiting time.
Bring food and water (as a mom I cannot stress this enough haha)
Don't leave your sense of humor at home . Di naman siguro life or death situation ang Havaianas for people to freak out right?! Let cool heads prevail.
I really had fun but I do wish there were pairs for kids and babies. I would freak out if there were. Baka di na ako umalis haha.
Thank you Havaianas Philippines for having me and the #SoMoms at the event. Until next year!
 Make Your Own Havaianas will be open to the public from May 2-5, 10 am onwards at the Rockwell Tent. Follow the latest updates on Instagram and Twitter by following #MYOH2013