I've always been a fan of the Mind Museum and I've written about them a number of times here at the blog. So I was thrilled when I got to go to the Mind Museum's Media and Family Day last March 22, 2014.  I was excited most of all for David who is at that age where every other sentence that he says begins with a "Why….?????"
The event began at 1 pm and we were ushered into a hall where there were lots of booths that showcased the different upcoming exhibits and summer activities of the museum. There were also food by Uncle Cheffy's, Sebastian, Kyle's Lab and Sophie's Mom. They were serving food all throughout the afternoon! The most  interesting though were this Tiramisu cups that were made to look like potted plants.
Before we went on the tour, we were treated to some food and drinks and a preview of future exhibits that the museum will be holding.  The highlight of that event though was the informal Q&A with Museum Curator Maria Isabel Garcia and Managing Director Manuel Blas II and hosted by Mitzi Borromeo. It was wonderful hearing the stories of how the museum came together and the passionate individuals (and generous sponsors) who are making wonderful things happen for the museum.
So without further ado, here are 3 reasons to go to the Mind Museum this summer:
1) TICKETS ARE ON SALE!
I bought tickets at Deal Grocer when they sold Summer Passes for the museum. The deal is already sold out but the museum has extended the promo! Sulit ang all day pass because when we last went, I timed it and 3 hours really is the minimum to appreciate the exhibits. We even skipped a few exhibits and stopped for snacks when we all ran out of energy (especially David who was running around the museum!)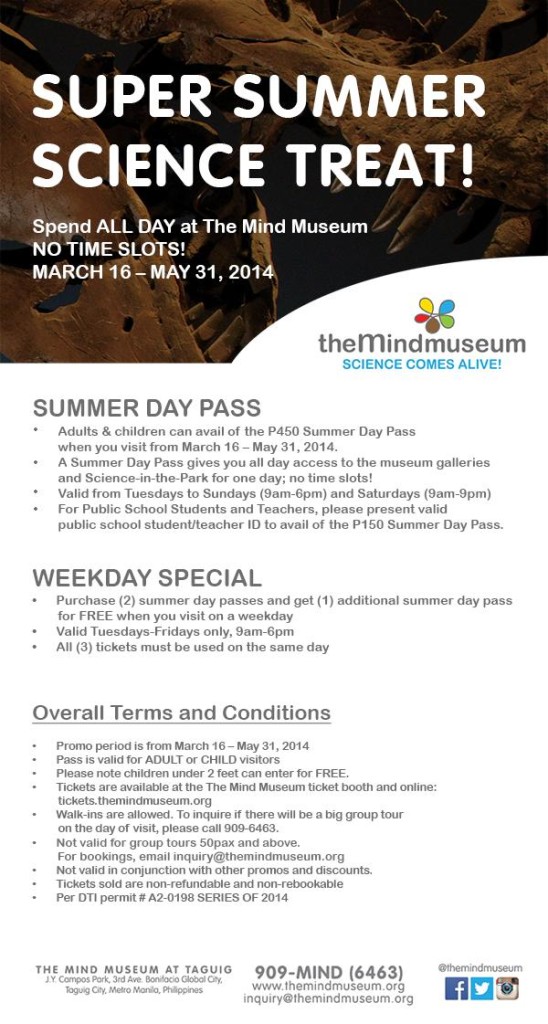 2) THE MUSEUM IS FULLY INTERACTIVE
The best part of this museum is that the visitors (not just kids!) are fully encouraged to roam, explore, touch and play with the exhibits. Kids can swipe giant tv screens to find out about their favorite dinosaurs, pull levers to simulate earthquakes, and dig through sand to look for fossils. We had so much fun because we were all learning together and I for one didn't stress over the fact that David might break something.  David learned so much because he was able to explore all the things that interested him. It was a giant playground and everyone was in on the fun! We were all smiling from all the fun we had at the end of the tour!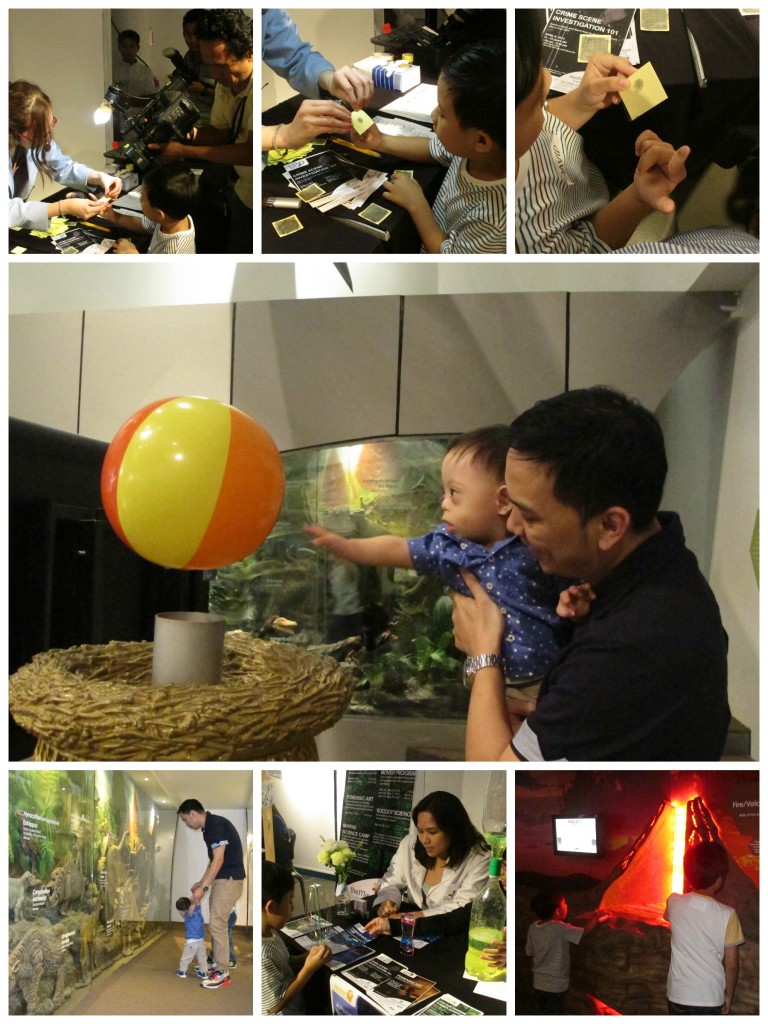 Another plus? The guides! They're all young and eager to help. They were cool with the kids and are ready to answer any questions your curious little one might have 🙂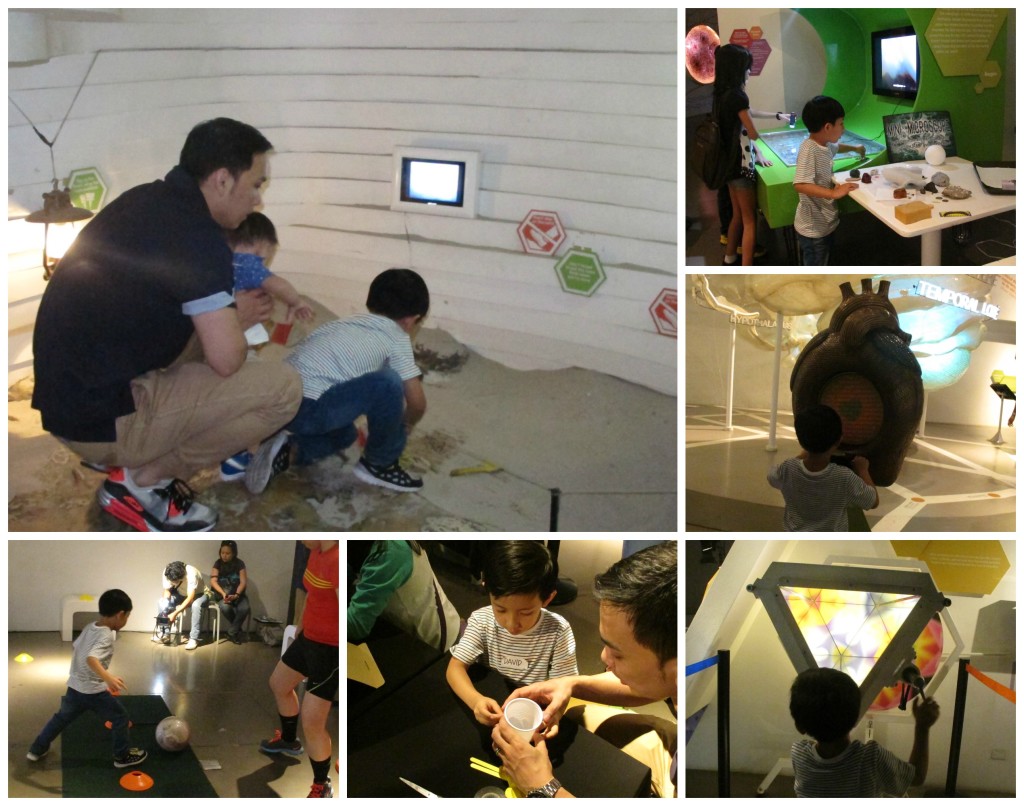 3) PROUDLY PINOY
90 percent of the exhibits feature work done by local artists and craftsmen. The exhibits are world class and are truly impressive. The museum prides itself on the fact that Sam, the T-Rex was done by the same construction crew that did the museum. What would have taken an international assembly crew weeks to do (which would also cost a fortune!) were done by skilled workers in only 4 days!
And how about these models of the first humans? Would you believe that they were made in Pampanga by Mang Jun, a local sculptor! A renowned scientist inspected these models and wept from pure joy because of the fine work and attention to detail. These models are among the best in the world!
The musuem is spacious and right outside is a garden with art installations that the kids can round around in and do further explorations. If you get hungry there is a food stall inside by Kyle's Lab and outside is a Jollibee too.  If you want McDo or KFC just cross the corner to the Bench Building to get your quick fix should you or the kids get hungry.
We're going back to the museum again this summer and this time we're bringing along David's cousins. David can't get enough of the museum and I am so happy that he loved it so much that he wants to go back and bring more kids with him! The Mind Museum is truly world class and is definitely a great way to enhance your children's interests.  The museum also has ongoing summer courses too. David's too young pa but if you have older kids, check out their schedules HERE. They even have a teen CSI program!
Also going to the museum and buying tickets is a great way to ensure that this institution gets the funding it needs. They have major corporate sponsors thankfully but they also need us, the madlang people to support them!
Thank you so much the Mind Musuem again for inviting Team Santos to your family day!
If you made it here this far, yay thank you! Please comment below with your email address if you want to join in my upcoming giveaway for tickets to the Mind Museum 🙂 I will email you first and you will get extra entries to the raffle draw so you'll definitely have more chances of winning 🙂