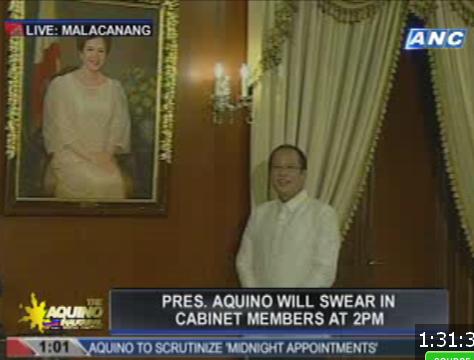 And so fellow Pinoys, we now have a new president. President Noynoy was sworn in at noon today. Crowds cheered while ex-President GMA, who's now a Congresswoman in Pampanga's second district. I was out the whole day on errands with DW, BDW and my mom and so I was keeping myself updated via Twitter. Twitter is too awesome, I get the news with honest and usually funny commentaries minute by minute. Noynoy was trending for 9 hours I read too (the previous day, it was Kris who was trending because of her recent split with James Yap).
President Noynoy (I really don't buy the PNoy tag, maybe it will grow on me but now wag muna haha) delivered his inaugural speech in Tagalog. The speech was grateful and delivered by a President humbled by the full show of support of his volunteers. It carried promises to a nation broken by a government that failed them. The President also asked for our help and for our vigilance.
Ngayon, sa araw na ito – dito magwawakas ang pamumunong manhid sa mga daing ng taumbayan. Hindi si Noynoy ang gumawa ng paraan, kayo ang dahilan kung bakit ngayon, magtatapos na ang pagtitiis ng sambayanan. Ito naman po ang umpisa ng kalbaryo ko, nguni't kung marami tayong magpapasan ng krus ay kakayanin natin ito, gaano man kabigat.
The spirit of People Power was also mentioned. Of course. If there's one shining and defining moment for us Pinoys, it's that bloodless revolution in Edsa in 1986. We need to be truly proud again of being Filipinos and of the Philippines. Most importantly though, we need to be able to TRUST and BELIEVE in our own government again. Nakakapagod ang maging pessimistic diba?  Gusto ko maging optimistic naman — cautiously optimistic at least.
Kami ay narito para magsilbi at hindi para maghari. Ang mandato ninyo sa amin ay pagbabago – isang malinaw na utos para ayusin ang gobyerno at lipunan mula sa pamahalaang iilan lamang ang nakikinabang tungo sa isang pamahalaang kabutihan ng mamamayan ang pinangangalagaan.
I did not vote for Noynoy. I voted for Gibo but I have to say I woke up today feeling very optimistic and hopeful. Thank you Noynoy for bringing that back again.
And oh, eversince the Presidential campaign started, DW knew who Noynoy was and would always scream his name and do the L sign when he'd see Noynoy on TV. It's kinda cool that my 2-yr old kid knows his President 🙂
Also,  Ex-President GMA got booed during her departure honors. Personally, I thought that it was a spur of the moment thing. People were highly emotional and excited.  I saw GMA as a mean boss who's finally getting the boot and people were just too happy to see her go. I once worked for a boss who enjoyed humiliating his subordinates. He made a friend cry in front of our team and he would do loud countdowns from his office if he asked one of us to do something for him. He was forced to resign due to a botched deal that exposed our company. When I heard about it, the staff squealed with JOY. As in JOY. The boss asked for my help with photocopying his resume and I must have done a hundred copies. I wanted to see him go. During his last day, people were dedma. Last I heard may chicharon business sya.  That's how I saw it. People said that the office of the president should be respected and the booing was inappropriate most especially that foreign dignitaries were present. Maybe. But that's the beauty of democracy. Viva!
For the full transcript of the script please visit thepoc.net here. An English translation can be found here. *pic is from ANCAlert's twitter page
MABUHAY ANG DEMOKRASYA!