Last Nov.11, Dan and I started our day early. I pumped milk at around 5:30 am and thawed a couple more bags for Noah's feeding for the whole day Dan and I would be away. We left the house at 7:30, bought breakfast to go at McDonald's and drove to the San Carlos seminary for the Early Intervention Seminar of the Down Syndrome Association of the Philippines (DSAPI).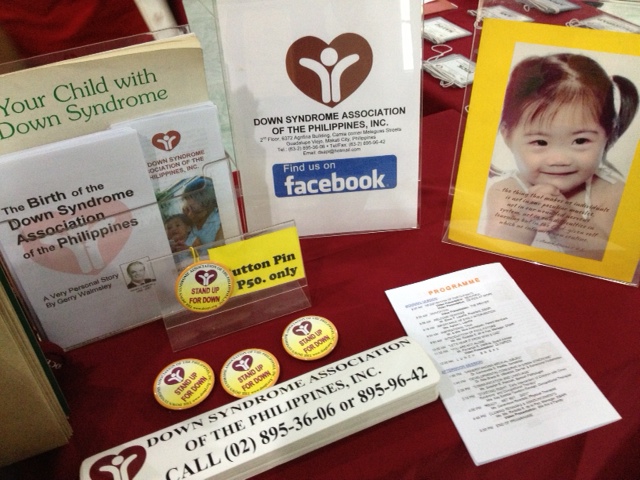 We were the first pair of parents  to arrive and we sat ourselves at one of the tables in front. Videos of the Happy Walk, interviews of kids with Down Syndrome and features of DSAPI in local news programs were played on loop. I watched and as expected I cried. Parents came trickling in to the huge hall and the buzzing of voices sounded louder and at 9:30 am the seminar began.
The morning session was led by members and the board members of DSAPI. Before the seminar formally began though, "the Prayer" was played along with a video showing pics of the DSAPI kids. These lines tugged at my heart big time:
Let this be our prayer
Just like every child
Needs to find a place
Guide us with your grace
Give us faith so we'll be safe
Haaay. I told Dan, "Wala pang 10, ang dami ko ng iyak!" (It's not even 10 yet and I've cried so much already)
Then Nino and Michelle Aventajado spoke. Last year, they were where we were. They have just welcomed Evangelina into their lives 15 months ago and now they're in front of us, talking about their journey. (Michelle wrote about Evangelina in a beautiful mother's day piece which you can read here.) Michelle said 5 words that day that gave me so much hope:
"It's going to be ok"
From a parent who is 15 months into the journey to the world of Down Syndrome to me and Dan who are just a month into it, those words meant everything. They comforted me and gave me hope. The Aventajados and Gelli gave me a glimpse of what our life could be a year for now. Michelle read her article and Nino shared the importance of connecting with fellow parents within the association.  We all listened to their stories and the wisdom they gained from being Gelli's parents. Everyone listened intently and everyone held on to the hope that Michelle and Nino shared with us that day.
Then we broke into groups for sharing session. We met with parents whose kids are of the same age as ours. In a corner of the function hall, we shared the story of our dear Noah and soon we came to know the stories of Tomas, Jiada, Johanna and Lee. Jeremy, the son of the association's president sat with us as well as Ryan and his mom, a long-time member of the association. Jeremy was scribbling on a piece of paper and making fist bumps with the other dads in our table. I kept looking at him and I really, really wanted to hug him. In him I saw Noah, a happy, helpful young man with a ready smile and who brought a joy that was so infectious. Now I regret not hugging him :p
We were grouped according to the age of our kids and in our small circle, our kids were all under 3 months. We were all still so new and raw. We exchanged our birth stories and how our kids were diagnosed. We all cried and we looked at each other with the kind of understanding that we were all looking for. We told each other of our fears, hopes and dreams of our kids. We all "got" each other.
While we were talking about our kids' tests and the health complications associated with Down, Ryan's mom told us that we should enjoy our children and to enjoy the present. When Ryan was born, the doctor told his mom that he won't walk, won't speak and because of his congenital heart disease, would only live until he's 5 years old. Now, Ryan is 19 and has just graduated from college. While his mom told his story, Ryan pulled down his shirt to show the scar on his chest and he smiled. It was a battle scar and true enough he won the battle.
Our group exchanged numbers and are friends in Facebook now. Dan and I found fellow parents who are all on their "new normal". It still seems like an uphill road for all of us but at least now, we have 5 other families with us. At least the journey isn't as lonely now as it was before
The greatest gift that I took home that Sunday was hope and I will hold on to it for Noah and for our family. I pray that a year from now that I can pass on this gift when I welcome new parents in the EI seminar and tell them with  conviction "It's going to be Ok".
All pictures in this post are from Michelle Ressa-Aventajado. She blogs at Momma 'N Manila She is also a yogini and a certified Yogakids instructor.