Aaah December!! My most favorite part of this season is the get-togethers and reunions of family and friends. Bonding over good food is always a given and if there's wine, hello keep my glass full heehee. One of the first dinner parties of this season is with my good friends who I met online a few years back. It's really amazing how we connect nowadays and I consider myself blessed that I call these crazy ladies good friends.
We leveled up this year because we had an amazing spread plus wine at Rafaelle at the Bayleaf Hotel in Intramuros. Eli arranged for the get together and we all said yes upon seeing this amazing menu. Her brother, Carlo Santiago is the Executive Chef of the Bayleaf Hotel. He arranged this menu so we could have all the best in Rafaelle for our dinner.
I've heard a lot of good things about Rafaelle and Intramuros holds a special place in my heart. My dad used to work at the Far East Bank head office in Muralla and when I was younger, he would sometimes take me to work and so I would be in the middle of Intramuros with my dad, in awe of the old buildings and churches. On our drive to the office, he would always tell me stories of him growing up in Manila, buying vinyl records in Raon and going to school in UST. So yeah, a dinner with good friends with this menu at Intramuros spelled M-A-G-I-C for me!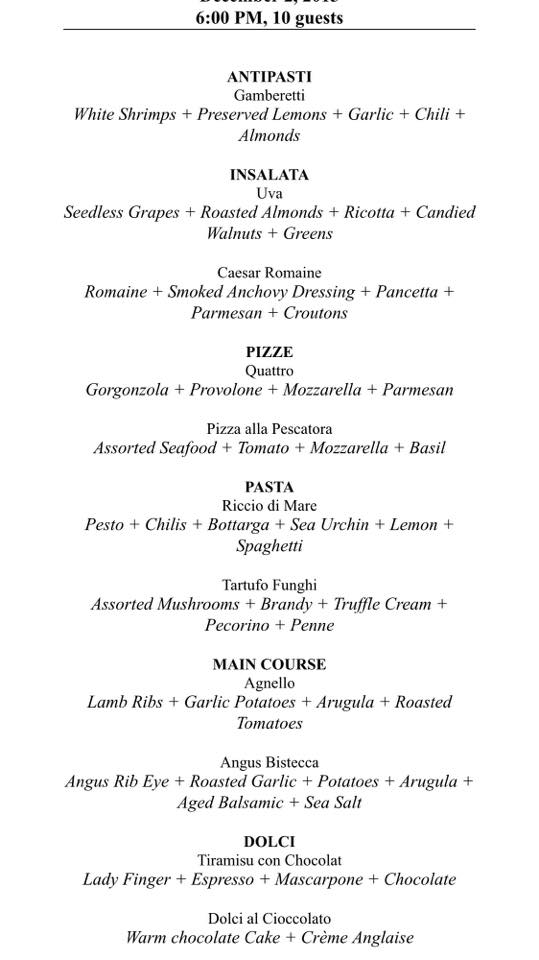 This is The Bayleaf. It's a beautiful, charming hotel (pics from The Bayleaf FB page)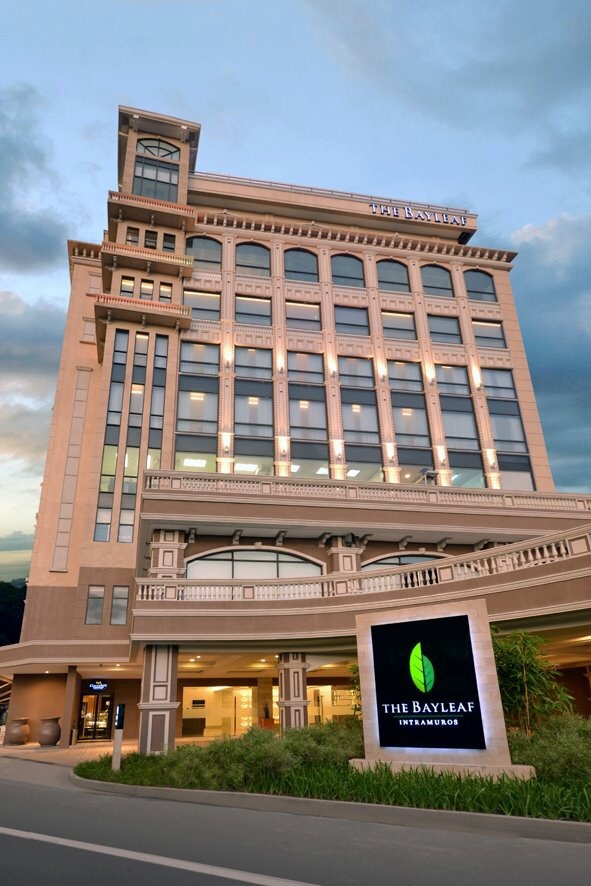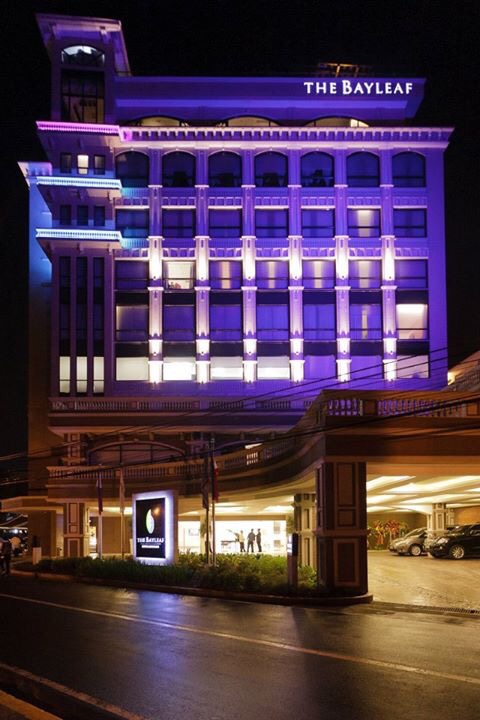 The Skydeck. We had our dessert here and had a great view of Manila at night!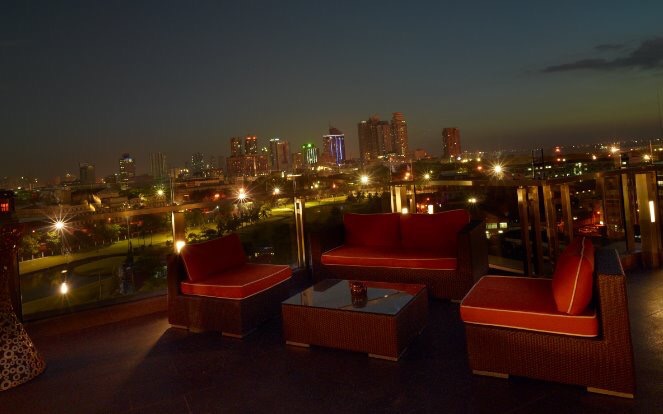 Rafaelle (the full name is actually Rafaelle Woodfired Pizza) is at the 3rd level of the hotel. The glass walls offers a view of the  Walls of the Intramuros while the dark wood interiors provide a warm ambiance which makes this a perfect date place too!
Now on to the food!! I was too busy eating that I forgot to take pics of some of the dishes! Buti na lang Michelle brought her camera. Some of the pics are hers and here's her review of our fun night at Rafaelle.
If you ever do decide to dine at Rafalle, make sure you order their bread! It's freshly baked with a sprinkling of cheese. The order comes with a small dipping bowl of balsamic vinegar and olive oil. The bread is soft and divine. We actually ordered extra pa because we couldn't stop eating it!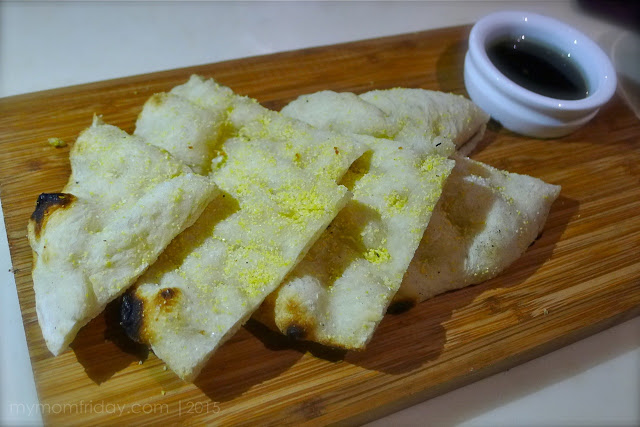 Next up was the Gamberetti.  The shrimp is tender, juicy and tasty. It was swimming in a delicious sauce of chili, almonds, lots of garlic and lemons.  It was served sizzling hot too. The fragrant smoke rising from the bowl made us want to dive in to the dish right  away. It was wonderfully balanced and the chili provided a nice kick to the dish. The extra bread we ordered came in handy because we used it to mop up the sauce.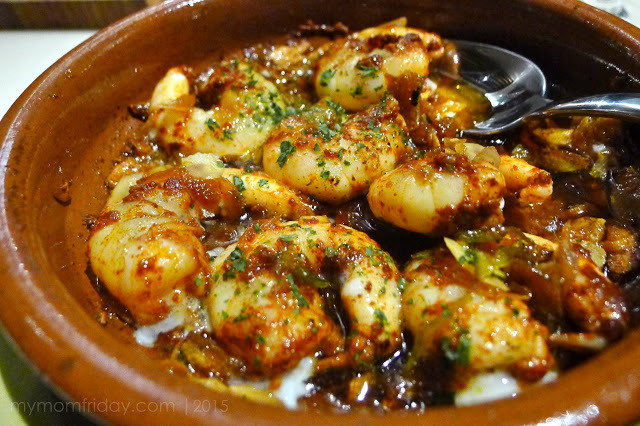 We had two salads too. The first is the Ceasar Romaine.  What makes this salad stand head and shoulders above all other Ceasar salads is the tender chunks of pancetta.  I think I had more pancetta than the actual greens because it was so good haha!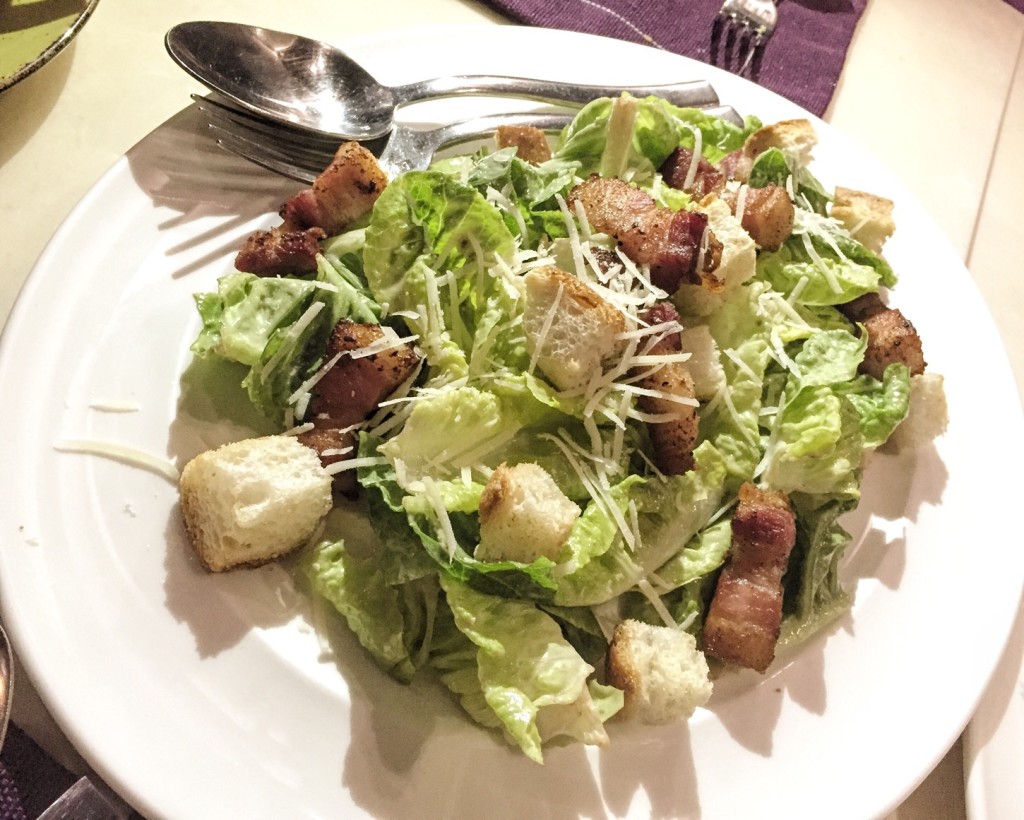 The Uva was also a real treat!  The combination of grapes + candied walnuts + ricotta made me want to order one more dish just for myself.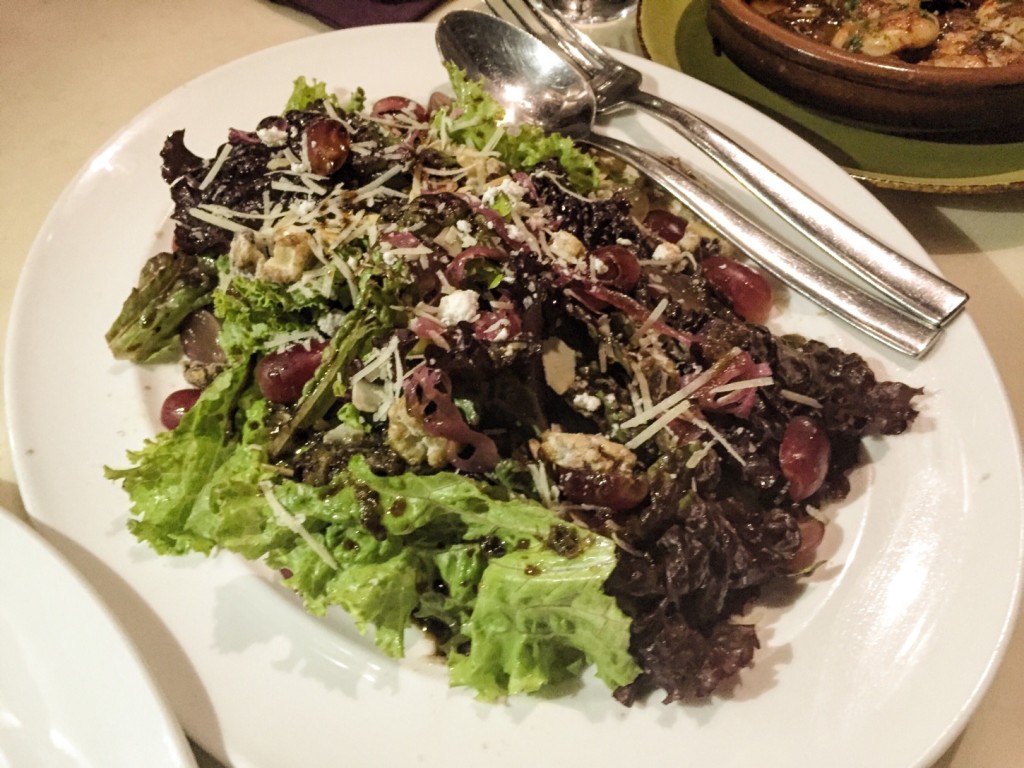 A must order of course are the pizzas! Rafaelle is known for their woodfired pizzas and we tried two of them. First is the Quattro. Gorgonzola, Provolone, Mozzarella and Parmesan are generously spread over a  freshly made and baked crust. Wood fired pizzas always have the best crust. They have the right balance of crispiness and chewiness and when you top it with primo ingredients like the ones at Rafaelle, you're sure to have a wonderful meal with your friends.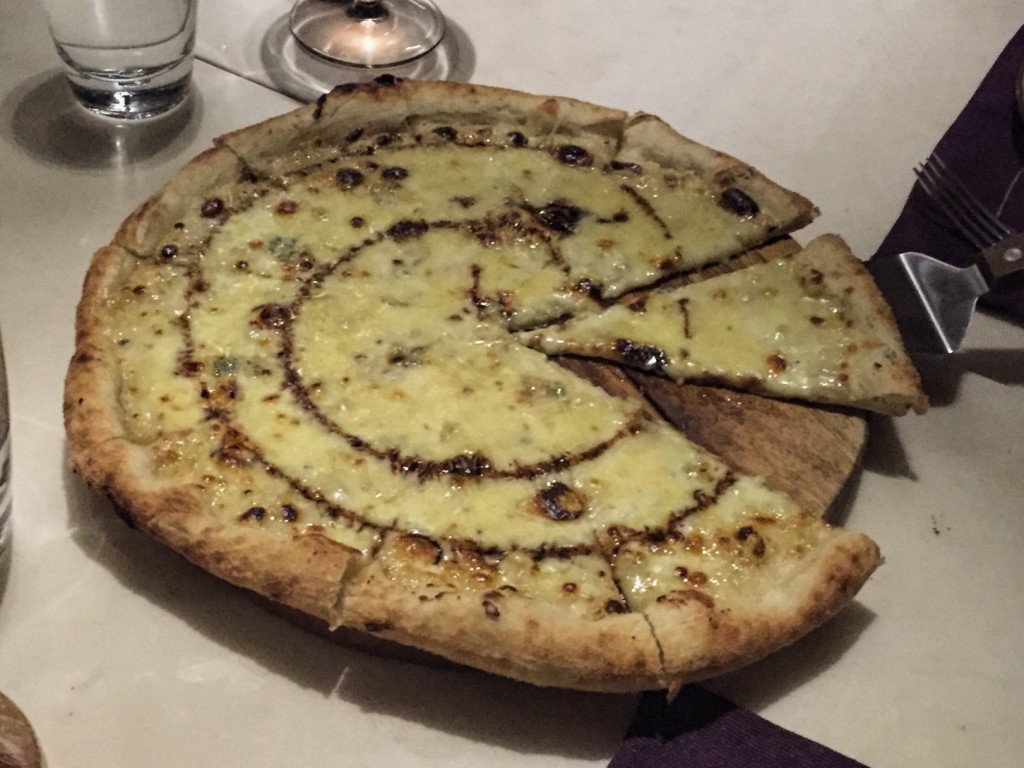 One must try pizza that we also had was the Pizza alla Pescatora. It's a seafood lover's delight! The pizza is served with generous toppings of assorted seafood, tomato, mozzarella and basil. Each slice is heavy and the smell of baked seafood with cheese is divine.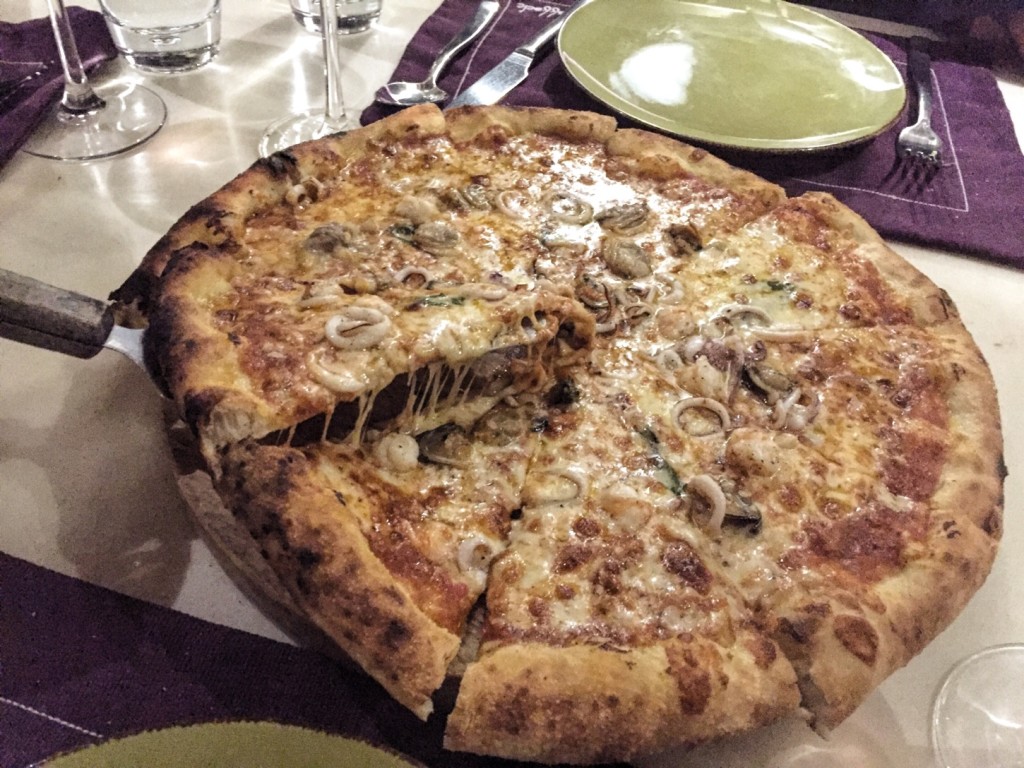 Of course an Italian meal would not be complete without pasta! We also ordered two. The Tartufo Funghi is made with assorted mushrooms, brandy, truffle cream, pecorino  and penne. This dish is flavorful and heartly. I love the chewy mushrooms and of course the salty pecorino. The truffle cream just takes this seemingly simple dish to another flavorful level.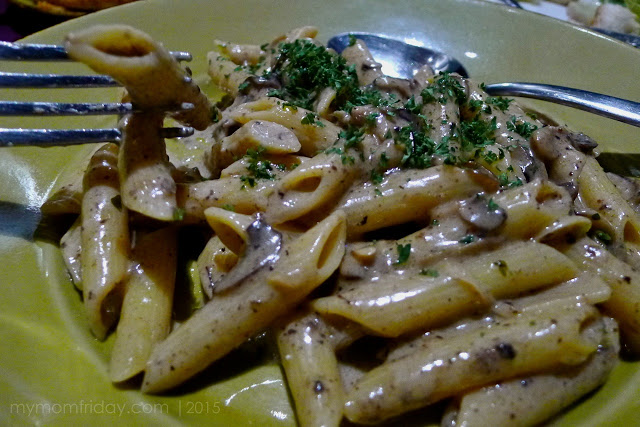 THIS was my favorite dish of the night. The Riccio di Mare has pesto, chilis, BOTTARGA, lemon and SEA URCHIN! I never had sea urchin and bottarga in pasta before and this was amazing. The Bottarga and Sea Urchin brings such a briny saltiness to the dish but the lemon adds freshness and zing. Each bite was so good and savory. I loved this dish to the very last bite.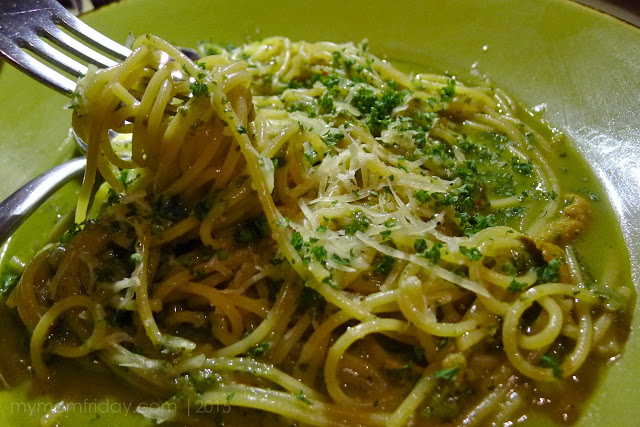 Haay as if these dishes were not enough, we still ordered mains! Syempre naman, what is a dinner without steak…and lamb??
The Agnello is lamb ribs with garlic potatoes, arugula and roasted tomatoes. I love lamb. I always order lamb and I was so happy that we had the Agnello. The ribs was tender and sarap to the bones!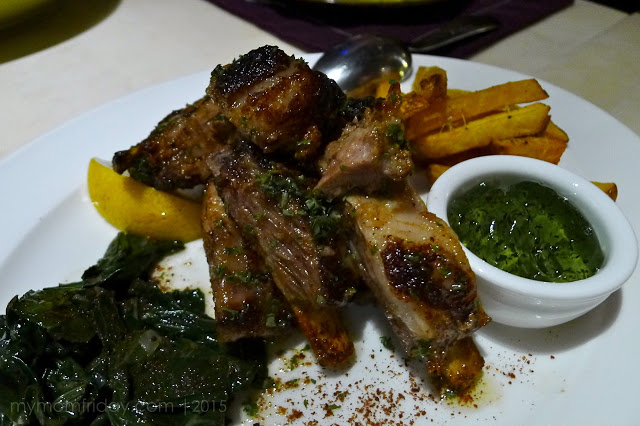 The highlight of the night of course was the Angus Bistecca. This dish was served to medium perfection. The dish is huge and is perfect for sharing. It comes with a side of fries and arugula.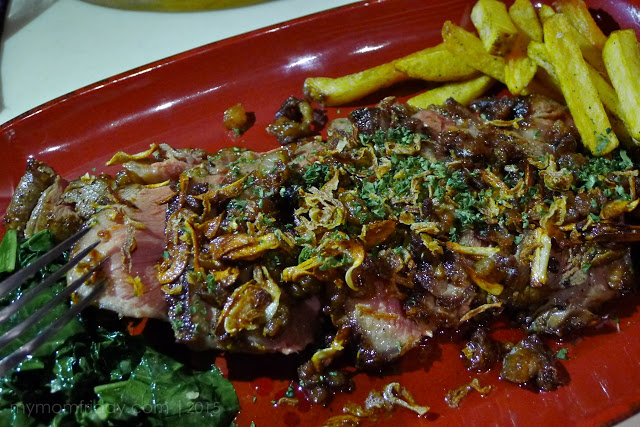 For dessert we had chocolate two ways. We had Tiramisu and Dolci al Chocolat (pictured below) Between  the two, I loved the Dolci al Chocolat more. It was much more decadent and thus was a great way to cap the amazing meal we had. We had our dessert at the Sky Deck which I highly recommend. The place has a 360 degree view of Manila. If you're with the hubby, take him up here and have your coffee and dessert!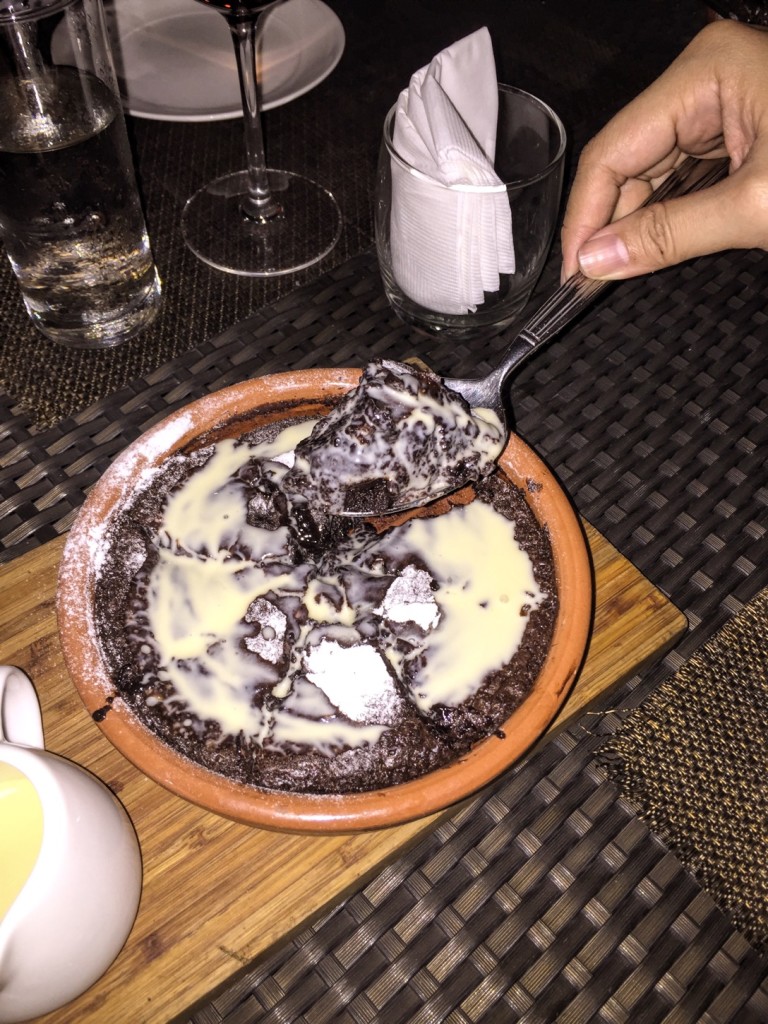 We also ordered wine during our dinner. The Pinot Grigio was wonderful. We started with the Pinot at the early part of dinner then had red wine with the mains.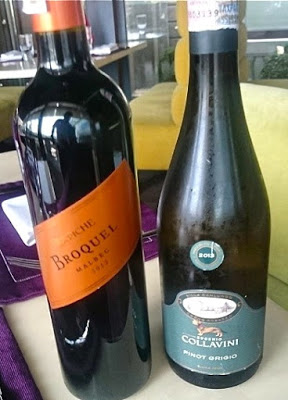 We all paid around Php 2,000++ each for the meal. It was reasonable given the amount of food that we ordered may 2 bottles of wine plus dessert pa. Parang di na kami magkikita sa dami ng kinain namin haha! The trick of a great night isn't just the great food though (kudos to Chef Carlo, all the dishes were excellent) it's also the wonderful company.
This is us at the elevator on our way to the Sky Deck. Walang gustong bumitaw ng wine haha. This was such a fun night.
My birthday is in January and I am going DEFINITELY going back with my family to Rafaelle. The food and ambiance will surely make the day even more special 🙂 Can't wait to have my Riccio De Mare again!!!
The Bayleaf Intramuros
website: www.thebayleaf.com.ph
Raffaele Woodfired Pizza
website: https://www.thebayleaf.com.ph/restaurants/raffaele-woodfired-pizza
Muralla corner Victoria streets
Intramuros, Manila
Tel: (632) 3185000 / 3283170
Email: inquiry@thebayleaf.com.ph