Aminin, who among you frequents online shopping sites while at work? Taas ang kamay! Hehehe I do a lot of online shipping (mostly browsing lang naman) to destress and it's in one of these "shopping breaks" that I discovered Taste Central. I remember that I was at Deal Grocer that time I saw a link to Taste Central. I later realized that it was the retail arm of Deal Grocer. I clicked the link and needless to say there was no looking back. It has one of the best selections of local and imported goodies among our local online retailers.
Taste Central generously treated the SoMoms with Php4,000 worth of credits so that we can try out their site and experience how it is to shop with Taste Central.  It didn't take me long to shop because I have a wishlist at the site hahaha. Yes you can do wishlists at the site and then wait for sales like me to get the items that you want. For this shopping project, I was able to tick off some of the items in my list that were fortunately on hand!  I had to wait a bit for the Belgian Lace Chocolate Cookies though because they're always sold out. Mas lalo tuloy ako natakam 😛
So with the generous credits Taste Central gave me, I present to you my discoveries! they're all new brands for me save for the CO Bigelow Lip Tint, which one can buy at most Bath and Body Works stores in the US 🙂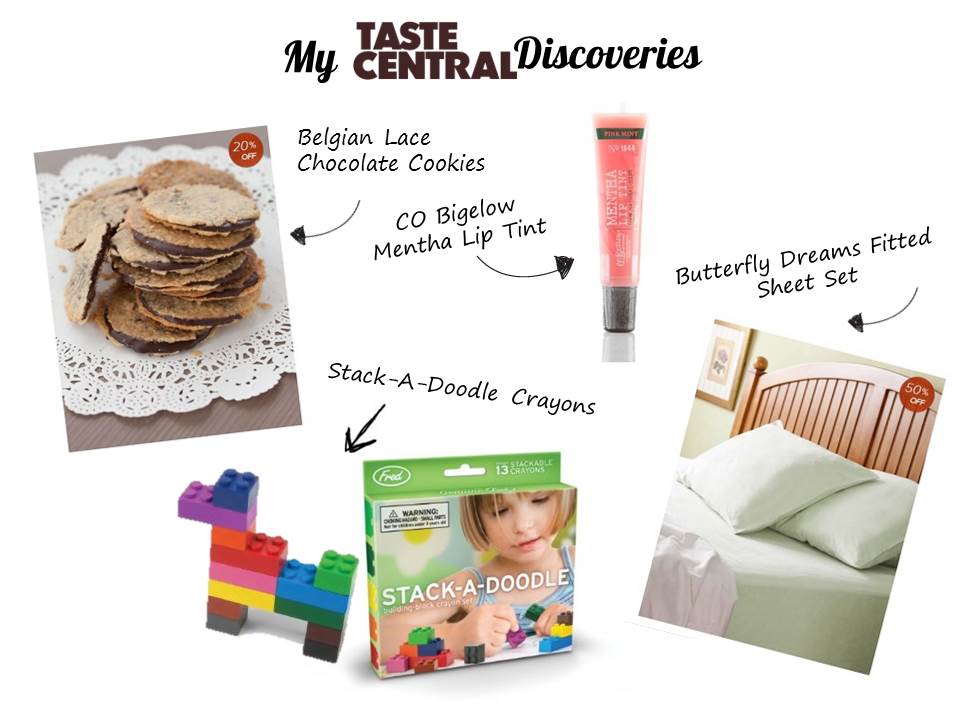 The Belgian Lace cookies are for me  ahem for the family, the bed sheets are for the family, the crayons are for David. I ordered the Lip Tint separately when the site announced they had CO Bigelow items on hand!  The three items I ordered were shipped right away. I ordered them at 11 pm at night and got them the following day at lunchtime. Ang bilis! I later found out that the company has commissioned LBC to be their courier partner. They have riders at the ready so that their customers can get their items right away.
All the items were carefully packed, sealed with bubble wrap and cushioned with crumpled paper. The box the goodies came in was sturdy and didn't warp which really protected the items inside.
Case in point, see how they packed my pahabol order of  Lip Tint:
I just had to take pics because it's just too good haha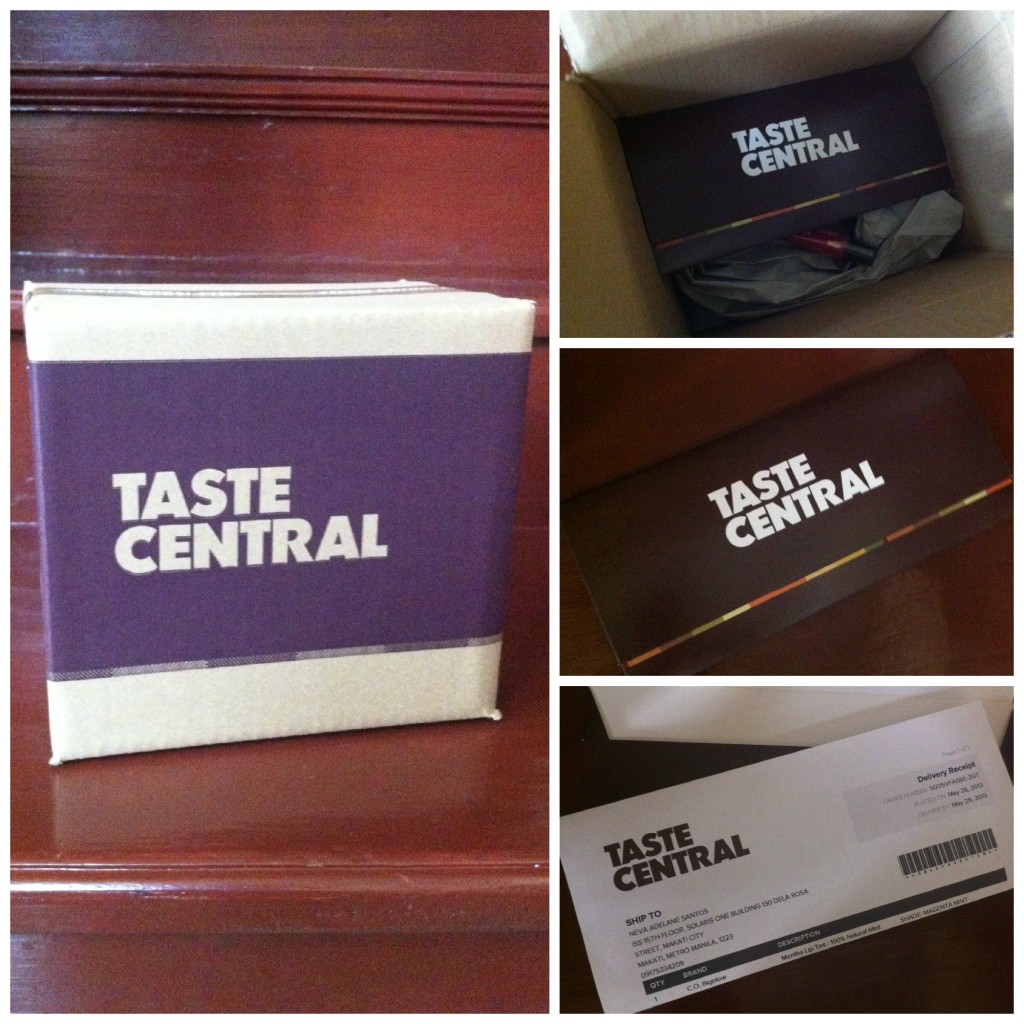 That's the order form right there in a Taste Central envelope. Talk about attention to details!
So here's what's inside the box – my  lone tube of Lip Tint! Umaalog-alog in a sea of crumpled paper!!!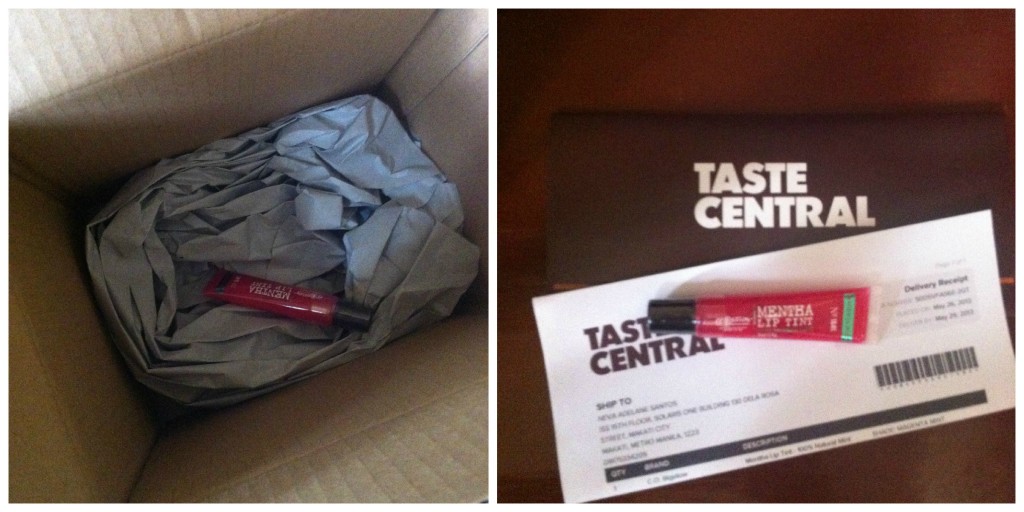 I've used all the items already. My best buy among the bunch is the bed sheets from Butterfly Dreams. The set is suuuuper soft and velvety. I ordered the sheets in white and it was so awesome to sleep on when the weather was just unbearably hot. David still sleeps with us and has already spilled milk on the sheets but kebs!!
I have a subscription to the Taste Central newsletter so I won't miss out on deals. They just recently restocked their Trader Joe's goodies. Yes they have Speculoos (as well as Marshmallow Fluff oh my gaaad). Today this popped up in my inbox.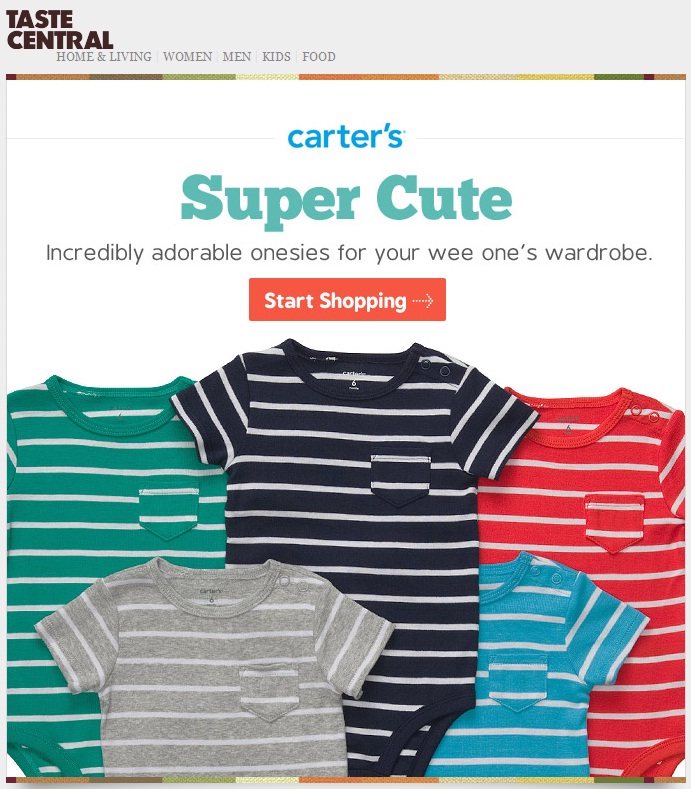 Aargh so cute!! The company is also getting more items and more vendors to their site. Of course, the brands at the site are all carefully selected so that you only get the best choices when you shop.
So, what's not to love at Taste Central? The site is easy to navigate, the wishlist function is addictive (as in it's just like window shopping ) and the payment system is secure and efficient. Their shipping is also the fastest that I have experienced ever and the great care they take in assembling your orders is just wonderful, if not amusing hehe.  Check out the site here TASTE CENTRAL
Have you shopped at Taste Central lately?? What did you buy?!