Team Santos recently went off to Tagaytay for a super fun road trip with our friends. We stayed at Hotel Kimberly but before going there we all met at the big Shell station at the South Luzon Expressway (near Susanna heights) I'm pretty sure this area is a landmark, this is our go-to meeting spot whenever we're going off to the South for some much needed R&R.
We gassed up at Shell and the kids started snacking already hehe. Going on road trips with two kids require a lot of planning and most importantly smart packing. If you have a toddler, you need to bring so much extra stuff too like diapers, medicines, toiletries, milk, bottles, kulang na lang crib hehe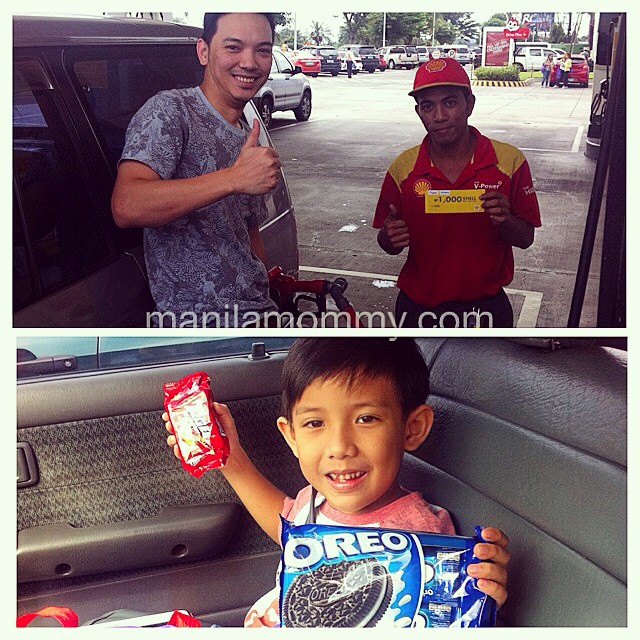 We haven't gone on a lot of trips yet but but Dan and I are learning along the way. You know those instances when you're in the car and then you just have a lot of "should've would've could'ves" hay we have a long list of those so we try to stick to the 5 things below when we're going on vacation. If you have tips please do share them too! I'd love to know how you keep things together when you're out and about with your family.
So without further ado, here are our 5 tips in keeping family road trips fun and safe!
1) Plan Your Way – Hello Waze! Waze is such a lifesaver for us because our car doesn't have its own GPS. We've always programmed the app to take us to our destination via the fastest route. Waze is pretty much accurate but you still need to follow your instincts though at certain points of the travel. Dan sometimes has loud conversations with the app (as in, "Bakit mo kami dyan padadaanin?! Traffic dyan lagi e!) and I just stare at him. The convo between Dan and Samantha (the female voice of the app) is for another post but yes Waze makes it super easy to plan trips and estimate arrival times for sure. Also, you can track friends too via this app so if you're on a convoy, ang daling maghanapan especially when one gets lost!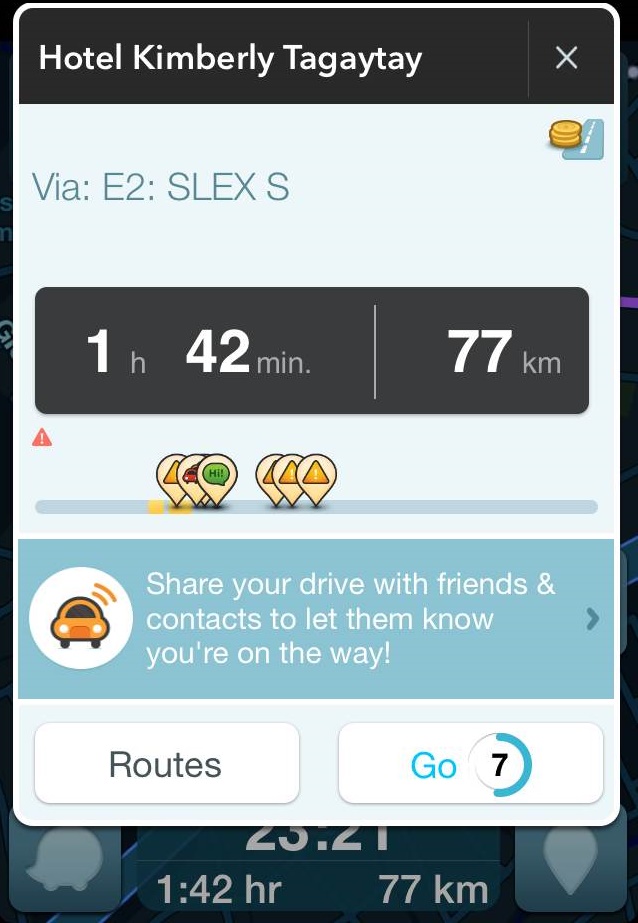 2) Book your hotel/inn/rooms in advance – Well this is a no brainer but for us, we have to make sure that we have enough room for all our stuff! Also, we need at least 2 queen sized beds or a king sized bed + an extra bed for yaya. Also a must for the boys — a bathtub! Yes ang yagit lang ng mga anak ko but they looove bath tubs haha so I sometimes ask if meron, if not then we always check if there is a pool that the kids can swim in. In Tagaytay we checked in at Hotel Kimberly which was an awesome hotel to stay in  when you're in the area. I will be reviewing this hotel in another post 😀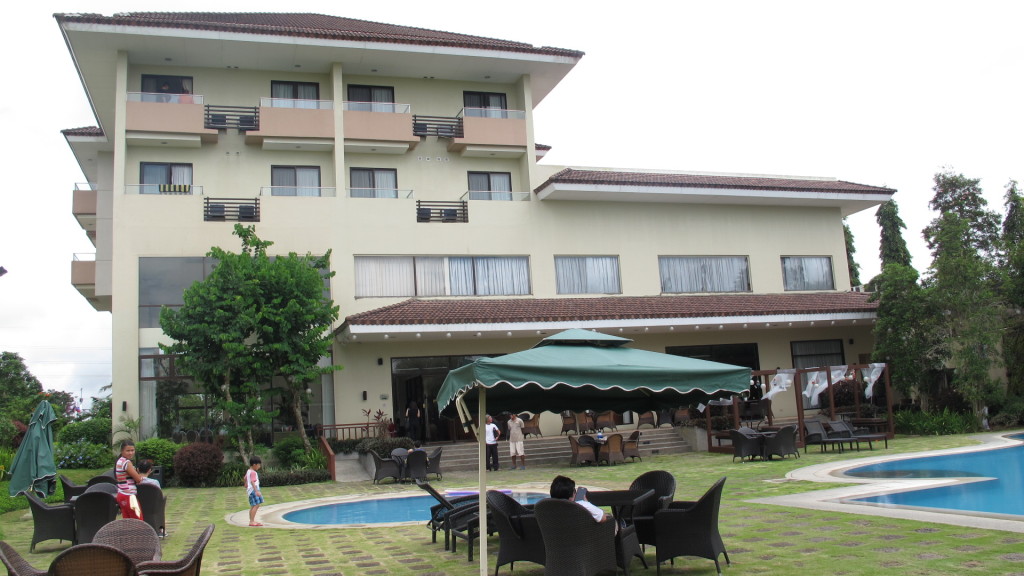 3) Check your vehicle – We  call our Toyota Revo our "war car" because it's always what we use to haul inventory for ManilaBaby and it's the official school bus of David and Noah. I also accidentally bumped our neighbor's car with the Revo and got into a fight with a lolo who insisted that I pay him 50,000 for a 1980's Ford Colt. ANO DAW?! Anyway, I never paid and I also never got the bump in the Revo fixed heeehee. I digress but my point is to always check if the tire pressure is correct, if your breaks aren't squeaking or screeching and if your fuel gauge is working. A quick trip to a trusted talyer is always a must before a major road trip. We also make sure that we gas up at a trusted gas station, for us it's always the Shell station near our house. We also gassed up at the Shell at SLEX. Although we always use Shell anyways, we love that their gas stations are always well lit and that their attendants are always willing and able to clean our car windows hehe. You know why we also love Shell.. ang daming libre haha Dan was happiest when they were giving out Coke and now Shell has released it's newest V-Power Lego Collection. Dan always says he's buying the toys for David…sige na nga 😛

Bringing along the kids means extra safety and security so it's best that our vehicles are at their best condition — war car man sya o hinde hehe
4) Pack snacks, water and play road games – Make sure you have munchies in a reusable bag that's within reach. Oreos in snack packs are the best because you don't have to open a huge bag. David just opens what he can eat and not leave a mess inside the car. Water is also a must for us so we have reusable bottles in the car during trips. As for games, we always play two, Pendong! and Travel Bingo. Pendong is easy, David and I would look for yellow cars and the one who sees a yellow car first gets to bop the other on the head. Our current tally is 2 million billion gazillion cars for David and10 for mommy 😛 Travel Bingo is when I make a list of things that we have to see while traveling and we need to tick off the things as we see them. You know what David is really amazed by? These big power electric posts. Just like me, he realizes he's in the province na when he sees a huge electrical pole like the one below hehe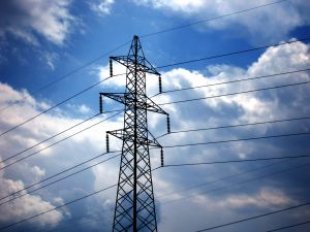 5) Sounds – What's a road trip without a rocking playlist? I just made a playlist for our morning drive from QC to Makati that would work just as well on a road trip. It's guaranteed to keep you up and about and singing along 🙂 You can also follow the playlist, I update it when I hear a new song that I know will help me look forward to work heehe pampa good vibes!
So there, our 5 tips for a sane and safe roadtrip! If you want  to get professional tips on saving gas and planning safe roadtrips, visit Shell Fuel's target one million campaign here.