Welch's is hosting  a big contest on Facebook targeting moms and their close circle of friends.   Because Welch's is known for their scumptious all-natural grape juices, they named their contest "Name Your Grapevine"
The idea is that we all have a close circle of trusted mom friends who we confide to. I am lucky that I have a couple of trusted circles that allow me to become a better version of myself. Of course one of them is the #SoMoms, we have a support group in Facebook where we share and learn from each other. It's all part of our #BetterMe projects and we're so blessed that Coach Pia is a member of that Facebook group.
The other groups are made of friends whom I have known online and friends who I have known for almost 20 something years.  We found each other in different stages of our lives and I can't be more blessed to have them.  My kids call most of them their godmothers and I am ninang to their kids too. We have rallied together when challenges seemed too much to bear and rejoiced when we were able to hurdle them.
These circles go by the name Jorjools, Pagongs, Tanders, November 11 and XX 😉  They are my grapevines! We have viber groups, imessage groups, and FB groups. We are madaldal online and offline!! We laugh, cry and have fun together. They say friends are the family we choose for ourselves. I really couldn't agree more.
So if you have your own grapevines, why not enter Welch's ongoing contest? Winners will be announced weekly and they will win The Spa gift certificates worth P5k and a Welch's gift pack.
Side story: I drank a lot of Welch's grape juice when I was pregnant with Noah, they really helped me with my constipation and I didn't have to worry about preservatives and other unnatural additives. Sorry TMI but I was really thankful for Welch for "easing" me into the day haha. But really, Welch's is also high in Vitamin C and an antioxidant known as Polyphenols. I drank my grape juice with lots of ice. I also had small cans in the office so that I had something nutritious to drink while working.
Ok I digress haha, the mechanics are below: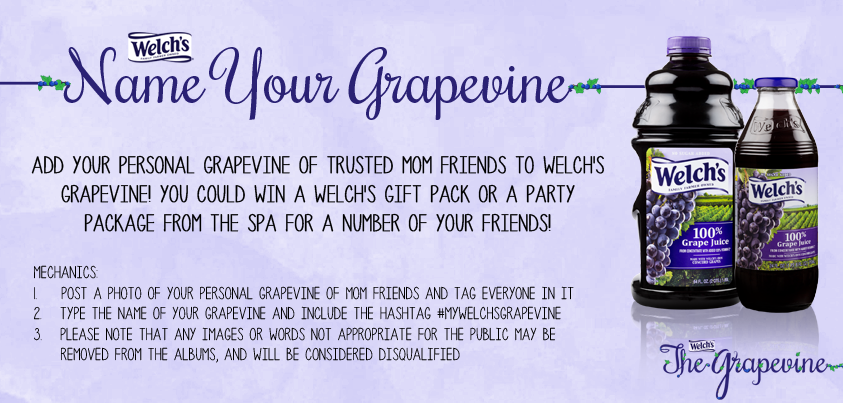 Mechanics:
Participant must be a fan of Welch's Facebook page to be a qualified winner.
Participant must post the photo entry with at least 3-5 mom friends, name their Grapevine (or the name of their group), include the hashtag #MyWelchsGrapevine, tag Welch's PH and their mom friends in the photo. No hashtag and same photo entry from a group of mom friends will not be considered a valid entry.
Promo period will run from March 10-April 7, 2014
The entries will be judged on the following criteria:
Quality of photo – 30%
Grapevine Name – 30%
Overall creativity – 30%
Facebook likes of the entry – 10%
Announcement of winners shall be done weekly.
Claiming of prizes will be announced upon announcement of winners.
Weekly winners will receive The Spa GC worth P5k and a Welch's gift pack. Four (4) participants will receive a Welch's Gift Pack as a consolation prize.
Moms tagged in the photo entry shall be the ones to avail The Spa Party Package.
There will be a documentation of the spa party for moms to be posted on Welch's Facebook page. 
Good luck moms and I hope you and your friends win!
(important note: This contest is not hosted on this blog, please go to the Welch's Facebook Page to join)