Mommy Pages , THE yellow pages for moms and dads is giving away this lovely Melissa & Doug dollhouse when you sign up for the Mommy Pages mailing list!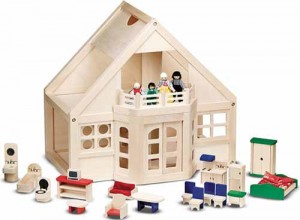 The dollhouse retails for $119, is fully furnished and comes with "eighteen pieces of solid wooden furniture, a doll family of four, and a removable atrium with balcony" — This is certainly a posh version of the shoeboxes I used as dollhouses when I was a kid. I cut out pics of furniture from magazines including carpets haha! Oh those were fun times though 🙂 Also, my one and only Barbie dated my brother's GI Joes. Height didn't matter then 😛
Here are the steps to join the promo (reposted from the Mommy Pages blog).  This is open to all moms and dads of legal age and who are residents of Metro Manila.
Step 1. Sign up in the Mommy Pages mailing list by clicking on the "join our mailing list" button found on the homepage of mommypages.com.ph (or alternatively, click here to get you straight to the form)
(Those who are already part of the mailing list are automatically entered i nto the promo and need not sign up again.)
Step 2. All sign ups for the duration of the promo are assigned 1 entry into the promo.
Step 3. (optional) Those who post a comment on the "I Love Mommy Pages" page are given a bonus entry.
On September 26, all entries will go into a raffle draw and gets a chance to wina Melissa and Doug dollhouse.
The winner will be announced on this site on or before September 30, 2009. Awarding will be held at the Expo Kid event on October 3, 2009 at the Rockwell Tent
The promo ends on Sept. 25 so hurry up and join now! And if you win, can I come to your house and play? haha 😀 Good luck fellow parentals!