For World Down Syndrome Day, SM Cares and a group of super active and involved parents in DSAPI (shout out to Betty Sy and Suzanna Yuzon!) were able to gather the kids and young adults with Down syndrome to shoot videos that SM Cares has shown over their LED Billboards last Saturday.
I was so happy that David and Noah made it to the shoot and to be part of the advocacy. The goal really is for our kids to be seen, to be acknowledged and to be included. What we want our society to realize is that our children are more alike than different.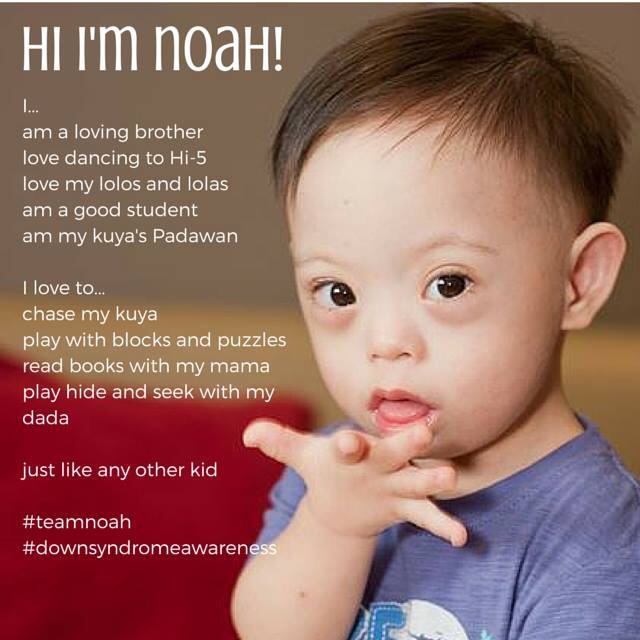 I would love for you to meet some of the teens and young adults in our group.
Here's John Diaz, who was a server at Pancake House.
Nicey Ignacio is just like any teenager who goes to school and loves pope music
Meet Noah and his friends, Rylee, Marcus, Joey, Russell. Reading them a story is their Ate Kayla.
I shared Ryan's video here.
This project would not have been made possible if not for our fellow parents in DSAPI who work hard to bring awareness of Down Syndrome in our communities.  This is part of Noah's gift and his magic extra chromosome. Betty, Suzy, Mish, Agnes, Rq and the rest of the wonderful moms of DSAPI are all such wonderful blessings to our family. They inspire me to be stronger and to work harder for Noah and I am thankful for their willing ears and hearts that understand.
I am blessed to be part of "The Lucky Few" and to you my dear reader,  thank you so much for allowing me to share our journey in this blog and for celebrating our little Noah's extra chromosome 🙂