I'm a big fan of online shopping not just because of the convenience but if you wait long enough, you can get great discounts on the items you really want via coupons and vouchers. If you've been spending time online long enough, you know that ZALORA blew away the Pinoy online community by being THE fashion retail website to beat in the country. I've always browsed the site just to window shop and the number of items and brands in its roster just keeps growing!
Shopping is one of my favorite pastimes so when Zalora asked me to become one of their brand ambassadors, I said YES right away! Zalora is amazing and to be a part of the site is really just an honor. As an ambassador, I have a special discount code that I can share with you guys so that you'd get 5 percent off for purchases over 500 that you make in the site!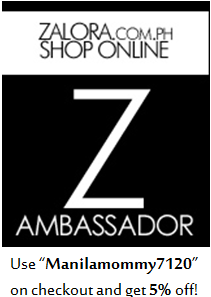 Of course whenever I go shopping I always end up with a bunch of stuff for DW 😀 This time is no different hehe. Here are some of my picks for the little bugoy all from Zalora:
A few must-haves and something extra thrown in:
1) Para'Kito Mosquito Repellent Wristband (find it here)
2) Babiators Unbreakable Sunglasses (find it here)
3) Rina Design: Book Ends: (find it here)
4) 3 Sprouts Super Soft Hooded Towel: (find it here)
5) Apron with matching hat: (find it here)
If you're gearing up for shopping, don't forget that on checkout you can use "Manilamommy7120" as a valid voucher code to get 5% off your total purchase (minimum of 500).
If that's not enough to get you shopping in Zalora, here are 5 more reasons:
Happy shopping guys!!
---
p.s. manilamommy.com is a finalist in the smart parenting/sangobion blogger awards. to vote for manilamommy.com please visit this link. thank you!