We are staycation virgins. Really. I know that families now are so used to booking short stays at hotels for quick, peaceful retreats but Team Santos has not gone on one! I was actually planning on booking a hotel at Ortigas for Noah's 2nd birthday but we all celebrated his big day somewhere else 😉
So it was perfect timing when I got an invite to spend a weekend at Acacia Hotel. It was just what we needed – a welcome break from our routine at a hotel that some of our friends have already stayed in and also recommended to us!
We packed our bags on the night of Oct. 3 and we headed out to the South on Oct 4 to check in for the weekend.  It really felt like a staycation. First, the drive was far enough that it felt like we were really going to a vacation destination. Second, Acacia Hotel had all the amenities that we needed for the perfect weekend.
The first thing I noticed when we checked in was the really busy lobby. A lot of families were checking in too for the long weekend.  Acacia Hotel generously booked us a junior suite at umaalog-alog kami haha If you're a family of four, look into booking this room which starts at around Php5,000++ per night. The room has a king sized which meant a lot of room for me, Dan and the two boys who are sleeping roly-polys. It was so good to sleep without a foot in your neck even if it's just for one night haha 😀 Yaya Ann came with us and we asked for an extra bed for her as well.
Acacia Hotel Junior Suite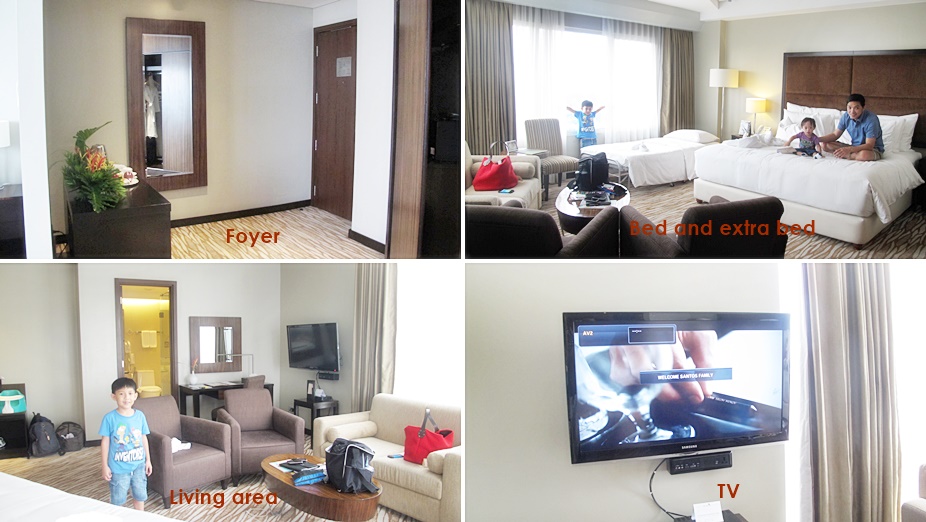 Toilet and Bath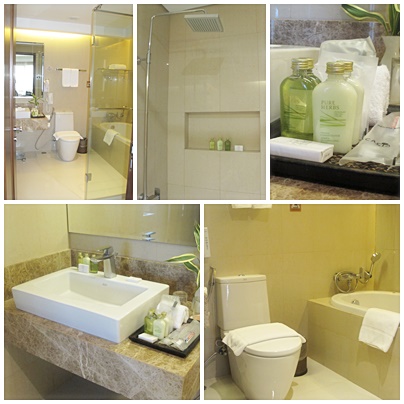 Upon entering the room, the little details made us all feel that we are home 🙂 It was awesome that they left a box of crayons and some coloring sheets for the kids too.  David and Noah worked on the sheets together. I think Noah colored too far out of the lines and ended up coloring the bedsheets a bit though heehee.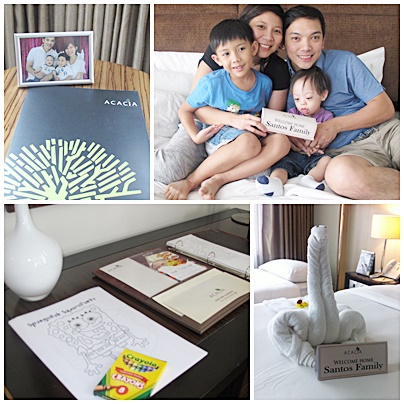 The room was carpeted and Noah our  little boss walked around the room without us fearing that he might fall face first because the floor was cushioned hehehe. This boy is a blur! Can you see his happy and determined little face? He was so excited to walk!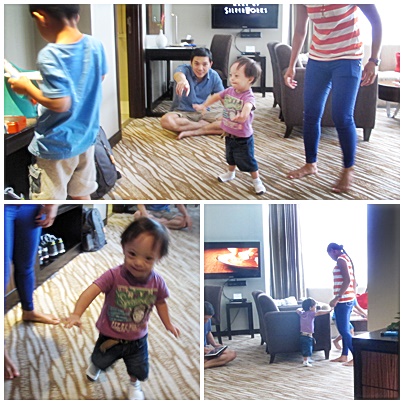 Of course when you have kids, the first thing you do is to check out the pool! Acacia's pool is located at the 3rd floor. If you're booked for a weekend be prepared for lots of kids at the kiddie pool hehe. The pool is long but narrow. Dan, David and Noah all stayed at the adult pool and swam until the sun set. We ordered food poolside too but had it delivered to our room when it started raining.
Acaci Swimming Pool (3rd Floor)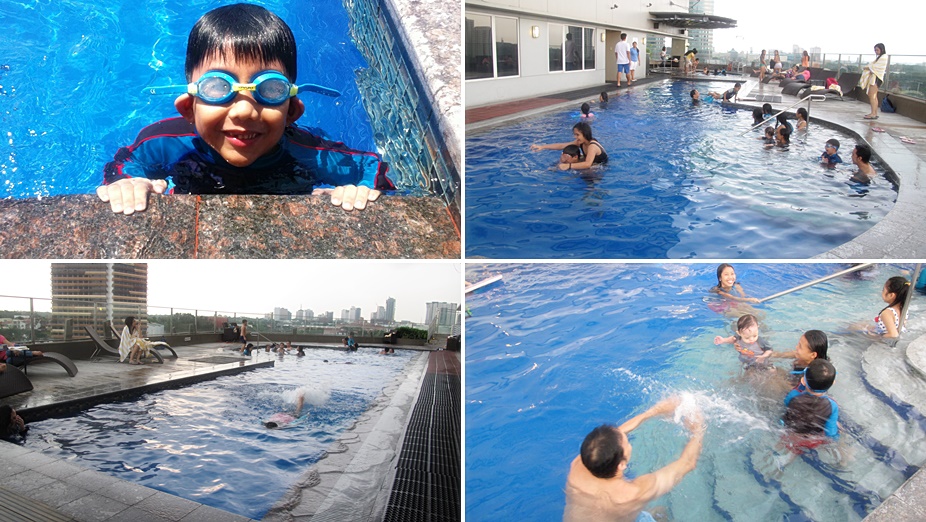 Acacia hosts movie nights for kids (with free popcorn!) at the 3rd floor. A Bug's Life was the scheduled movie that weekend but unfortunately we didn't get to go it because David had other plans….
He wanted to go down to the buffet and eat early dinner? Sino naman kaming tatanggi!!
Acaci is where the hotel's buffets are served and we were lucky that we got to try their dinner buffet when we got there. At Php1,120++ per head sulit sya! The spread is really generous and the variety is up to par with the best buffets in the metro. When we got there, there were a few tables celebrating birthdays too which I took as a good sign that this hotel is really a nice, fun, welcome location for a lot of families and big groups to celebrate and relax in.
Acaci (Mezzanine)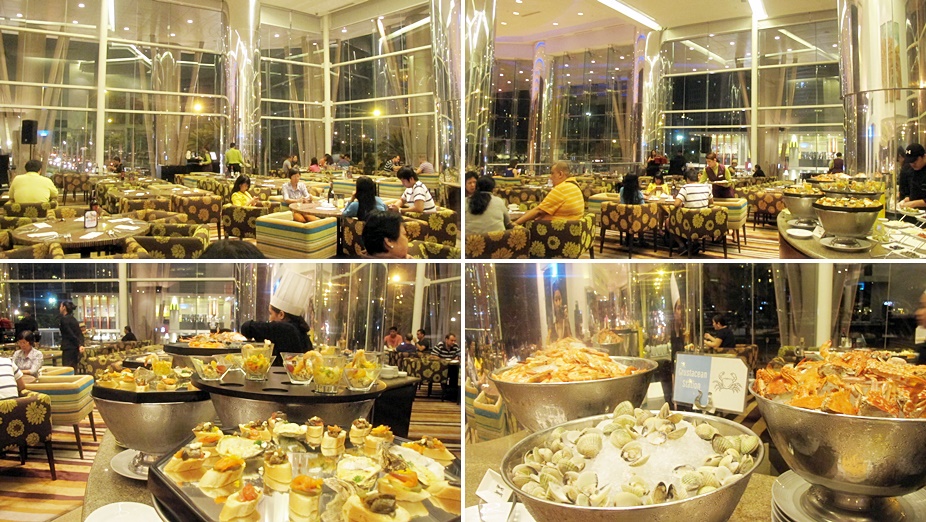 The highlights of the dinner buffet are the sushi bar, crustacean station, ramen station, the roast beef carving and the grilling station. I think Dan and I had so many sticks of freshly grilled squid and beef barbecue! The squid especially was so good and fresh! Of course David had dessert too and went straight to the crepe station and chocolate fountain after his big bowl of ramen.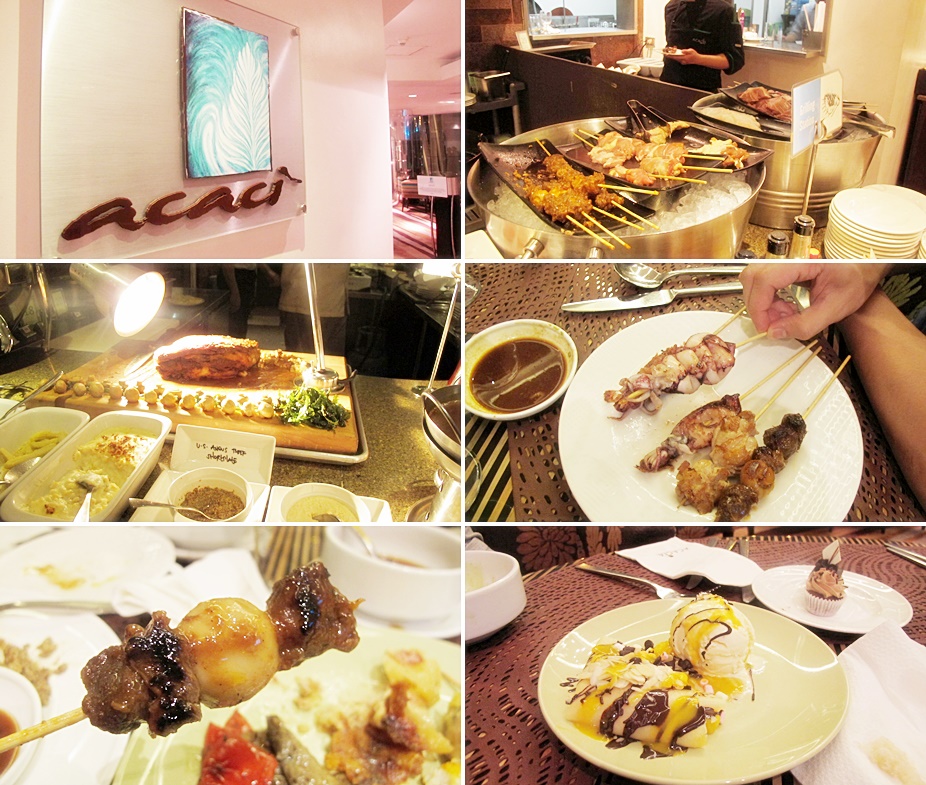 The breakfast buffet is also at Acaci and is just as generous and varied. The stations were also refilled right away. By the time I took a pic of the big dish of bacon, someone was on had already refilling it hehe. There were pinoy and western staples as well as an omelette station, fresh fruits and fresh juices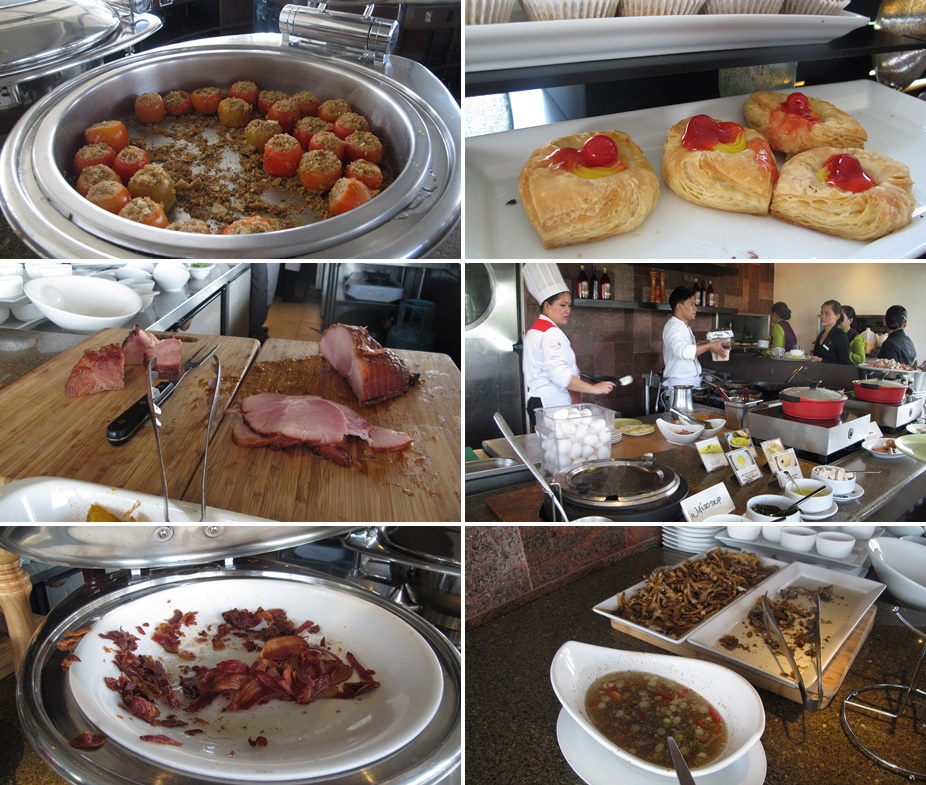 After breakfast we availed of the hotel's shuttle service to meet Dan's family at Alabang Town Center. The shuttle service which we took to go to the ATC is free of charge for all hotel guests! Acacia Hotel is conveniently located nearby Westgate, Commercenter, ATC and Festival Mall. There's a nearby Fun Ranch too where you can take the kids for a fun afternoon. We took the shuttle to ATC so we won't worry about parking and traffic. This is definitely another plus for families who want to do a bit of shopping during their staycation. Each room has a map plus a convenient guide of things to do and places to eat in Alabang so take your pick, dial 0 and wait for your ride at the lobby.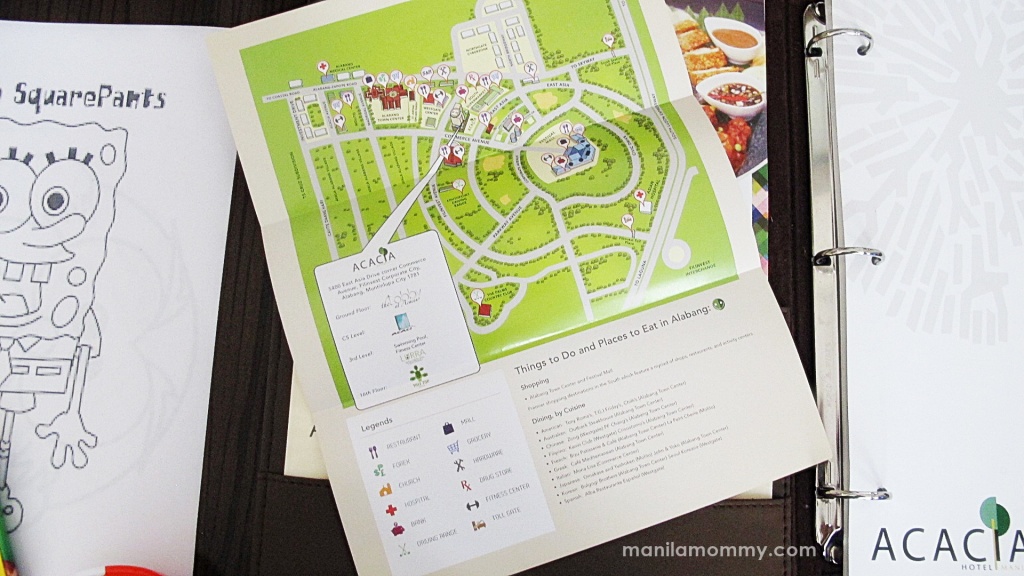 After the family lunch, we went back to the hotel to get to our scheduled couple's massage at Lurra Wellness Spa. Naks naman diba:D The last time Dan and I had a couples massage was during our honeymoon so kamusta naman hahaha 😀 I am a fan of massages and we got one of the best Aromatherapy massages here at Lurra. We both loved the steam room too at nakapag relax din ang pores namin haha! The whole treatment lasted for about 90 minutes and it was time well spent 🙂
Lurra Wellness Spa (3rd Floor)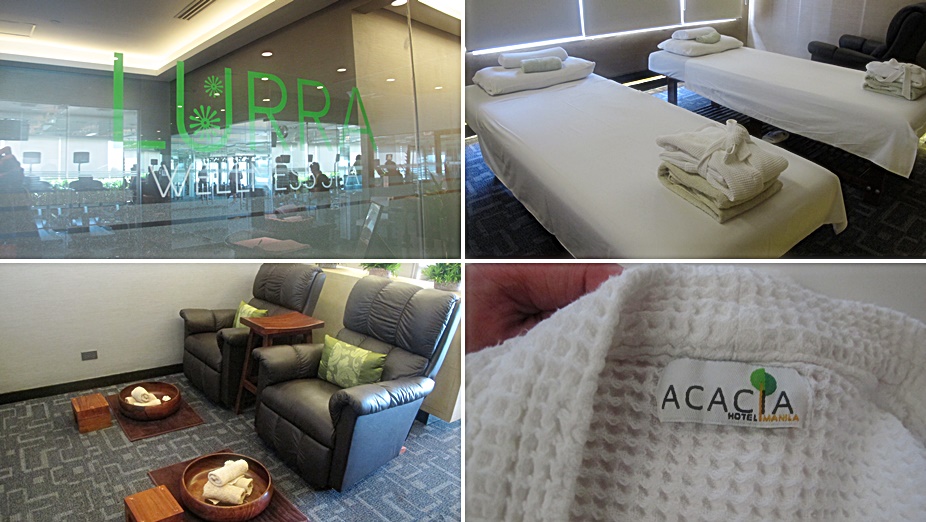 What was consistent all throughout our stay was the amazing service that we experienced. From the front desk, housekeeping to room service, the officers and attendants were all accommodating and courteous. It's Pinoy hospitality at its best here. David wanted to stay for 2 more nights and was begging me to extend our stay. I promised him that we'd come back for his birthday 🙂 It really is a great and reasonably priced hotel that's worth our trip from QC. What's good too is that they have seasonal promos so it's best to like their Facebook page now to stay updated. Sometimes, certain deal sites have Acacia Hotel Manila vouchers so its best to grab those deals too to get the most out of your staycation experience!
Thanks so much again to Marla and her amazing staff for the wonderful stay at Acacia! We will definitely be back soon!
Acacia Hotel Manila
5400 East Asia Drive corner Commerce Avenue,
Filinvest Corporate City, Alabang,
Muntinlupa City 1781
Telephone: 720 2000 / 588 5888
Email: enquiry@acaciahotelsmanila.com
Facebook: https://www.facebook.com/Acaciahotels