I'm a mall rat, I love malls, I love shopping but sometimes I love window shopping more haha. Yes I've had my fair share of impulse buys but the thrill of the hunt for a good buy is just too good to resist.
I've been to my fair share of Ayala Mall's midnight madness sales. My day job is in Makati and so Glorietta is just a 15-minute walk away from my office. So last Friday, saw me in Glorietta again but this time i was going to shop with Fleur, "ang babaeng mababa ang EQ sa shopping"
Ayala Malls graciously sponsored this shopping trip for the SoMoms and Fleur and I were picked to experience the actual Midnight Madness sale while the other SoMoms went on a fun amazing race contest around Glorietta. (You can see what happened at the race by searching for #somoms over at Instagram)
So, Fleur and I met at the Ramp where Fleur was already picking dresses hahaha but we quickly did our tour of shops  on sale. Of course we had a couple of detours along the way as you would expect two shoppingeras would do hehe. We brought out our phones and we IG'ed our shopping trip.
First stop was Papemelroti. I sourced Noah and David's baptismal souvenirs from this company. Their kraft paper notebooks, calendars and note pads have been a staple in my own school supplies and now office supplies. I love Rob Alejandro's illustrations and how uniquely Pinoy Papemelroti goodies are. The items below were all 20% off!
Next stop, Gingersnaps! Of course! The sale bin of Gingersnaps is always a must for me. I've found shorts and shirts for David here but really even when the store isn't on sale it's hard to leave the store without buying something. Some new goodies for girls include these outfits that come with free necklaces. So adorable!!!
Select shoes and sandals are also on sale. These polka dotted espadrilles are only 675!
Just G! was just a few stores away from Gingersnaps. I zoomed in on the accessories. Gad they have cool stuff that I think I can still get away with haha. Some of their
Fleur and I next checked out Basics for Kids. They had a bin AND a rack of clothes that was all 50% off! I was looking for a gift for a friend's daughter and the floral rompers fit the bill! The price points were also very pocket friendly.
We then checked out Kamiseta after and as expected, blockbuster ang pila. Everything in the store was 50% off.
Here's Fleur trying on a cute romper which was sized XS and was a bit too snug for her, dapat S pala sya! Haaay I want that problem!! Ahaha!
Off to Payless next to scout for school shoes. The store had an ongoing buy 2 get 1 promo on their regular items. I saw a lot of parents with their kids in tow along the aisles, taking advantage of the deal. Smart shopping yes?
Last stop was Mayoral, a store for kids that just had me ooohhing and aaaaahing at the cuteness. Mayoral is a children's clothing brand from Spain and the first branch opened in Glorietta 4 last September of 2012. I zoomed in on clothes for Noah and bought 3 items right away. They also had adorable clothes for girls and papogi ensembles for the boys.
Before going home I stopped by at National Bookstore to buy David's school supplies. Check out their new baskets! They have long handles and wheels at the bottom so you can push them around the store. They still have those carts that you can put the smaller baskets in but the trouble with those is that you can't bring them up and down the escalators. With this basket you can!!
Also, Project Aral is back! I bought 2 sets of notebooks and pencils to donate 🙂 I make it a point to add the Balik Aral sets to my shopping cart every time I shop during enrollment season.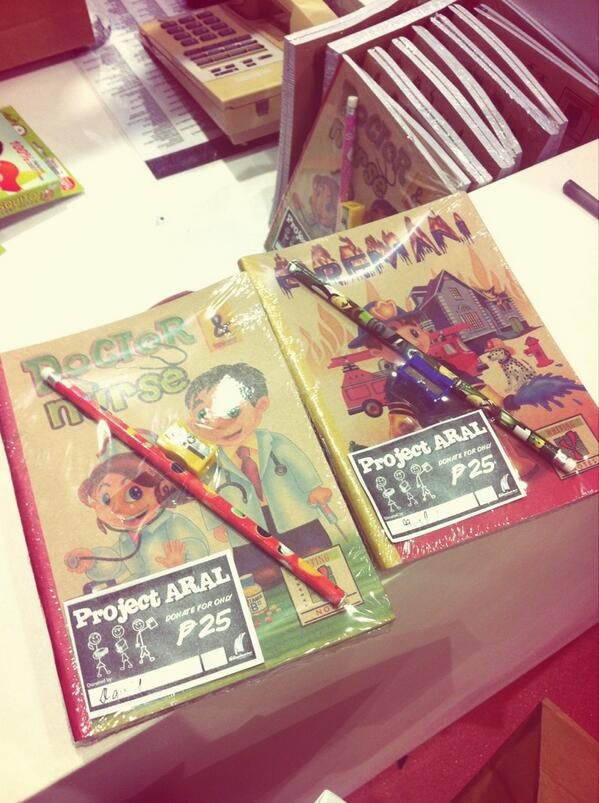 One more thing before I go, kudos to Ayala Malls for having very helpful and visible security personnel roaming around the malls during the sale. I've asked for directions twice and the guards were courteous and helpful hehe.
Thank you Ayala Malls again for sponsoring my shopping spree in this year's midnight madness! Looking forward to the next one!