"Faced with the question of paper or plastic, the answer should always be neither"
I live in Quezon City where the use of plastic bags anywhere has been banned. If you're at a grocery and you don't have any bags with you, you pay a Php2.00 "environmental tax" before your items are packed in a plastic bag. There are municipalities and establishments though which have resorted to using paper bags which in reality is not a solution either because to tell you the truth, we are not better off using paper 🙁
Consider this excerpt from an article from The Guardian (full article is here)
Wrap, the government-funded company set up to reduce waste, summarises the drawbacks of paper bags: while from a renewable source and biodegradable, compostable and recyclable, they require far more energy to make and transport than plastic, have less re-use potential and produce methane if dumped in landfill.

"Faced with the question of paper or plastic, the answer should always be neither," says Reuseit.com. According to a 2007 study (funded by US plastic bag manufacturers), it takes almost four times as much energy to manufacture a paper bag as a plastic bag. Paper-bag manufacture uses 20 times as much water as plastic and paper requires more energy to be recycled.
So Dan and I have bought reusable bags from Shopwise, have kept those big shopping blue shopping bags from Ikea and Toys R Us and S&R. I also have reusable bags that I keep in my bag at all times for when we go to the mall or for the unexpected run to the drugstore. Out of all the bags that I have used, my favorite is Baggu, which looks like the typical Sando Bag's more stylish and environment friendly sister.
Baggu is durable and sturdy. I have used my Baggu to carry groceries as well as my breast pump, baskets, books, and binders. It can actually carry up to 50 lbs of stuff!  I was worried that the sharp edges of my binders might tear through the fabric but it hasn't because it's made of rip stop nylon. The shoulder straps are wide so it's comfortable to carry over shoulders or by hand. The bottom is gusseted so that when you fill the bag with groceries, it can stand by itself. The bag folds into a flat 5" by 5" small square with its own pouch for safekeeping. I lost the one for my elephant bag but I just fold the bag neatly and keep it in one of my bag's inner pockets. No problem.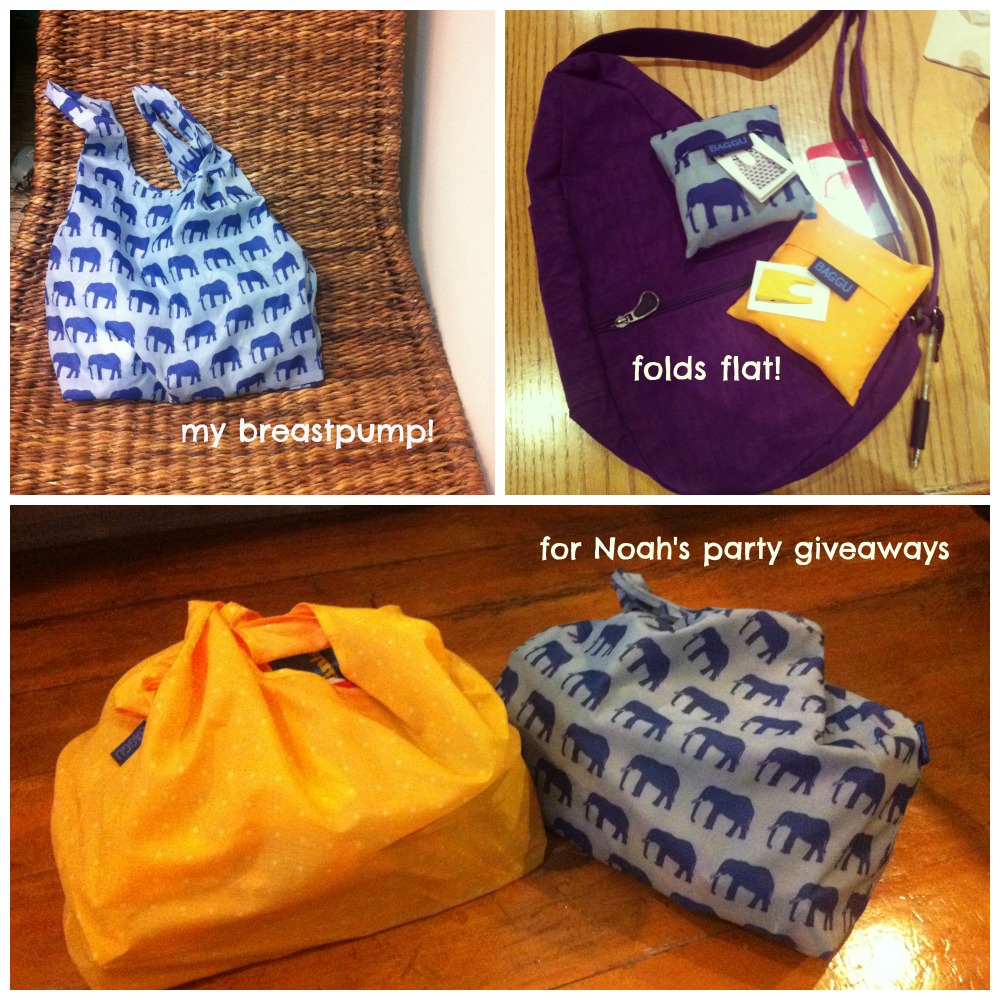 The regular sized  Baggu retails at Php490. They are available at the Lady Bag and Travel Club nationwide.
Paper or Plastic? Neither! Besides, the Baggu Bags are just so much cuter 🙂