When I was pregnant with DW, I didn't buy any maternity clothes because I just thought it would be wasteful. I thought then that the money should go to baby stuff and food, which I had a lot of thus the 50-pound weight gain. I had a few loose fitting clothes which really served me well into my third trimester. Plus, I had cousins who lent me their maternity clothes too. I have to say that Gap and Old Navy Maternity make some of the best ones out there.
For pants I bought leggings from the Greenhills Tiangge and one pair of maternity jeans which hated because the garter just wouldn't stay up. Thankfully I was able to still use my regular low-waist jeans well into my last trimester thanks to the BellyBelt.I bought them  at Having A Baby at Alabang Town Center along with bra extenders and they really served me so well that I didn't have to buy new pants at all.
My preggy partners: The Belly Belt and Panels, The Belly Belt in Action, Bra Extenders and Palmer's Cocoa Butter (only the last one did not work! The first two worked superfine)
The garterized belts in the BellyBelt come in different lengths to accommodate your growing belly. It also has panels to cover the gap when you can no longer zip up your fly. When I was using the BellyBelt though, I didn't use the panels anymore as my tops were long and loose enough to cover the already fully open zipper. Besides, it's  so hot here in the Philippines that the open fly was a welcome relief to my belly haha 😀
The BellyBelt saved me from buying ill fitting pants throughout my pregnancy. The pairs of jeans I had all worked fine (until my butt got too big for some).
Post-maternity still saw me using the  Belly Belt because my tummy, my behind and my thighs still needed time to shrink then 😛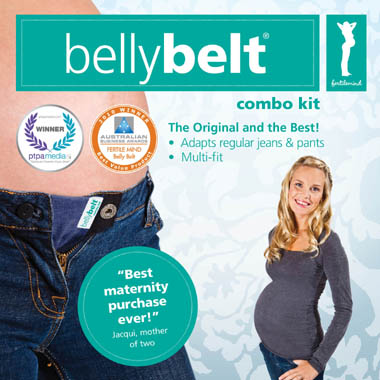 My good friend Cha got a free sample of the Belly Belt from Mommy Matters.  It's her turn now to try out the Belly Belt and here's what she has to say:
I like using the Belly Belt because it's easier to admit my actual gestation age (about 3 months; according to books, I'm not yet supposed to be showing) when I'm still wearing my pre-pregnancy clothes.

I think the Belly Belt is perfect for mommies-to-be who: (1) love their current wardrobe; (2) cannot find maternity clothes to suit their taste; and/or, (3) would prefer not to get maternity clothes until later in the pregnancy. I think it's also perfect for new mommies who'd like to go back to using their pre-pregnancy clothes while not quite at their pre-pregnancy size.

Here's Cha, her jeans, her baby bump and her belly belt 🙂
I also found a video of how to use the BellyBelt with the inventor narrating the how-tos. She was pregnant in 1996 when she thought about  the BellyBelt! Bravo to her!
The regular price of the Belly Belt is Php 1,100, Awesome.ph however will hold a special sale of the Belly Belt and will sell this for Php 550 only!! Get a chance to score this at
Disclosure: Mommy Matters and Awesome.ph gave my friend a free sample of the Belly Belt to try out and review. This is not a paid post and we were in no way coerced to provide a positive review of the product.  I own a BellyBelt myself which I bought 2 years ago when I was still pregnant with DW.  The BellyBelt was reviewed and mentioned at my old blog here.

EDIT 3 Febuary 2014: Belly Belt is available online at http://nurturenookshop.com/ In the search bar, type in Belly Belt to get to the item right away!
You can also contact Nurture Nook via the following:
Phone: 514 7173
Email: nurturenookph@gmail.com
Facebook: https://www.facebook.com/NurtureNookShop