I stumbled upon this book accidentally. I was on a lunch break with my teammates at Greenbelt 1 and we all went to the OMF Literature Book Shop to browse. I went to the section where there were children's books to look for titles for David and Noah. My eyes wandered along the shelves until they stopped at a this one book whose cover had two boys. It was the older boy in the cover who caught my attention.
It was this face that I saw peeking from all the other book covers. My head and heart went wild and I kept thinking "could it be? Is it?" I snatched the book, turned the pages and scanned the story.
It was a Filipino Children's Book about two brothers and the older brother has Down syndrome.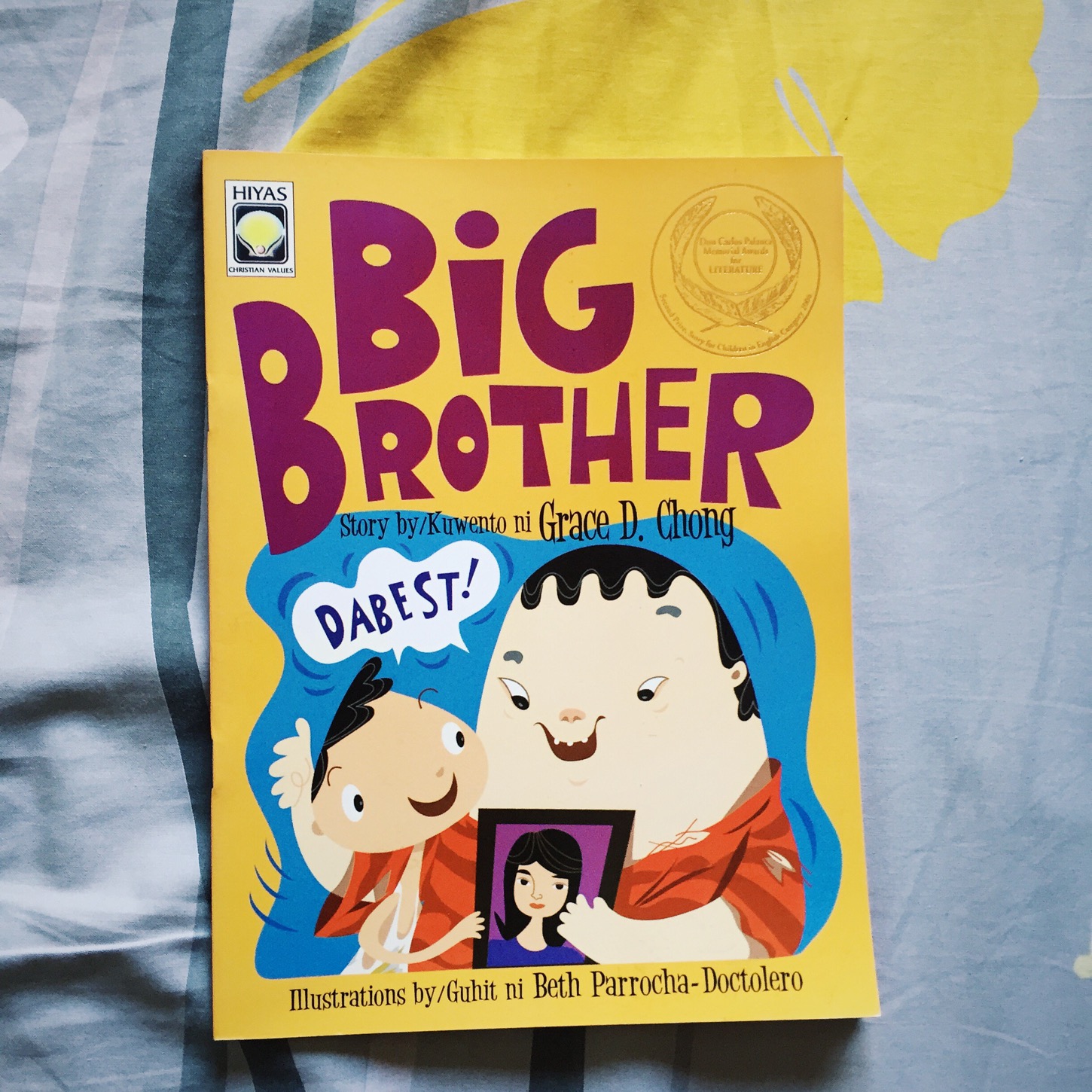 I tried to hold back the tears but they just fell. Ugly cry ako in the middle of the bookstore but in that moment my heart was beating so fast, I was so overwhelmed and I was blubbering to my officemates "It's about DS!! Tungkol sa Down syndrome yung book o, ang galing! Ang galing!! Naiiyak ako ang galing!!"
I bought all the copies of that book in that store that day because I wanted to give copies of these book to friends and family, which I already did. I bought a lot more because I wanted to share this book to so many more people.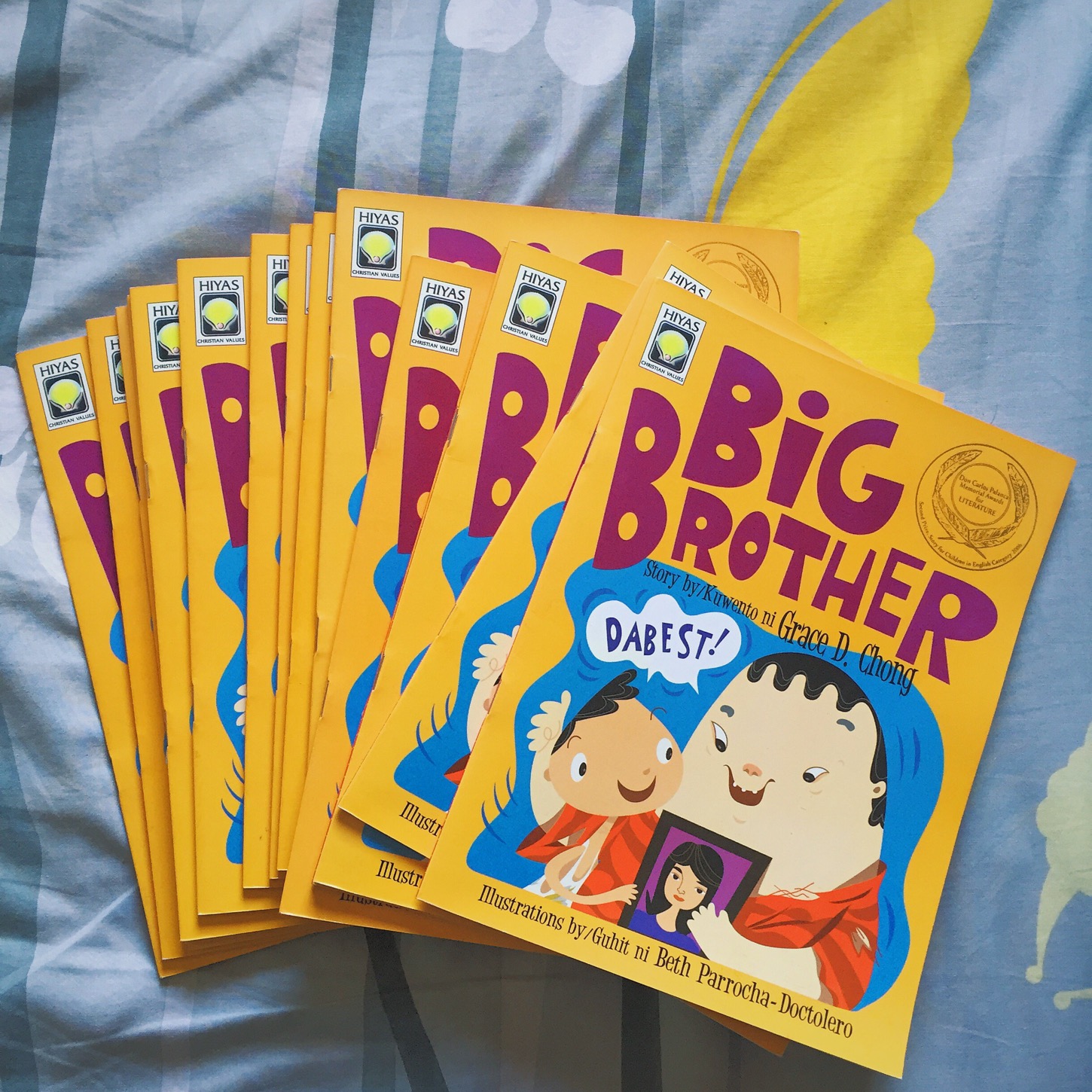 Writing about my Noah, our "new normal" and about Down syndrome in general are ways by which I create awareness about Ds. My real goal is to share our story so that Ds isn't something to be afraid of.  The fears and hesitations I felt when Noah was diagnosed was because I was in the dark about this genetic condition. And I hope that this blog would be a small source of light that could dispel a bit of the misinformation and myths about individuals with Ds.
But sometimes, something comes along that encapsulates everything I want to say into one pretty package. "Big Brother" is this package for me. A well-written beautifully illustrated children's book by Grace D. Chong. Ms. Chong grew up with a cousin with Down syndrome and it is through this lens that she crafted the story of Bunsoy and his Kuya Tinuy.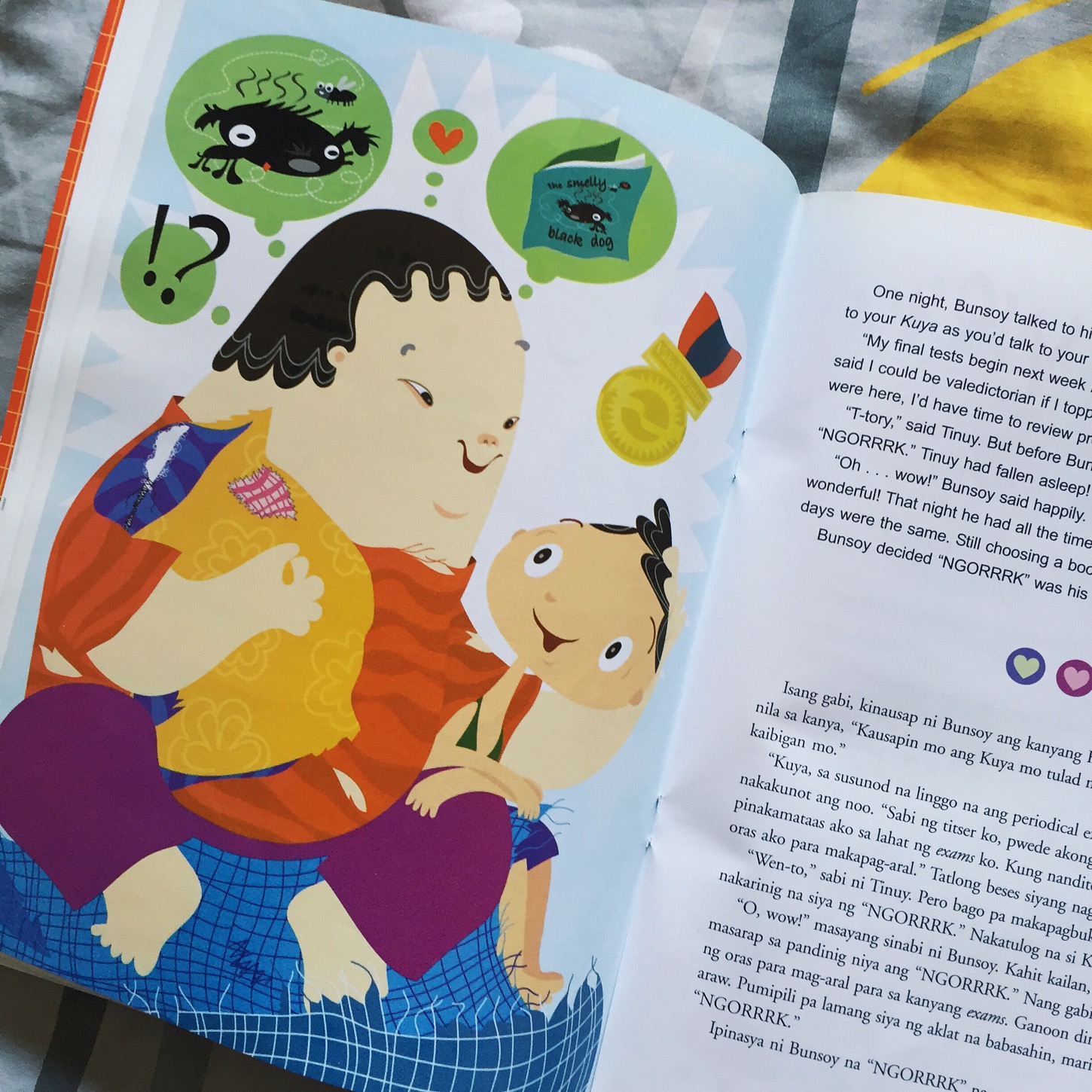 Big Brother is tender and engaging. Grace also has an afterword that really brings the point home that individuals who rock the extra chromosome deserve to be seen, to be included and to be respected.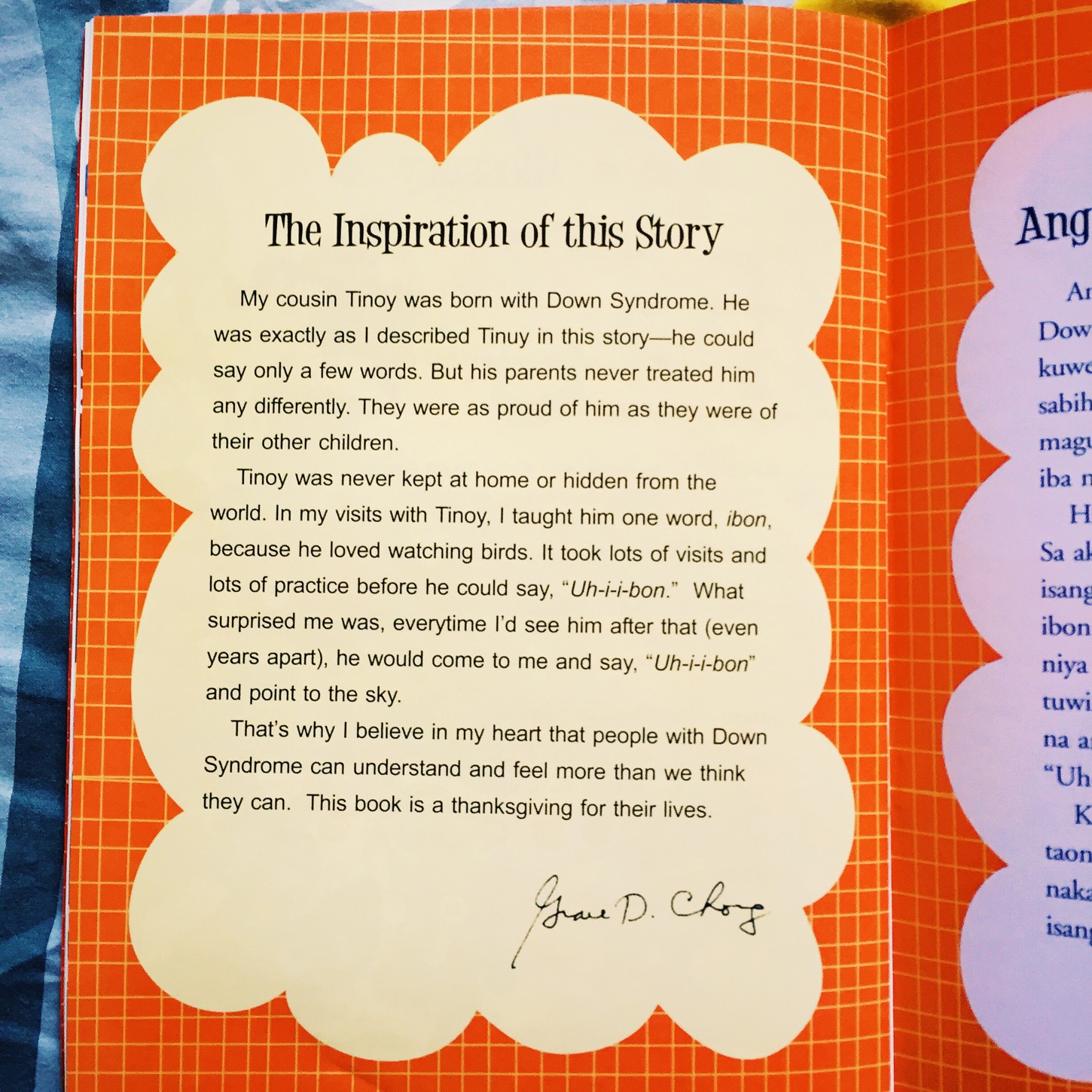 February is Down Syndrome Awareness Month and I can't think of a better way to celebrate than by giving away Big Brother.
I encourage you to read it with your kids and to pass it on to other family and friends. I encourage you to celebrate the diversity of our communities and the inherent beauty that each of us posses. We are all unique and this is what the book celebrates. Even if it does focus on Down syndrome, what it really highlights is that we all have our own hobbies, goals, dreams, and personalities. What makes this more awesome is that it's a children's book. Talk about planting good seeds 🙂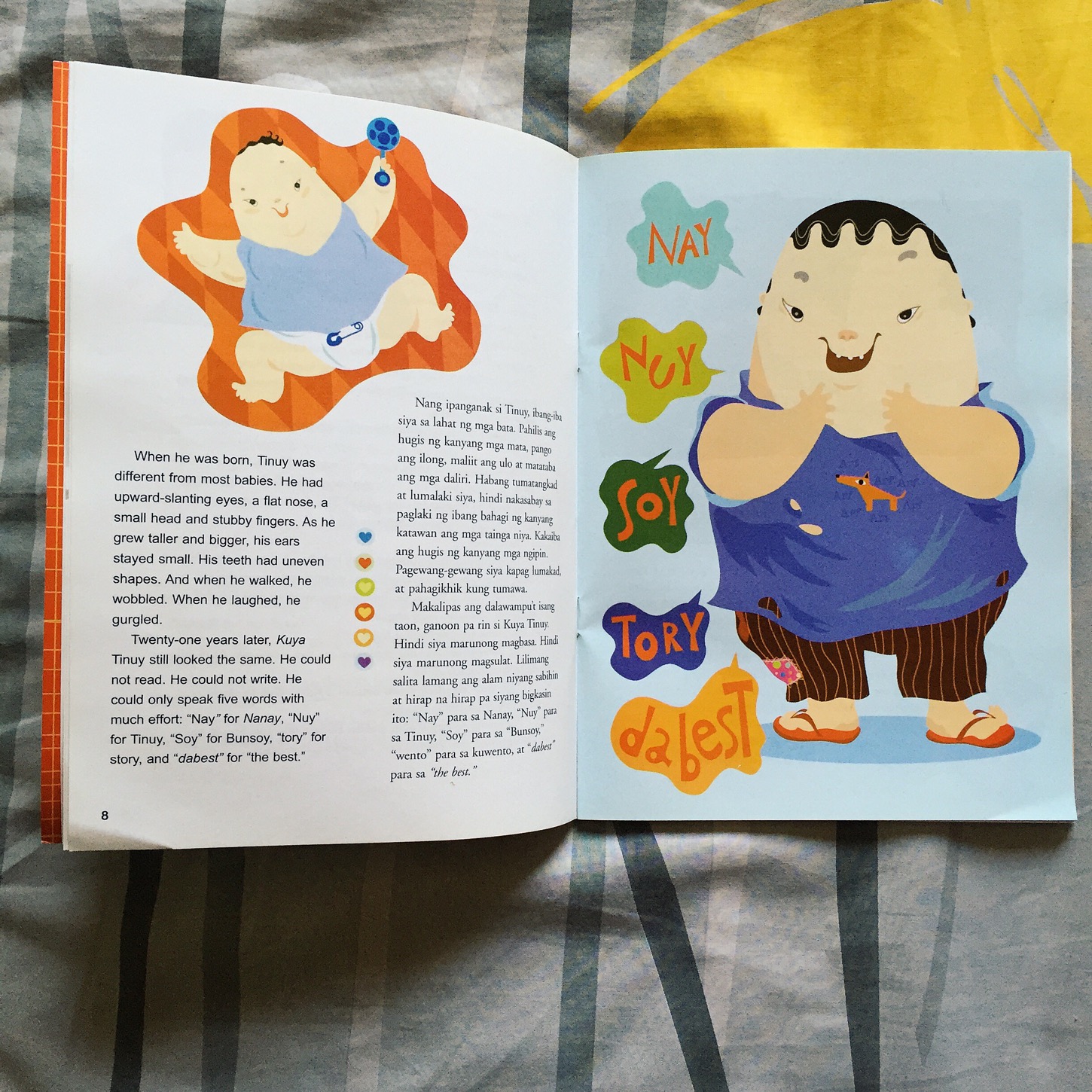 I'll make this giveaway super simple. No rafflecopter widget here hehe. I have 10 copies of this book. I will give 5 here at the blog and another 5 over at Instagram.  If you want a copy, just leave a comment at the blog and tell me what you celebrate most about your kids or what makes you unique!
First 5 to comment will get the book 🙂 I will ship anywhere in the Philippines. If you're comment number 6 onwards you can definitely still leave a comment, I would love to celebrate your uniqueness with you!
Thank you so much guys for all your support. I am so looking forward to your entries 🙂