Last weekend, I watched Bituing Walang Ningning the Musical with some of my good friends. I was excited to watch the musical because I am a big fan of Bituing Walang Ningning. If I were to make a top 10 list of my all time favorite movies, kasama sya dun. Baka nasa Top 5 sya…ok fine baka Top 3 haha 😀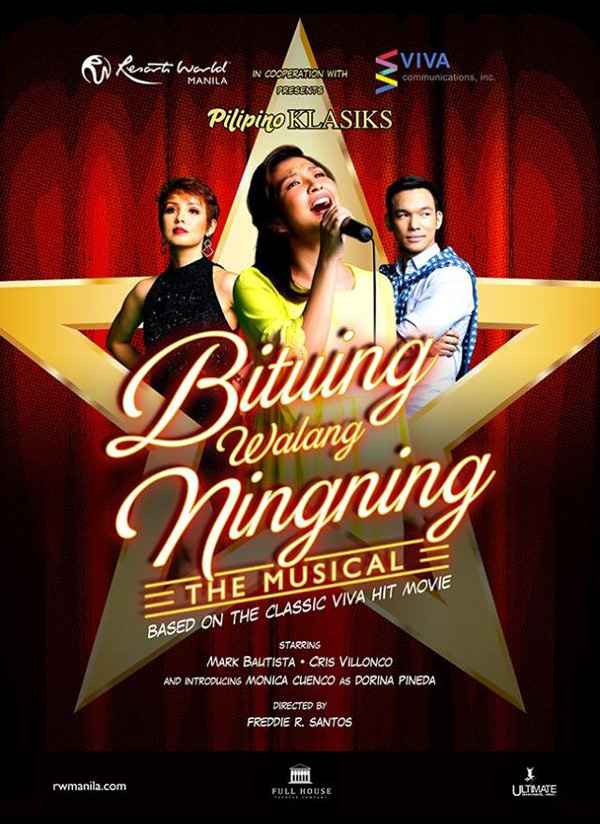 I was pretty sure the musical will be just as fun and just as campy as the movie but no, it wasn't. As clear as the intention of the movie was — it was a classic good vs evil story with lots of amazing music (with equally amazing lyrics pa from Willy Cruz) – the musical still managed to flub the important elements of the story.  This review , which I was able to read after the musical said everything I wanted to say.
The musical was not able to show to people the love triangle between Nico, Dorina and Lavinia as well as the love triangle of Nico, Gary and Dorina (haba ng hair ni Dorina) The dialogues towards the latter part of the musical made it seem that the love angle was an afterthought when in fact it drove the movie's main plot.  The musical was ambiguous in the treatment of the love triangles. It only seemed that Nico was a really caring mentor to his charming protege. And then towards the end, biglang may declarations of love na si Nico and Gray. It really seemd like Nico, after all this time finally realized "Ah oo nga pala mahal na mahal ko si Dorina". Weh.
Lavinia naman was too complex. Cris Villonco was awesome in her performance but what makes Lavinia a great character was she was one-dimensional – she is petty,  manipulative, vindictive and ambitious to a fault. The Lavinia in the musical was — human! I actually felt sorry for Lavinia which is a no-no kasi masama syang tao na inaapi si Dorina haha! Dorina is such a beloved character because Lavinia was hated. She is a wonderful villain.  Lavinia in the musical was confused which led to me being confused as to how I should feel now about the villain. I guess that's a good step forward but at this point, it only muddled the story.
And that amazing line…."You're nothing but a second rate, trying hard, COPYCAT!"
                                .
It was not given justice in the musical. It lacked gravitas. The timing, the delivery, the setting they were all off.  When that line was uttered, it really fell flat. Ang sad.
The thing is, the performers were all wonderful. It was the treatment that really failed this production. It was set in the 80s but the costumes were so inconsistent. They also relied on using the screens to project and create the background of some of the sets which were really distracting. Some of the posters made for Lavinia and Dorina's concert looked like they were made in MS Word using default fonts (Times New Roman, Algeria, Aharoni to be exact) It was cringe worthy.  There were moments where the projected images were incomplete and pics of Mark Bautista's and Monica Cuenco's heads were cut off. Instead of the projected images on the screen helping move the story along, they chipped away at the viewing experience.
You know what I wished for at the end of the musical, that this will be revived. It deserves a second chance. It holds the promise of becoming an enduring classic Pinoy musical that not only the movie's fans will love but all who love a good story.  The music and the songs are captivating and they really held the production together. Maybe the musical deserves a bit more work, a bit more love and a whole lotta camp and even bigger imaginations. I agree with my friend Kris that BWN can also be a fun modern rendition of the movie that's set in the current times.
Before I end this, I just want to share with you this really fun clip of Sharon Cuneta as Dorina. She's now under Nico and is being groomed to compete against Lavinia. Syempre, Lavinia is alta with flawless diction. Sharon, as a humble sampaguita vendor, needed training. This clip is Dorina doing tongue twisters. It's whack and it's sooo much fun. Trust me!
And oo, Sharonian ako haha!