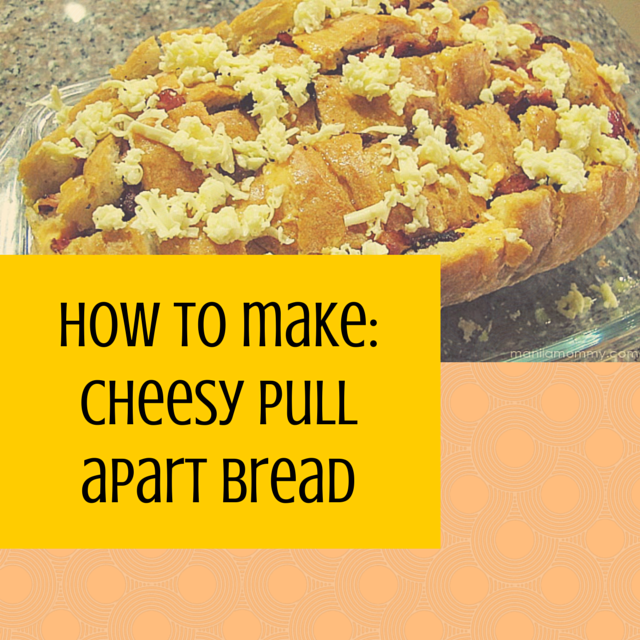 This my friends, is the recipe that filled our house with the smell of baking bread, bacon, and cheese. This recipe is what I am sticking with when it comes to the question "Anong dadalhin mo sa potluck" And I will tell them "I will make Cheesy Pull Apart Bread" and they will ask "Ano yun?" and I will tell them… "secret!"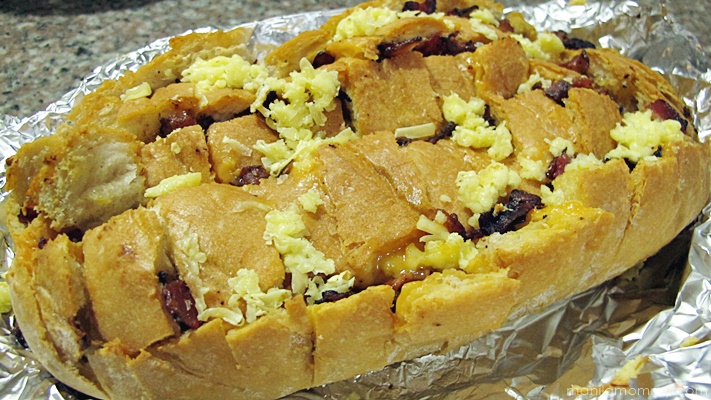 But I will share this with you of course because if a non-cook like can whip up dishes that look difficult but in reality only took 30 minutes to prepare (or less actually I was eating chips with cheez whiz dip while doing this kasi haha) paano pa kayo,you queens of the kitchen you! This will totally be a hit at any upcoming Christmas party because 1) it's easy and 2) who will say no to baked bread with cheese and bacon?!
So without further ado, I present to you:
The Cheesy Pull Apart Bread with Cheez Whiz and Bacon
Ingredients:
A big loaf of bread. A big round bread like sourdough (the one I used would lend itself well to this recipe) but baguettes would do fine too
One bottle 450 grams Cheez Whiz
2 tbsps. of melted butter
5 strips of cooked maple bacon cut into bits or teeny tiny strips
Grated cheese
Optional: chives (The green toppings will certainly make this festive)
Instructions:
Get your big beautiful loaf of bread out of your bread box. If you can buy a loaf that isn't scored already like the one I had that will be so much better for this recipe.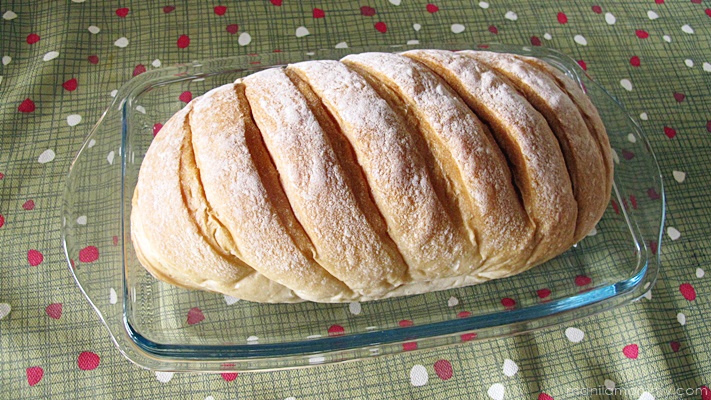 Cut the bread by cutting lengthwise then cutting crosswise but DON'T CUT THE WHOLE WAY THROUGH!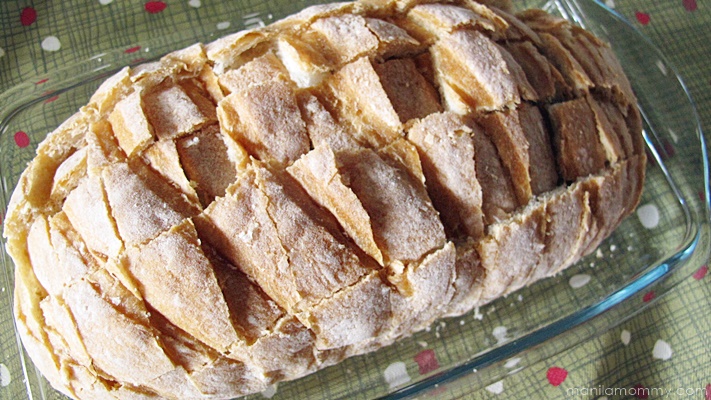 Tip: If you are able to get a sour dough bread or any bread that has an intact crust it would make an even more perfect and stable "grid" to stuff your cheez whiz and bacon in.
Stuff the bread with Cheez Whiz and bacon. Do note though that bacon is salty so you might want to cut back on the bacon and just go with the bacon bits that you can sprinkle on top of the bread. I went ahead with inserting the bacon because well, we love our bacon here at home haha.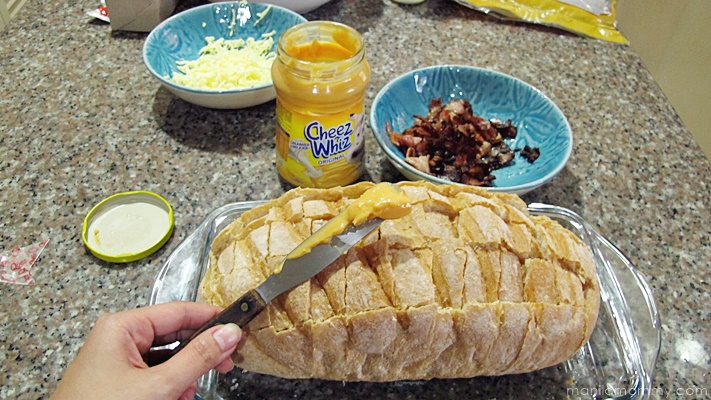 Insert the bacon bits. You can also get really creative with the stuffing. The Cheez Whiz base ensures you the cheesiest versionbut feel free to stuff it with sharp cheddar, monterey and yes even parmesan which would be so good as it is the most gooey! You can mix these cheeses with the cheez whiz and then stuff them all together with some herbs so your bread will still have a level of freshness.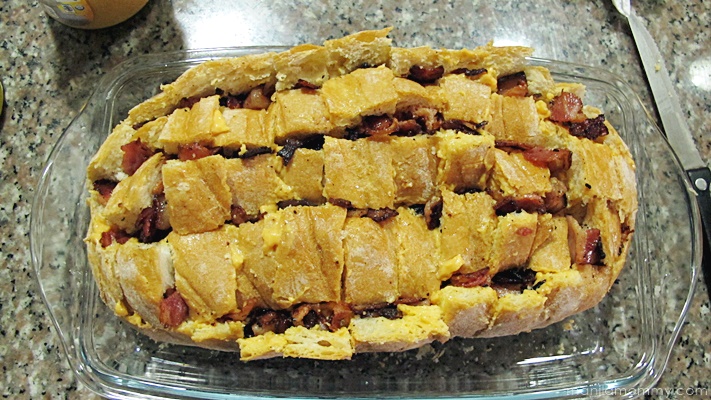 Brush loaf with the melted butter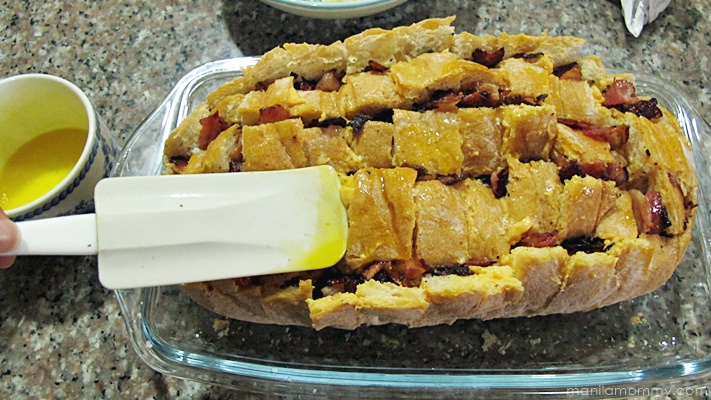 Sprinkle grated cheese. The toasted cheese will add a layer of crunch and texture to the bread. Wrap the bread in foil and then bake in the oven for 30 minutes at 220 degrees Celsius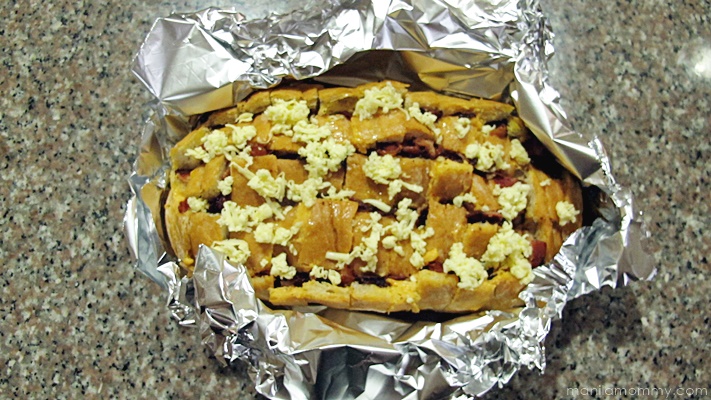 And it's done!! (don't worry the bread won't burn)
Serving instructions:
And as the name says….Pull It Apart!

It's an easy treat to make. You can also do this in advance and just bake the bread when you get to your venue so the bread will still be fresh and hot!
Gooeey cheez whiz + bacon!! = LOVE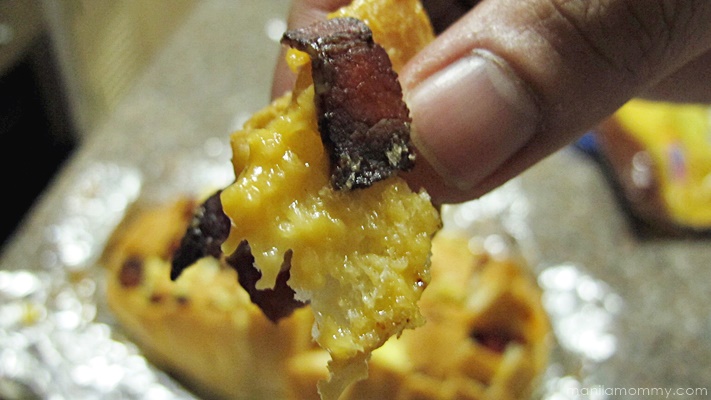 Thank you Dan for being my very eager hand model hehehe.
This recipe is very versatile and can be an appetizer or a side dish to a main course. If you make your own version please send me pics and tips too!! I would love to learn from you 😀
For more cheesyrific recipes sign on to www.cheeseanything.com Happy Holidays!