Hi everyone! Hope your weekends went great despite the sweltering heat!!
I decided to post this really helpful Comelec link which was first posted in our sister (brother?!) blog,  Manila Reviews.   Consider this a public service announcement 🙂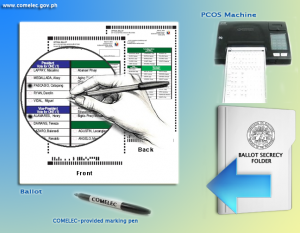 The elections are less than a month away, have you made your choices?  But before going there, do you know if you're recognized as a legit voter?
You can now do so, via Comelec's Registration Verification Precinct Finder.
I used the system yesterday using my mobile phone and it worked! I tried it again using my pc and it brought the same results.
There's a disclaimer to the data included in the search though. From the Comelec website:
DISCLAIMER:

Data is based on the submissions of our field election offices after the 16 November 2009 ERB hearing. If you applied for registration last December 21, 22, 23, 28 and 29, 2009 your record is not yet included here.
They've also posted tips in using the search form:
Tips for Using PRECINCT FINDER:

1. Fill in all NAME fields completely as you indicated in your Application Form for registration.
2. Do not type just your MIDDLE INITIAL if you indicated your complete MIDDLE NAME during registration.
3. In case encoding errors may have been committed by your local COMELEC office:

a. If your name contains a JR, SR, II, III, IV, etc., try several variations of typing your name, as follows:

i. in the FIRST NAME field after your first name, such as JUAN JR.
ii. in the LAST NAME field after your last name, such as DELA CRUZ JR.
iii. with a period, such as JR.
iv. without a period, such as JR
v. with a comma and period, Such as JUAN, JR. or JUAN JR.,
vi. with two (or three) spaces in between, such as JUAN  JR. or JUAN   JR.
vii. a combination of the above-mentioned variations.

b. If your name contains MA. or MARIA, try both variations in the FIRST NAME field.
Thanks to Manila Reviews for posting this really great link! Visit Manila Reviews for posts on what's good to do in and around the metro (and voting is one of them!)
*pic is from comelec.gov.ph