So the great cake experiment began last Saturday! I made a chocolate cake with the goal of building my confidence towards ultimately creating this thing of beauty: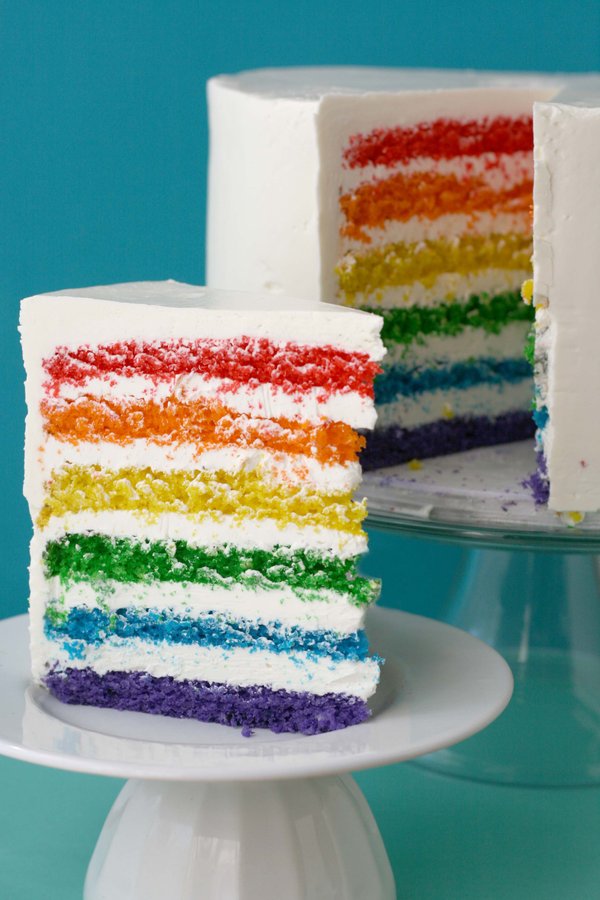 the holy grail!
For the experiment I decided that I will not make the cake from scratch! If the Pillsbury Doughboy, Betty Crocker and the Maya Kitchen have perfected cake mixes I am not going to mess with them haha so the one thing that I want to test therefore is this: CAN I FOLLOW DIRECTIONS?? Seriously, I need to test this because I have a habit of skimming over pages and committing stuff to memory in the hopes that I can remember all the details, which of course never happens 😛
So during the entire process, I kept reading and re-reading the instructions on the box haha and the recipe I printed or cream cheese frosting is now unreadable because I've folded and unfolded it so many times, malapit ng mapunit! But aaanywaaay, all that doesn't matter because I got this!!!
devil's foodcake with cream cheese frosting — delicious 🙂
I only smeared the cream cheese frosting and left most of them in the bowl so that my family can smear as much as they like in their own slices. Here's BDW's:
I made the frosting from scratch!!! waaah!
To make the cake, I used
1 box of  Pillsbury's Moist Supreme Cake Mix (Devils' Food)
1 1/4 cups water
1/2 cup oil
3 eggs
I mixed everything together in  a bowl with an Oster hand mixer that I recently bought for Php 1,250
I used my mom's silicon bundt pan, which did not need any more greasing.
When the cake was done, the cake kinda overflowed which resulted in this:
This cake was thus renamed, the Tumor cake haha
For the cream cheese frosting:
6 oz cream cheese
1/2 cup of butter
1 teaspoon of vanilla (optional)
2 1/2 – 3 cups of powdered sugar (sifted)
Mix the cream cheese and butter and slowly add the powdered sugar. Add the vanilla if you want but even without it, the cream cheese frosting is already yummy if I may say so myself 🙂
Spread the frosting after the cake has cooled.
Dear fellow moms and beginner bakers, if I can do this SO CAN YOU!! I am the worst cook ever and to make this is a testament to how easy the recipe is 😀 Most importantly, my confidence has been built and I am ready to take on the next step to DW's birthday rainbow cake!! Woohoo!!