The things that have come my way for the Friday Fun Finds have all been things that will definitely fill up my folder of stuff that I want to do when DW gets his own room. First was the Nu Dekor Wall Stickers (BDW likes the glow in the dark set) and now my sister in law, Ginger of Manila Fitness gave me Dwell Studio's catalogues for 2009 and 2010, which made me drool at all the cuteness and gorgeousness.  I've seen these online but having the catalogues in front of me just made me crazy. I think I've pushed back a couple of annual reports that I'm scheduled to work on just to pick out stuff for DW's imaginary room 🙂
My most favorite of Dwell's prints is called Transportation. What's great about these prints is that they're definitely young but not childish and precious without being too cutesy patootsie. These prints are also found in Dwell's stroller blankets, bibs, burp pads, hooded towels, shower curtains, bath mats, diaper bags, backpacks, weekenders, travel cases, storage bins and even wall art!
Eco Friendly
It's also worth sharing that Dwell takes pride in their eco-friendly manufacturing processes. To quote them,
"Our products are created using low-impact dyes. They contain no heavy metals or other known toxic substances, are FORMALDEHYDE FREE and AZO FREE, and meet all criteria for ecofriendly pigments.

In our latest initiative to reduce waste and help the planet, our packaging has been re-designed to completely eliminate PVC and utilize eco-friendly materials. Our products now come in bags or boxes that can be reused for storage, laundry and travel for zero waste. Our packaging is chic with a conscience."
For  2010, Dwell introduces three new prints alongside their classic prints. The new prints are from left, Paper Dolls, Owls and Sparrow.
(please click on pic to enlarge)
And just in time for Mother's Day, the Dwell Studio 2009 home collection is 35 percent off. The promo is from May 1 to 31 and is only available in Rustan's Makati and Shangri-La!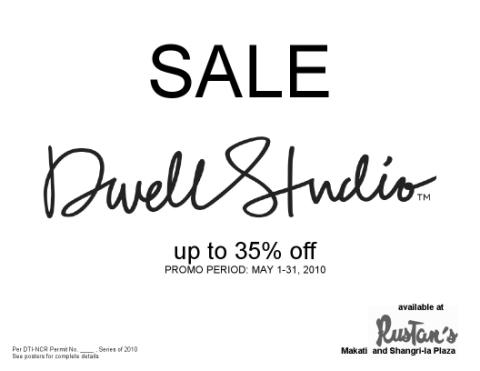 The local distributor of Dwell Studio is Quirks Marketing.
You can follow them on twitter @quirksph
Happy shopping and advanced happy mother's day!