2 Sundays ago I trekked all the way to Alabang to attend another session by The BentoMommas. This session is special because we were doing the Christmas themed bentos! The event was generously sponsored by Cheez Whiz and I loooooved the theme because Christmas is my favorite holiday!
The BentoMommas taught us to make a snowman and a reindeer. I came in a bit late to the session but I was able to catch up right away and I made the snowman charaben in more or less 15 minutes. I realized that if you have everything that you need in front of you, assembly is easy, almost zen like. So it's really best that when doing a bento, that you not have only the design and e ingredients in front of you but also all your necessary. There were a lot of light bulb moments that Sunday. So, along with sharing how to make the reindeer and snowman charaben, I will also share tips and tricks that would hopefully make the bento making process easier.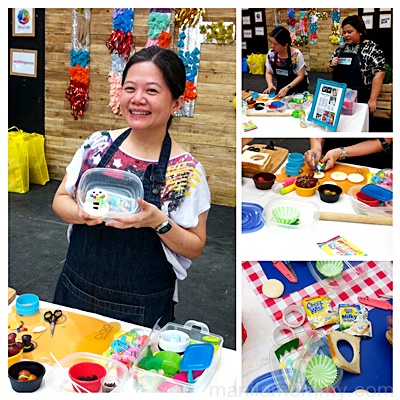 Charaben 1: Snowman (1, 2, 3 ready,sing…do you want to build a snowman???)
What you will need:
4 slices of white bread
Sour tape – for the scarf
Mini chocolate drops and candies for the eyes, mouth and button,
Apple – for the hat and decorations
Silicon and/or paper containers for separating your sandwich from the rest of your components
Cheez Whiz – as filling and GLUE! (yes you can stick all your components using Cheez Whiz, what a useful and yummy tip)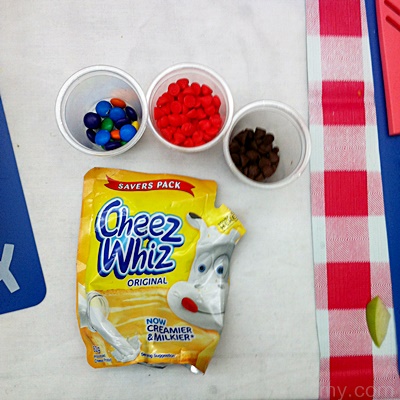 To Assemble:
Cut out two small and two big circles using a circle cutter. If you don't have one, a pair of kitchen scissors will work just as fine.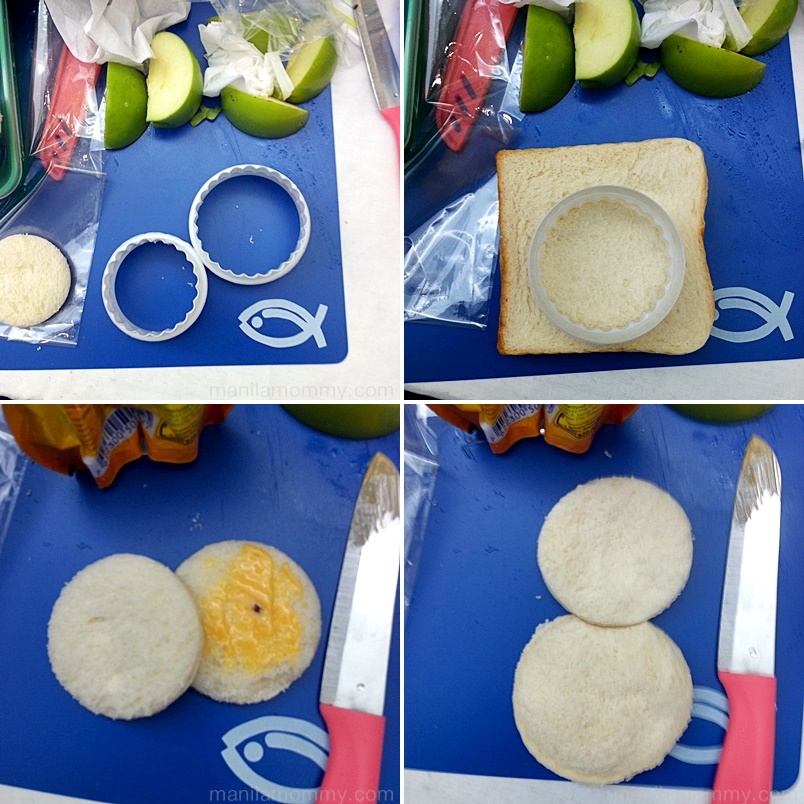 Decorate the snowman with the chocolate chips and chocolate candies. Use the green apple tape as a scarf and use the green apple for a hat.
My snowman (without and with a hat) and The BentoMommas' (pwede na diba?! Haha)

Lightbulb Tip 1: Cheez Whiz will keep it Together
You can squeeze a line of cheez whiz on a plate and just use a tweezer to dip each chocolate chip so that each will have a glue that you can "paste" then on to the charaben without any fear of them falling out.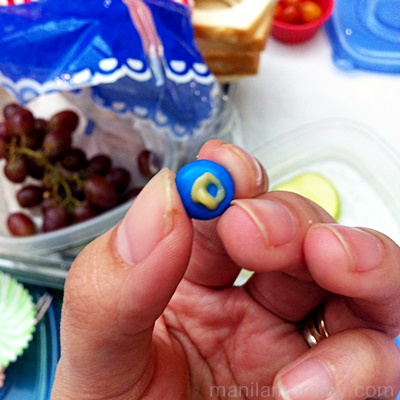 Lightbulb Tip 2: Give your fruits a bath
To prevent oxidation (the browning of fruits like apples and bananas), you can dip the fruits in a Sprite bath, which is just a bowl filled with the clear soda. Or you can also try lemons in water too. Some have suggested putting salt in a bowl of water as well. All these methods have been tried and tested and mom-approved!
There is no need to soak the fruits overnight, as you cut or carve your fruits just dip them for a few seconds in the bath and voila!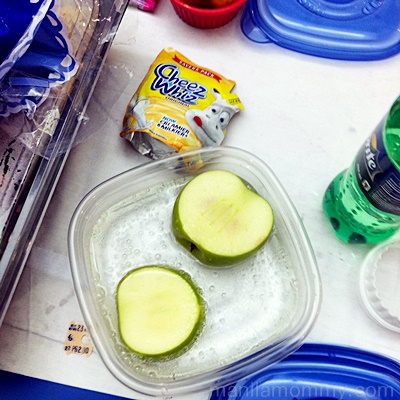 Charaben 2: Hey Rudolph!
My favorite charaben are the ones made of sticky rice. The molding and the sculpting is actually very relaxing.
What you will need:
A scoop of sticky brown rice (Dona Maria Jasponica is the best)
Nori – punch holes using a single hole puncher
Silicone/paper containers for the veggies and other ulam
Pretzels – for the horns
Cheez Whiz – the yummy truly edible glue for these charaben
Cheese slices
Veggies
Cherry Tomatoes
To Assemble:
Scoop the rice into a sandwich bag. This ball of rice will form the head of the reindeer.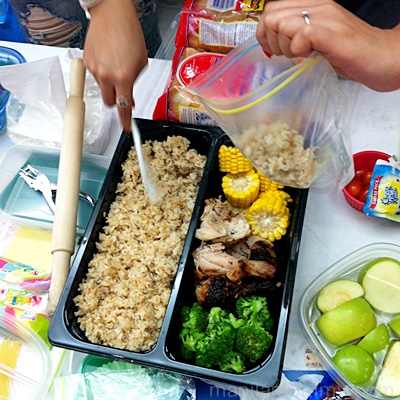 Tip 3: Kanin na bilog…huwag tutulog tulog…
To roll your rice balls, scoop rice into a resealable sandwich bag and mold from there. This way, your hands won't get sticky and you can see how big your rice ball is getting and so you can adjust right away so that the rice ball can fit your kid's lunch box J also, the rice balls aren't really "balls" they're more like siopao, plump in the middle and flat at the bottom 😀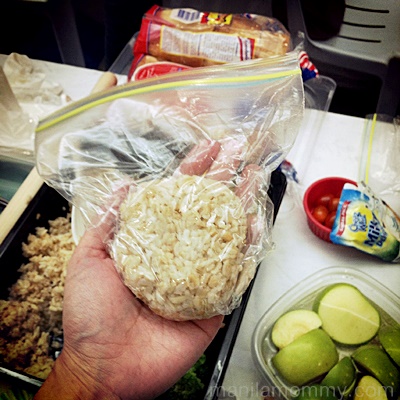 Tip 4: Punch in, punch out
Eyes, ears, freckles, buttons are all made using punched out sheets of Nori (roasted seaweed). You can punch Nori sheets using a single puncher in advance so you'd have a steady supply whenever you make your Bento.
Position the reindeer head in the lunchbox and stick pretzels at the top for antlers. Using a small circle cutter cut circles on a cheese slice for eyes and punch out a couple of circles from a Nori sheet for the pupils. Cut a cherry tomato in half for the nose. Use Cheez Whiz to glue everything together!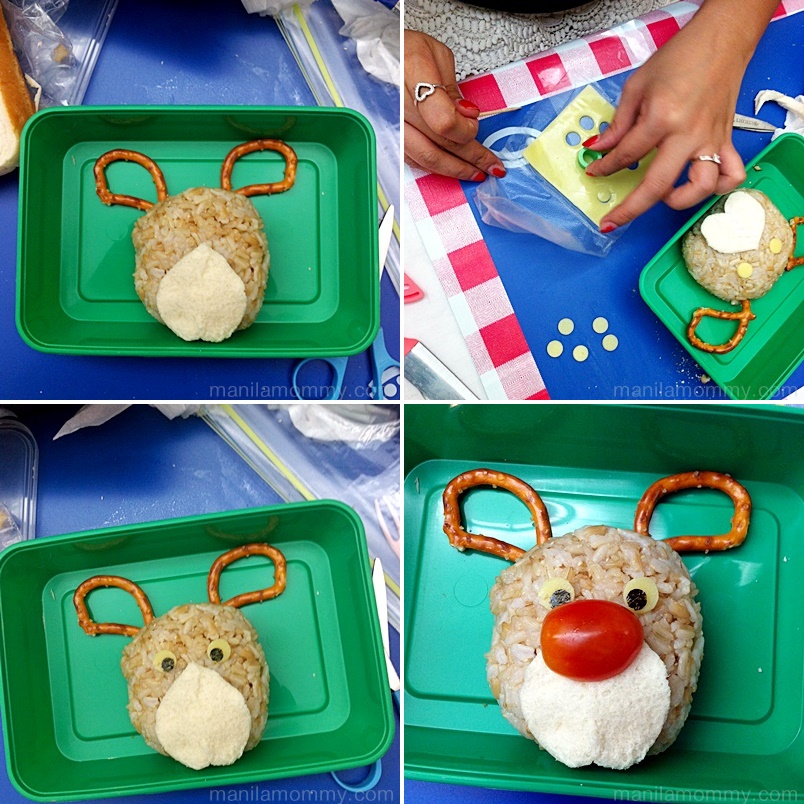 Carve an apple and assemble the other components of the lunch box. My Rudolph is in the middle and The BentoMommas is at the last panel.

Rudolph was a big hit with David! He finished everything in the box which leads me to this next tip:
Tip 5: Don't Stop at Pretty

A Bento Box is not just all looks, it has to have substance too (of course!) make sure that the box has all the necessary essentials to keep the kiddoes energized. Rice, a viand, veggies and a portion of fruit makes our kids, healthy and wise 😀 Also, a bento need not be perfect nor beautiful, it just has to be made with a lotta love!
David loved these new charaben that he asked for them for dinner. He ate both of them in one sitting! I told him the sandwiches had Cheez Whiz and his eyes lit up. He is after all a cheese monster just like me hehehe. A Bento box  really takes time and effort but trust me, the reward is when your kid goes home proud that he finished his lunch. After seeing that, you will always find ways to make your kid's baon a little extra special 😀
For more bento baon ideas, sign on to www.cheeseanything.com there is a gallery there of awesome lunch ideas via the Recifeed. Check them out and get inspired 😀