Update:  Manilamommy.com readers get Php 200 off from the registration fee! Thanks Manila Workshops!
Getting my head around managing family's finances is one of my goals this year. I was lucky that I was able to attend  AXA Failproof seminar and that workshop made me realize more than ever the value of Financial Quotient and in proactively talking about money with your husband and family. Money is a touchy subject really and so having the right tools to handle it is key.
If you're considering trying to dive deeper into your family's finances then ManilaWorkshop's Ready To Be Rich: Family Finances is just for you. This is the second run of the seminar by Fitz Villafuerte. He writes personal finance tips at FitzVillafuerte.com  a best business blog winner of the Philippine Blog Awards and is considered as an expert in personal finance by MoneySense Magazine. I'm hoping that my schedule for Nov. 9 clears so I can attend because it seems very interesting.
The workshop involves hands-on and interactive activities on how attendees can properly manage and balance a family budget, plan for their kids' education or their parents' retirement while ensuring that they still have money left to invest for them to achieve their financial goals.
Some of the topics that will be discussed include the zero-based budget system for households, money lessons for kids, personal finance strategies for married couples, sandwich generation survival tips and many others.
The workshop is for:
• Couples who are finding it hard to budget their income to sustain the needs of their family
• Breadwinners who are taking care of their parents, or involved in elder care at home
• Single parents who are finding it hard to achieve work-life balance
• People who have relatives who depend on them financially
• Newlyweds who would like to know how to become financially independent from their parents.
This workshop will be on November 9, 2013 (Saturday) from 10am to 4pm. The venue will be at Studio SnR, 3/F Millenium Plaza Building, Meralco Avenue, Ortigas CBD, Pasig City.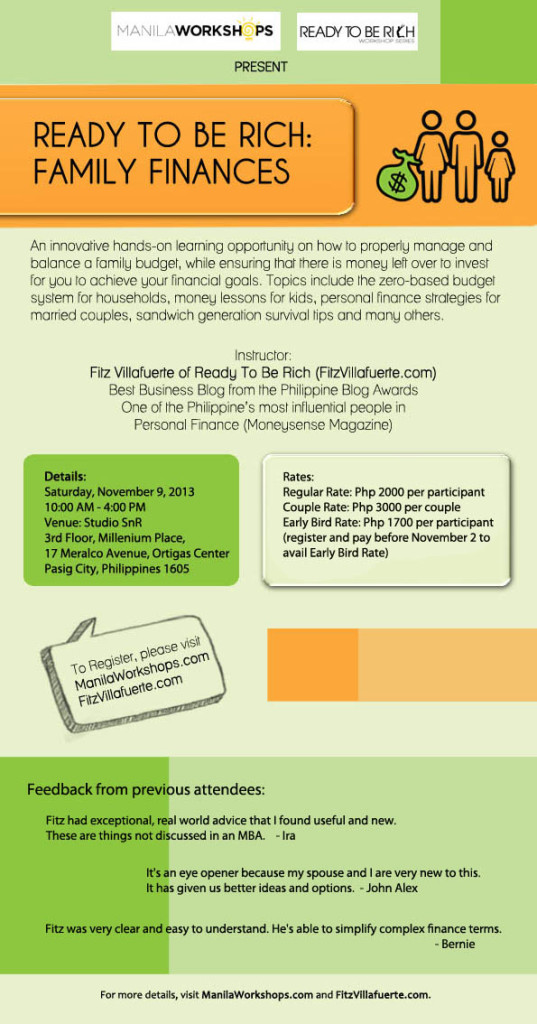 Are you ready? Sign up HERE