Back in 2012, Dan and I were about to fly off to Singapore to watch the Foo Fighters when the band postponed the concert and the rest of their Asian leg because Dave Grohl, the band's frontman had issues with his vocal chords. If w?as a huge hassle but we decided to push through with the trip. We bought one more ticket for David and we had an instant family vacation.
Flash forward to 5 years. Around May 2017, the band announced a few dates in Asia and yep they had a date for Singapore. I waited for the pre-sale and bought two tickets in front of the stage. It was a pikit-mata moment but we had to do it. We've both been fans of the band since their first album was released and have never stopped loving their songs. Their tour was in support of their new release, Concrete and Gold.
So on Aug. 25, we flew back to Singapore and on Aug 26 at 3 pm, wearing our concert shirts, we lined up to see one of the greatest bands of all time!!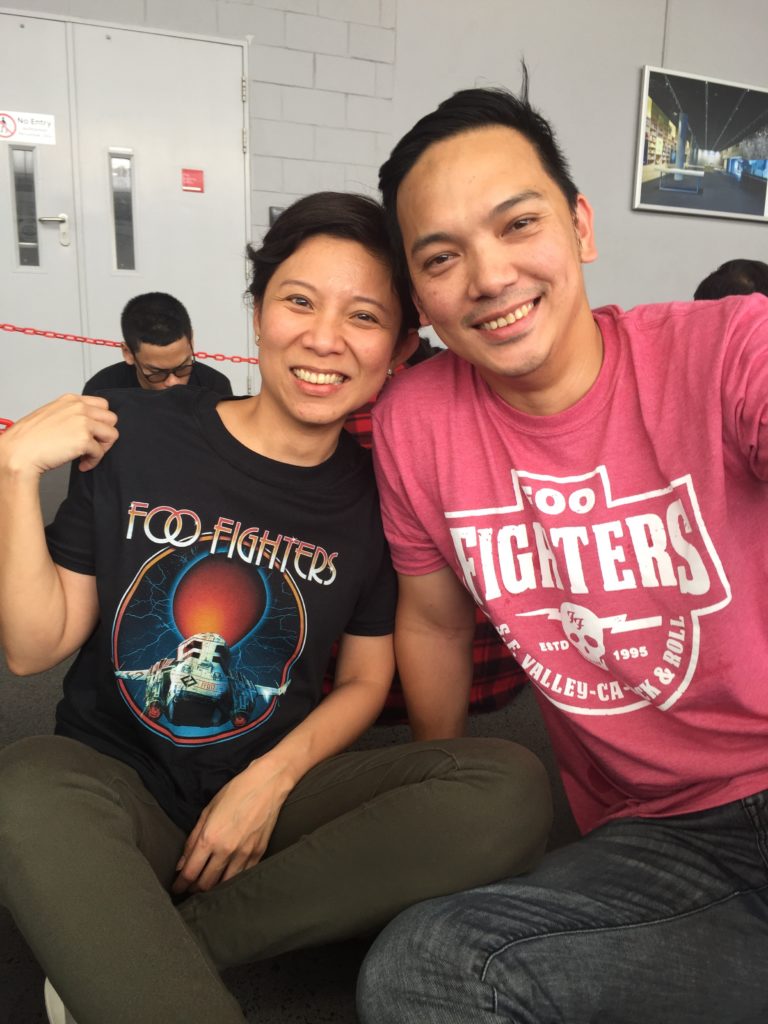 Di naman ako masyadong excited.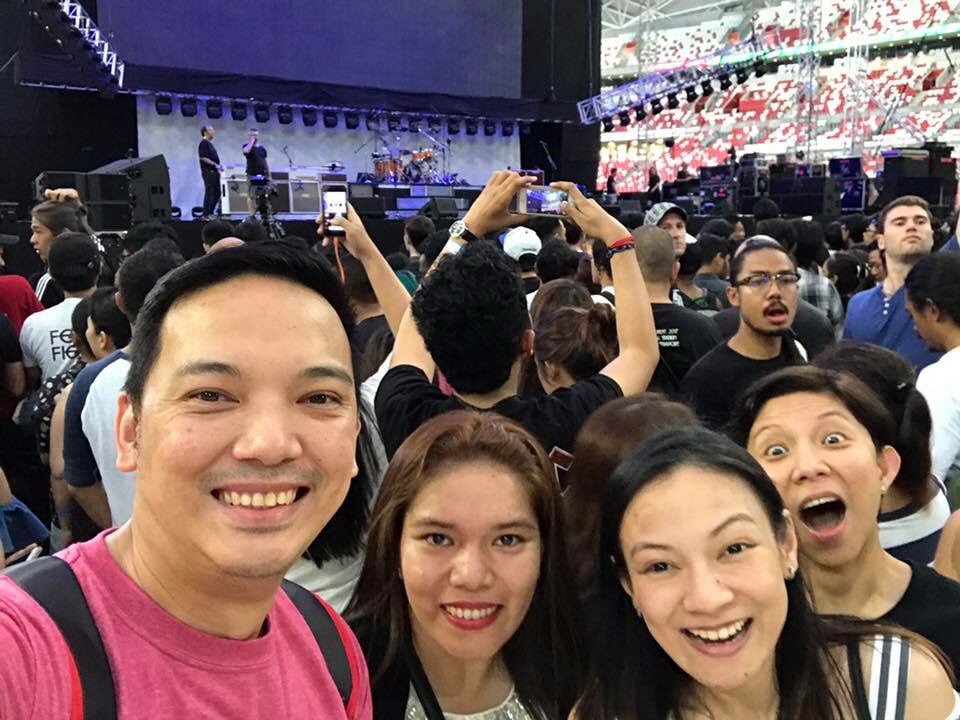 I was really calm. Promise.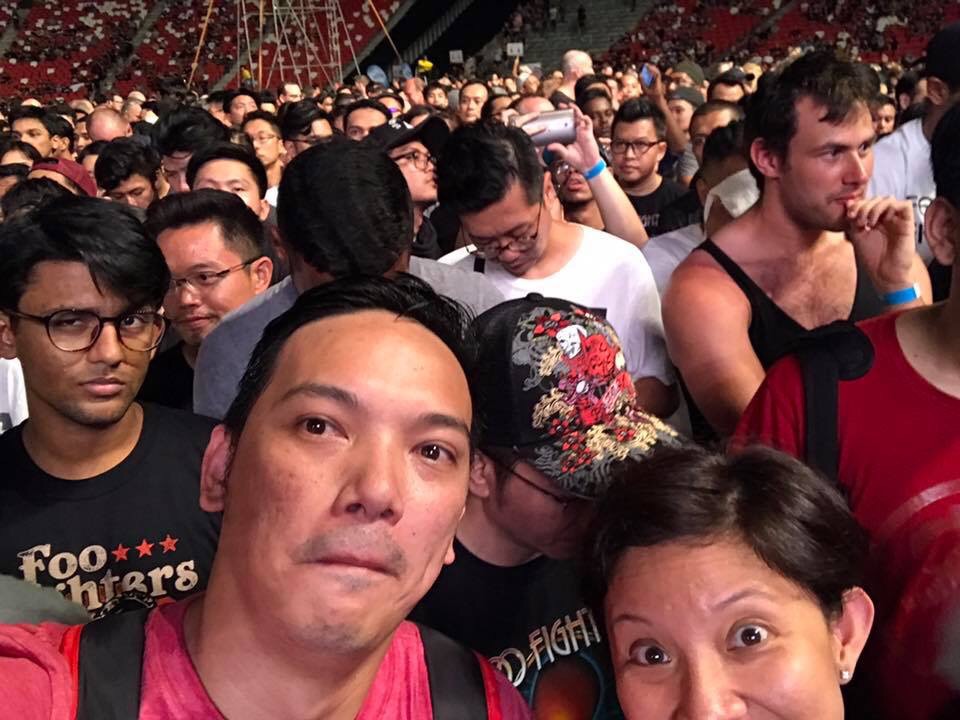 Then the lights dimmed, the band came out, the crowd went berserk! Dave Grohl screamed into the mic "25 years, it's been 25 years!!" Dan warned me about the "push" from the rush of the crowd who are trying to get close to the front of the stage. The last time the band was in Singapore was to promote their self-titled CD which had 12 songs. "Now we have a 100 songs!!" Dave Grohl growled and the fans howled. I felt the big push and I had to balance myself so I won't trip while I was rushing to the front of the stage. The push moved me and Dan from the 8th row to the 4th.
Ang gulo, grabe. I couldn't complain though. I mean look at the view.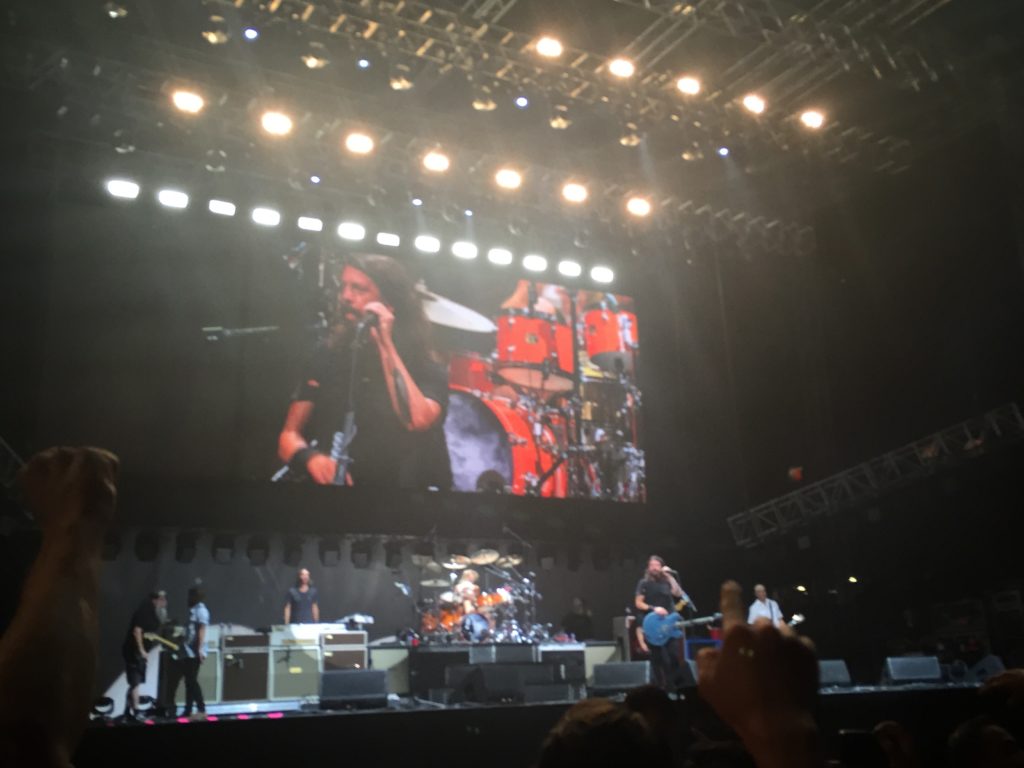 It was non-stop mayhem in the mosh pit. I jostled with topless, half-naked middle-aged men who were dripping in sweat. They danced wildly and their arms were turning like windmills in a crowd that was already super smooshed together.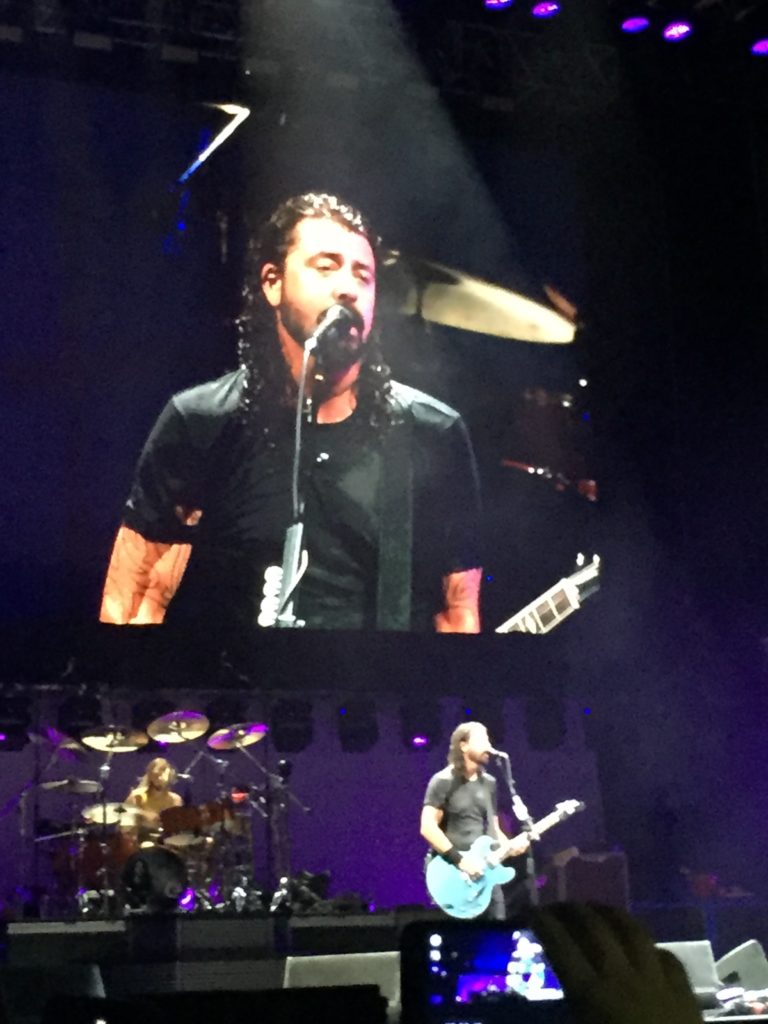 Pero kebs! I sang my heart out with each song the band played.  I would sometimes stop and look at Dan and scream "Grabe sila! Ang galing nila!!"
Dave Grohl sang "Big Me" with just his guitar  in one of the band's first breaks. He sang, paused and allowed the crowd to sing back to him.  When this song came out in the mid-90s, I recorded the video in our VCR at home so I can watch and listen to the song again and again. I eventually bought the cassette tape when I was able to save up money from my weekly allowance. 22 years later, kinikilig pa rin ako when I hear it.
When "Pretender" played, the crowd roared and everyone got wilder! Dan had his arms around me all the time to protect me but we were smooshed and pushed again. I screamed at the guy behind me "stop pushing!! there's nowhere else to go!!" I also screamed "don't step on me!! I'm really small!!" I don't know what they thought of me but I just wanted to get through the concert without being crushed! Haha!
I went back to sing-screaming and jumping. I was not the only mom in that mosh pit there was a woman in front of me who got pushed to the front and now couldn't find where her kids are. We just looked at each other shrugged our shoulders and just sang along with the band.
Water in plastic cups were passed around and I drank from them because I was on the verge of dehydration. A few people passed out and were carried out from the pit. I got stepped on and I was wet from my own sweat plus the sweat of our neighbors in the mosh pit. Dan's pants were soaked through. It was mosh pit pawis!! Kadiri yet awesome at the same time!
The band played for a solid 2 hours. They went through 19 songs in a greatest hits playlist. Dan was in tears when the opening riff of "Hero" started playing.
There were band intros and funny back and forths when the band had a few breaks in between songs. Dave was the master of ceremonies in a huge rocking party.
And then Dave Grohl said "We don't say goodbye, we say Everlong"
I lost it. I truly lost it.
If "Big Me" had me in tears, I was close to bawling with "Everlong" The band ended their perfect set with one of my most favorite songs ever.
If everything could ever feel this real forever
If anything could ever be this good again
OH MY GOD. I couldn't believe that I was singing this song with the band live along with 25,000 people. This song was released in 1997 and I have carried it with me all throughout these years. "Everlong" cemented my membership in the Foo Fighters fandom.
Then the band bid their goodbyes.
I told Dan "we survived!! we survived"
Would we watch Foo Fighters again? Hell yeah.
Would we watch it from a mosh pit? Di na! For a 39-year old mom of two, once is enough. Pushing away people so they won't accidentally stomp on me gave me bruises but the jumping and screaming was good cardio. What I could not get over though was the pawis, not mine but everyone else's which ended up on me too haha!
My arms had bruises and my legs and feet hurt. Dan and I almost finished a tube of Tiger Balm at the hotel when we returned from the concert. My voice was hoarse, and I was drenched in sweat. I loved every minute of it.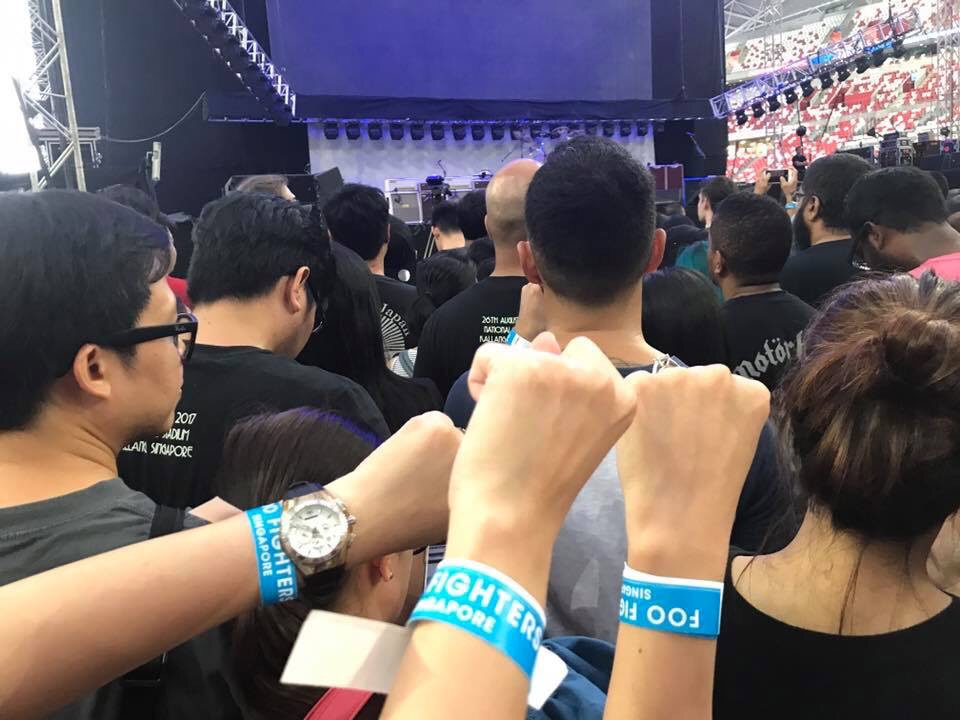 The mosh pit may not be a place for me anymore but who knows…maybe if Pearl Jam decides to come to Asia….*pikit mata*