Party ba kamo? What's a party without sounds?! ("sounds" talaga, I sound like a Tita hahaha) Because it's Halloween and because I love putting together playlists, here's one that's sure to get the kids grooving and the adults dancing 🙂
I made this playlist for our Oreo Better Me Halloween Trip or Treats last Monday and Tuesday. We dressed up as characters from Star Wars from the event. I went as Princess Leia, Dan was Han Solo and David and Noah were Jedi masters!Stanley Ong took our photo and it was such a fun shoot! Hello ipapa-frame ko ito haha. It's a good reminder din for the kids to be silly and lose themselves in a fun tradition once in a while. I really figured that if I want the kids to be game and to join seemingly silly events then Dan and I should be game too. It wasn't hard having David dress up in his Jedi Master costume because he saw me and Dan in our get-up too. He really got into the spirit (sometimes it was TOO much spirit) and was waving his light saber all around Hotel Kimberly hehehe. The kids ate Oreos while Stan took our pics. Even Noah was munching on Oreos too (his OT will be very proud at how he held and munched on his cookie hehehe)
This was also the first year I ever really dressed up for Halloween (as in effort ha) and I have to admit that it was really fun! In our office, I was Queen Grimhilde naman from Snow White. I'll post about the how-to's of our costumes in another post but here's our first official Halloween family pic! Thank you so much  Oreos for making this shoot and the Halloween Trip or Treats event happen!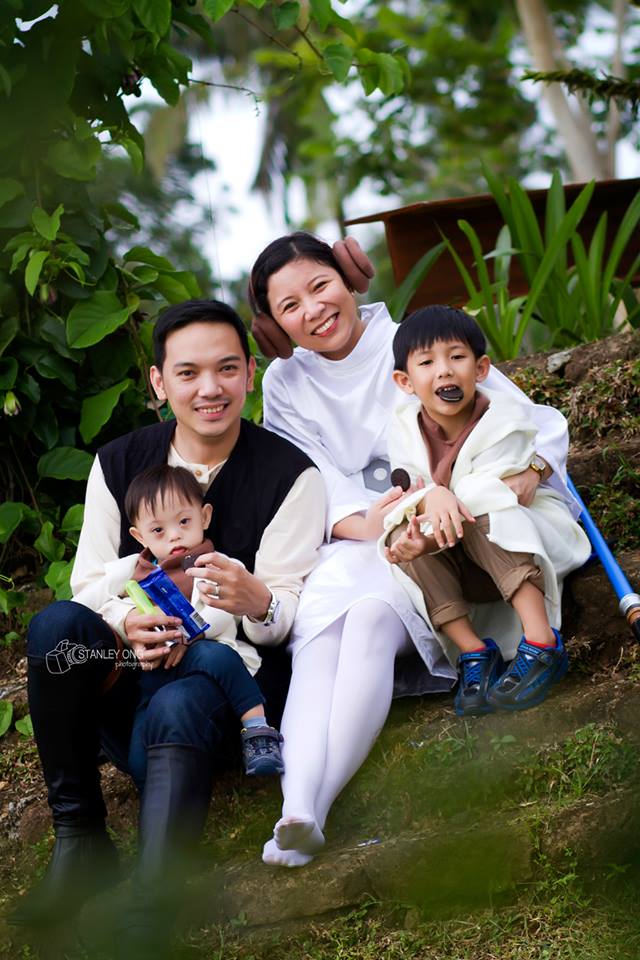 Aaaaand without further ado, here's the playlist! Click play  to listen to the tracks.
Here's the full listing:
Ghostbusters – Ray Parker, Jr.
I Want Candy – Bow Wow Wow
Purple People Eater – Countdow Kids
Trick or Treasure  – Jake and the Neverland Pirates
The Addams Family – TV Themes
Monster Mash – Halloween Hit Factory
Scooby Doo Where Are You – TV Themes
Rattle Yer Bones– Jake and the Neverland Pirates
Woolly Bully – Various Artists
Thriller – Michael Jackson
Kuya probably played the Ghostbusters theme a hundred times already. He's currently playing a Ghostbusters iPad game and whenever I would play the playlist we would never really go to tracks 2 onwards because we'd get stuck on the Ghostbusters theme! He would always bob his head at the opening tracks which is always fun to watch. While making the playlist I made sure to also include tracks from shows the kids know. The playlist has two songs from Jake and the Neverland pirates which I was really proud to have found. I told Kuya about it and his face lit up when he heard the familiar pirates singing about "Tricks or Treasure". For the adults I included the theme songs to the Addams Family (*snap *snap*) the theme of Scooby Dooby Doo and other classics. The playlist ends with the ultimate Halloween song "Thriller". I tested the playlist on the family to get their feedback and to see if the songs really created a fun mood for Halloween.
My playlist is public so just search for "Halloween Kiddie Playlist". You can save this as your own playlist or follow it. If you have Spotify Premium, you can make this playlist available offline so that you can play it anywhere and anytime even without an internet connection.
So there, I do hope you enjoy the playlist we've put together! Awwwwooo!! Happy Halloween!!!