Hallo there friends! I'm doing a quick post just to let you know that Best Buddies Manila is doing an online fundraiser for our ambassadors Jess and Vico. Every  year, Best Buddies holds its annual leadership conference in the US. It's a huuuge gathering of all Best Buddies chapters all over the world. I've only seen the videos but from what I've seen it's a fun, enriching event that hones the leadership skills of Best Buddies staff and ambassadors. There are a lot of fun activities and of course networking opportunities for the different chapters. As a small chapter in a 25-year old organization, we are soooo excited about the chance to send off Jess and Vico to represent our young little chapter.
The video below is a speech from one of the organization's ambassadors. William Brewer is from Canada who rocked the podium at the 2012 Leadership Conference. It's 14 minutes of pure inspiration. He also talked about how he was segregated from his peers in school. Inclusion should never be a privilege, it is a right and I share William's dream when kids of ALL abilities are in one room learning together and from each other.
Now wouldn't it be awesome if  Jess and Vico can also have this chance? So that's where we need your help! We would love for Vico and Jess to be in Indiana with their peers and mentors but since we are a purely volunteer org, we need to raise funds for these two young ones. How? Just go to this link Best Buddies Kintera  
The site is secure and guaranteed to never ever spam you! The $35,000 amount on top of the page though is for the entire Best Buddies Organization.  What BB Manila is raising is at the right side of the page: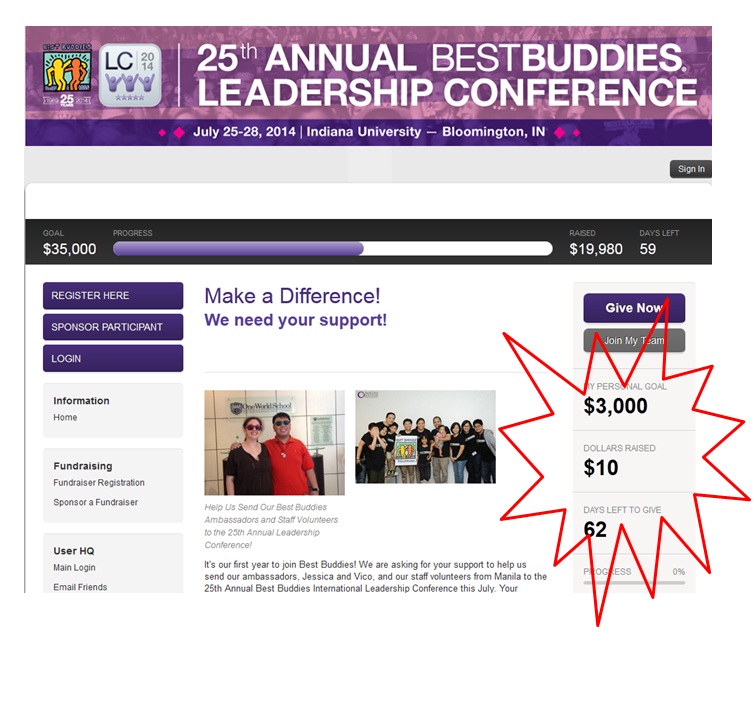 No amount is too small! Please help us make a difference!  Thank you so much!!
The link to donate again is HERE. SALAMAT NG MARAMI!!
To know more about Best Buddies, go to www.bestbuddies.org
Like the Best Buddies Manila Page HERE