You've probably seen this video being shared on Facebook.
It's called Raclette which basically is cheese heaven. Raclette is a dish and a type of cheese that has Swiss origins. Dan's boss who is Swiss German described Raclette as a traditional dish wherein cheese is melted over a special heater (just like the one shown in the video above) and is poured over potatoes and small pickles. I read somewhere that Swiss cow herders in the olden days would heat up a slab of rock which they would then use to melt the cheese and then they'd scrape the melted cheese over bread. What started out as a meal to sustain farmers over their really rigorous days have now become a really fun way of making dinners so much more entertaining.
I received my Oster Mini Grill Raclette to test a week ago and I couldn't be more thrilled. We're all cheese lovers here at home and to actually have a device that would replicate what's being done on the Insider video made us soooo excited!!
I did a brief unboxing video. Brief kasi, the unit is just so compact, you really don't need to assemble anything.
So when you buy the Oster Mini Raclette Grill, you get the following:
A non-stick grill top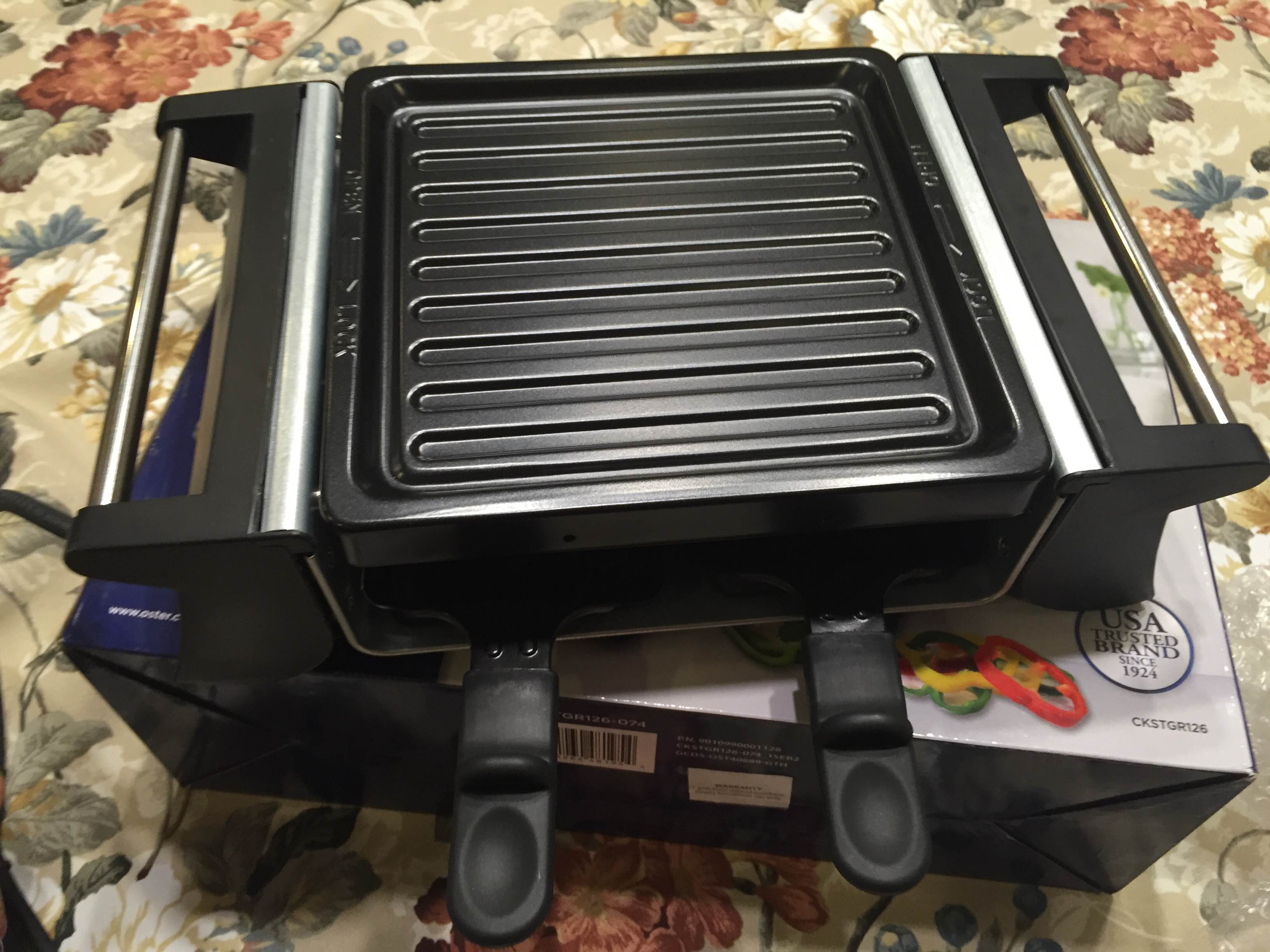 4 melting pans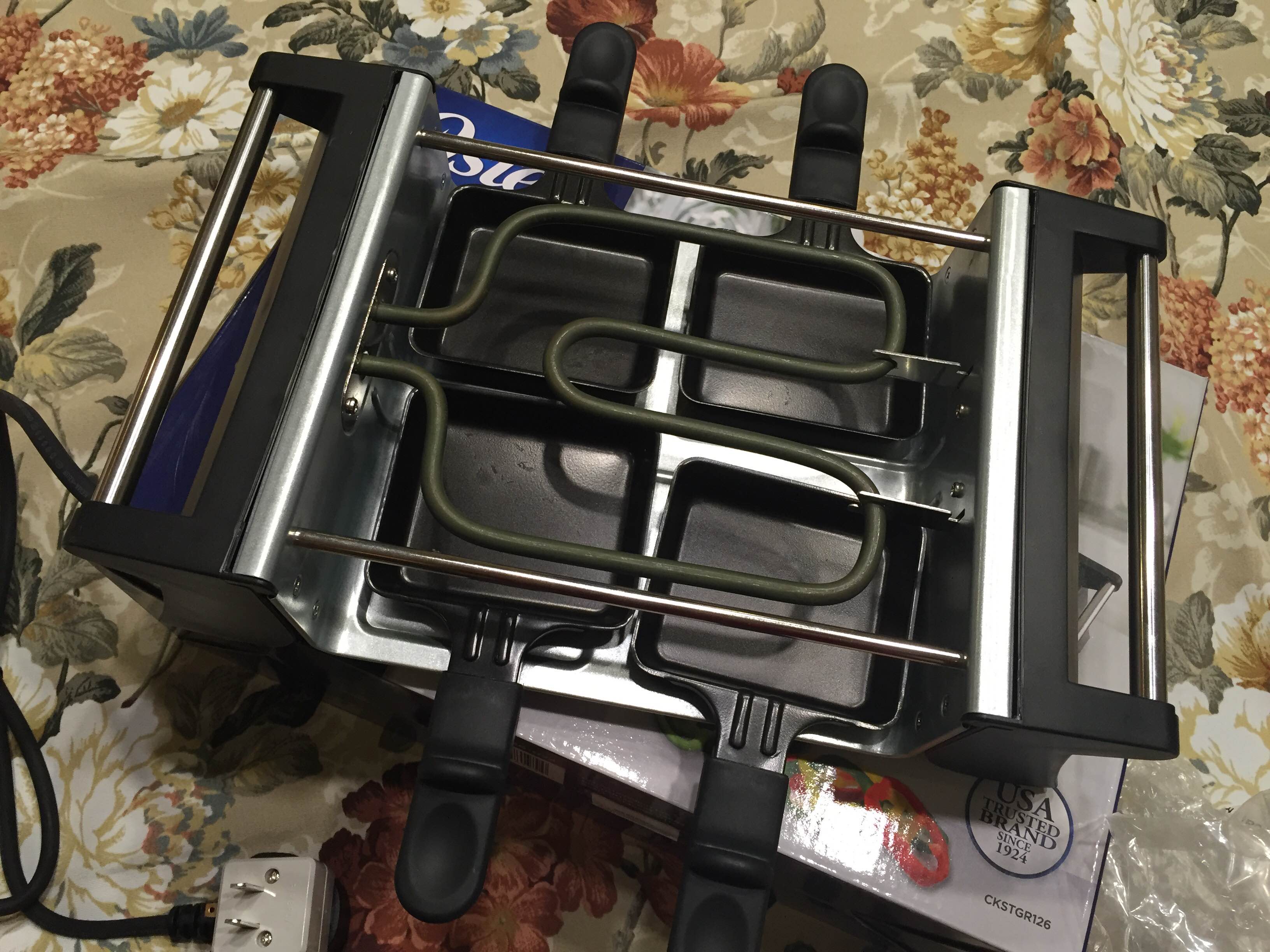 You also get an adapter. It's really just plug and play!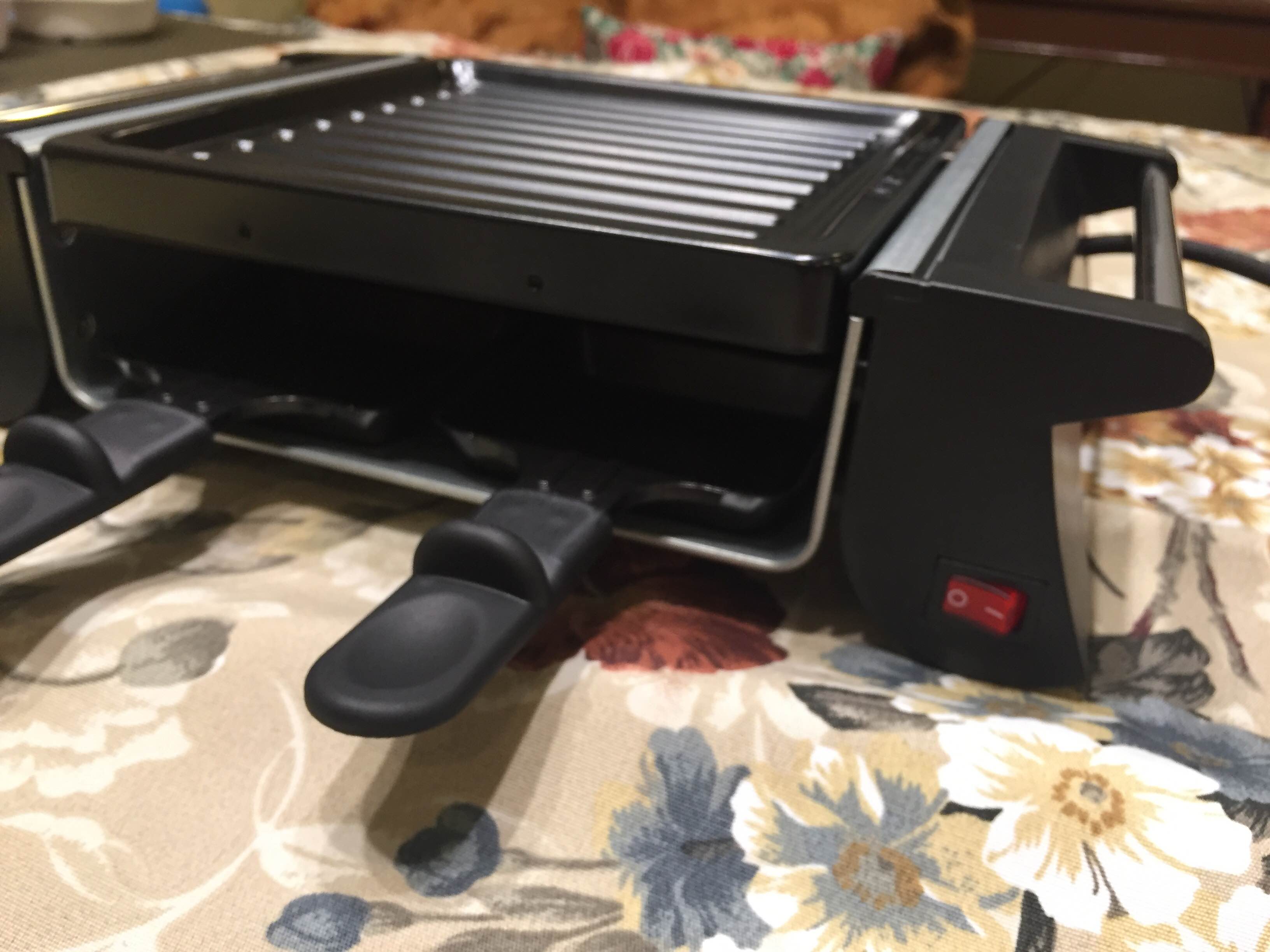 The real work (if you call it that) is assembling the ingredients of your Raclette night!
So here's what we had for our special dinner last night.
1) Cheese: Raclette (bought at Rustan's Greenbelt). Dan's boss said that Emi is a really good brand of Raclette so I'm happy I found one at Rustan's Greenbelt. I bought a wedge lang out of this huge half wheel of cheese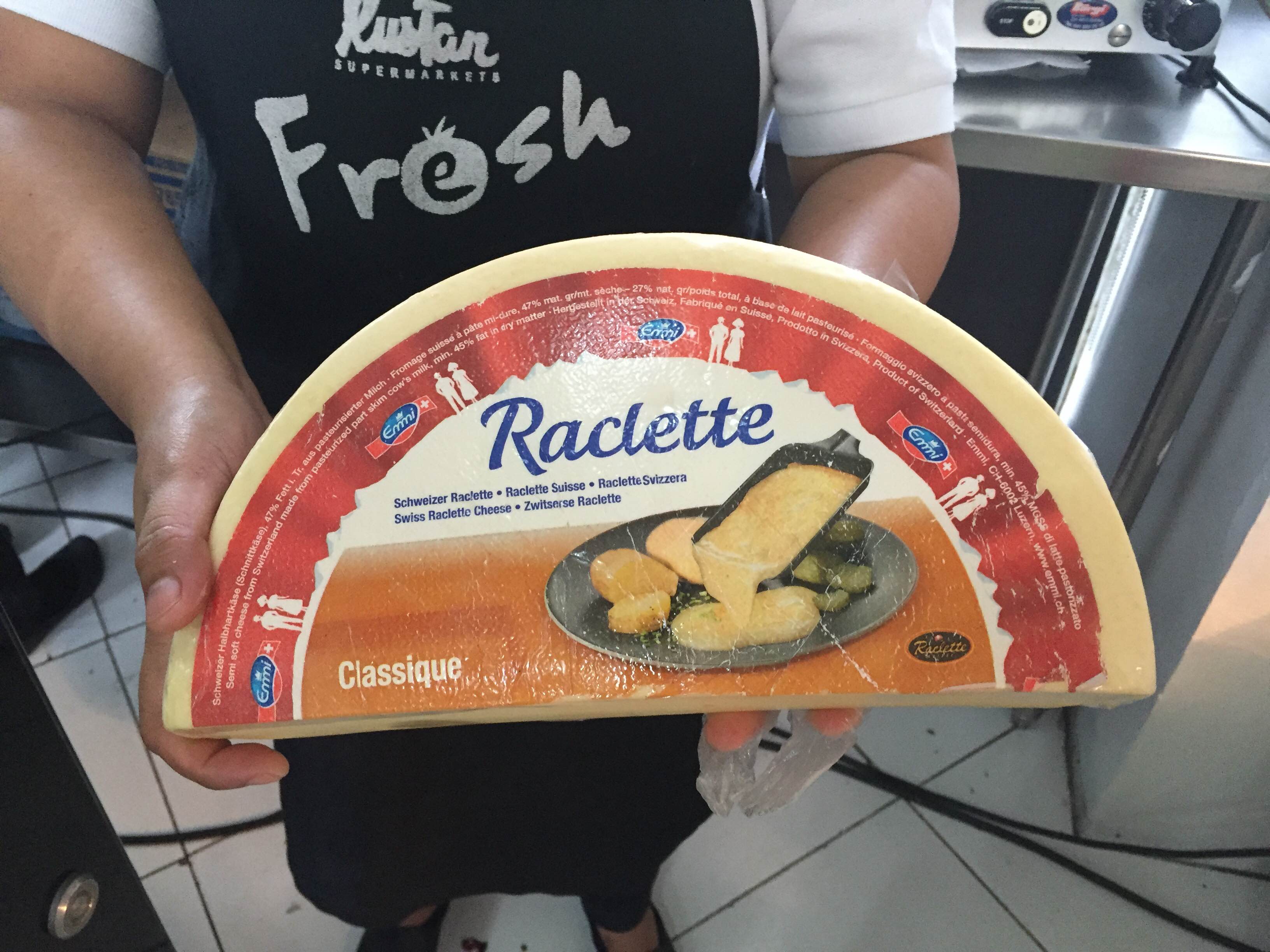 2) Clockwise from left: Raclette, roasted potatoes, a plate of deli meat (pancetta, pastrami and lyonner) and kani salad. On the grill are chicken and pork kebabs with bell peppers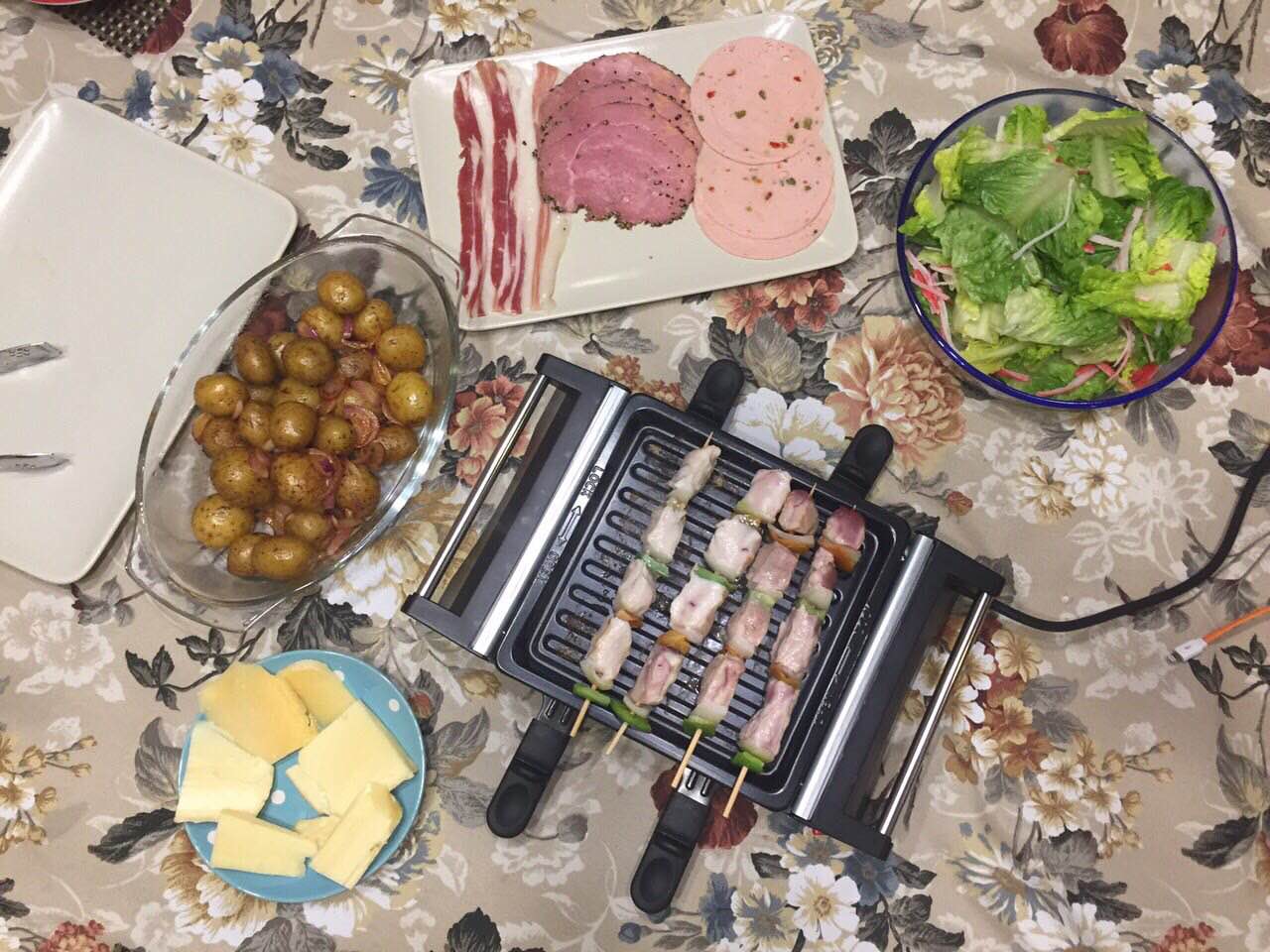 Basically yan lang haha. Us Pinoys love potluck dinners right?  So hosting a Raclette night is perfect because you can just ask your dinner guests to bring an ingredient (and a different type of cheese) they want to grill for Raclette night.
Using the melting pans is super easy! Nakakakilig when you hear the cheese sizzling when it hits the pan haha!
(apologies for the background music, Noah was watching nursery rhymes and timing lang na nakakatawa yung music na naging background ng video haha!)
On your plate, assemble your potatoes, veggies and meat. Once the cheese is melted, just pour the cheesy, gooey Raclette. Ang sarap!! Dan and I ate the equivalent of 6 pans of melted Raclette. We personally love it a bit toasted. Dan loves it most over pastrami, I found the lyonner so much more delicious. We both agreed that panchetta and the toasted cheese was a perfect combo.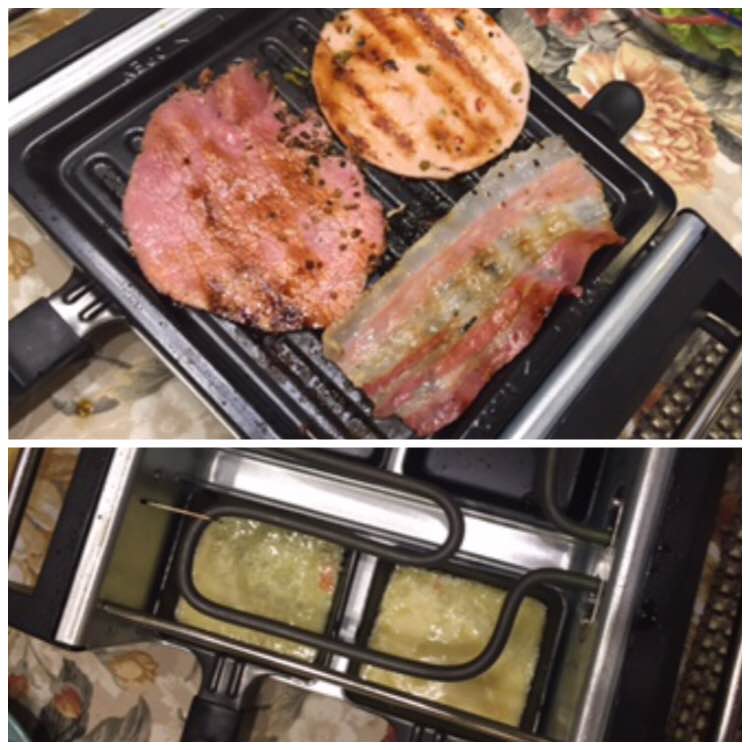 Dan's pastrami and raclette 🙂 YUM!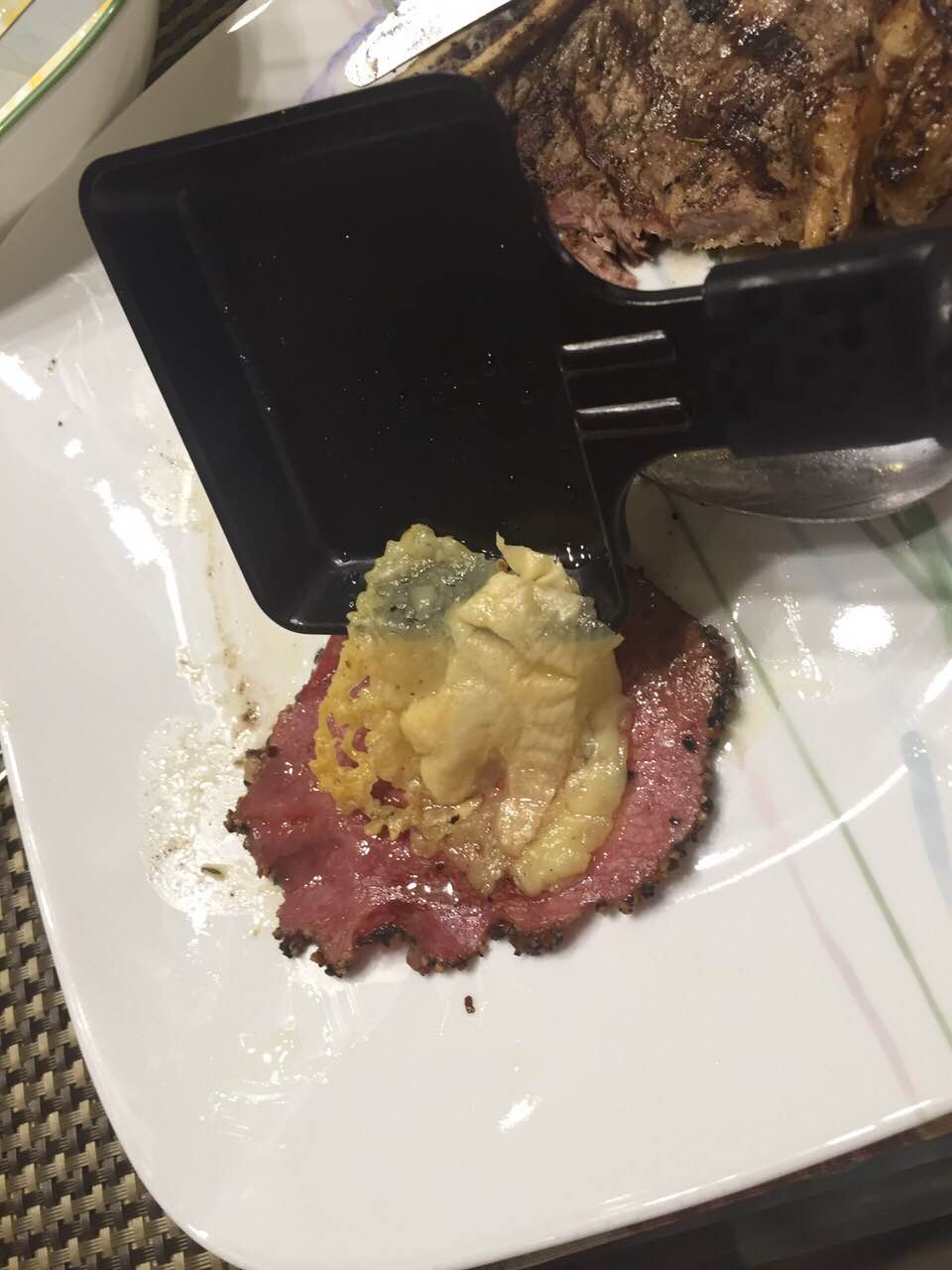 Pero the best talaga is the toasted Raclette over roasted potatoes!!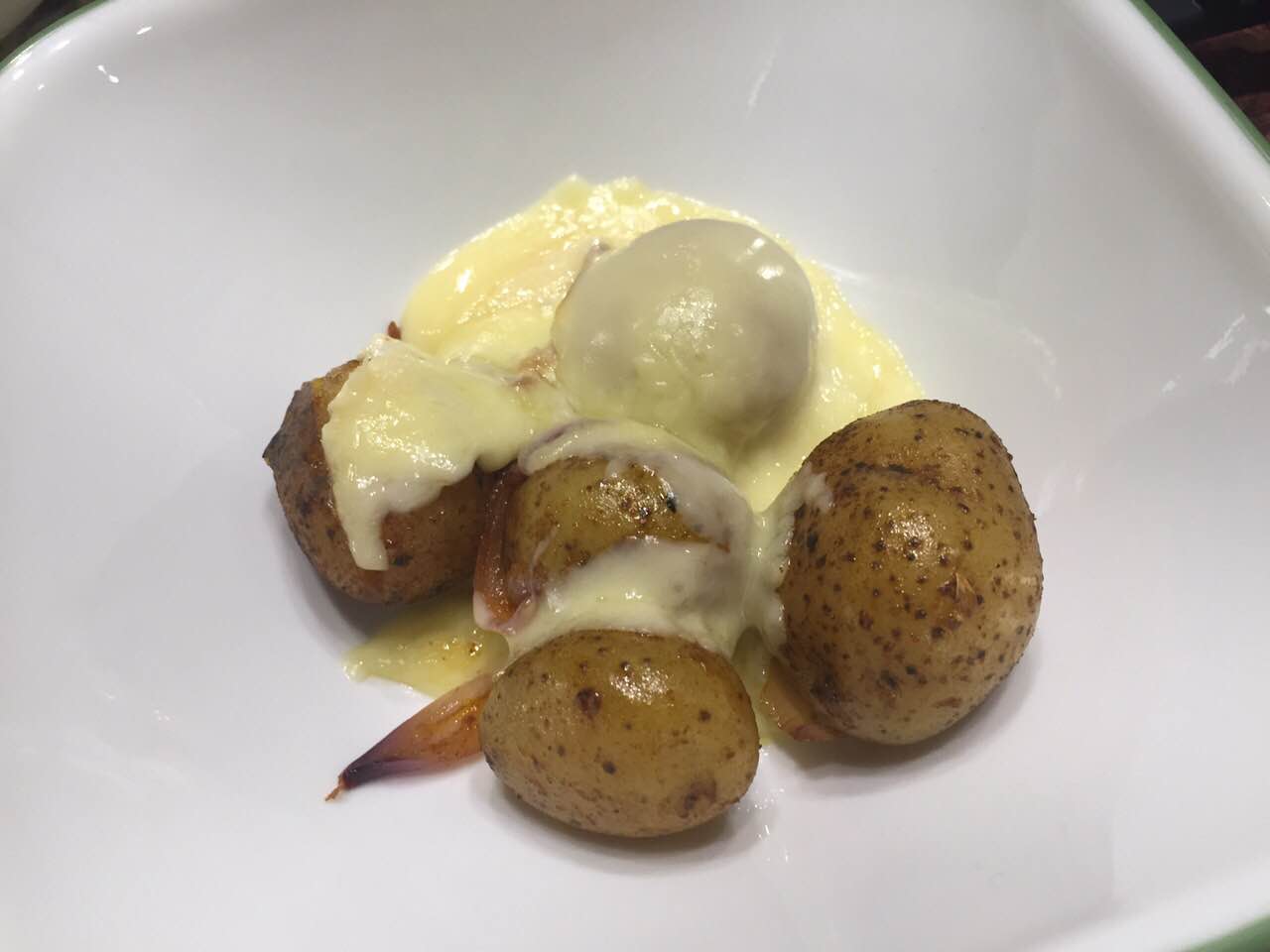 The Oster Mini Raclette Grill is super fun and is one appliance that I'm glad to have in our house. One warning lang though, Raclette is a stinky cheese so be sure to grill with windows open haha!
The grill sells for Php1,945 and is available in Lazada, Anson's, Landmark, Rustan's and Coleman stores.
Buuuut here's your chance to throw that perfect house party with Oster Mini Raclette Grill! I am giving away one grill to a lucky Manilamommy reader!!  Just follow me on Instagram (@manilamommy) because I will be announcing the giveaway rules on Monday! Woohoo!