Hi everyone! I promised in my post about Expo Kid that I'd be writing about the summer stuff that we bought for DW. I was intent on buying natural, safe products for DW as an alternative to the store-bought ones that unfortunately contain chemicals that could prove harmful to babies in the long run.
At the risk of sounding like your chem teacher, let me rattle off some ingredients that we should try to avoid in sunscreens (and in other products in general): parabens, phthalates, PEG's, propylene glycol, SLS, dioxanes, synthetic fragrances and oxybenzone, an endocrine disruptor which can affect the nervous system. One other thing that we should watch out for are nano titanium and zinc dioxide particles. Current research has shown that these particles can slip through the skin's outer layer which might affect the bloodstream. The amount of zinc that can pass into our bloodstream might be negligible at this point however. These nano particles are also said to be much more reactive to UV light which can accelerate components in our body affecting our protein and DNA.
Of course, these findings are still inconclusive and science is still finding out more each day about how these chemicals affect our bodies. As a precaution, most doctors still recommend slapping on the sunscreen but when given a much safer option, let's stay away from the ingredients I listed above. Safemama recommends sunscreens that contain Micronized Zinc or Titanium, which is found in most natural sunscreens.
With these in mind, I set out to find a booth at the Expo Kid that was selling Indigo Manila Products. I found about this line when I was pregnant. They were always recommended by fellow moms in a parenting forum that I'm a member of. I guess it's safe to say that they are one of the mompreneur pioneers in providing healthier options in caring for our babies and for our families.
I bought the 150 ml of the sunscreen. It was Php360, I hesitated at first but I still shelled out the cash because I really wanted to try the product. The ingredients which are clearly listed in the label include Beeswax, Grapeseed extract, Grapeseed Oil, Zinc Oxide, Vitamin E, Lavender and Chamomile Oil. Yep, the list includes Zinc Oxide, I'm not sure if it's micronized zinc or not but I guess it's worth to ask the yummy mummies about this right? (that's my assignment for the day then haha)
The product smelled good and the texture was rich, if a bit coarse. However when we applied the sunscreen onto DW's skin, it didn't spread at all! BDW described it as trying to spread hardened margarine on a piece of toast. It could take more than 5 minutes to get your kid covered from head to toe with this product. And 5 minutes is like 5 hours to a baby who wants to jump in the pool RIGHTNOW!
We've used the product three times already and spreading the lotion really does take time. The upside however is knowing that your kid is protected the natural way. I just hope that the yummy mummies at Indigo make the product go on smoother for babies.
Here's a pic of how the lotion spreads like. This is my wrist:
Iba diba?
The good: organic, natural, recyclable packaging and the sun block smells good!
The bad: Spreads like (well see for yourself), pricey
For a complete list of safer sunscreens, here's SafeMama's Sunscreen Wallet Card . Remember to visit SafeMama first before downloading the card. This list is live and could be updated by the time this post is published 🙂
If you have any questions, please feel free to comment below!
Have a safe(r) summer everybody!!!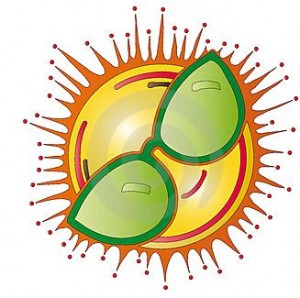 image from here
UPDATE:  Indigo Baby's Sun is  Shining has been reformulated and I did another review HERE