Last Monday, during the Chinese New Year Holiday, David and I went with some of the families in his class to check out Jump Yard. I've been reading about this in my Facebook feed and I wanted to try it out so the Monday gimik was perfect.  In a nutshell, Jump Yard is FUN!! However there are some things which could still improve the overall most notably, the queuing system for the waivers and payments.
Jump Yard is touted as "The First and Biggest" Indoor Trampoline Park in the Philippines. It's situated where the old Blue Whale Grill at Fun Ranch was. The trampoline park is 2,000 square meters big!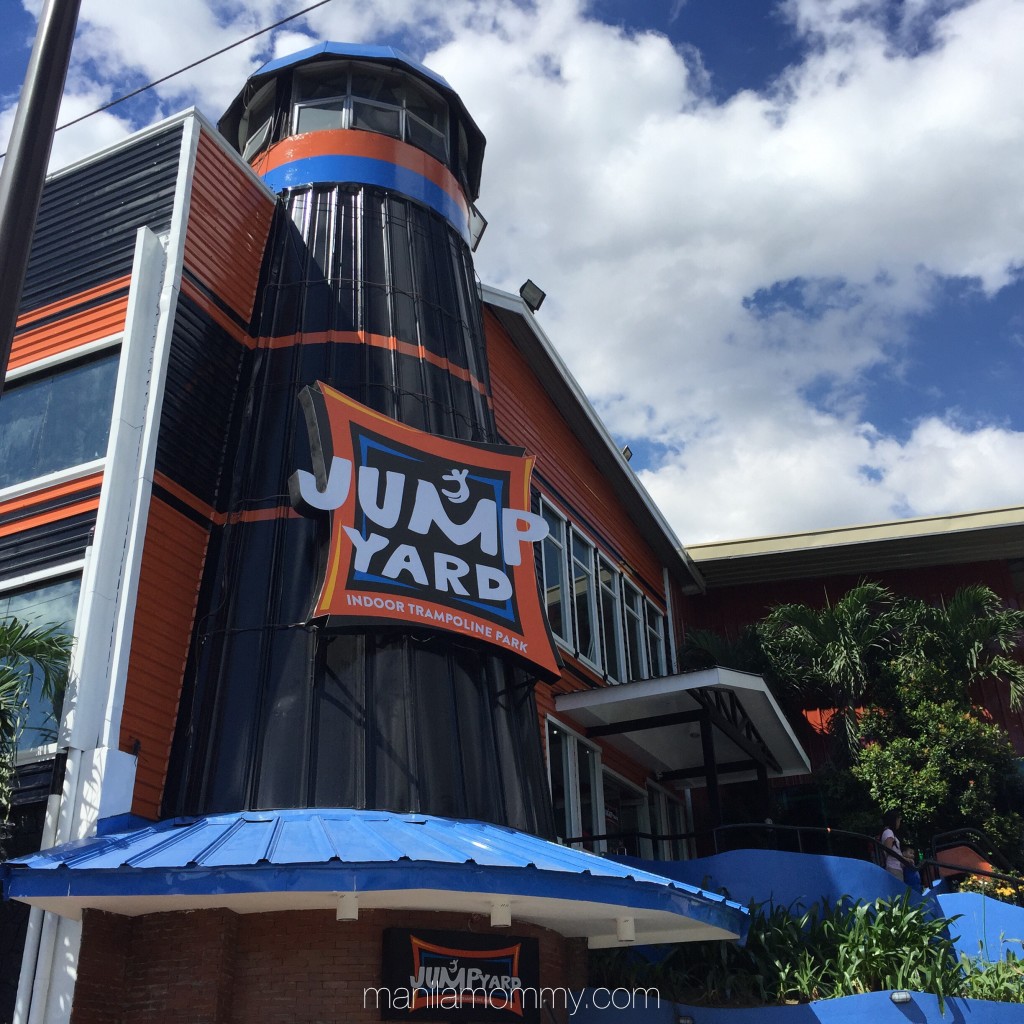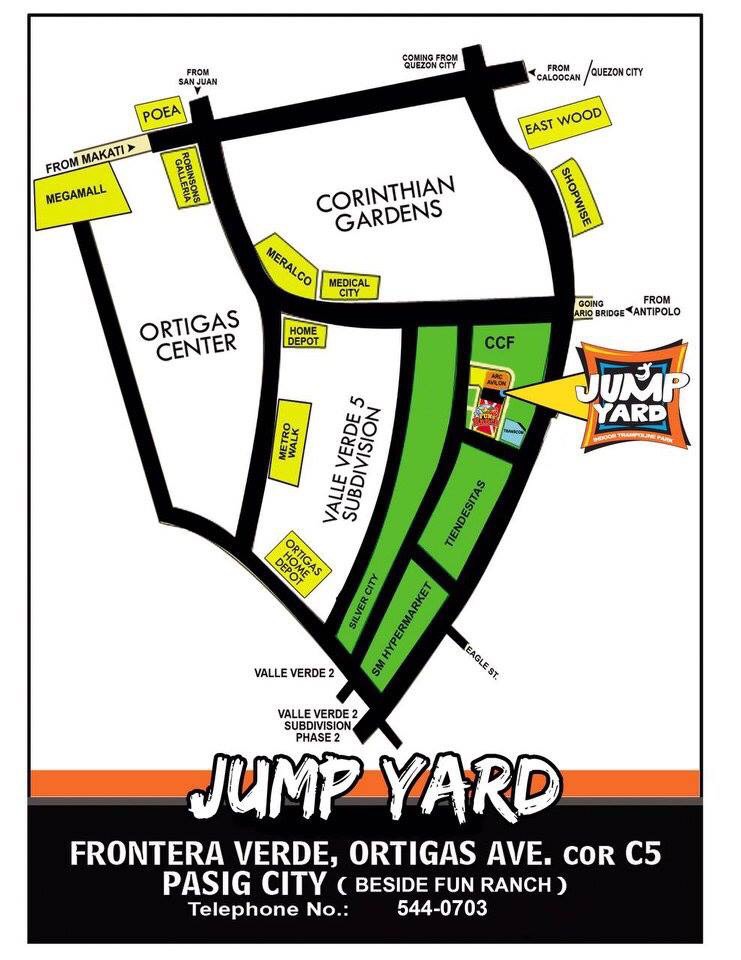 When you go into Jump Yard, you need to go up to the 2nd floor where the registration and cashiers are. You need to sign a waiver (which is already good for one year) , pay the entrance then buy the grip socks (which you can reuse naman). The entrance fee is Php 300, socks are Php100. Guardians can go in for Php100.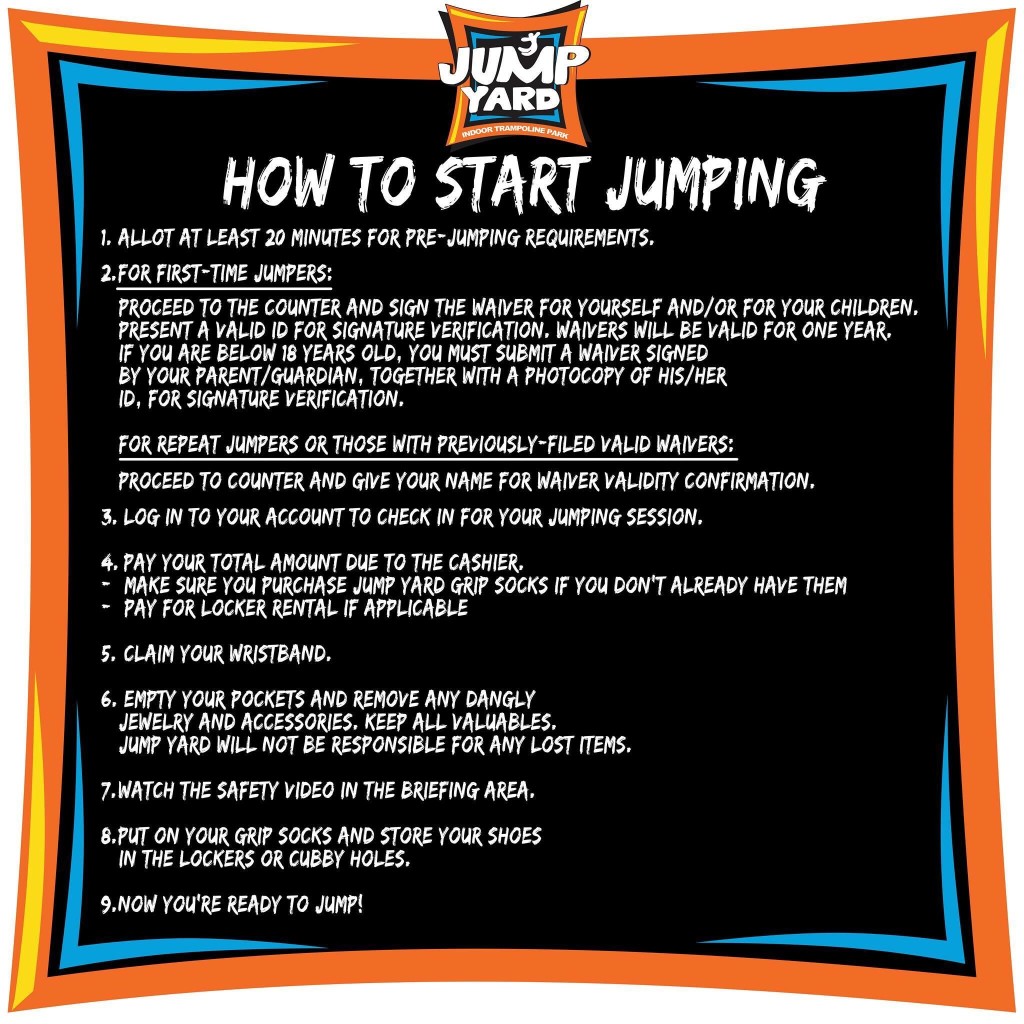 Up to 100 "jumpers" can be accommodated per time slot. Although we came in a bit past 10, the lines were so long that by the time we got to pay the 10:30 slots were all filled up. Here's the schedule of all available time slots you can join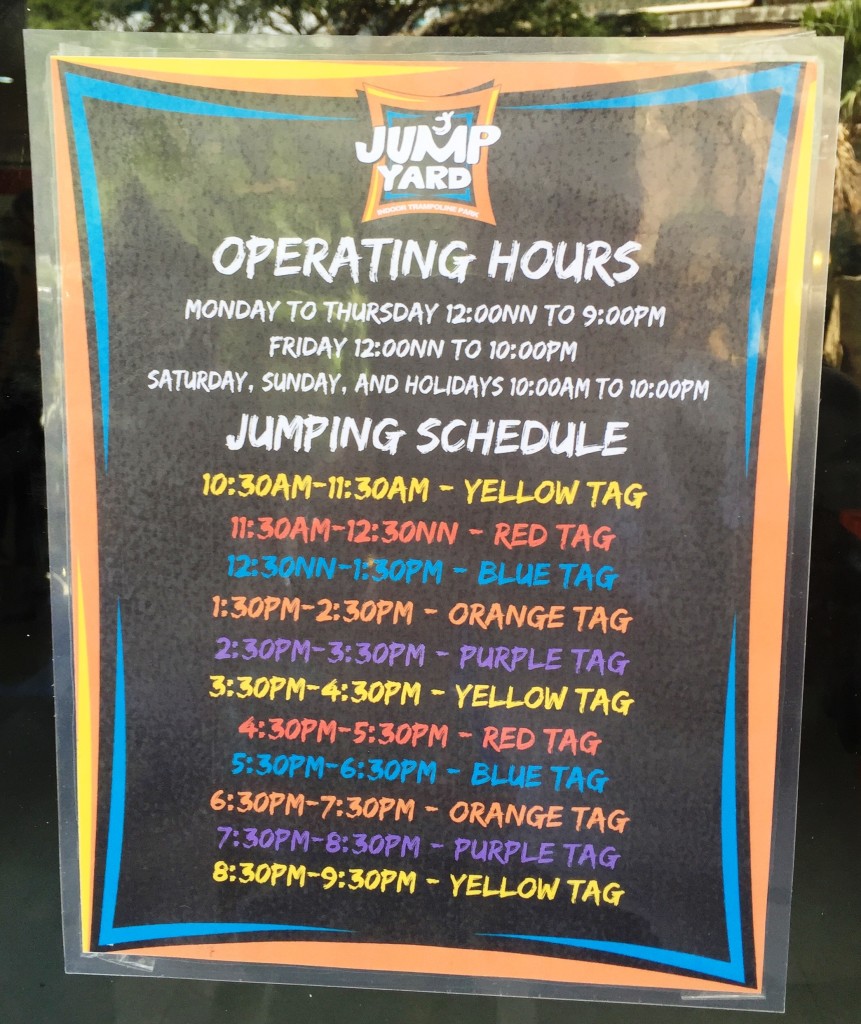 This is the tag we were given. Red for 11:30-12:30

These are the grip socks we bought. They have special rubber markings on the soles at true enough may grip nga talaga hehehe I have to check though if the rubber  will last after one wash but it's nice that this is available because ordinary socks will not work with the trampolines. It will also keep you and the kids safer.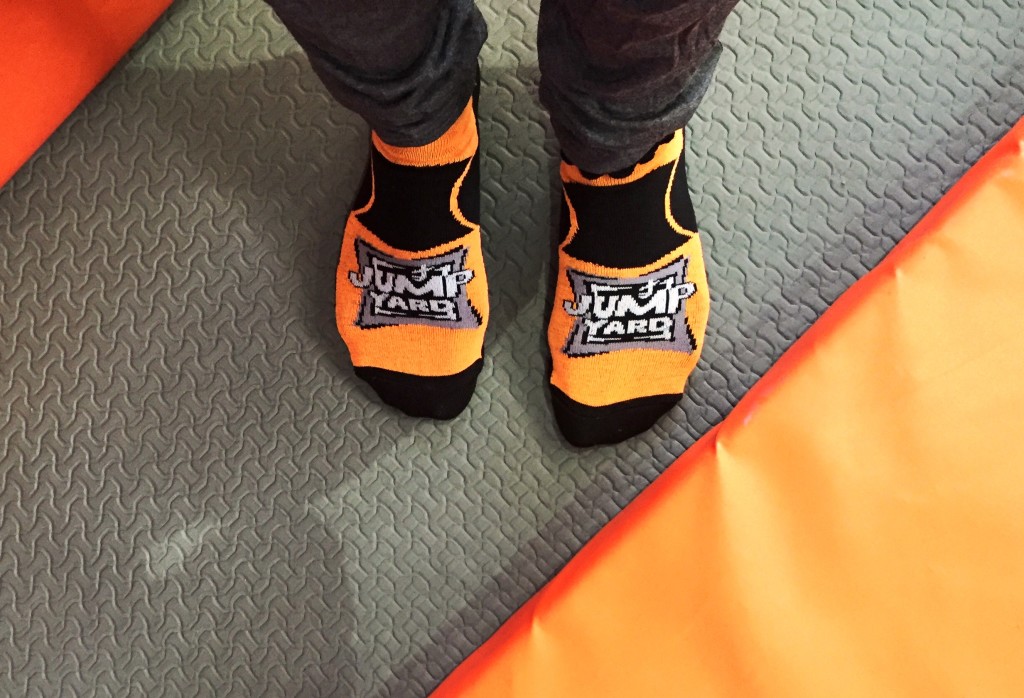 Here are some pics I took of all the areas inside the park:
Entrance to the actual park (these were all the jumpers for the 11:30-12:30 session) Medyo kailangan din ng order sa pagpila dito hehehe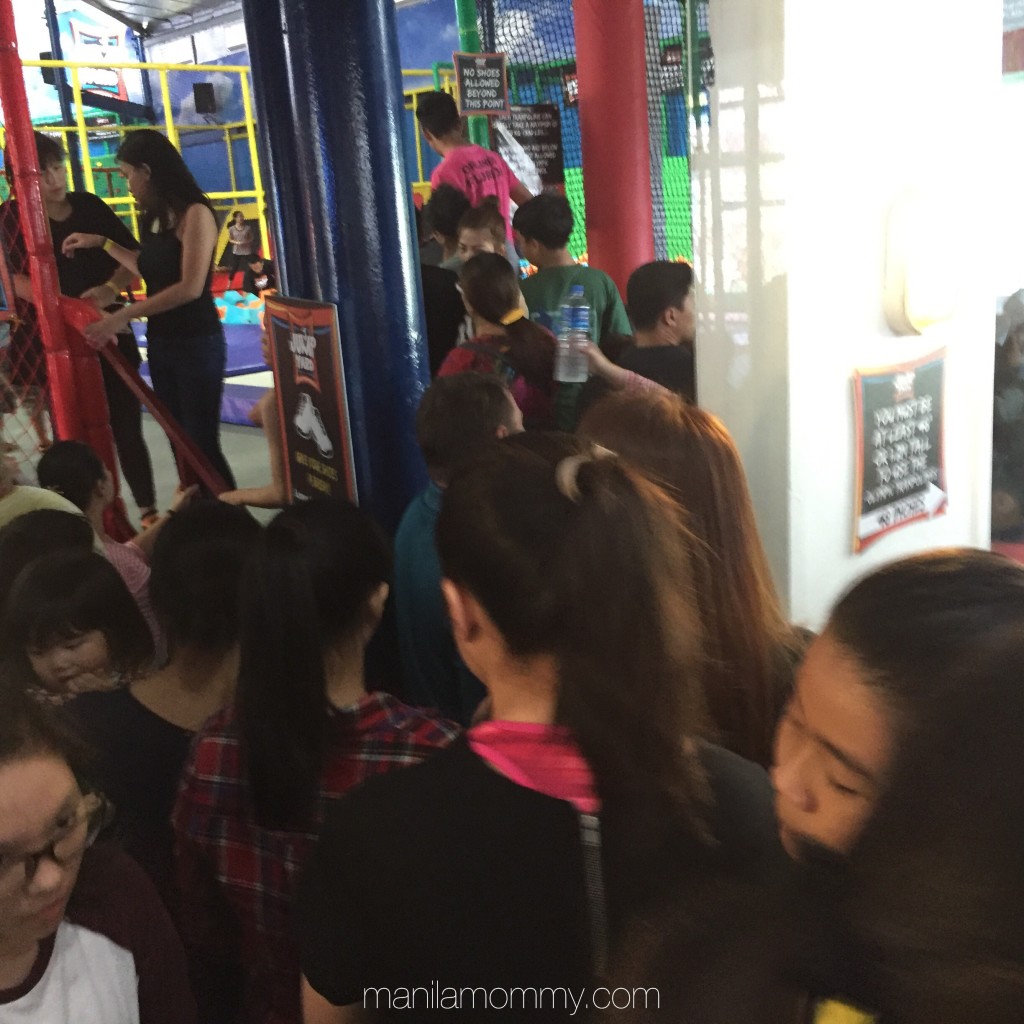 To your immediate left: Cage Ball Area (pic from Jumpyard PH Facebook page)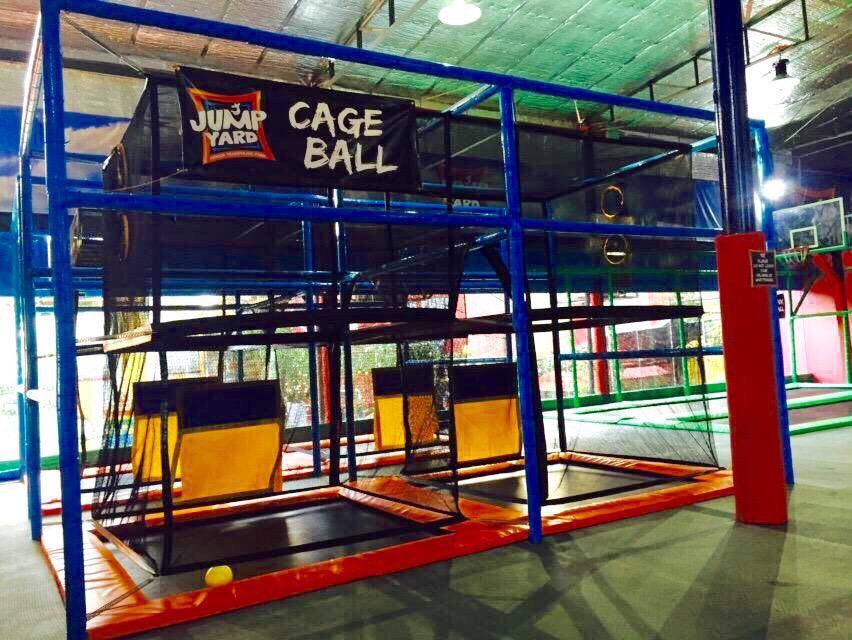 David and Lucas inside one of the cages. Hala sige talon!!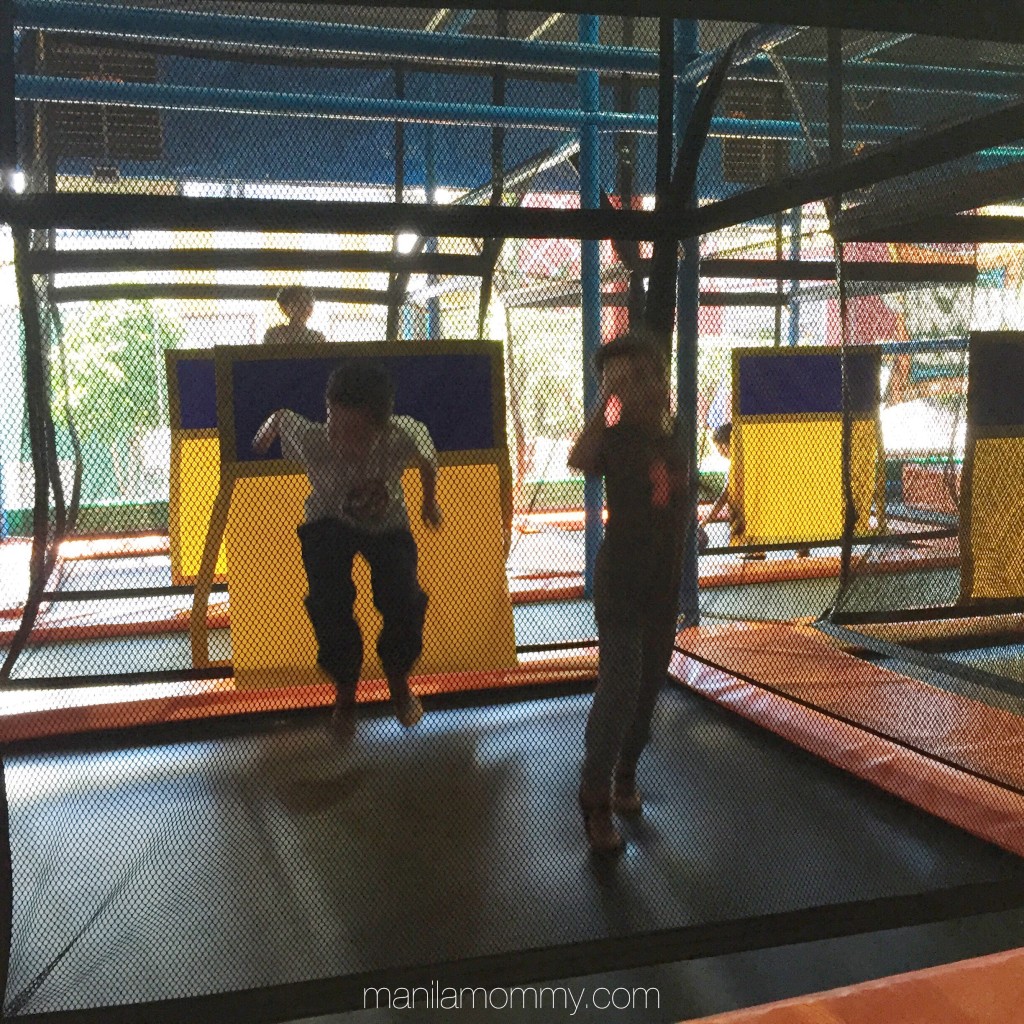 To your immediate right: Olympic sized trampolines. The safety marshals were very strict in this area and made sure that the trampolines only had one kid each. These trampolines allows for higher bounces so best to be safe!  Once the jumpers were done, they can dive into the foam pit behind them. This was David's favorite area by the way.
(Pic from Jumpyard FB page)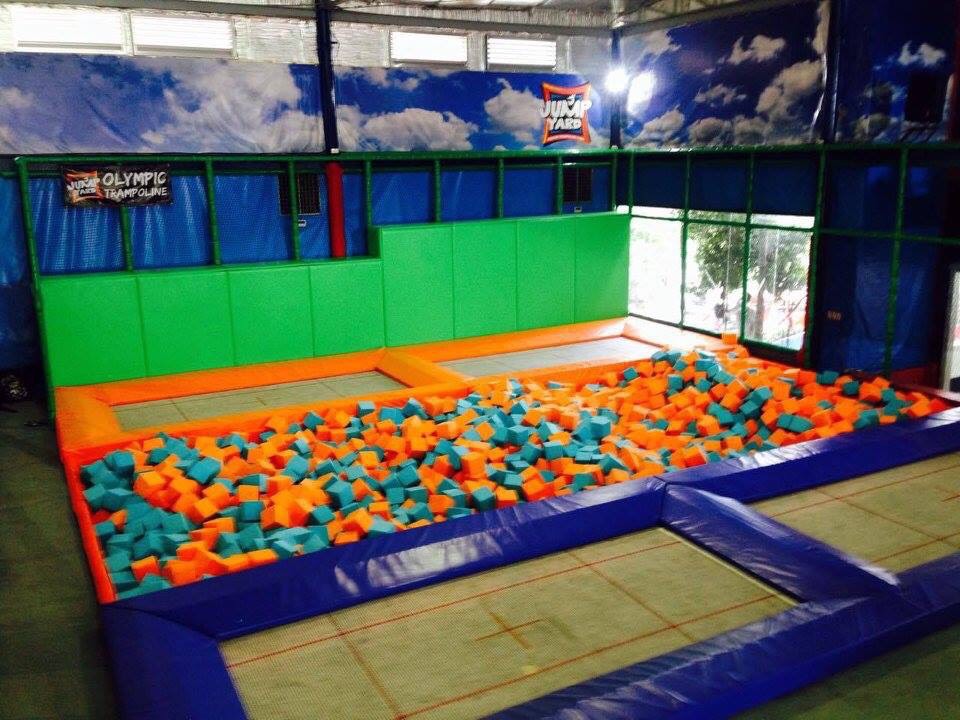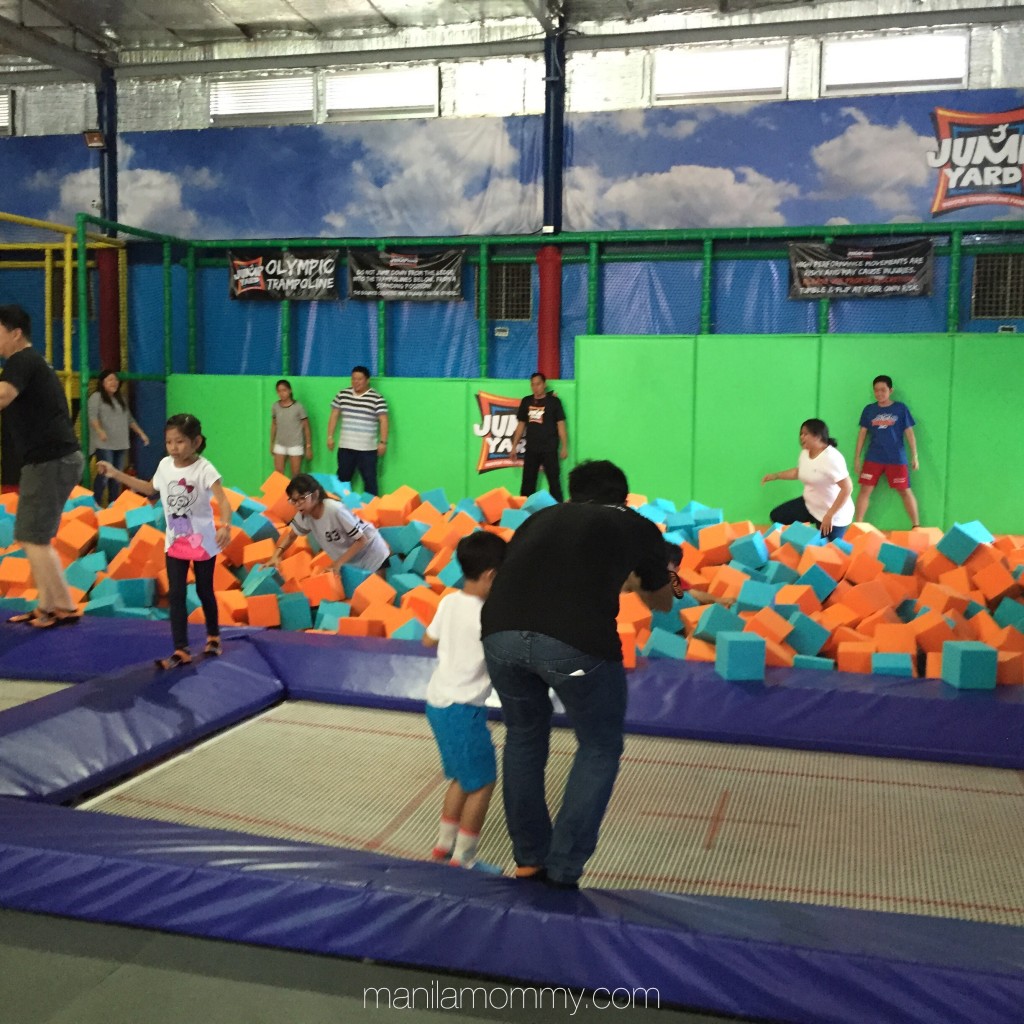 At the Left Side after the Cage Ball section: Slam Dunk Basketball (this was a hit with the dads in our group, pero hindi nag stretch kaya ayan nag mefenamic after haha)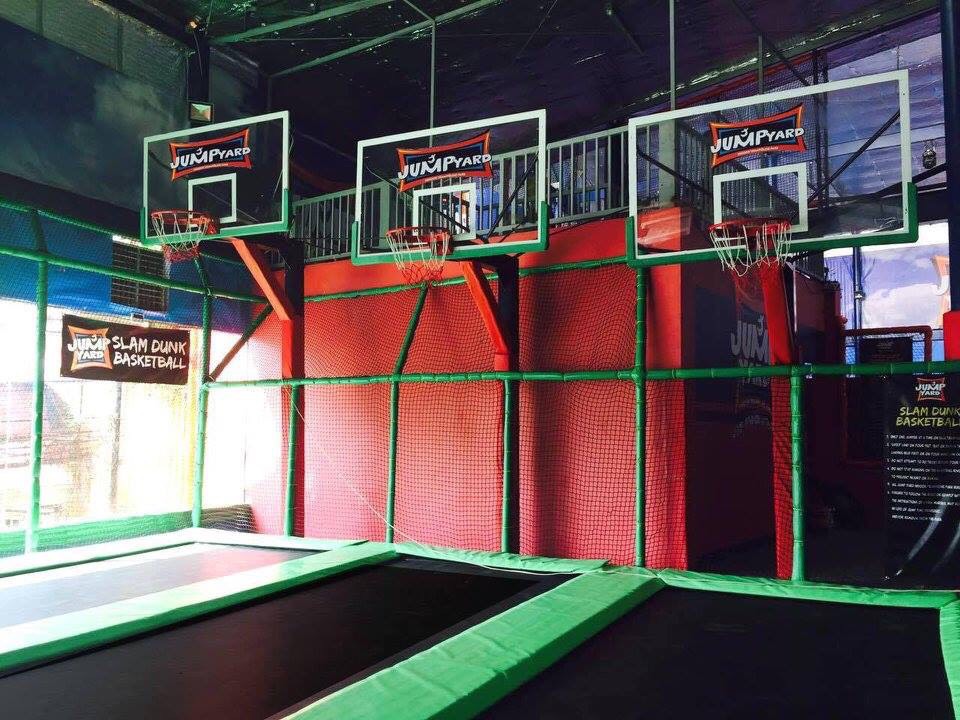 Dodge Ball Area! (Pic from Jumpyard FB page)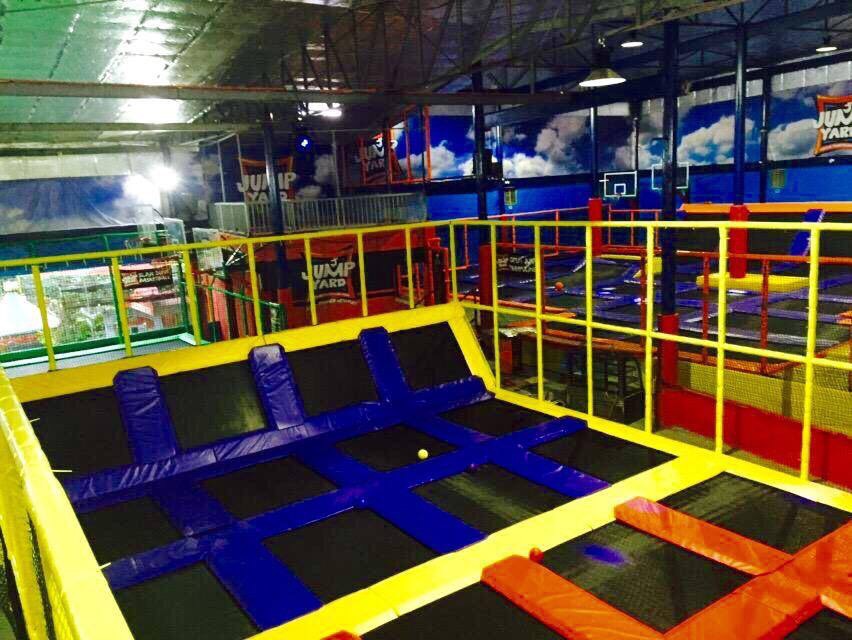 Open Trampoline Area (Pic from Jumpyard FB page)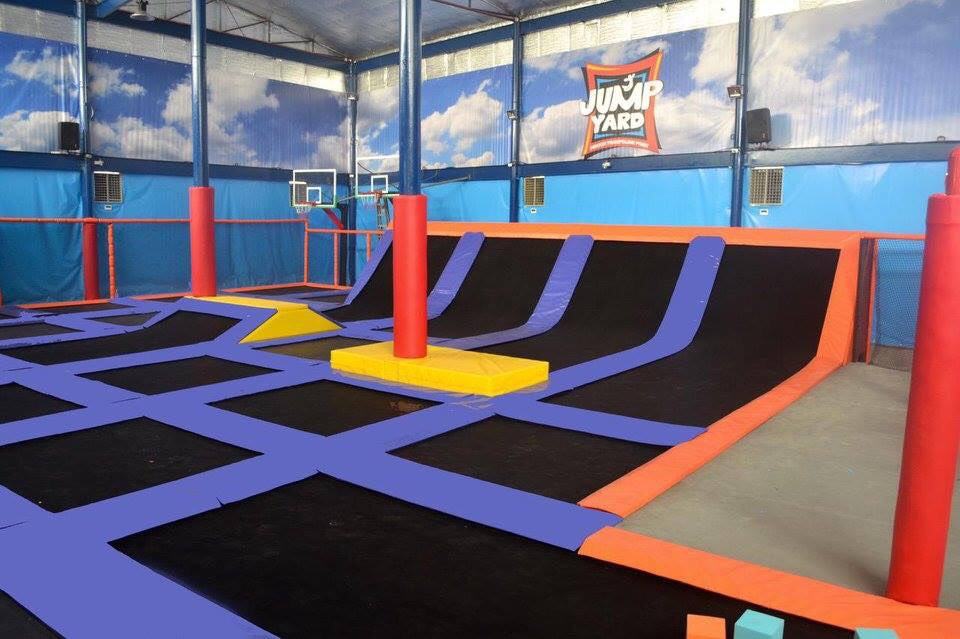 David and Lucas 😀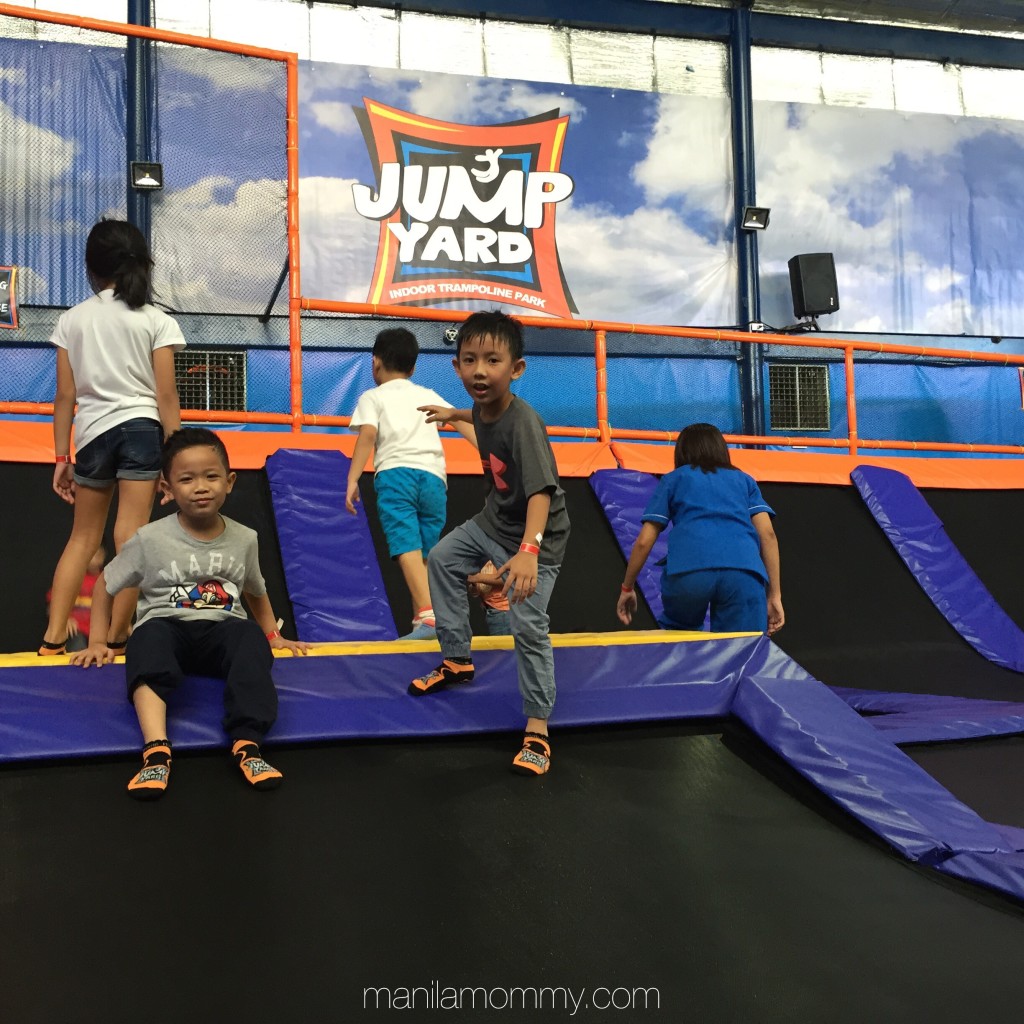 Kids 6 years old and above are allowed to go in the trampoline park. Younger kids can join but can only come in during the first hour of operations. Noah didn't go in the park that day (he and his dada went to Fun Ranch instead) because I wanted to see first if the park would be good for kids as young as him. The facility is actually safe and I know Noah would love to have bounced around but I was worried that the other, bigger kids might bump into him by accident. So I'll bring our bulinggit maybe when he's bigger na lang. If you do bring your younger kids they can only play in the section where the monkey bars and the wall climbing area is.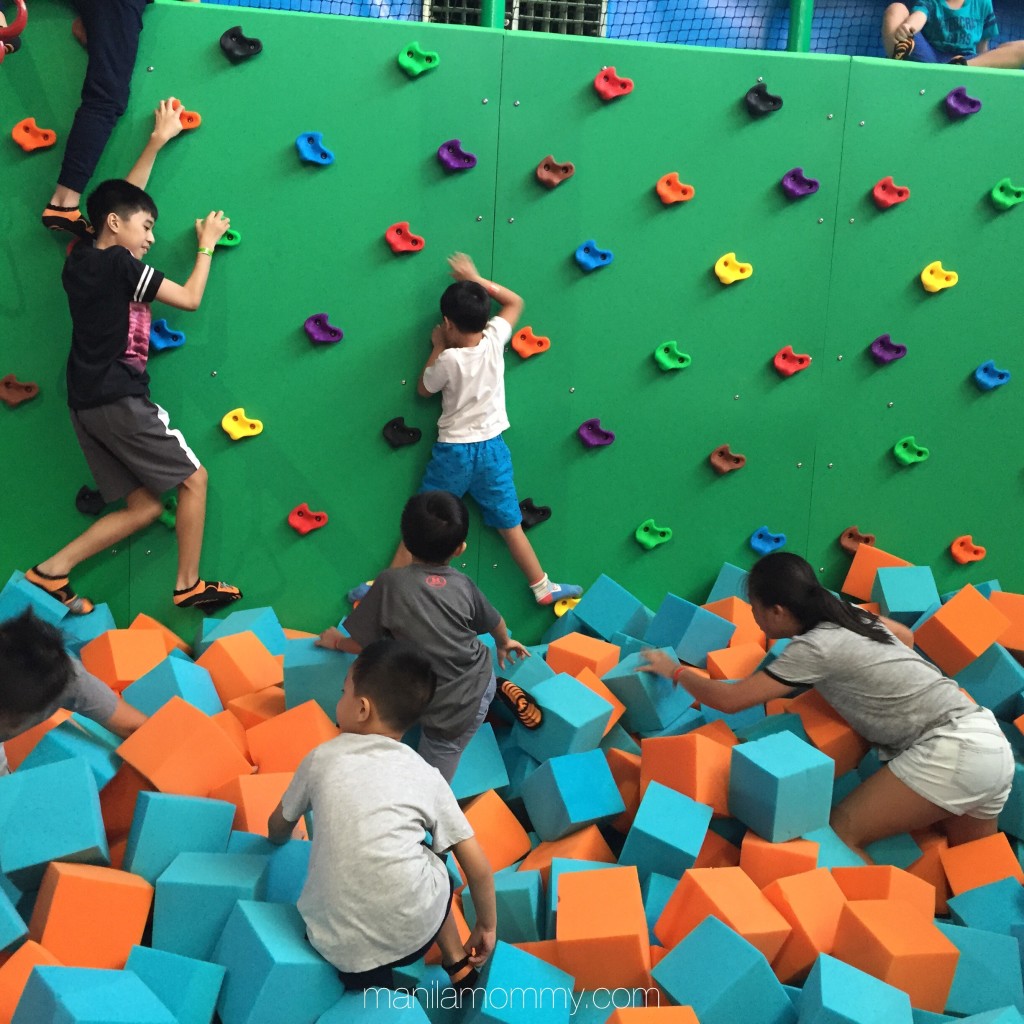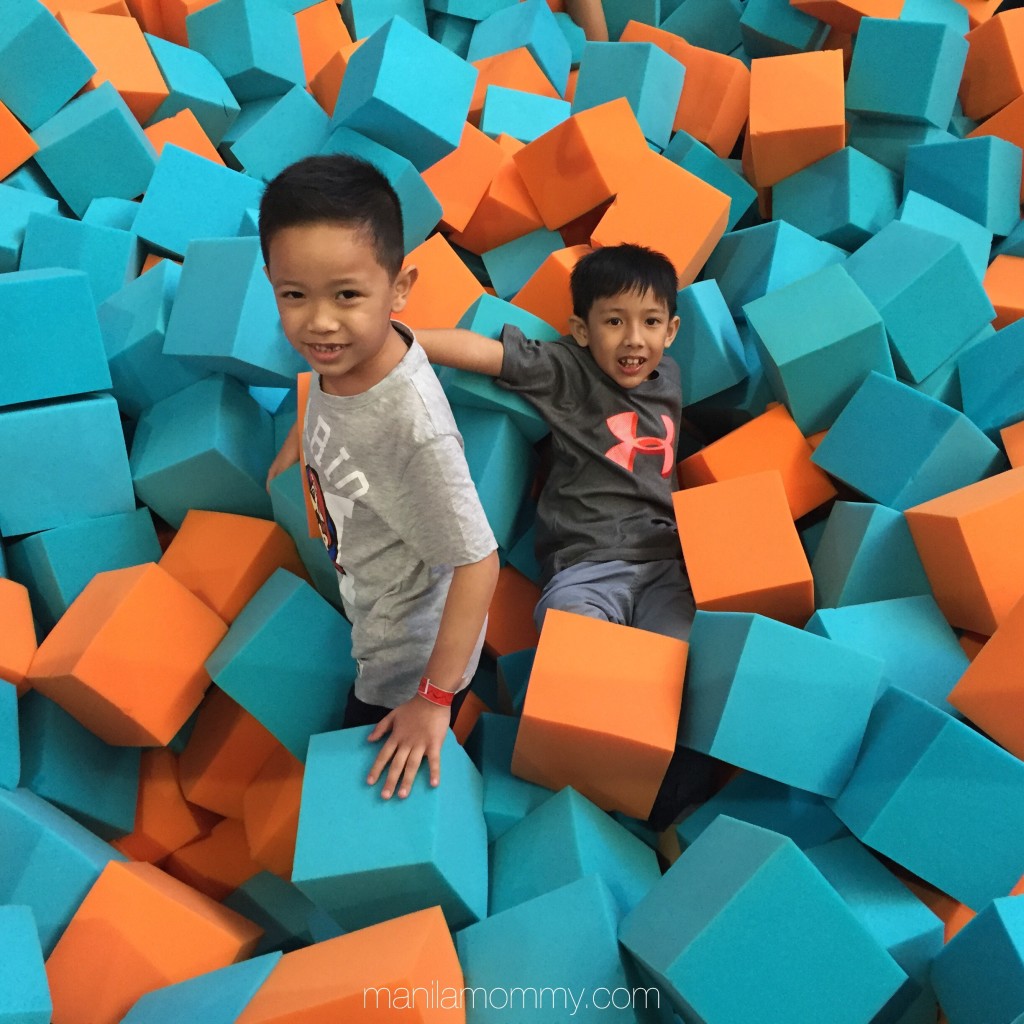 Here are some of my tips based on our first visit to Jump Yard:
Tip 1:  Be patient 🙂
Allot at least 30-40 minutes for signing the waiver and payment. It's a test of patience for sure. A lot of parents got frustrated with the lines and management of the queue because some were at Jump Yard before 10 pa! I have to commend the staff though for being patient but they were definitely outnumbered. If there were at least 3 staff members handling the queue for waivers and payments the frustration could have been diffused.
(Also, I was wondering how they will be keeping track of the waivers the next time we come in. Are they going to backfill their database? Paano ang verification?)
Here's how the lines looked like last Monday: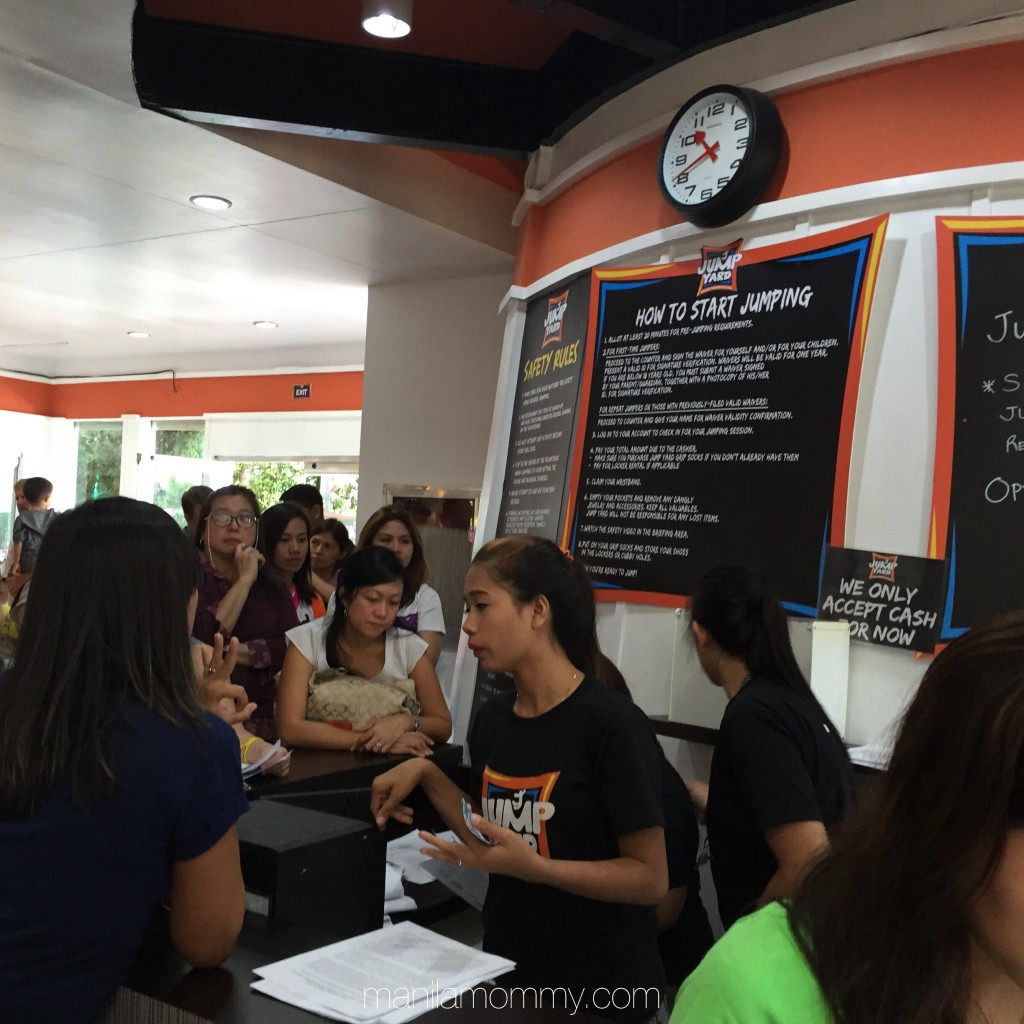 Tip #2: Listen to the Safety Marshals!
There are plenty of safety marshals in the area which was comforting. They all had whistles and would pick up kids who were out of line. Sila ang batas! It was great that they are earnestly enforcing rules and ensuring that kids are having a great time while keeping them safe. Kudos to Jump Yard for having these guys! The marshalls are all in black and wearing Jump Yard shirts.
Tip #3 Bring Water
The waiting area is also the same area where the cashiers are. You can order snacks too but during our stay there, the waiters were so busy helping out with the lines at the cashiers that it was a bit hard to get their attention. I forgot to bring water for David (I know! Face palm!) so I had to buy water pa. The only available size they have is one liter which they are selling for Php93. The guys were also just so busy running around that I didn't get my change na (It was only Php7 anyway….but still) I think you can bring snacks but if you want to order here's the menu: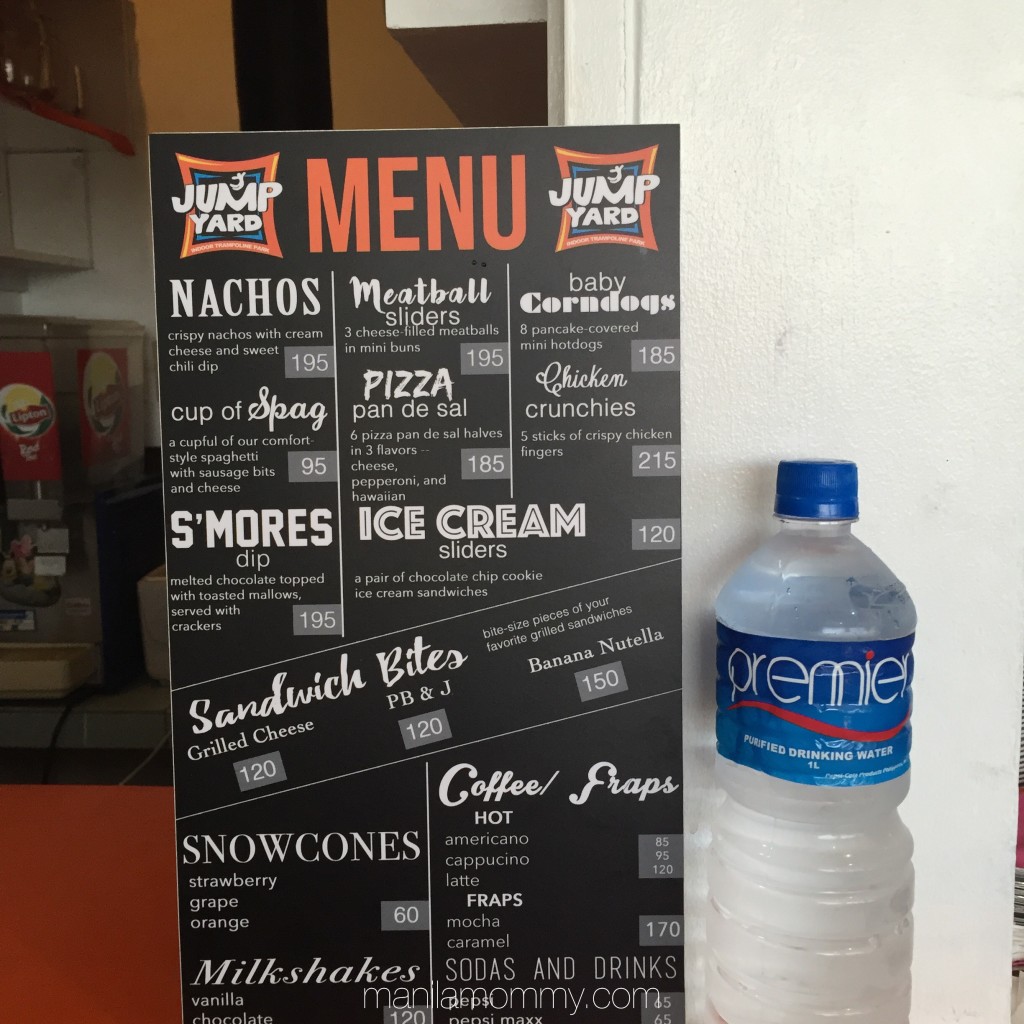 Tip #4 Bring Someone to Watch Over Your Things.
There are lockers but they aren't that many and I assume if you have at least 100 jumpers in each time slot, these lockers will get occupied right away. So make arrangements to have someone watch over your bags while you tend to your kids inside the park.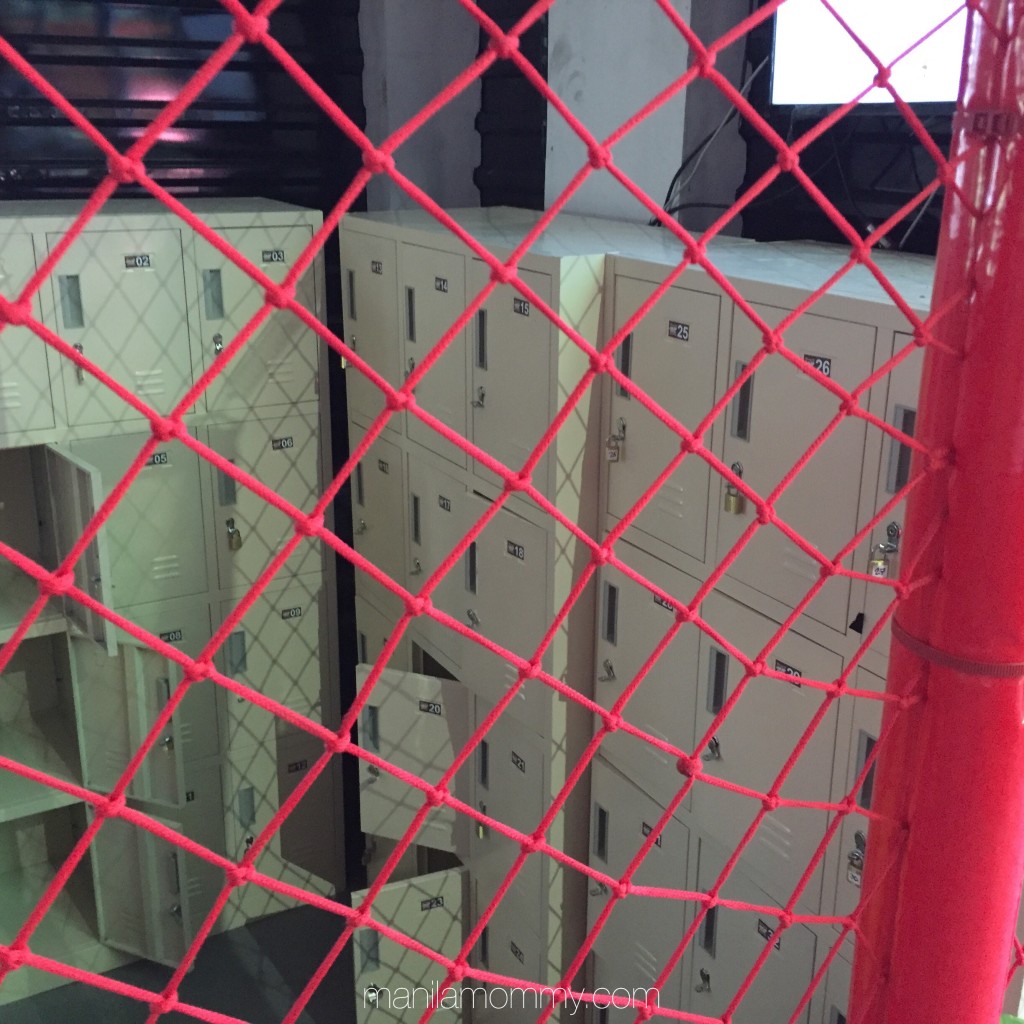 Tip #5. Enjoy!
I jumped with David and Lucas and it was really fun. I really felt that this venue would be good for office fun days and bonding activities. I felt my stresses melting away with each jump. It was relaxing pala hehehe I also had a great time watching over David just have fun at all the areas of the park. He was able to try out all of them but his favorite was the Olympic Sized trampolines.  If you need to stretch and warm up, the waiting area has videos playing safety instructions and warm-up tips on loop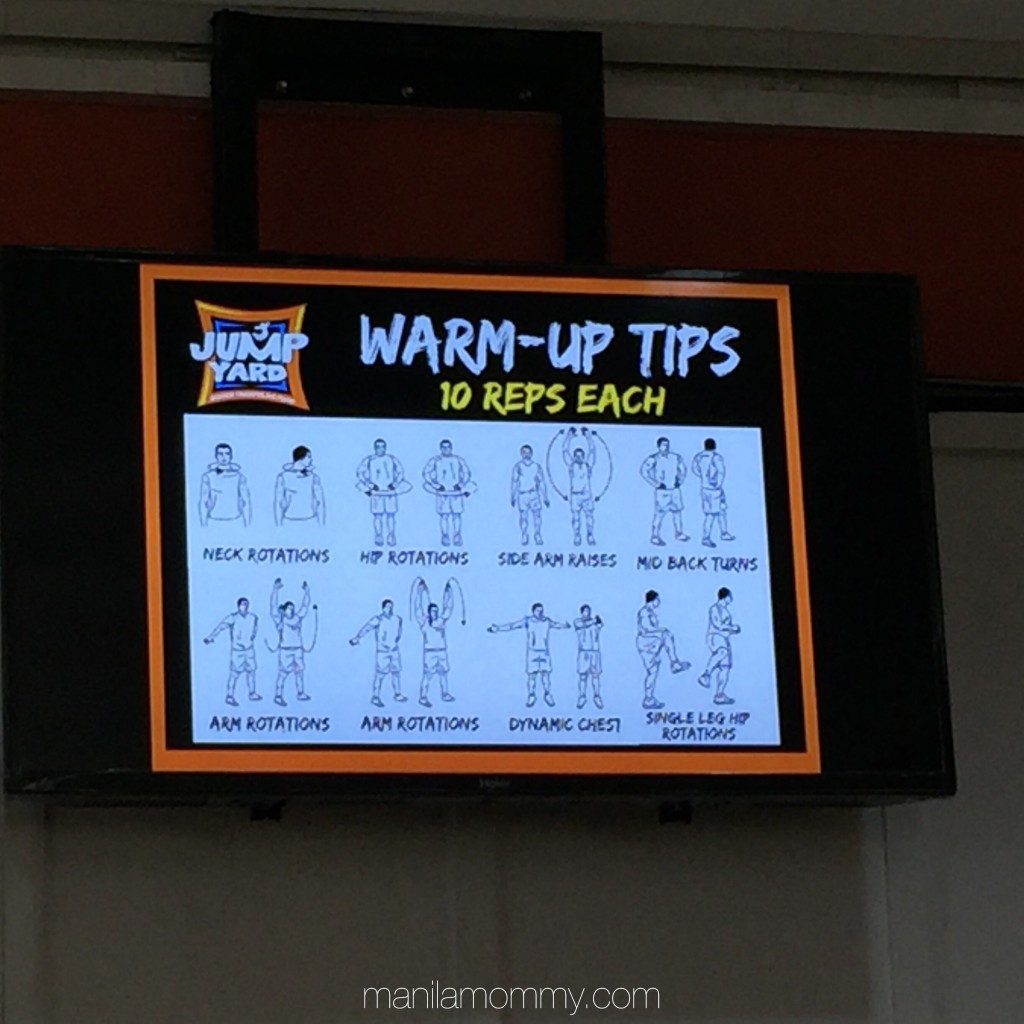 All in all it was a good experience. I really do hope the Jump Yard management is able to have downloadable waivers so families can just go in and register and pay quicker or at least have more staff manning the counters. David wants to go back and I'll really try and bring Noah too.  I think he'll love the fact that he can dive onto foam pits. Baka di na yun umalis haha!
Jump Yard
JumpYard.ph
(02) 544-0704
Facebook page: https://www.facebook.com/jumpyardPH
Instagram: https://www.instagram.com/jumpyardph/
Road E, Frontera Verde, Ortigas Avenue cor. E. Rodriguez Jr. Ave. (C-5), Pasig City.