I attending a wedding earlier today and I was reading through twitter and people were reporting that the temperature for the day reached as high as 36C! ANG INEEET!! I got back to the office and googled during my break about what we could do to battle this heat short of  bringing our own inflatable pools here in the office.
I came upon this handy dandy guide from Wiki How entitled How to Cool Yourself Without Air Conditioning.  With the rotating brownouts I think this guide was made for us Pinoys!
Some tips that I loved:
Turn off electrical heat sources. Turn off the stove or other sources of heat. Don't use the stove or oven to eat–eat out, eat cold food, or use the microwave. Incandescent light bulbs also create heat – switch to compact fluorescents.  Turn off your lamps, as well as your computer when you're not using it. — (guilty of the last part)
Think cool. Read books about climbing Mount Everest, visiting Norway, or watch "March of the Penguins", "Ice Age", or "The Day After Tomorrow". You might not be physically cooler, but if your mind envisions a cold environment, you might feel a bit cooler.
Use a hint of mint.Try a few minty or menthol products to cool your skin: slather on lotion with peppermint (avoid your face and eyes), shower with peppermint soap, use a minty foot soak, and powders with mint. Mint refreshes the skin and leaves a nice cooling sensation.
And a gentle reminder from the author "Don't forget that the human race lived for many, many years without air conditioning." — oo nga naman! LOL!
The complete list is here.
Also, have you guys seen this? It's a high tech high falluting bladeless electric fan!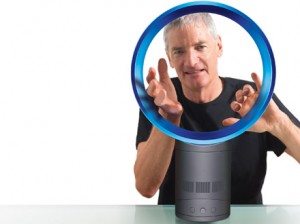 "The Dyson Air Multiplier™ fan works very differently to conventional fans. It uses Air Multiplier™ technology to draw in air and amplify it 15 times, producing an uninterrupted stream of smooth air. With no blades or grill, it's safe, easy to clean and doesn't cause unpleasant buffeting" (from here)
It's sold for $299. Yes. $299.
Apparently it works!
Hmmm, I guess you can spend the money you saved on not using your A/C on this one then! Haha!