David grew up speaking Filipino. He spoke it fluently and he even had Bahay Kubo memorized when he started pre-school.  In David's school, the primary language for teaching is English and David's classmates all spoke English too. Soon enough David was speaking purely in English and we found ourselves with a 3 year old who was more fluent in English than Filipino.
We didn't think much of it to be honest. We took Filipino for granted and figured David wouldn't have any problem at all with it, even if he spoke English always.
Well we thought wrong!! True enough, David soon had difficulty understanding and speaking in Filipino. There were words that he really couldn't understand anymore. I realized that David had to translate Filipino into English first in his head so he could understand what we were telling him.
Dan and I were both concerned. We really don't want David to lose his fluency in Filipino so we tried our best to re-introduce the language to David through these activities:
Saturday was Filipino day and we spoke only in Filipino the whole day. This was especially hard for David. He would mope and whine and he would sometimes just choose not to talk anymore. It was also frustrating for me and Dan.
We bought more Adarna books for him to read. David loves to read and so this was easy for him to do.
We bought Joomajam CDs and downloaded the app so that he could learn Filipino through song. This part is fun for the whole family because we all love the songs in Joomajam.
These all helped improve David's comprehension and vocabulary but how he spoke Filipino was another story. He is not confident when he talks in Filipino and he always hesitates when I remind him that its "Filipino day" I really wanted to help David be much more confident but I was already running out of ideas how to help him.
Enter The Learning Library! I've been considering them for some time and so I decided to have David assessed at their Congressional Ave branch.  Teacher Cha and David went through several rounds of picture association and sentence construction exercises.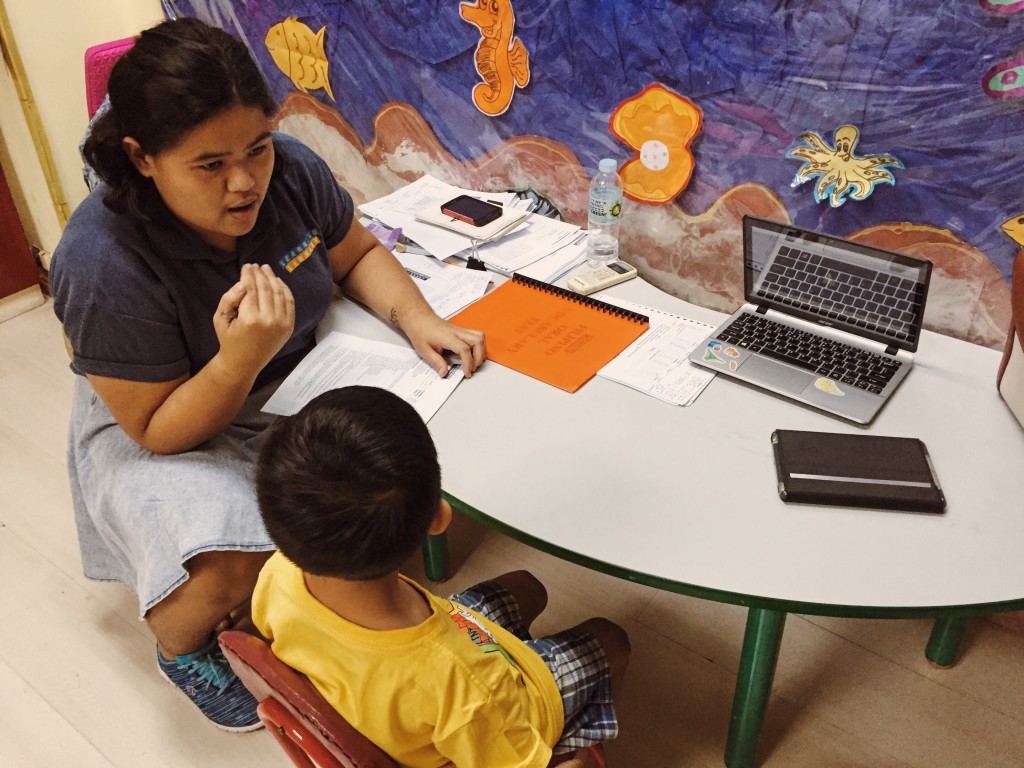 Here are some of the things I heard from  David when he was asked to describe a word in Filipino:
Bata – maliit na matanda
Gatas – masarap na kainin
Bahay – para meron kang kainan at tulugan
Aklat – para meron kang basahin
Asin – maalat
Larawan – para maganda bahay mo
Payong – para hindi ka mabasa sa ulan
Laruan – para yung bata merong paglaro
Computer – para pag meron kang hindi mo alam i-use mo yun
Teacher Cha said that David's comprehension is very good but he needed work on his communication skills and how he expresses himself. She recommended their Filipino Communication Skills (FCS) program which teaches Filipino through fun games and activities. The enrollment fee is Php5,000 inclusive of assessment, materials and book borrowing privileges. I agreed and enrolled David, hoping that the program would encourage him to be more confident in speaking Filipino.  We're currently enrolled in the Loyola Heights branch where David attends class twice a week. Here are some pics of the class and the facilities: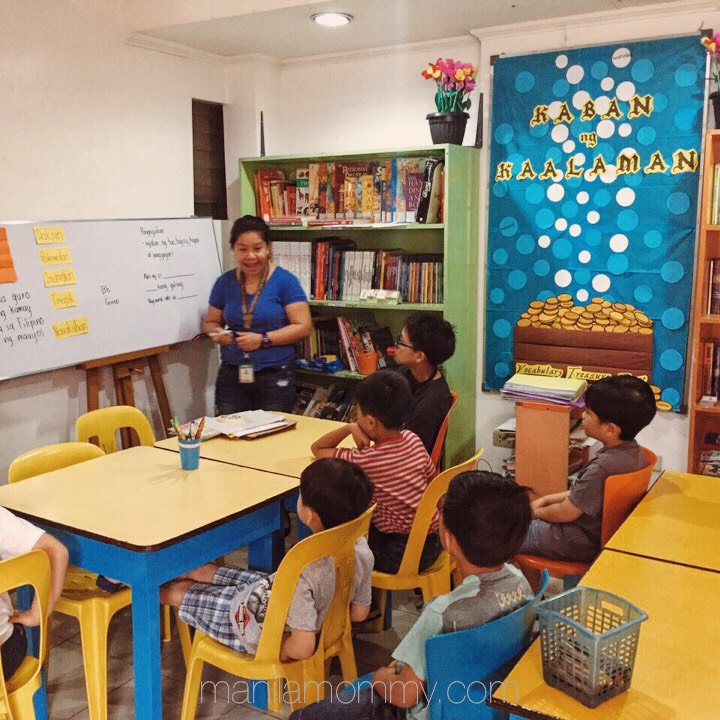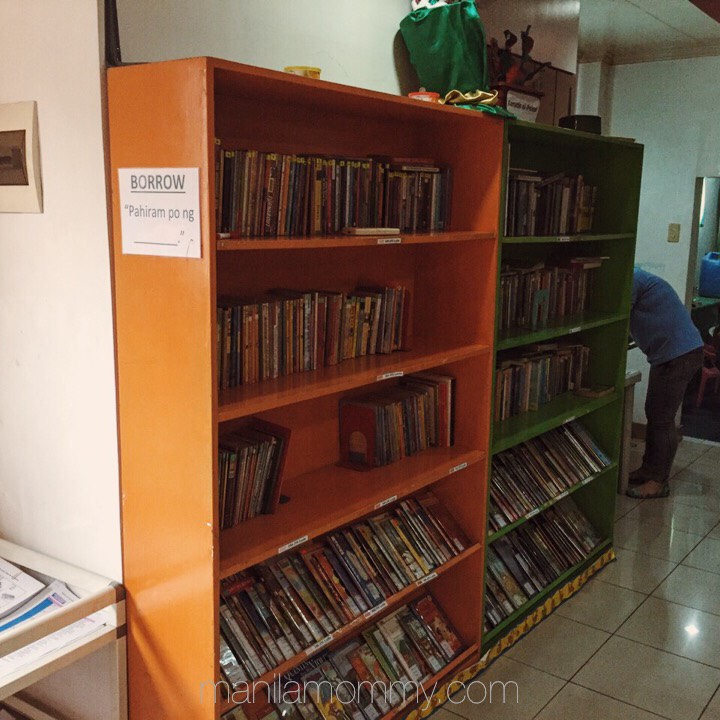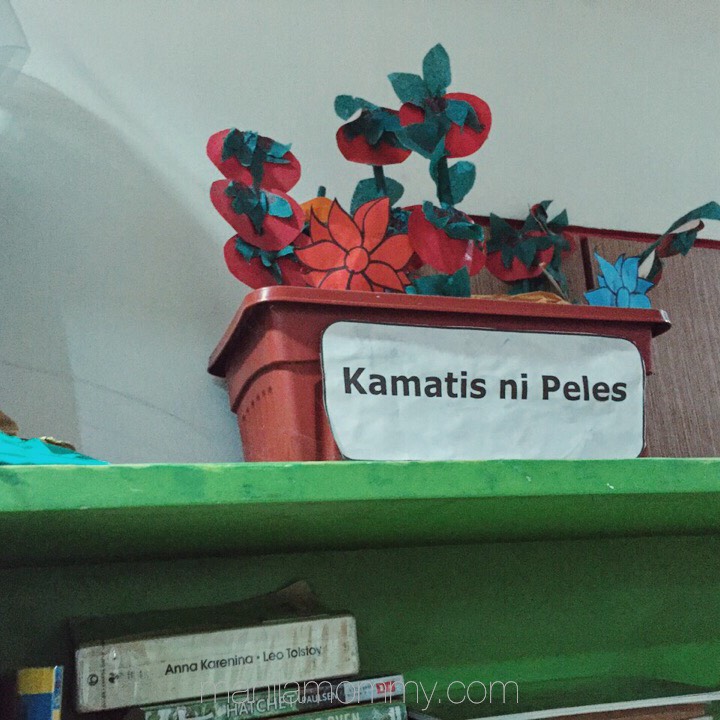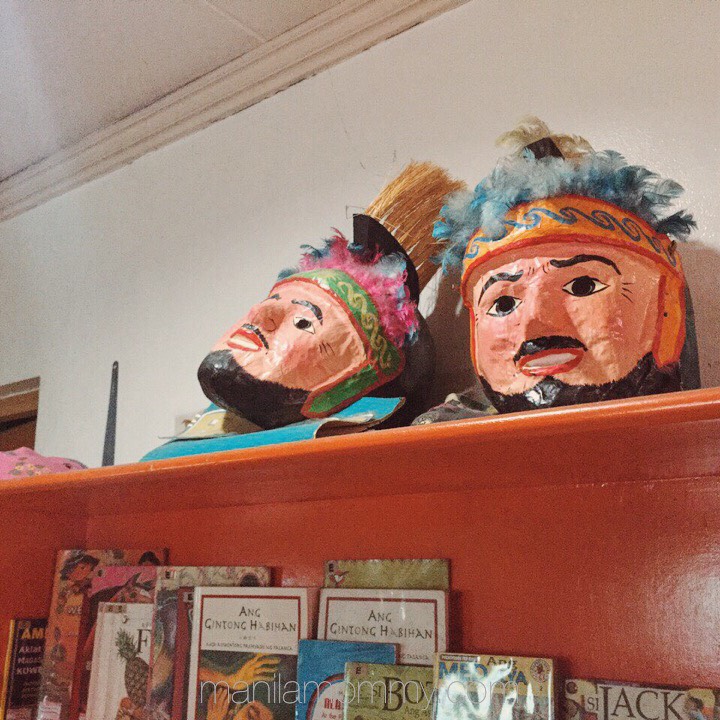 We're now in our 2nd week and I am very happy with how David is developing. I always talk to him in Filipino and he answers back without hesitation! He is so much more confident already. He doesn't whine and complain when I ask him to speak in Filipino. He also looks forward to his classes because the program is fun and engaging. He also likes that he can take home books which he reads as soon as he gets into our car.  It really is a perfect enrichment program for our kuya! I have been telling David how wonderful it is to hear him speak in Filipino and how easy it is now for him to talk in 2 languages!  He still has classes for the rest of April and I am excited to see how much  more he progresses.
I love the Learning Library and would recommend the FCS program to anyone who wants Filipino enrichment classes for their kids. Learning Library also has other programs worth checking out and they have enrichment classes in English too. Most of the modules are offered year round as well so you can choose the best schedule and venue for your kids: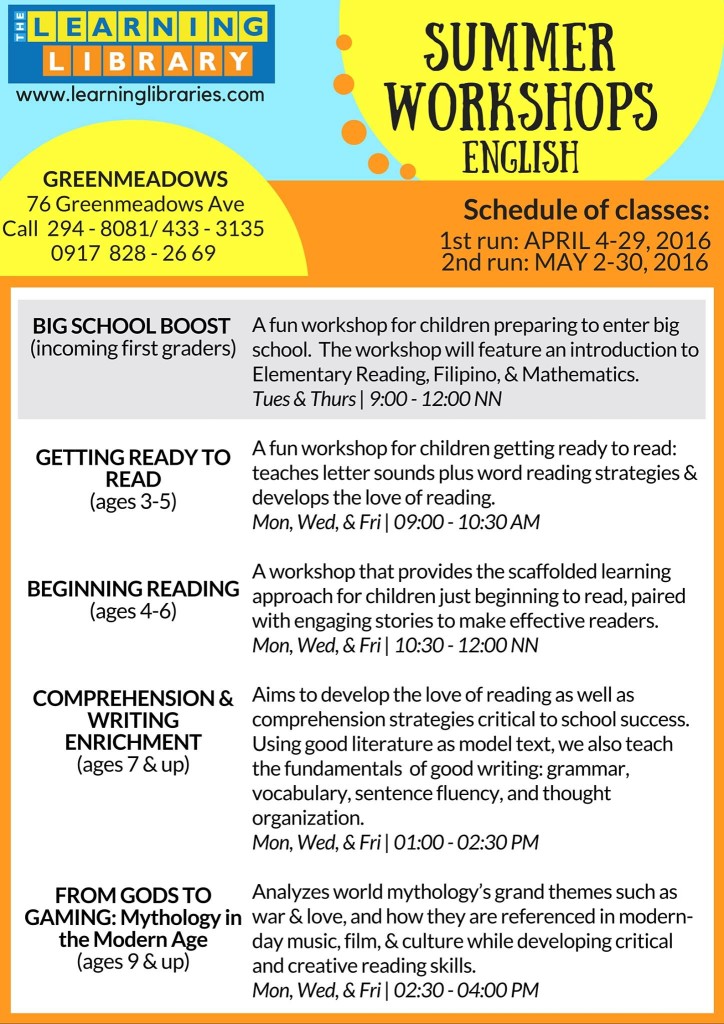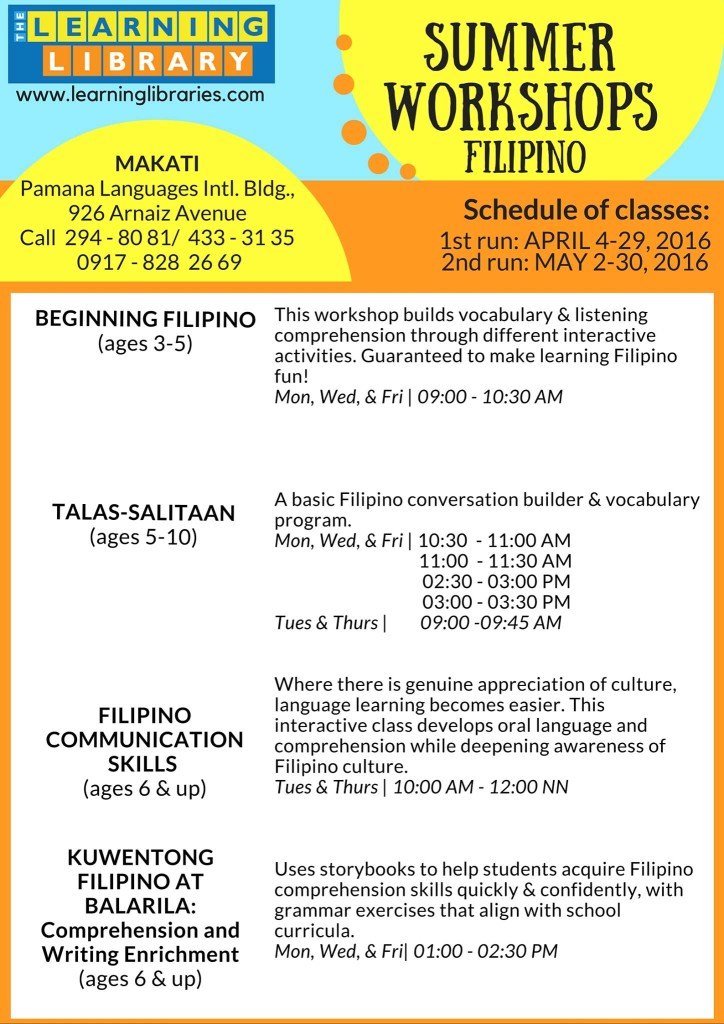 The Learning Library has branches in the following:
Marikina
Mezzanine level, 59 Bayan-Bayanan Ave,, Marikina Heights (near Jollibee and Meralco)
New Manila
3F Seneca Plaza, 1152 E. Rodriquez Sr. Avenue
Alabang
Young Creative Minds Preschool, G/F Southgate Bldg., Finance Drive, MBP
West Triangle
Unit 10 Mary Santos Artcade, West Avenue corner Liwayway Street, West Triangle, Quezon City
Greenmeadows
Creative Beginners Preschool, 76 Greenmeadows Ave. (near Christ the King Church)
Makati
Unit 305, Pamana-Languages International Building, 926 A. Arnaiz Ave., Makati
San Juan
81 Xavier Residences, 81 Xavier Street, San Juan (across Xavier School)
Loyola Heights
41 Esteban Abada St. (near McDonald's Katipunan)
Their facebook page is always updated and they are active in answering questions so I suggest that you like their page too https://www.facebook.com/TheLearningLibrary