Christmas in Pinas starts from September and lasts all the way to the Feast of Three Kings in January! In between these months are a lot of fun reunions, gift giving and just a lot of eating!!
Sometimes we meet with friends every month the entire holiday season just because we haven't really seen each other for much of the year and the long holidays are a perfect excuse to be with each other over good food and sweet treats.
For potluck gatherings for the coming New Year parties, SnR is always a good bet for food. Their pizza cut into party squares is always a big hit. We always order their 4 cheese because the kids (even the picky eaters) love it too. We've recently just discovered their fried chicken too! Nakakagutom lang pag nasa kotse haha but it's definitely a good potluck meal to bring!
Oh have you guys tried Hostess treats? SnR has them. If you see a bag of Donettes, BUY THEM ALL!!! Bring them as dessert for your next gathering. I guarantee you, the bag of sugary donut treats will be gone fast! Kids love them, and the adults love it with coffee. It's a perfect ending to a full meal.

Of course if you want to be healthier, fruits are always a great option to bring and to give. Also, these round fruits are staples in every Pinoy's household come New Year's eve because they bring good luck to families!  I'm heading to SnR before New Year's eve to buy the Fuji Apple and the Ponkan (sana may maabutan pa ako!)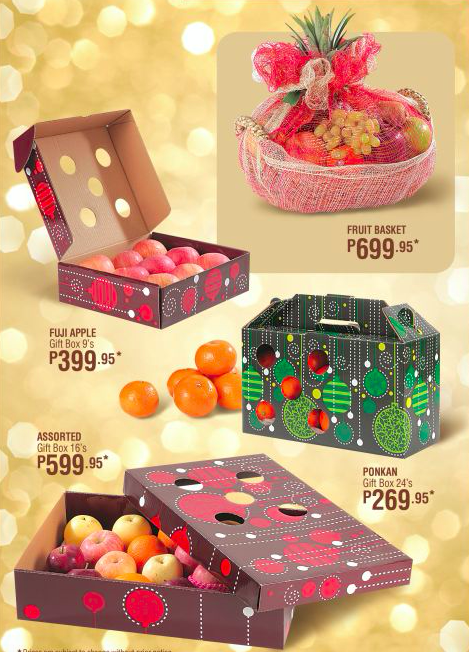 SnR will always be gift basket heaven for me. I recently found out that they have just brought in the Houdini Gift baskets which are premiere gift baskets from the US. They're perfect gifts for your beloved gourmands who really enjoy the best treats in life and who love discovering new brands too. Ang saya!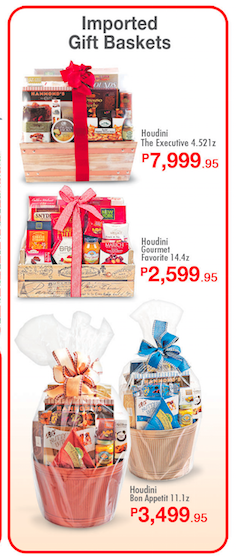 How much do you spend time in SnR, ako it takes me one hour at least. There's always so many new things to see, to buy or to take note of for the next shopping trip. If you want to be updated on new deals make sure to like the SnR facebook page here.
Happy shopping and advanced happy new year!