A Brief History: Down syndrome was first studied by Dr. Langdon Down who in 1866 published "Observations on an Ethnic Classification of Idiots". Yes Down syndrome was named after  him. In that study, he classified his patients according to their facial features. He was profiling them racially and observed that a large number of his patients  seemed to represent the Mongol race. I've read somewhere online that in his classification, he sees the Mongols/Mongoloids as a regression of the Caucasian race. He did his observations in an asylum and named the diagnosis of that set of people  he observed, "Mongolian idiocy" . You can view his report here.
Thus the term "Mongoloid", which I will be referring to as the "M word" from hereon. In the 1960s the people of Mongolia successfully lobbied to drop the references of this condition to their people. It was racist simply put. It also presumes that all people who have Ds look alike. In reality, even if our children have seemingly similar features, they still look like their family members. It's just one chromosome, the rest of the 46 are from their parents.
However, the fact remains that Down syndrome is a visual disability.
There is a book about Down syndrome, called The Shape of the Eye by George Estrich, which is on my must read list. One of the ways that helped me come to terms with the reality of raising a child with Ds is by reading a couple of good memoirs by fellow parents who have raised/are raising children with Down syndrome.  The title refers to the shape of the eyes so common with people with Ds. The eyes are almond shaped, upturned with  epicanthic folds.  When I first saw Noah's eyes I knew in my heart my boy has Ds. It is that definite.
So therein lies the rub.  It is this trait of people with Ds that make them easy targets for jokes and ridicules.
This came true for Noah and for our community three weeks ago when someone posted a link on the DSAPI Facebook Page which led to a page of photographers and models who called themselves Monggi Productions. A seemingly innocuous name for a group until the info section on their Facebook page revealed this: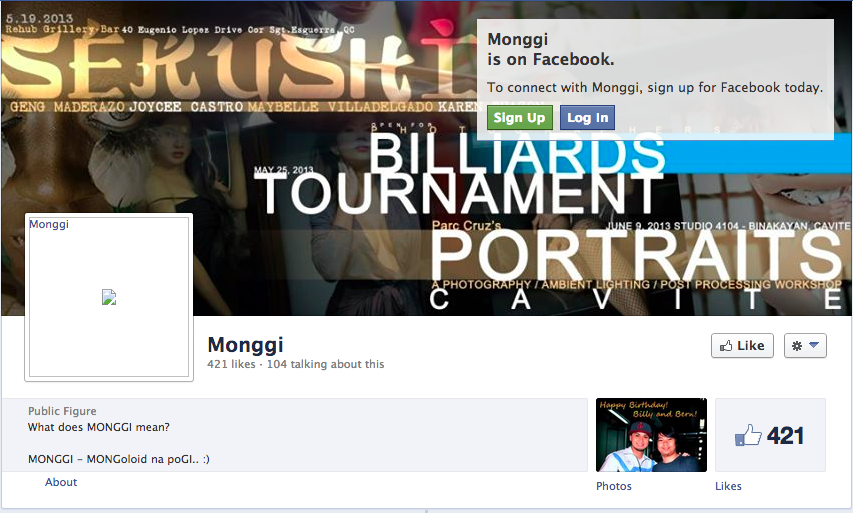 I scrolled through the page and saw a tshirt they were selling: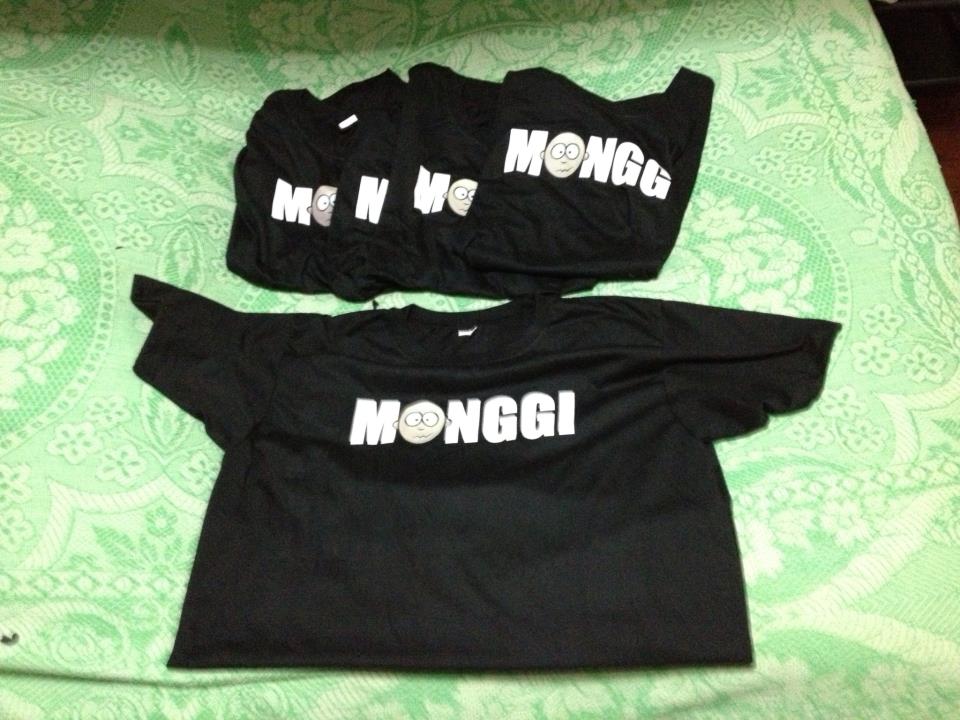 That O  — was a caricature of a person with Ds.  I took this personally because this group reduced our community to an awful punchline to their twisted sense of humor. I wonder, what is it about DS that they found sooo funny? I don't find it laughable that a majority of our children have to have life saving surgeries a few days from birth. I don't find it funny that a majority of these kids have one or two open heart surgeries before they even reach the age of 2. Was is it the therapy they have to receive from Day 1? Maybe it's the multiple blood extractions our kids have to go annually.  Ewan ko ha, di ko mahanap e.
But there was also the possibility that they just didn't know that the M word was offensive too.  So some parents of DSAPI took to their page and posted messages that educated the members on why the M word should never be used and how the name of their group and the tshirts are hurtful to us.
Over at the DSAPI FB page, I was mouthing off my thoughts. I messaged one of the directors online to let her know how I felt about this whole situation. I was fortunate that Agnes, Jeremy's mom is patient and calm. She had a ton of grace when  she faced this online group.
To their credit, the group apologized right away but initially insisted on keeping their group name. Below is the actual apology, which was posted on their FB page.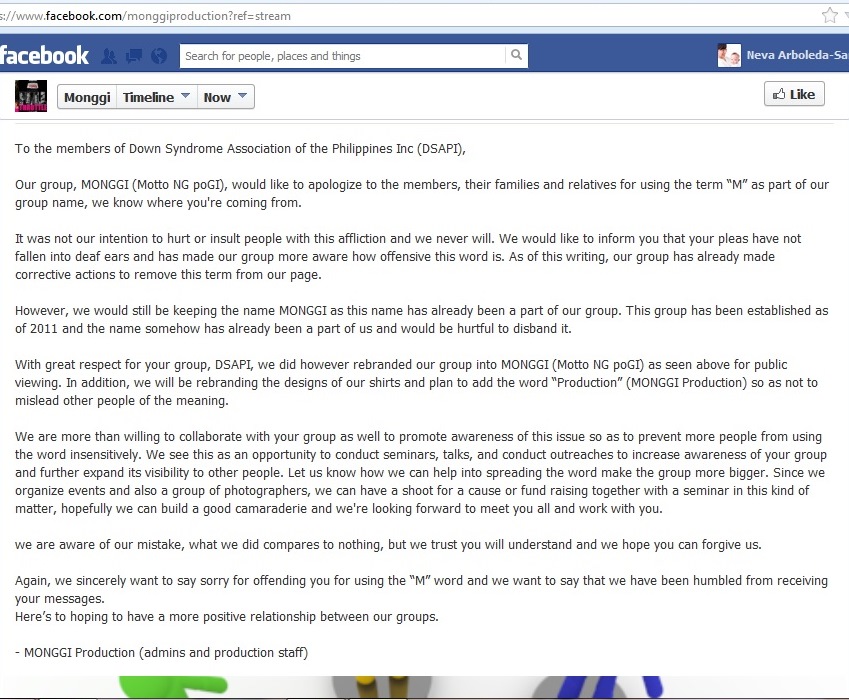 In my opinion, their insistence nullified their apology altogether. I questioned their sincerity because after being educated on why the M word is offensive  why would they still choose to keep their name?  Also, the apology stated that Ds is an affliction. I had to correct that because Down syndrome is not a disease. I also listed the names of corporations that had successful name changes because they expressed that changing the name would be "hurtful" to them.  I felt that as a creative group they could come up with a hundred other non-offensive names right?
My discussions with Agnes continued online and she was arranging a meet up with the group.
Then these reports came out.
Yahoo Philippines got the story first and took my comments from the DSAPI FB page.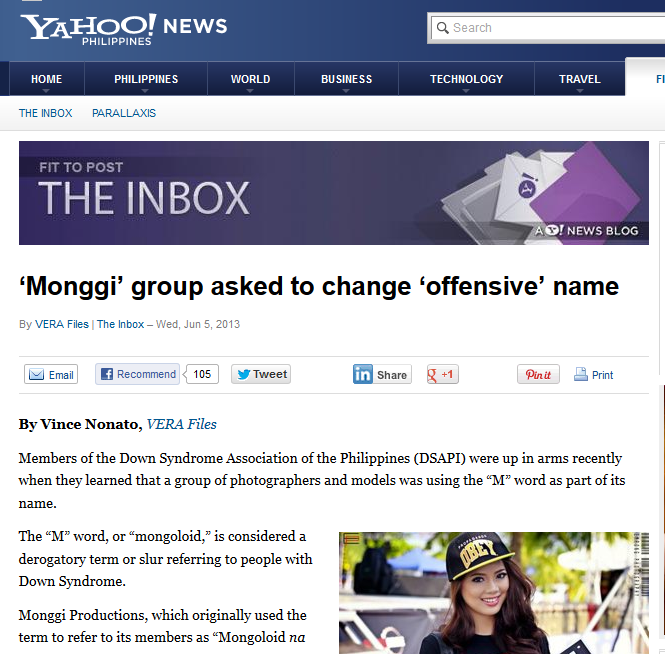 (Full Story Here)
Philstar  also picked up the story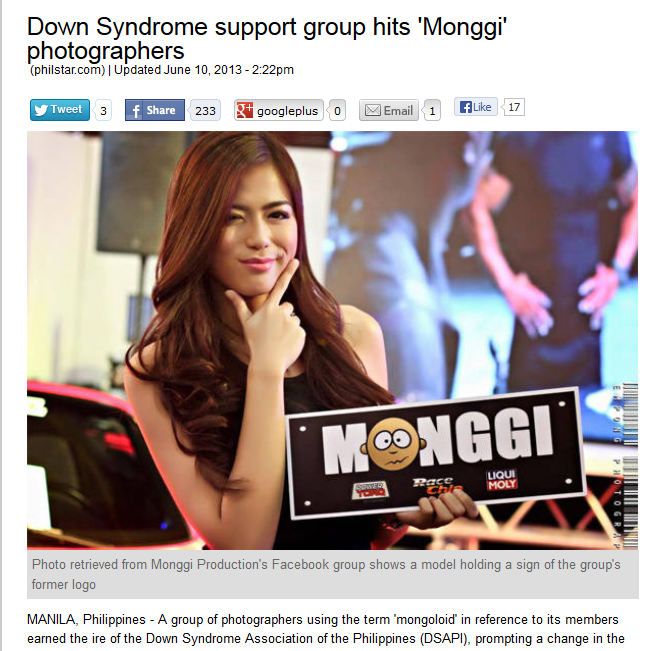 ( Full Story Here)
When you google the name Monggi Productions, these two articles come out on Google's front page. Reading through these reports, one could conclude that their insistence on keeping the name appeared questionable to say the least.
Last June 11, several co-parents in DSAPI met with some of the members of that page. I was invited to join but I couldn't because one, I had work and I don't think I'd want Noah to be near people who called themselves Monggi —- and knew what that word stood for. Di ko kaya.
And then on June 11, this update came out.
It was Misha of MommaNManila  who texted me the link. I cried when I read the news. It wasn't really out of joy although yes I was happy but  more than that, I was relieved. I admit that I expected the worst and I braced myself for a longer battle ahead of us.
I'm happy that this is over. I am happy that this group had finally opened their eyes to the fact that keeping their name will continue to hurt our community.
They say that parents are the best advocates for their children. That role levels up when you are a parent of a kid with special needs. It's a different challenge altogether when you have to actually invoke the law so that your kid will get what he is entitled to. It's a hard job to remind people that words actually do hurt.
This has been a difficult two weeks for me. My friends who I bombarded with my rants all know how hurt I was with this issue. I realize that there will be people out there who will make fun of those who are different from them and will use slurs to demean and degrade. The process of educating people is slow and hard. I will need lots of patience and grace and if how I reacted about this issue is any indication, it means that I will still have a lot of growing up to do.
For now though, I relish the fact that 447 people of that page have been enlightened. My only hope is that they enlighten others too. Thank you to this group. I hope to see you in one of DSAPI's future events.